Content Table -
Why do you need to hire an offshore development team?
What Makes India A Perfect Destination for Outsourcing IT Services?
Things To Consider Before Hiring Software Developer in India
Anatomy of the Hiring Process for Offshore Software Development
Conclusion
Introduction

As per a study conducted by Deloitte in 2020, the primary reason behind 70% of businesses choosing to outsource software development is cost reduction. Being one of the many reasons for hiring offshore developers or development teams, it is needless to say that most businesses prefer outsourcing their projects.
However, there are plenty of countries along with India that are widely chosen for hiring offshore developers. For instance, Ukraine, Poland, Belarus, Hungary, China, Bulgaria, etc. But in the past few years, India has emerged as a powerful and prospective talent pool of engineers and software developers that are suitable for offshore hiring.
Here, we will discuss the different reasons that make India a globally approved region for outsourcing IT services, how you can find the best web developers in India, and things to consider while hiring.

Why Do You Need to Hire an Offshore Development Team?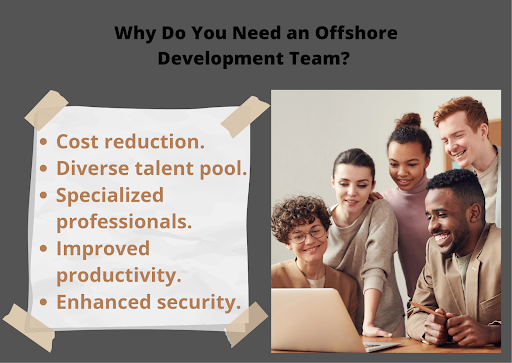 If you are looking for effective ways to outsource software development projects, you might already have a brief idea about what exactly it is. But for those who aren't aware of the same, outsourcing is the technique where a company hires another agency to complete their software, website, and mobile app development needs.
Now, there are plenty of reasons why outsourcing or hiring an offshore development team might be beneficial for your business. To name a few, we have -
Outsourcing software and app development services to an agency from a remote country where hourly rates to hire developers are comparatively less is a much more beneficial option. Usually, western countries like the United States, the United Kingdom, etc. hire developers from other countries to lower their development costs.
When you go beyond regional boundaries to hire developers or development teams for your project, you get access to the best and most diverse talent pool from all across the world. You can hire the best skilled and experienced resources for the task and ensure quality development for your projects.
Significantly large team with specialized professionals
Instead of hiring specialized professionals for a full-time role in your organization, you can outsource the project to some other agency. Here, you will get access to a significantly larger team of professionals who are well-versed in multiple latest technologies. And you can save yourself from the hassle of hiring additional resources for a single project.
Since you will be dealing with the business analysts and project coordinators to assess and analyze the project progress, you will have more time to deal with other tasks. It results in improved productivity in a reduced amount of time.
Hiring an offshore development team is suitable from a security perspective as well because it is easier to maintain confidentiality for any project and get the job done as securely as possible.

What Makes India A Perfect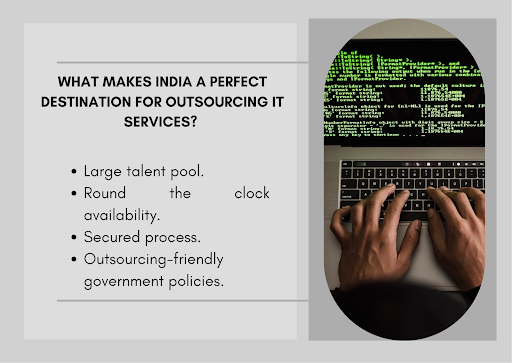 Over the last two decades of service, India has become a preferred destination for outsourcing app development for western countries. The reasons are -
An immense number of developers are available to work remotely.
Adaptable teams that can communicate effortlessly despite the differences in time zone.
Indian software development agencies follow certain quality standards that help develop quality products in time.
Many western countries prefer India for outsourcing as the Indian government has laid many outsourcing-friendly policies like the IT Act 2000, foreign exchange regulations, companies Act 2013, Intellectual properties law, etc.
Indian developers have the flexibility to work round the clock and communicate effortlessly with our teams. Want to hire skilled and seasoned developers for the job? We have got you covered!
Things To Consider Before Hiring Software Developer in India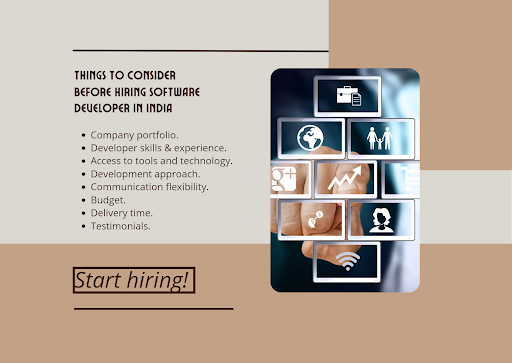 While India has a large and diverse talent pool, it becomes equally tedious for companies to find the best option to get their project developed. They not only need skilled and experienced developers but also have to consider factors like budget, quality standards maintained, delivery timeline, communication channels, etc.
In this pursuit, you have to understand your project requirements first and what all do you expect the web, software, or mobile app development team to deliver. Here, we will help you with the factors that you must consider while hiring a software or mobile app development agency.
A company portfolio speaks a lot about the journey of an agency in handling, developing, and delivering projects. It provides you with a glimpse of the designing and development experiences they have garnered throughout the years by working on different projects.
So, you get to know about the kinds of projects they have worked on and the industries they have served. Exploring the portfolio diligently can provide you with honest ideas on whether or not a particular agency is suitable for your project.
Developer skills & experience
When you are hiring Indian developers or a development agency for the job, you must be cautious about the skills, expertise, and experience of the resources you are going to hire. It is essential to test if the developer is well informed about the nuances of dedicated technology and skills that you need for your project and are capable of delivering it.
In this regard, you can communicate with them and ask about the same or arrange interviews to test their capabilities. You can also look into their previously worked projects and get a brief idea about their working style.
Access to tools & technology
It is critical for you to know and understand that the development team has access to suitable tools and technologies that elevate the quality of development. A client may want to add advanced or exclusive features to their app or website, which is possible only with certain limited premium tools and technologies.
Thus, what all an IT agency can access for quality development, is a crucial concern that you may have. You can ask the team about the tools they use and their learning curve for embracing new technologies.
Each company has a unique approach to a project. While some may follow the traditional waterfall approach, others may want to leverage the benefits of using agile methodology. You should decide for yourself which method suits your project best and ask the team if they can follow the same.
Nowadays, most companies follow an agile approach to develop and test projects simultaneously so that the quality of the product can be improved and the project can be delivered in less time.
Communication flexibility
When you outsource software development services to a team, you must consider how flexible they are about the communication timings and mode. Since you are outsourcing to a different country, there will be differences in time zone and you must be clear on this front and ensure to hire a team that is flexible enough to manage these differences. Some agencies also work round the clock or allow clients to communicate at their preferred timings.
One of the very important reasons to hire offshore web developers in India is the comparatively low cost of web design and development. Since budget is a critical aspect of any project, you must receive a quote from potential clients and decide which of them can add more value to your project.
However, budget isn't the only factor to decide when hiring quality resources. Therefore, you must consider multiple factors and see which IT consulting agency can fulfill your needs in a better way.
Sometimes you may work on projects that need to be developed and delivered quickly and for others, you may have plenty of time. So, the delivery time taken by a development firm is another factor for consideration when hiring resources for your project.
While a company portfolio might give you an idea about the design and development experiences and expertise of the team, exploring the testimonials and reviews section will give you a real picture of the client's experiences when working with the team. You can learn a lot about the way they deal with their clients, their development approach, punctuality, and quality of work.
Now that you are aware of the factors to consider for hiring the best website, app, and software development team in India, why not test them to hire the best agency for the job.
Just so you know, we are a reputed web and mobile app development agency of recent times and can deliver seamless software solutions at reasonable rates. Check out our portfolio and our vivid experience to get started.

Anatomy of the Hiring Process for Offshore Software Development

When looking to outsource software development services to Indian IT firms, below mentioned is the process you need to follow to decide the best option for your project.
1. Determine project scope
Before you start looking for any prospective option, you need to analyze your project needs and write them down. From what features you want in your software, website, or mobile app to what should be the timeline, how many developers you need, and the technology used, you need to jot everything down so you can easily convey your needs to the development team.
You can also create a project proposal with these requirements and approach prospective companies to get a quote and decide accordingly.
2. Decide budget
After you have the requirements decided, it is time for you to decide the budget for your project. You need to consider the technology stack, the number of developers needed for the job, the delivery timeline, and features to decide on the budget.
An approximate budget estimation of the project will help you decide who you should hire for the task. You can submit your project proposal to multiple companies and get the quotes and compare them along with other factors for consideration and decision.
3. Look for offshore IT firms
There are multiple channels available to find the best offshore IT firm for your project. You can check out the various job postings, search engines like Google, social networking sites like LinkedIn, Facebook, etc., or listen to recommendations.
Based on the factors mentioned above, you will have to decide which agency would serve your purposes best. Once decided, you can proceed with the following step.
4. Hire and sign the contract
After you have decided whom to hire, you need to decide on the terms and conditions of the contract and get it signed. It will ensure you as well as the software development agency are on the same page regarding the development of the project and there's no room for miscommunication.
Ensuring all these factors and selecting carefully will assist you in creating seamless IT experiences. In this pursuit, Auxesis Infotech can help you by delivering smooth and quality software, website, and mobile app solutions. We have seasoned professionals in our team who can help transform your ideas into reality.
Conclusion
There are several perks to hiring developers from India, such as reasonable costs of development, round-the-clock availability, quality development approach, skilled and seasoned developers, and more. But, hiring such a team that delivers all your project requirements smoothly is a daunting task.
In this pursuit, you can check out the above-mentioned pointers that can help you with the process. Nevertheless, you need to make an informed choice to ensure the best output is achieved.