Table of Contents
Introduction
What are Different Types of Mobile App Maintenance?

Perfective Maintenance
Preventive Maintenance
Adaptive Maintenance
Emergency Maintenance
Corrective Maintenance

Why Should You Update Your Business App Regularly?
What are the Benefits of Mobile App Maintenance?

Users Love Everything Fresh
Positive Reviews Increase App Downloads
Keeps Your Business App Healthy
Regular Updates Keeps You in the Race
A Way to Top-Notch Security
Beats Competition and Ensures Customer Loyalty
Avoid Downtimes

Best Practices for Mobile App Maintenance to Ensure Its Peak Performance

Enhance App Support
Adding New Features or Improving Existing Ones
Updating User Interface
Scheduled System Maintenance

How much does app maintenance cost in 2022?
Conclusion

Would you consider downloading an outdated app?

Probably not!

Updating your app is critical for survival in the cutthroat market, where businesses are coming up with new features in their apps every now and then. Think about enhancing the user experience. Your users may easily switch to another app if they have a bad experience.

According to the latest report, around 11% of users removed apps due to technical issues, bugs, and app crashes. Moreover, 39% of users simply uninstall apps because they no longer use them.
Now, this could be due to your ineffective marketing, or there are no app updates, or users find it boring. Thus, mobile app maintenance is essential.

Be it you or your app users, all are looking for simple, easy, and quick ways to accomplish a task. You will realize that users get engaged with apps for the long haul when it offers a clean experience and great features.
So, why not get your users engaged by consistently updating your app?
The more you keep your users engaged, the more they will stick to your app and will not replace it with any other alternative. Other than this, many reasons will compel you for mobile app maintenance.
In this blog, we will discuss different aspects of mobile app maintenance. If you have an app and it has some issues, this blog is for you. Keep reading!
What are Different Types of Mobile App Maintenance?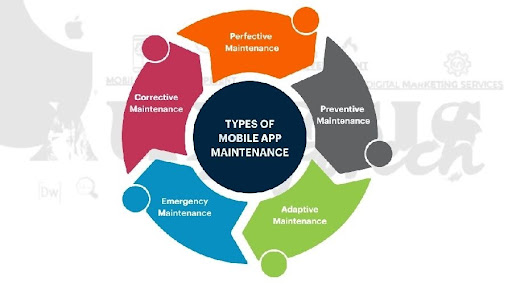 1. Perfective Maintenance

When your app is used by targeted users, you discover new user requirements. And the process of perfective maintenance ensures to work on the feedback. The process also includes functional modification in the source code in order to create an intuitive user experience for users.
2. Preventive Maintenance

This mobile app maintenance type focuses on eliminating or reducing the occurrence of any errors by reducing the app complexity. Not just this, it also works on the understandability and the maintainability aspect of the app.
3. Adaptive Maintenance

Adaptive maintenance focuses on updating the system in order to keep it informed about the changes in the website or the hardware environment.
4. Emergency Maintenance

In case of any unexpected errors or bugs that could plague the system, emergency maintenance is performed. This type of maintenance is often used when an organization finds itself in an unpredictable situation.
5. Corrective Maintenance

Corrective maintenance involves repairing residual errors and faults in the daily app functions. These errors are errors in coding, designing, and logic.
Why Should You Update Your Business App Regularly?
Is it really important to maintain an app?
If you have been looking for answers to this common question, then you are sorted. Yes, it is crucial to update and maintain your mobile apps regularly.
Mobile app maintenance is critical to not only ensure good app health but also to introduce new features to enhance user experience. Once an app is launched, it constantly evolves according to the changes. These changes could be in terms of ergonomics, functionality, aesthetics, and platform.
If you look closely at a broader picture, you will realize that nobody wants to install too many apps on their device. Instead, users need a one-stop-shop solution, and your focus should be to ensure that your business app doesn't become a redundant entity on your users' devices.
It will help you get the maximum business advantage while offering the best to your users. The more your business app gets useful to your users, the more it will bring value to their experience and your revenue, reputation, and engagement.
Apart from this, there are many reasons you must consider updating your app. Some of them are listed below:
Once an app is updated, it offers instant access, making it light to use and increases speed. Moreover, it doesn't eat up extra memory space that obsolete apps do.
An updated app offers a far better user experience than an obsolete app. It comes with fresh features like predictive features. Supposedly, you run a financial agency, and your customer was using your app.
On updating the app, it may show nearby ATM locations based on your customer's browsing pattern that didn't show up earlier. It surely enhances user experience and adds an edge to your business services.
An updated app brings in more convenience for your customers owing to its improved functionality than an obsolete app. Updated apps offer better security against cyber attacks that occur out of loopholes within the app. You must consider plugging every security loophole and ensure a safe browsing experience for users.
As mentioned above, trends, technology, and business and user requirements are prone to changes. An updated mobile application will keep you abreast of the latest technology that will add more convenience for your users.
Regularly maintaining and updating your app will also keep it bug-free and will increase the processing speed. Also, regularly maintaining your mobile app will solve the purpose of rebranding as you keep on coming up with better versions and add more features that enhance the user experience.
Apart from this, there are many ways mobile app maintenance could be beneficial for you. Some of them we have discussed in the section below. Let's have a detailed look.
Now that you know why to update your app, let's run a maintenance check right now.
For that, connect with us now!

What are the Benefits of Mobile App Maintenance?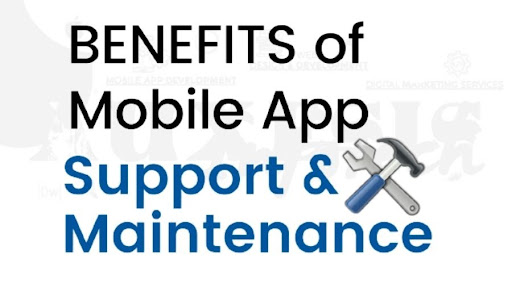 Creating a robust app for your users' convenience is imperative for a business. It helps create a direct marketing channel, improves branding efforts, improves user engagement, cultivates loyalty, and beats the competition.
However, to provide more value to users and enhance their browsing experience, it is essential for every business to invest in mobile app maintenance.
Software stalwarts consider mobile app maintenance crucial to minimize negative consequences of bugs that a user may not notice but can certainly contribute to a bad user experience. Moreover, it reduces the probability of system failure and eliminates the risk of bad reputation owing to dissatisfied users.
Apart from this, there are many ways updating and maintaining your app can help your business grow. Some of the advantages of mobile app maintenance are listed below. So, let's have a look at each one of them in detail:
Users Love Everything Fresh
Updated apps are considered better versions of the original apps when they were launched and are generally loved by users. Even if put in great effort to launch a feature-rich app, chances are that you may not get everything right the first time.
Mobile app maintenance helps fix bugs and add in great features according to user requirements that keep on evolving with time. Moreover, users are always searching for "what's new" every time they browse your app.
However, this doesn't mean you go crazy updating your business app every week, but updating it frequently won't get your users bored and they will notice their needs are addressed quickly.
Positive Reviews Increase App Downloads
Frequent updates and feature-rich apps generate positive reviews and ratings that improve your app discovery naturally. It influences the users' decision to install, ignore, or reinstall an app.
The higher your app is rated, the higher it will rank on the app store. Your users would be drawn to positive reviews about your app and it will certainly increase app downloads.
Even if you have negative reviews about your apps, consider addressing the issue. It will help you find the loopholes and work towards a smart strategy to meet your users' requirements whenever you update it and launch a new version.
Keeps Your Business App Healthy
Unexpected bugs may contribute to a bad user experience and slow down the app speed. Frequent app updates can help keep your business app free of errors and healthy for a long time. Regular app updates include relevant bug fixes, design improvements, and new features on user requests.
You can keep a weekly or monthly update cycle and advanced development tools for mobile app maintenance. It will make sure that every bug is fixed the moment it is discovered.
Regular Updates Keeps You in the Race
With the increased usage of smartphones, users have become tech-savvy. They want a clean design, better functionality, and interesting features. Regularly updating and maintaining your app adds in more features on user requests that help keep the app platform upbeat and draw user attention.
As you continue to keep your users engaged, you will never lose relevance in their minds and it will always keep you in the race. Always focus on keeping your app relevant to your user needs, you will gradually win the app market.
It Helps Match Latest Technology Standards
The market dynamics keep on evolving with changing user requirements, shifts in customer taste, and the latest technological advancements. Keeping your business app maintained according to the parameters mentioned will help you meet the latest technology standards that are followed by and large in every business.
The reality of businesses in today's context seems to be business intelligence that makes space for a technically updated platform. Technology has forced businesses to either adapt the technical advancement or face extinction. So, app maintenance will help to match the fast-paced technical arena and will give you a competitive edge over your contemporaries.
A Way to Top-Notch Security
With the increased usage of digital means, there has been an increase in cyber threats that has raised concerns for data security. A famous example of cyberattacks is the WannaCry ransomware attack that targeted worldwide computers running Microsoft operating system and demanded a ransom payment in Bitcoin cryptocurrency.
The biggest reasons were unpatched window systems, unsecured codes, and shadowy operatives. Similarly, unsecured apps can steal your customer data, crucial records, and make data unavailable. To save your business from such attacks mobile app maintenance is important.
You must consider investing in frequent app maintenance measures to keep winning the valuable trust of your users.
Beats Competition and Ensures Customer Loyalty
As discussed in point number four, regular app maintenance keeps you relevant to the changing user requirements, it makes your app more competitive. The better your app performs, the higher is the chance it to rank on the app store.
To make your app perform better you need regular app maintenance. And, thus you can expect users to be by your side! It beats the competition, establishes you as the market leader, ensures customer loyalty, and paves the way for your business application to be successful in the market.
Nowadays, users can be seen switching to an alternative app the moment they notice an application failure. Here regular mobile app maintenance would help you maintain its peak performance. It all comes down to identifying, segregating, and diagnosing potential issues which would help you avoid unexpected downtimes.
Now that you know how beneficial it is to maintain your app, it's better to proceed with a solid strategy for app maintenance. We have discussed a few best practices for mobile app maintenance that can help you keep your app performing and gain a competitive advantage over others. Let's have a look.
Best Practices for Mobile App Maintenance to Ensure Its Peak Performance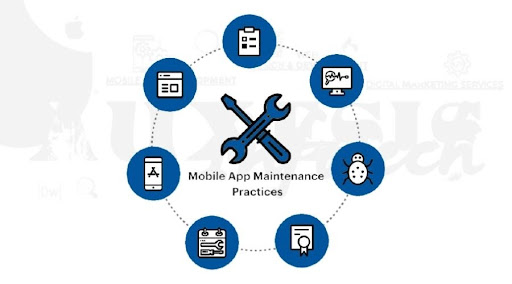 What are the best practices for mobile app maintenance?
If you are a business owner and have been looking for answers to this question, then we have five best practices that you can follow to ensure proper mobile app maintenance.
When it comes to enhancing app support, we mean making required technical updates. It boils down to enhancing app support over different device configurations.
Adding New Features or Improving Existing Ones
Adding new features or improving the existing ones can also be considered in mobile app updates. When your app serves users, it becomes very obvious that they will expect up-gradation in your app features every now and then.
There is a saying that goes like "dress for success". And it implies on your app as well. Here user interface or the UI of your app is the dress and to make your app successful, it is crucial

Scheduled System Maintenance
Maintaining and operating a mobile application is a continuous process. You cannot choose to just build an app and not pay much attention to its maintenance. For any mobile app, it is important to schedule regular maintenance to ensure the quality of your application and keep it going for users.
Want to update your app or run a maintenance check?

How much does app maintenance cost in 2022?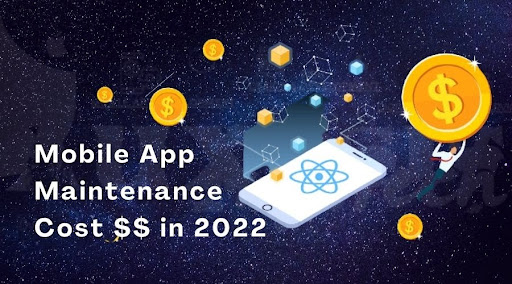 As we mentioned above, building an application for your users isn't just enough to get your business going. Keeping it updated and flawless is also crucial and that's where your app needs regular maintenance.
Now many have this misconception that app maintenance is just about ensuring the quality of an app. But in reality, it's more than that! It also focuses on nurturing push notifications, servers, payment gateways, features, and more.
In case you don't know, the maintenance stage comes after the development and deployment. Not just this, the maintenance cost is separate from the development.
In fact, in the first year of your app, the cost of mobile app maintenance could go as higher as 50% of the total development cost.
Along with that, the cost of app maintenance also depends on other factors such as the operating system, technology used, type of maintenance, and more. Thus, it could be difficult to give you an exact quote of how much it would cost you for mobile app maintenance.
Having said that, you can expect to go it somewhere between $250 and $500 a month initially to keep your mobile app up and running. Another way to budget the maintenance cost is by budgeting 20% of the initial development cost.
For example, if the initial cost of development is $1,50,000, you can expect to spend around 20% of it, which is $30,000.
Expenses at the App Maintenance Stage
| | |
| --- | --- |
| Expense Head | Cost ($) per month |
| Servers | $20-$60 per month |
| Push Notifications | $10 |
| Payment Gateways | Up to $149 (or more) |
| Emergency Maintenance | Depends on the nature of emergency |
| App Stores Developer Fee | $25 at Google Play, $99 at Apple App |
Get the best quote for your mobile app maintenance project right now!
Though we have given you an idea of mobile app maintenance, the cost depends on various factors such as the complexity, nature of the maintenance project, and more.
With that being said, we come to the end of this post. If you are looking to run a maintenance check on your app, we can help you with that. Auxesis Infotech is a reputed mobile app development company having immense experience and knowledge in creating outstanding solutions and implementing them into projects.