Content Table -
 
Introduction
Getting Familiar With FMCG
Interesting eCommerce Statistics Related to FMCG
How Covid Has Impacted Surge in FMCG On/line Sales?
Challenges Faced by FMCG Companies in Building an eCommerce Portal
Struggle defining business goals
Struggle with research
Implementation issues
Struggle with brand promotion
How FMCG Companies Can Optimize Their eCommerce Portal for Good?
Communicate and agree upon the project scope and budget
Pay attention to design trends and competitor performance
Keep the navigation simple and user-friendly
Reviews and ratings of products
Integrate Google Analytics and eCommerce performance metrics
Conclusion
Introduction
Living in an era of continually evolving eCommerce, there are two things constant -
1. A rise in customer demands.
2. The change in consumer behavior and purchasing habits.
Earlier there were only shopping websites from where consumers could order a product of their choice. But today, they have numerous options like websites, mobile apps, web apps, and social media portals for the same purpose.
Over time, the eCommerce industry has changed only to see immense growth in terms of the consumer base. And the FMCG industry is not further apart from any other industry when it comes to eCommerce.
Especially with the pandemic limiting people to their homes, eCommerce has clearly emerged as a needed channel to promote and sell FMCGs (Fast-moving consumer goods). In this blog, you will see how eCommerce has influenced the sales of FMCGs in the present scenario and what is expected of the industry.
And if you are in the FMCG industry looking for efficient ways to spike your sales or adopt the latest channels, you will get smart insights for the same! Stay tuned.
Getting Familiar With FMCG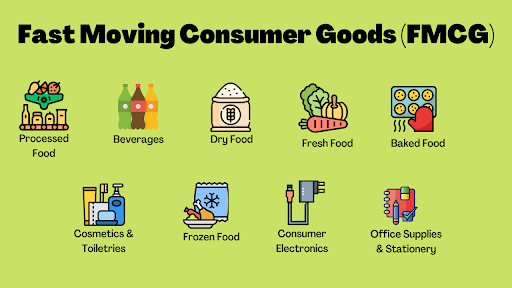 FMCG (Fast-moving consumer goods) - As the name suggests, these products are nothing but useful things we use in our day-to-day life with a limited shelf life. For instance, a company with dairy products like Amul, or products with Ayurvedic benefits like Dabur, and many more.
Right from soft beverages to gums, fruits, and vegetables, fast-moving consumer goods are an indispensable part of our everyday life. These products are usually produced in mass quantities and are sold via different channels to reach common consumers. However, the profit margin is less for businesses unless they sell fast and in large quantities.
Even though the most common method of selling these products is via retail stores, the changing eCommerce trends have affected the sales of FMCGs via digital portals. Read on further to know how eCommerce is changing the ways FMCGs work.
Interesting Online Retail Statistics Related to FMCG
The Indian FMCG market is expected to grow at a 14.9% CAGR to reach a market value of $220 Billion by 2025.
As per 'The Economic Times', the FMCG companies have seen about a 50% surge in online sales in the year 2021 when the second wave of coronavirus hit the nation.
By 2030, about 11% of the entire eCommerce sale will be from the FMCG industry.
Between April and June 2021, the FMCG industry grew with a year-on-year percentage of 36.9%.
As per predictions, the processed food industry is likely to grow up to $470 Billion by the end of the fiscal year 2025 from the evaluated $263 Billion in the financial year 2019-20.

How Covid Has Impacted Surge in FMCG Online Sales?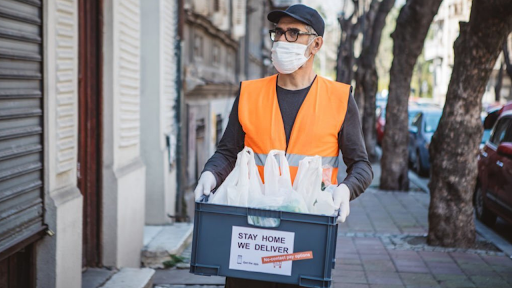 Having marketed using the traditional methods, many FMCG companies are still comfortable with these conventional methods of retail. However, the pandemic caused by covid-19 persuaded these FMCG companies to come out of their comfort zones and adopt online methods of selling wholeheartedly.
While the pandemic caused havoc in day to day lives of each individual, these were a few noteworthy observations.
The demand for FMCG products increased drastically as people started stocking up on food supplies because of the lockdown situation.
The norms like social distancing helped spike online sales of products during the lockdown.
The pandemic not only just caused a spike in online sales but also helped create the foundation for a prominent online presence of FMCGs in the future.
FMCG companies have been able to widen their network and reach more and more customers and businesses through online channels.
As a need of the hour, more FMCG companies have resorted to selling their products online with the help of other eCommerce platforms. Many considered investing in eCommerce website development to have their own online portal to reach a larger segment of the audience.
Are you planning to launch your eCommerce store to sell FMCG products?
If so, we're here to turn your vision into reality. Connect now to know more!
Challenges Faced by FMCG Companies in Building an eCommerce Portal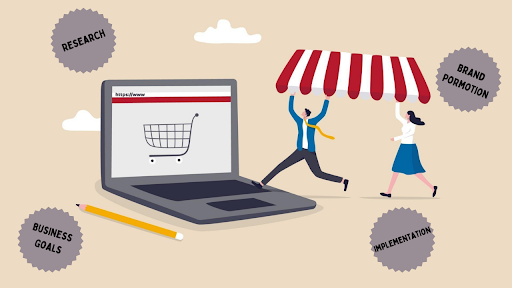 Comfortable with the traditional methods of retail, FMCG companies may face some inevitable challenges while attempting to sell their products online. Here, we have listed a few of them for your understanding.
Struggle defining business goals
Compared to the traditional methods of retail, an FMCG company will have to clearly define its business goals and strategy in this case. You will have to have a deeper understanding of the selling products, target audience, market competition, cost, online channels, and brand positioning.
Having an eCommerce platform for an FMCG company and running it successfully requires extensive research on your part. You have to closely assess the FMCG trends, competition, market demands, costs, design and development trends, and more.
Often, businesses fail to create a suitable eCommerce portal for their customers that is sure to provide an elevated user experience. And the reason is they fail to understand what users prefer, their purchasing habits, and patterns.
More often than not, companies find it difficult to implement their planned strategies to build intelligent eCommerce portals. Even a well-documented plan isn't realized without help from skilled and experienced designers and developers or because of miscommunication between the company and the development team.
Struggle with brand promotion
One of the crucial pressure points FMCG companies may face is with promoting their digital product. Even if you create an engaging mobile app successfully, you may struggle to promote it to the right audience and get many people to download and use your app. And for starters, overcoming such barriers can become quite a challenge.
Are you struggling with one of these challenges or maybe something similar?
Well, it's time for you to try different ways and overcome those to help your products reach customers as seamlessly as possible.
Do you want to create a feature-rich eCommerce portal for your FMCG business?
Connect with us and let's get started!

How FMCG Companies Can Optimize Their eCommerce Portal for Good?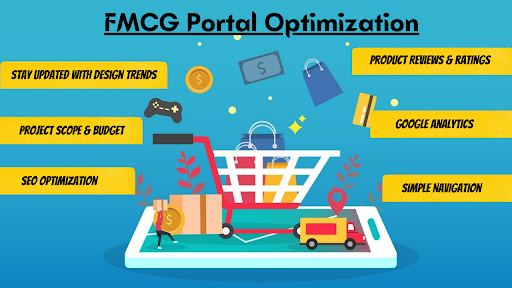 While it is no news that eCommerce has taken over every industry by storm, FMCG companies are also struggling tooth and nail to create impactful eCommerce experiences for customers. They have to create an engaging website or mobile app front, create advanced features, and future-proof software that sustains.
But, how do you achieve that?
Lucky for you, we have just the solution to assist you with the quality development of your eCommerce portal. Do keep these in mind when you reach a development agency to get the job done.
1. Communicate and agree upon the project scope and budget
The first and foremost thing you can do is to be transparent about what will be covered and what not for developing your eCommerce project. Whether you are developing an eCommerce website for an FMCG business or a mobile app, you must clearly communicate with the development team and agree on the scope of the document.
It will help you decide the number and extent of features you can add to your eCommerce store for the decided budget. Nevertheless, make sure to choose a skilled and seasoned developer or development team for the task.
2. Pay attention to design trends and competitor performance
According to a Statista report, about 60% of eCommerce users believe that usability is one of the most crucial factors of eCommerce web designing. And about 90% of users believe that high-quality images are of utmost necessity while shopping online.
These user preferences change from time to time and a company needs to follow these trends and create engaging website or mobile app designs. Thus, you need to keep an eye on these trends, user preferences, and what strategy your competitors are using for an improved design experience.
3. Keep the navigation simple and user-friendly
The key to a good eCommerce portal is a seamless navigation menu. Customers don't want to look here and there when they are searching for products. So, if you want to sell your FMCG products to these online users, you should provide them with exactly what they are looking for, and that is convenience.
Your eCommerce store should have a simple navigation menu with proper categorization of products so that users can easily look and search for products and add them to the cart. Making it responsive, cross-browser friendly, or cross-device compatible are other factors you should consider.
4. Reviews and ratings of products
Selling online can be tedious! But, not with genuine ratings and reviews from other fellow customers. If your eCommerce portal is transparent enough to show the ratings and reviews of purchased products, more consumers are likely to believe your brand as a reputed FMCG organization.
5. Integrate Google Analytics and eCommerce performance metrics
One of the obvious reasons why eStores fail is that they struggle to assess the performance of their portal. By integrating various eCommerce performance metric tools and Google Analytics, FMCG businesses can track, record, and assess the performance of their portal.
For instance, they can check the number of page views, daily incoming traffic, average time spent by a user on a particular page, bounce rate, conversion rates, sales, customer shopping behavior, purchasing patterns, etc.
6. Optimize for SEO
It is as important to optimize your eCommerce store for SEO as much as it is crucial to develop effortlessly. When not done correctly, you may lose the chances of letting your site reach its full potential and attract as many customers as it can.
Thus, an FMCG company must not only hire a development team that creates SEO-optimized eStore, but also look for ways to promote their store via different channels. Using proper keywords, writing metadata, and using high-quality images and product descriptions are some of the key elements in this regard.
And in this pursuit, Auxesis Infotech can assist them through and through. We have a qualified team of developers and digital marketers who can help you with the quality development of your FMCG portal and marketing it as well.
Get ready to build an SEO-friendly FMCG-based eCommerce portal with the assistance of the best experts. Connect with us now!

Parting Thoughts

Today, eCommerce is everywhere! And, it is needless to say that the FMCG sector also has seen a severe boost in sales by the infiltration of eCommerce. With the ever-increasing customer demands and shift in user purchasing habits, eCommerce stores have seen a huge spike in sales.
And this spike was further supported as the covid pandemic caused havoc throughout the world. With people's want and need for convenience in ordering FMCG products online, eCommerce surely saw a prospective opportunity in this sector. Many businesses have invested in creating eCommerce apps for FMCG businesses and others are planning to.