Content Table -
Introduction 
What is Logistics Software? What are Some Popular Types? 
Why Do You Need Transportation Software for Logistics? 
A Checklist for Your Logistics Software Features 
Conclusion 

Introduction

Unless you are into the manufacturing or eCommerce industry or have avid experience with transport and fleet management systems, it could be a challenge for you to develop a logistic software. Yes! You heard us right. Your logistic associated operations need software to automate various processes and manage everything for smooth functioning.
Gone are the days when traditional methods of inventory management and supply chain management were put to use. Today, every company relies on robust, feature-rich, secure, and future-proof logistics software solutions.
Whether it is the transport of raw materials to the manufacturing unit, inventory management, or supply of finished goods to the market, the software comes to your aid in all circumstances. You only need seasoned resources who can handle the software and make the best use of it.
In this blog, you will learn in detail about the various benefits of developing logistics transportation software for your business and which critical features can help you create the most beneficial software for your business.
What is Logistics Software? What Are Some Popular Types?

Logistics refers to the operations involved right from the point of origin of a product to its manufacturing and delivery. At any point in time, logistics play a critical role in the production and distribution of a product. Whether it is supply chain management, transportation management, shipment-related operations, or dispatch management, it all comes under logistics.
It is understandable how logistics can impact product delivery if not managed efficiently. And to manage each of these operations smoothly, working manually isn't enough. Besides, it gets more difficult if the size of your organization is large.
Thus, logistics software can come in handy in these situations. It can help remove your task overheads as important tasks like planning, data comparison, assessing the best transportation route and vehicles, cost control, etc. can be done efficiently.
Now, before you look for a logistics software development company, you should know that there are multiple kinds of software available. You need to understand which of these you would need for your business operations or you can create custom software with many features, as per your business requirements.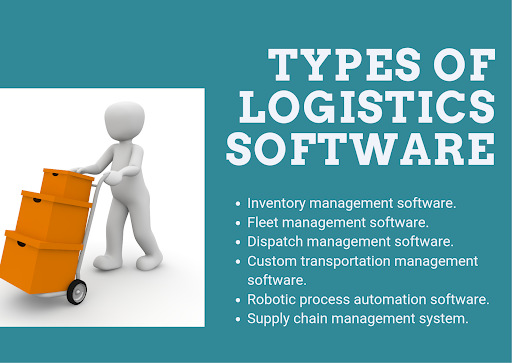 Types of logistics software -
1. Inventory management software
An inventory management software is suitable for managing the various basic to advanced inventory operations of your business. With inventory management software, it becomes easy to store products, sort and search them, track inventory levels and reorder raw materials in advance.
2. Fleet management software
A fleet management system is helpful to manage and maintain records of your fleet of vehicles, their maintenance records, the status of availability, cost consumption, and more. It can also help you with automatic reminders of vehicle maintenance and elaborate reports of the same easily.
3. Dispatch management software
From safe storage and transportation of the finished goods to timely delivery, dispatching products will require a lot of management from your team. And a dispatch management system can assist you to optimize these processes to your comfort. From easy tracking of deliveries to choosing advanced vehicles at cost-effective prices, this software can help with comparison and analysis.
4. Custom transportation management software
A transportation management software for web or mobile can help you with your business operations substantially as you can get real-time updates, manage transportation routes as per traffic and road blockage, check and manage fuel costs, and avail automated and secure services.
5. Robotic process automation
Automating the various operations for your logistics industry can help you save time, and money, and improve productivity. Creating RPA software can assist you with invoice generation and collection, scheduling delivery, payment processing, monitoring shipment, etc.
6. Supply chain management system
To strengthen your supply chain and improve productivity, these supply chain management systems are very useful. With custom features and quality integration of SAP and Oracle, you can have access to high-quality supply chain software solutions.
No matter which type you choose, we can add more value to the chosen software by customizing it to your needs. From exclusivefeatures to a simple backend, our executives can help you in all your endeavors. Connect to the team for more info!

Why Do You Need Transportation Software for Logistics?
Technology has influenced the logistics industry substantially. And the covid-19 impact has further catalyzed its use as robust logistics software was put to use in the faster and effortless transportation of various medical drugs, equipment, and vaccines.
The reports further add, that between the years 2021 and 2026, the global logistics industry is said to grow at a 17.5% CAGR. But, if you are still confused about whether or not your company needs logistic software, here's your cue to find out. And in case you are a logistics agency, then look at these multiple benefits of building a logistics transportation software.
A logistics department may experience several issues when it comes to transportation and delivery which can lead to delays. Miscommunication in the inventory or choosing the wrong carrier for your goods are some commonly made mistakes that can delay the delivery process.
However, with logistics planning software, you will have access to a robust tool that lets you manage all these operations and make smarter decisions seamlessly. Understandably, you will see faster execution of your tasks and quick delivery.
Refined transportation decisions
Transportation is a vital part of the logistics department and requires a lot of planning from your end to manage costs and ensure high productivity. While calculating these costs and profits manually is a daunting task, logistics software can come to your aid in these situations.
So, whether it is calculating the fuel costs, toll fees, driver costs, carrier freight, or analyzing these data to figure out which mode of transportation would suit your company the best, robust logistics software is the smart way.
No matter how careful you are with managing and maintaining logistics data, doing it manually can be time-consuming and lead to errors. But, with logistics software in place, there is less room for errors and precision can be obtained. In fact, the various calculations, data assessments, etc. can be done quickly and accurately.
With logistics software in place, it becomes easier to compare the costs of transportation and shipping vendors and choose the most suitable ones for your business. And with effective planning of logistics like shipping and delivery, you can easily tweak the costs of development as per need.
Automating various logistics operations results in reduced paperwork and less hassle. The software can easily generate and display the fastest route for delivery, track shipment orders, check inventory levels, and more. This automation can help improve your daily business operations to some extent.
Now that you are aware of the various perks of developing logistics software for small businesses to large enterprises, why not connect to our team and discuss more about the project? And we can provide you with a quote!

A Checklist for Your Logistics Software Features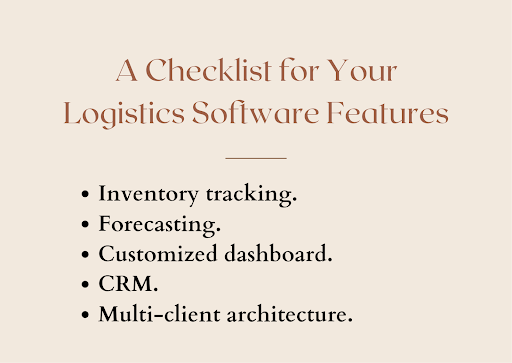 While you can add a plethora of custom features to your Logistics software, there are a few must-have features that your logistics management software needs. Here, we have enlisted a few such features for your reference.
Adding an inventory tracking feature will assist in managing and tracking your inventory levels. Your employees can easily store products, track inventory levels, manage and sort them, and reorder raw materials for manufacturing. This feature is extremely useful for logistics tracking software and can be used for ensuring there's no delay in the production of goods and delivery.
One of the promising features of logistics software is forecasting the demand, supply, and costs of the produced goods. To ensure the supply chain isn't hampered, adding this feature can help you analyze and forecast the demand-supply gap and help you produce goods accordingly.
A custom dashboard or interface is a must-have for any logistics software free. It should have a simple UI and simple navigation so that you can easily manage the software and work on it. We can also add customized features and designs to elevate the user experience.
Integrating CRM software into your logistics portal is necessary as it helps with maintaining and managing customer relationships with clients. It can assist you in tracking your product's delivery status and maintaining healthy relationships with customers.
Multi-client architecture
If your business deals with more than one client, a multi-client architecture is a necessary feature for your software for transport and logistics. The software will guide you in handling multiple clients simultaneously in different phases of manufacturing and delivery.
And with new-age technologies like artificial intelligence, Blockchain, machine learning, predictive analytics, cloud computing, warehouse robotics, etc., creating a feature-rich, future-proof, secure, and robust logistics software is easier than ever.
However, if you want to build such robust software for freight forwarders, you would need assistance from a professional software development company. And Auxesis Infotech can help you in this job with our rich industry experience in logistics and hands-on experience with the latest technologies. All you need to do is choose a suitable engagement model and talk to our representatives about your project requirements to get a quote.
Conclusion

Transport is a vital part of the logistics industry as the entire process of product dispatch to shipment and delivery depends on it. Any miscommunication or issues with transport can not only halter the entire delivery process but also end up causing you more costs.
However, with logistics management software, managing the transportation system will be easier. You can plan transportation vehicles, fuel costs, delivery routes, etc., and get the products delivered in due time. Besides transportation, the software can also help you with inventory, supply chain management, fleet management, etc.