Sections -
 
Introduction
Why Do You Need A Real Estate Website?

Easy to engage the younger generation
More traffic led by online search
Improved customer service
Clear mode of communication
Seamless property listing presentation
Easy to market your brand

Latest Web Designing Features Realtors Use

Sophisticated property search page design
Scheduling property visit tours
Exploring property locale
Locating plot on a map
Smart video
Designing interactive elements

7 Best Real Estate Website Design Inspirations of 2022

Developwise
Mariah Hamm
Partnerz
Avocado Homes
SD Flats
Oxford Properties
Hill West

Conclusion
Introduction

From brick and mortar realtor offices to online digital portals, the customer and realtor journey has changed much. With less paperwork and customer handling, realtors find the new process much more convenient, profitable, and useful.
However, realtors' and customers' experience entirely depends upon the real estate website design. If the UI and user experience are effortless, they will find the site more accessible and usable and have elevated experiences.
Now, what makes a good website design for real estate agencies?
In this blog, you will see several real estate website design examples to take inspiration from and more. But, before we explore that, let's look into the various reasons why realtors must invest in a website today.
Why Do You Need A Real Estate Website?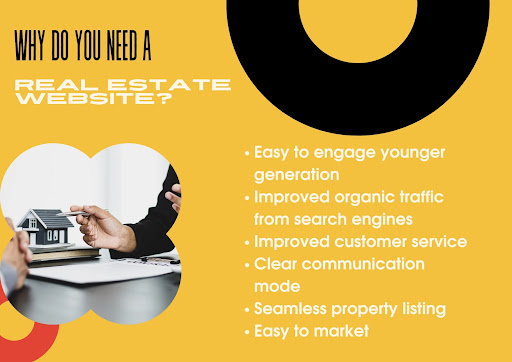 Today, almost every business owner feels the need to create a website because of the huge networking opportunities. The digital platform has access to millions and billions of users and what better way to reach out to these potential customers than having a website?
However, when starting this new journey, you might wonder whether or not to build your website for your real estate business. And, these reasons listed below may help you come to a decision.
Easy to engage the younger generation
While older generations might still be comfortable with the conventional ways of real estate transactions, younger generations like millennials and Gen-Z prefer online mode because of convenience and transparency. Thus, having a website for real estate businesses becomes a must if they want to engage younger generations to buy properties.
More traffic led by online search
Reports say that around 51% of home buyers found their house online. And as of 2021, about 97% of property buyers use the digital platform to search for properties. With the massive amount of property search queries in search engines like Google, many real estate websites receive high organic traffic.
Consequently, a website is vital if you want to generate high traffic to your real estate website and get more promising opportunities for conversion.
Improved customer service
Realtors can elevate the consumer experience through a website, which wasn't possible using the conventional method. A website can contain immersive 360-degree images and videos of the properties, embed maps to track location, and even allow realtors to arrange virtual tours for customers.
Evidently, customers don't have to physically visit every property location, they can explore the images, videos, and take virtual tours to decide. This adds to their experience.
Clear mode of communication
Unlike face-to-face communication where people may miss out on crucial information or misinterpret, digital platforms allow realtors as well as property buyers to keep a record of the conversations. Thus, communicating is easy and more transparent.
Seamless property listing presentation
A website lets realtors add multiple property listings so audiences can search for preferred property easily and sort them by location, cost, and other factors. Besides, it is easier for realtors to add, edit, delete, and manage property listings.
Easy to market your brand
With a real estate website in place, businesses can easily market their brand via different digital channels. The software can be promoted to rank better in search engines, marketed in social networking sites to reach a diverse audience section, and generate high revenue.
Convinced that a real estate website is the need of the hour? Why not build a robust and feature-rich site for your customers? Auxesis Infotech can help you with development and designing.
Latest Web Designing Features Realtors Use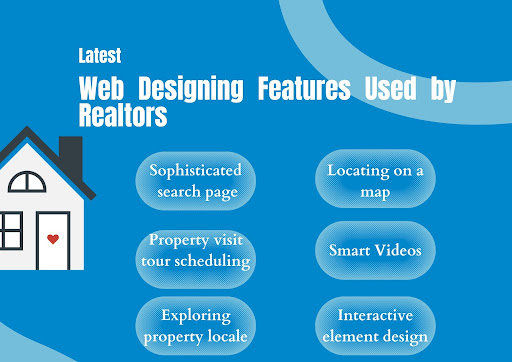 Even if it is extremely necessary for you to invest in real estate web design and development, you can't hire help from just anybody and end up creating an amateur-looking website. To give it a professional flair, your website design should be on par with the designing standards and must adhere to the latest features.
On this front, checking out this list of various latest web designing features will be of extreme help.
Sophisticated property search page design
Despite the availability of so many real estate websites, there's a dearth of sophisticatedly designed search page designs. And as per web designing trends, it is the most demande d feature for real estate websites.
Purchasing a house, office property, or any plot requires meticulous planning and decision-making. And, one may need to search for property based on various factors such as locations, property type, neighborhood, amenities, cost, number of bedrooms, property area, and more.
Designing sophisticated search pages will help customers find their preferred property options seamlessly. And you can have better chances of conversion.
Scheduling property visit tours
Adding a 'schedule property visit tours' option will help out visitors to schedule appointments without having to consult a realtor personally. Most of the websites add this feature to their web design for improved convenience.
Exploring property locale
Today, businesses have to deal with aware customers who want to speculate every concern related to the property they are interested in. They would need to explore the locality, nearby transport facilities, education and healthcare facilities, neighborhood, and more.
Having a feature that allows customers to explore the locality of a particular property is quite advantageous for customers. And realtors have less to explain and even lesser questions they need to answer.
Most customers search for properties based on locations, not limited to a city only, but down to an area and street as well. Thus, map integration and geolocation tracking are crucial web designing features that realtors use to locate a property and narrow down their prospective search results.
Adding smart video designs is another promising feature real estate audiences want. Illustrative video clips of properties not only present customers with a more illustrative experience but also can reduce the property selection time to a greater extent.
Designing interactive elements
Adding interactive elements to your website design can improve the real estate site's performance to a greater extent. For instance, your real estate website may use a feature like a mortgage calculator so your customers can find different mortgage opportunities.
Or, you can add payment or investment suggestions for customers to find the best deal going forward. It improves your website's engagement quotient and elevates the customer experience.
Wondering how these features can be well integrated into your real estate website? Our experienced web designers can walk you through the process and will create seamless user experiences. Get started today!

7 Best Real Estate Website Design Inspirations of 2022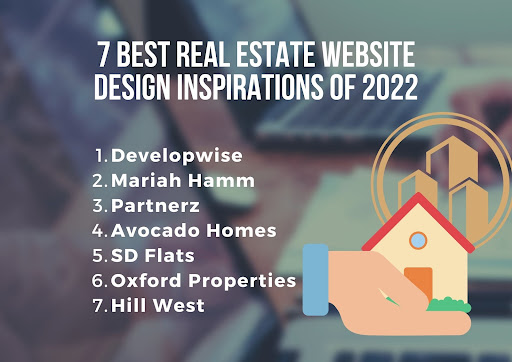 Now that you are aware of the design features that your real estate website might need, having to research the various designs that renowned realtors use becomes a must. It will help businesses understand what their competitors are targeting and how these designs are helping them in achieving success.
1. Developwise
Developwise's website puts together the best luxury apartments available in Perth. It has a neat and minimalist design with captivating and prominent CTAs. The background video gives a sneak peek into the luxury apartments available for sale.
The apartments to be viewed are categorized in distinct categories like under construction, off the plan, and completed. Customers can choose what kind of property they want to proceed with and check out an illustrative video that goes in sync with the website design.
As you see the website design, you can see how interactive web design is necessary to engage customers. And adopting the same technique could be quite good in this scenario.
2. Mariah Hamm
Mariah Hamm started this website in Saint Paul, Minnesota to change the way customers perceive realtors. With an aim to provide improved home buying and selling experiences to customers, the website hosts a clean and simple UI design.
The content used is conversational and has a personal touch to it. The website navigation menu is simple and easy to use. Whether it is a DIY project, buying/selling a home, or exploring the blog section, the website guides customers smoothly throughout the process.
3. Partnerz
Partnerz helps customers rent their properties seamlessly on software like Airbnb. The website clearly specifies what they offer and who are the customers that can avail of these services. In addition to the clean design, the appealing animations and brief yet explanatory content make it a very engaging website.
The best thing is, visitors can find all important links and information without much hassle. Thus, convenience and usability are two major takeaways from its design.
4. Avocado Homes
Avocado Homes is a unique realtor website as it allows customers to search for numerous kinds of property options right from apartments & luxury plots to beach and golf properties. The website dons a robust search feature above the fold that allows real time search based on property type, number of bedrooms, location, cost, and more.
Not only this, you can find all the useful links right above the website footer and navigate to any preferred page with a single click. And with prominent CTAs to attract the audience's attention, the website design appears quite engaging.
5. SD Flats
SD Flats website allows one to look for prospective urban flats in San Diego. The website has a vibrant mix of colors and looks appealing to use with a beautiful picture in the background. With a single click, one can schedule a tour to visit their favorite property.
Or, they can read through the amenities and specifications of the property, check out the floor plans, explore the neighborhood, and choose one of their likings.
6. Oxford Properties
Oxford Properties invest, build, and partner with renowned companies to create economic and socially grown real estate experiences. The website is an utter representation of the value it adds to the real estate industry with a minimalist design approach. The color and user-controlled video help elevate the user experience to a different level.
7. Hill West
There are plenty of towers adorning the New York Skyline built by Hill West. Being a renowned architectural company, its website design is to take inspiration from. It has the simplest website design as the home page only includes a background image and the navigation menu along with a search button.
The website is visually appealing with minimal text and clearly defined CTAs. And with important links like Projects and Maps right at the bottom of the Homepage, it is very accessible.
When you look at these website designs, one thing you can say for certain is that all of them appear professional. Even with the minimalistic design, the websites look professional and engaging.
Thus, availing assistance from website development and design agency becomes a must for businesses trying to make a name in the real estate industry. And in this regard, Auxesis Infotech is a recognized name. We have industry-wide experience in creating robust, secure, and responsive real-estate websites. And if you have a unique idea in mind, our customized services can help shape those into reality.
Conclusion

Real estate website development and design require a lot of research and planning as you have chosen the highly competitive digital portal to market your business. Even with the numerous perks of having a real estate website, realizing those are only possible when you have the right design to go with it.
And a professional real estate website development agency can help you in this pursuit. They are well familiar with the latest trends, features, and design standards competitor real estate agencies use today.