Drupal always gets a mention whenever it is about the oldest CMS platforms that are still ruling the market. Just to let you know, this CMS platform was released in the year 2001. For the past two decades, Drupal has been serving exceptionally well to its users. But the question is - what makes e Drupal a popular choice amongst businesses and developers? Well, it is the exceptional capabilities and amazing features that Drupal provides to its users. Such is the popularity of this CMS platform that even internationally renowned government websites are built on it such as the British Council, French Government, New Zealand Government, Municipality of Athens, Canadian Commission Tourism, Innovate Direct Gov (UK), Prime Minister of Australia's Website, Embassy of UAE in Wellington, and more. Not just this, Entertainment Weekly, Tesla, Mint, NCAA, The Emmy Awards, and NASA are some other popular users that have invested in Drupal development. 
But that's about the growth of Drupal that we have all seen. The question lies - what's the future that Drupal holds? Well, that's for we are here to talk about. And let's not dig far into the future, but the scope of Drupal by 2025. 
Why Drupal is a Leading CMS in 2021?
Just to let you know, Drupal includes a robust, agile, and rapid module that caters to the need for web development. Being an open-source CMS, Drupal allows developers from across the globe to work on this CMS platform and can even fix bugs and issues. Not just this, the CMS platform also has more than 13000 modules that make the Drupal development process easier and effective. From login modules to performance to backup to security to polls to CRM, there is a module for almost every need and together they allow you to add any type of features to your website without any hassle.
This is probably the most important reason why millions of businesses have invested in Drupal development. Even if you have hired a Drupal development company, then also Drupal gives you the option to save a lot of money. Drupal is a free web development framework that allows you to build an exceptional website keeping your business needs and requirements into consideration. It comes with so many features and modules that are absolutely free of cost. 
Highly Extensible Via APIs
For businesses in the present time, it is very important that a CMS platform must provide access to robust APIs. From the 8th version, Drupal has been giving serious importance in providing access to APIs and making Drupal web development even more effective for businesses. Talking about that, some of the most popular Drupal APIs are RESTful Web Services API, Render API, JSON: API, Translation API, GraphQl, and more.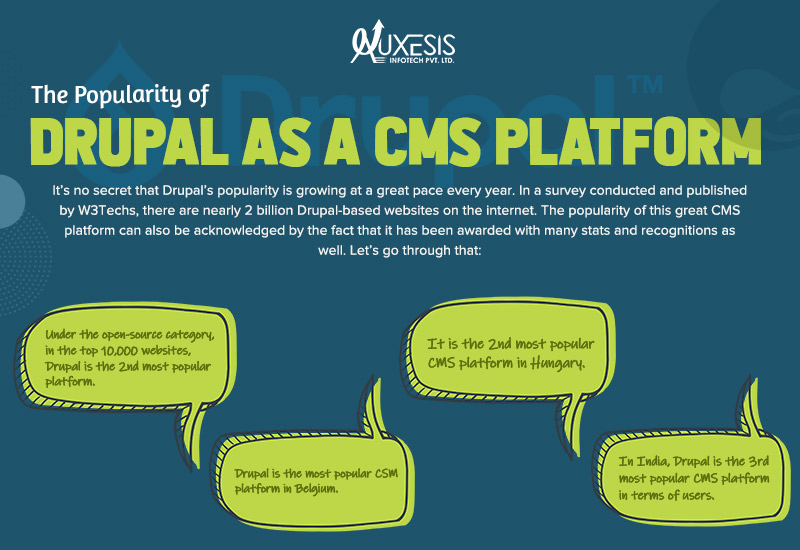 6 Important Layers of Drupal Module Architecture
To understand the growing importance of this CMS platform, it is also significant to know about the layers that together create Drupal model architecture. 
In Drupal's community, a user is allowed to send the request to the server through the content management system and Drupal web browser. 
An administrator can provide access to authorized users and can also unauthorize the access. 
The content management system, Drupal allows you to add, edit, and manage the content on your website. 
Drupal is written in PHP to work with the application built by the user. 
Web server is the place where users communicate and the request is processed through Hypertext Transfer Protocol. 
The database is known to store the information regarding the data, content, and information of the user on the website. 
Drupal is an Idea End-to-End Solution! 
Well, the fact that Drupal development is the preferred choice for many businesses and developers over any other CMS platform also talks about Drupal as a solution. 
Drupal is SEO-Friendly
Drupal is Highly Secured
Powerful In-site Search
Flexible Content Architecture
Budget Considerations
Future Scope of Drupal
Talking about the future scope of Drupal, well, the CMS has gained a lot of popularity in recent times. After the release of Drupal 9, the CMS platform is still gaining a lot of focus because of its amazing capabilities and features of Drupal to create exceptional websites. The CMS platform allows you to convert your ideas into reality. Doesn't matter whether you have a small business or a large one, Drupal is the ideal solution for businesses of every type. 
You may also like:  Auxesis Infotech Pvt. Ltd. Named in the Best 15 Drupal Development Companies of 2020
In the future, Drupal is expected to grow and serve businesses of every scale and nature. However, for that, there will still be a requirement of having the best professional support by your side. And Auxesis Infotech can help you with that. Being a leading Drupal agency, we offer best-in-class Drupal development services to businesses who want to create a brilliant, feature-rich website.