It is unfortunate that brick-and-mortar stores do not make as much revenue as online stores in the present time corporate world. But that's what innovation is all about, right? Knowing the importance of digital presence in this competitive market, more and more retail businesses are now investing in ecommerce website development services. Gone is the time when building an e-commerce website was a thing for those big marketplace businesses. Today, any business that is selling tangible products can invest in professional ecommerce website development services in order to create its online presence. 
But at the same, building a successful online store isn't as easy as it seems. The first and foremost thing a business should take care of is hiring the right ecommerce website development team for its project. Now when you have the best professional assistance by your side, your focus should not be just about creating an exceptional e-commerce website Well, we agree, the ultimate goal is to build a successful online store, but as a business owner, it is important to understand that there is a whole process that needs to be taken care of to create an exceptional e-commerce website for users. Thus, in the vision to develop a brilliant online store, your focus should be on making your ecommerce website development process effective and successful. 
Now once you know your vision, the question comes - how to achieve it. Well, it's simple! There are certain things along with bringing the best professional support on board that you need to ensure to make your ecommerce website development project a big success. And in this post, we have created a list of important aspects that you must ensure for successful ecommerce website development.
Why Do You Need an E-commerce Site?
Despite e-commerce being a flourishing industry, there are still many retail businesses that do not vouch for the concept of building an online store. And if you're amongst them, well, first you need to have a clear understanding of why your business needs an e-commerce site and then make a conclusion. 
Talking about why do you need an e-commerce site, well, there are reasons. The primary and the obvious one is to attract new customers irrespective of their geographical location. Attracting more customers to your business through an open also opens up opportunities to increase your sales and revenue. Along with that, investing in ecommerce website development services is also important for giving your customers better services and convenience to buy your products. Unlike a brick-and-mortar store, you can operate 24/7 through an e-commerce site that would directly positively affect your sales. One of the most important reasons why you should go for ecommerce website development is the opportunity to target new markets. Well, that's true! Having an online store gives you the option to expand your business reach and explore new markets.
Tips for Successful Ecommerce Website Development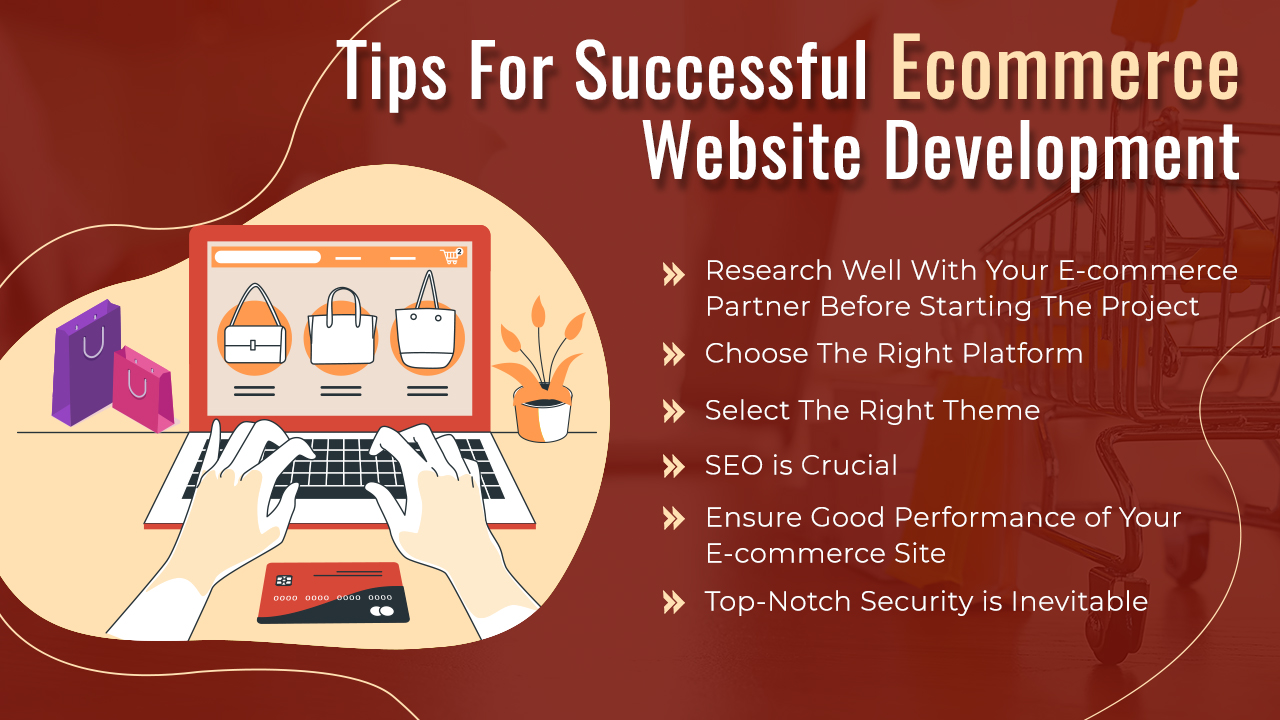 Research Well With Your E-commerce Partner Before Starting The Project
As a business owner, it is important to understand that an e-commerce site isn't like a service site or a blog; it is way more complex. Therefore, comes the need to research well before even beginning the ecommerce website development process. For an e-commerce website, many things play a crucial role in making it successful. One of them is the target market. In order to create a powerful e-commerce website, it is crucial to understand the market in and out. For that, do detailed research with your e-commerce partner not just about the market, but your users as well. This is also the phase where you will be able to sort out many technical aspects of your website like the features, payment process, and more. 
Choose The Right Platform 
One of the biggest mistakes that e-commerce businesses do even after investing in professional ecommerce website development services is the selection of the wrong platform or theme. In case you don't know the e-commerce development platform you choose will serve as the foundation of your online store. And surely you don't want any cracks or breaks, right? Well, if that's the case, then it is crucial to choose the best ecommerce website development platform for your online store. Talking about that, several platforms currently serving as hotshots in the market. WordPress, Shopify, Magento, and Drupal Commerce are those big names. But again, in order to find the right platform, you must consider your business requirements as factors like multinational users or different currencies highly affect the right platform choice for your website. 
Once you have selected the best e-commerce development platform for your online store, the next step is to find the right theme from all those available. You cannot choose a theme for your website just because some other successful e-commerce site is using it. That's not how you will be able to develop a successful e-commerce site. Just like a platform, the theme will also define the success of your e-commerce website. There are a number of things that you must consider while selecting the right theme for your online store. It's not just the visually appealing aspect that must be considered, but load time, customization, responsiveness, and compatibility to work on all browsers as well. 
Since an e-commerce website deals in the trading of goods (which means the entire revenue of the business depends on the website), SEO becomes critical in order to rank on search engines. It's your website ranking that brings a lot of users and generates a majority of sales. Therefore as a business owner, it is important to understand that investing in ecommerce website development to build a powerful site is nothing without further investment in SEO. 
Ensure Good Performance of Your E-commerce Site
Along with the right choice of platform, theme, and good SEO, the success of an e-commerce website also depends on 'how technically it sounds'. In other words, it's the performance of your website that makes the entire ecommerce website development project successful. Now, if you are wondering how to know whether or not your website is technically sound, well, many things ensure that. From speed to security to great UX to in-trend features, many factors together define the good performance of an online store. 
Top-Notch Security is Inevitable 
Through your online store, you will be selling goods in exchange for money. Now, obviously, you will give several payment options to customers for example net banking, COD, wallet payment, or through debit/credit card. Now for customers who want to pay digitally, they are expecting your website to have top-notch security in order to keep their banking information safe and secure. Therefore, it is simple - your customers are expecting it, and hence, you should deliver it. Besides, if you are not giving security the required importance during the ecommerce website development process, there are unlikely chances that users would want to shop from your store. 
Keep in mind these are just the most important tips to make your ecommerce website development process successful by creating an exceptional online store. Other tips to consider include responsive design, limiting product selection, creating a hassle-free transaction process, and including high-quality images and videos on product pages along with a description.  
You may also like: Key Elements of a Successful E-commerce Website
Now, coming back to where the entire ecommerce website development process begins, you need the best professional support in the first place in order to create an exceptional online store for making an e-commerce website development project a big success. And Auxesis Infotech is here to help you with that. With our immense experience, market knowledge, and the best resources, we can provide you exceptional ecommerce website development services and can help make the entire ecommerce website development process seamless while creating a feature-rich online store for your business.