Table of Contents
Introduction
Different Types of Fintech Apps

Loan Apps
Digital Banking Apps
Insurance Apps
Investment Apps and Robot Advisors
Payment Processing Apps
Personal Finance Management Apps

Common Features that Your Fintech App Should Have

Simplified User Experience
Analytics
Security
Personalization
Cross-Platform Functionality
Seamless Integration

Top Fintech Startup Ideas and Apps You Should Take Inspiration From

Digital Banking
E-Wallets
P2P Payment Apps
Crowdfunding Apps
Loan Lending Apps
Investment Apps
Insurtech Apps

Conclusion
Embedded finance (fintech apps) is expected to become prevalent in the next few years, which could increase the amount of revenue financial service providers can earn by 2025, which stands at $230 billion.
What does the above statement mean for the fintech ecosystem?
This integration of fintech apps will be one of the significant changes that we will witness in the future.
Fintech is a term that is associated with organizations in the financial sector that develop innovative solutions in various areas in the domain itself. It includes net banking, mobile payments, big data, alternative finance, crypto, and financial management. Recognizing the fact that how far we have come technically in the finance sector, it is equally important that we all keep moving successfully.
To keep the momentum as we look towards the future hopefully, we need to keep preparing apps that do exceptionally well and set a great example for fintech companies and others.
Thus, we are here with the best fintech apps that would inspire you to create a stunning app for your businesses using the technology of mobile app development in 2022.
Exciting isn't it?
So, let's begin with different types of fintech apps!
Different Types of Fintech Apps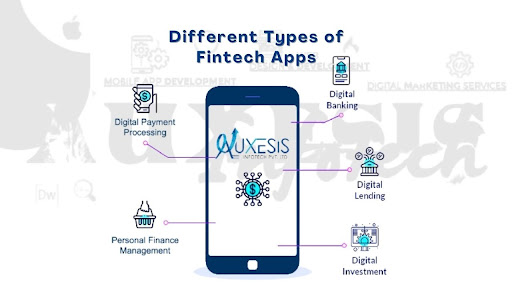 Fintech apps have evolved over time and as a result, we can see various types available in the market that serve different purposes. Considering various sub-niches and trends, here we are with different types of fintech apps. Let's have a look at each one of them one on one:
Loan apps facilitate lending, where it offers a common platform for the lender and borrower to connect, initiate the process, and resolve the issues. The best thing about loan apps is that they are not confined to just banking; rather, they are spread across peer-to-peer lending.

When it comes to how loan apps work, it is pretty simple. It begins with account registration for which the prospect is asked to submit the proof of income, credit score, and other important documents. Once the borrower has the account on the app, they can proceed with submitting the loan application.
Post loan application on the borrower's part the lender goes through all the loan applications and approves them based on the set criteria. The lender may contact the borrower in a few cases for further negotiation in terms of interest rates and policies.
As soon as the loan is approved, the app helps keep a track record of the borrowers and ensures that he pays the lender regularly.
As the name suggests, digital banking apps work like a bank and allow their customers to access data and manage accounts without having the need to visit the branch. You get most of the services either through net banking or mobile apps that include the following:
Opening an account
Checking account balance
Transferring funds
Applying for loans
Making payments
And, more!
The best thing that comes with digital banking apps is the transparency and 24/7 support and access to information and resources. Also, it is far more convenient to open an account online rather than visiting the branch and be a part of the hassle.
Another great app in the finance niche is the insurance app that offers an extensive list of services for the convenience of customers. The services usually include instant access to terms and conditions of the insurance policies, report claims, simplified payment of bills, a 24/7 support system, roadside assistance, and more.
Moreover, these apps also offer the needed safety and security net for making insurance payments and instant claims. Also, they help in handling claims faster, which is much needed when it comes to digital solutions for the insurance niche.
Investment Apps and Robot Advisors
Investment apps are another form of a digital platform that standardizes the entire investment ecosystem. These apps help make the information related to investments accessible to every section of the society and not just the wealthy.
Most importantly, they take intermediaries out of the system, lower down commissions, and keep the process simple and comprehensive for the commoners to understand and participate. Taking these advancements ahead in the investment niche robot advisors help customers manage their profiles efficiently with the help of automated brokers.
Also, it helps track customers' financial stability using AI and machine learning that can help them pick investment options wisely that fit their needs. And, there are a few apps that automatically invest some funds on the user part after checking their risk profile and financial standing.
Payment processing apps are the ones that help handle payment transactions fast and safely. These apps act as the bridge between credit card companies and customers while making financial services accessible easily and quickly.
The best part is that everyone right from small businesses to individuals can take the help of these payment processing apps to accept and request money from anyone. Also, there are multiple payment options that include instant transfer, card payment, and more that adds to further convenience.
Another great feature that payment processing apps offer is seamless cross-country money transfer without having the need to be involved in the hassle of currency exchange.
Personal Finance Management Apps
Personal finance management is apparent to the fintech industry that helps customers manage their finances efficiently. It helps customers set financial goals, track income and expenses, keep a track of savings, plan a budget, and more.
The prominent features that we see in personal finance management apps include a user-friendly interface that helps customers navigate the app smoothly and get their finances organized.
Now, these different types of apps work best when accompanied by great features. Thus, we have discussed some stunning features in the section below that can make your app super friendly for customers and enhance its functionality. Let's have a look at each one of them in detail.
Want to know which FinTech app would be best suitable for your startup?
Common Features that Your Fintech App Should Have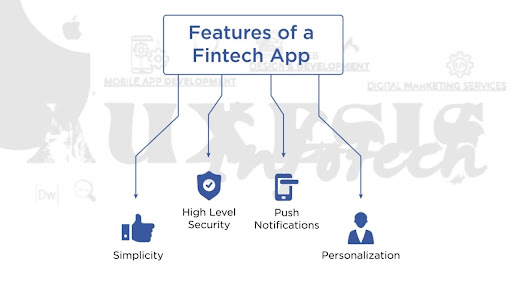 When it comes to the features of digital solutions for your FinTech app development project, here are a few common things that every developer and business is adopting.
Simplified User Experience
Simplified user experience is the core of every app irrespective of the industry. And, since the FinTech industry deals with a lot of complexities, numbers, and financial aspects, a simplified user experience is a must.
It helps customers navigate the app easily and find information when they require it without having to hunt for it. There are a number of things that make for a simplified user experience which include:
Mobile-first approach
Intuitive design
Balanced user pathway with clear and limited choices
Organized information
Clear user flow and prioritization of tasks at hand
Lesser elements in the design
Following these, you can meet customers' needs and offer a better experience while they browse your fintech app.
Analytics form the major part of fintech apps as the industry deals with complex calculations and huge transaction volumes. Moreover, analytics help enable the classification of payments, recording of transactions, evaluation of credit risks, optimizing revenue and debt collection, and more.
This way, users get a clear view of their financial activities which helps them set realistic goals on the financial front. Also, they have an idea about the financial risks they can take and what they can endure to get to their financial goals.
Supposedly, they are planning to make an investment, just by looking at the analysis of their financial activities and their financial standing, they can make out whether they would be able to take the risk or not.
Here by security we mean data security which is an essential aspect of fintech apps. The reason is that most organizations dealing in finance have crucial data such as customers' debit card numbers, bank account numbers, contact information, other transaction histories, and personal information that hackers might be eyeing.
To ensure data protection you can do the following:
Log user activity such as transactions are done, user ID, IP address, Geo-location, device data, and other important information.
Ensure two-factor authentication to improve app security through one-time code or SMS or email.
Force your customers to use complex passwords as these can't be easily stolen or hacked by cybercriminals.
Personalization is the need of the hour in every industry, whether it is on the marketing front or technology. And, apps make for a major part of technology that is driving the FinTech industry where every financial organization has its own application.
You can personalize your apps using AI by analyzing users' patterns of browsing, their activities, and transactions. After considering the above, you can send push notifications on policy updates, any offers, or benefits that your institution has to offer to customers.
This way, recommendations can be customized that will help in retaining customers.
Cross-Platform Functionality
Cross-platform functionality is not only confined to usability on multiple devices, but it also means progressive web apps and IoT. Due to the diversification of consumer habits, it is apparent that demand for advanced digital solutions will be realized.
Here IoT like biometrics (voice and facial recognition) can bring in revolutionary change as far as data security and convenience is concerned. Moreover, voice assistants will reduce wait time at the premises, when it comes to feeding information and will guide customers through self-service.
Seamless integration is another important aspect of fintech apps that customers demand. And, looking at the growing demand it's evident that developers need to build apps with apps that are well integrated.
You can implement API-led integration to ensure a variety of tasks to be conducted smoothly. For example, combining customer bank accounts into a single dashboard not only helps you when you see data populated across various apps but will also help customers to easily navigate through apps. All this will save their time and will keep the process simple.
So, these are a few common FinTech app features that developers can include in FinTech apps. Now, let's move to the top FinTech apps and startup ideas that can inspire you to build your own.
If you want to create a feature-rich FinTech app for your business, let's walk you through some must-have features for your app.
Top Fintech Startup Ideas and Apps You Should Take Inspiration From

1. Digital Banking
Digital banking is one of the trending ideas that many businesses have started investing in, where they don't have the tendency to support the physical space. Moreover, the rise of mobile applications and their usage has allowed customers to manage all the banking operations just with a few clicks.
Users in the present time enjoy various advantages of digital banking such as opening accounts, deposits, making online transactions worldwide, and more.
The best example from the digital banking category includes Ally Bank. It stands as one of the leading institutions in the world of online banking. The bank focuses on offering a top-of-the-line mobile banking experience to its users.
It also offers a clean and user-friendly interface. You can store your password and log in using your fingerprint. Once logged in, you can track all of your accounts directly from your mobile device. That means you can keep tabs on everything.
2. E-Wallets
E-Wallets is one of the most popular types of FinTech apps that has transformed the way to pay. Such is the impact of these Fintech applications that it has a huge impact on people's way of spending money. Users don't prefer to carry cash instead they believe in a secured mode of payment through these eWallets.
The reason to choose an e-wallet for a Fintech startup is because of the expanding usage of wallets. One of the best examples is DUE. It offers online invoicing, bill pay, cost splitting, time tracking, and a whole host of other features for any freelancer or business to use.
3. P2P Payment Apps
Peer-to-Peer or P2P payment finance applications are quite popular in the present time and a lot of businesses are investing in them. These types of apps focus on money transferring from one person to another.
P2P apps work in a way that users need to link their bank account with the app to make a transaction. Despite being a secure mode of payment, these apps also support features like fingerprint/facial recognition, OTPs, and much more.
If you're are a startup business, this is one of the ideal FinTech apps you can invest in since the chance of risk is low. Just to let you know, more than 150 countries adopt peer-to-peer technology; thus, foreign currencies are exchanged and transferred easily using P2P apps.
The best example is Zelle. It is a P2P service that is offered by most major banks in the U.S. that allows a user to transfer money to other users.
4. Crowdfunding Apps
When brainstorming about fintech ideas, you can also consider building a FinTech startup for other startups. And crowdfunding apps serve as a platform for budding entrepreneurs to raise money for their initiatives.
These types of FinTech apps work in a way that entrepreneurs post their startup ideas on a crowdfunding platform to find investors. Kickstarter is a popular example of a crowdfunding platform with a larger user base.
5. Loan Lending Apps
There could be different reasons for people to take a loan. Some need it for their studies, some for a house, whereas some for business. And unlike the traditional way, taking a loan has comparatively become easier - thanks to those loan lending applications.
These are powered by AI technology along with big data analytics to simplify the loan lending process. All this happens by analyzing the customer data, credit history, behavior pattern, and more.
In case you're wondering, these platforms provide money lending either from the bank or peer-to-peer lending. MoneyLion is one popular example of loan lending apps. The app helps people manage their finances.
6. Investment Apps
For businesses looking to find investors, investment apps are a preferred Fintech app type. These applications are created to provide information to businesses about publicly traded organizations.
One of the best investment apps is Invstr. The app serves as a platform for information and real-life investing. It even has its own investment community and helps budding investors learn about the stocks. For budding investors, it makes learning so much easier and fun with its fantasy stock game.
7. Insurtech Apps
Another popular FinTech app type is Insurtech apps. These applications use AI and data science technology to collect, process, and evaluate customer data. Such apps target a varied types of insurance domains; take myCigna for example.
Built by an internationally-renowned health insurance company, Cigna, the app helps users to track their healthcare expenses along with claiming health insurance.
By investing in insurtech applications, insurance companies can look to boost their operations as well as the quality of their customer service.
With that being said, we come to the end of this post. Now if you clear all the FinTech app ideas for your startup, the next step is to look for the right mobile app development partner.
Therefore, Auxesis Infotech is right here to help you. We are a reputed mobile application development company having immense experience of serving in different industries including FinTech.
We have a dedicated mobile app development team for your FinTech app development project that consists of expert professional, both experiences and young creative minds, that delivers you the best solution and services.
If you've planning part and are ready to move ahead, let's connect and take your project in the right direction.