TABLE OF CONTENTS
Introduction
Crucial Insights from Fintech Industry
Must-Have Features in a Finance App

Simple User Interface
Easy Analytics 
API Integration
Multi-Tier Functionality
Personalization
Privacy and Security

What is the Cost of Developing a Finance App?
Cost of Developing Different Types of Finance Apps that You Can Consider for Your Business

Banking Apps
Investment Apps
Lending Apps
Insurance Apps

Factors that Determine the Cost of Fintech App Development

Operating System
Native or Hybrid App
Compliance and Security
Integration
Dynamic Content

Why You Should Get Your Fintech Application Developed from India?

Regulatory Compliance
Expertise
Value for Money
Round the Clock Availability

Final Thoughts
Offering financial services was once a huge challenge for businesses. The market demanded a more feasible and effective solution not just to improve businesses' operations but to provide better customer services as well.
But with the advent of technology into the finance industry brought FinTech, also known as financial technology, into the market. This was the much-needed solution that finance companies or institutions were looking for! 
If you are a fund administrator, financial institution, or a company delivering financial services, you surely need to support your customers and provide them exceptional services while keeping their data secure. But, you also need to do it in a way that can help you scale your business without spending much.
And that's where the fintech comes into the picture! Using the technology, today you can build a finance application that could work towards the mission and vision of your business. 
Even after knowing the importance of a fintech app, there are still many finance institutions and businesses that haven't invested in mobile app development. And for the majority, the reason is the development cost. 
But hey, what if we tell you that you can build a go-to finance app for your business with minimal investment?
Well, it could be true! 
But to ascertain it, you have to stick to this post until the very end!
Before beginning our quest, let's have a look at some crucial insights from the fintech industry market.
Crucial Insights from Fintech Industry Market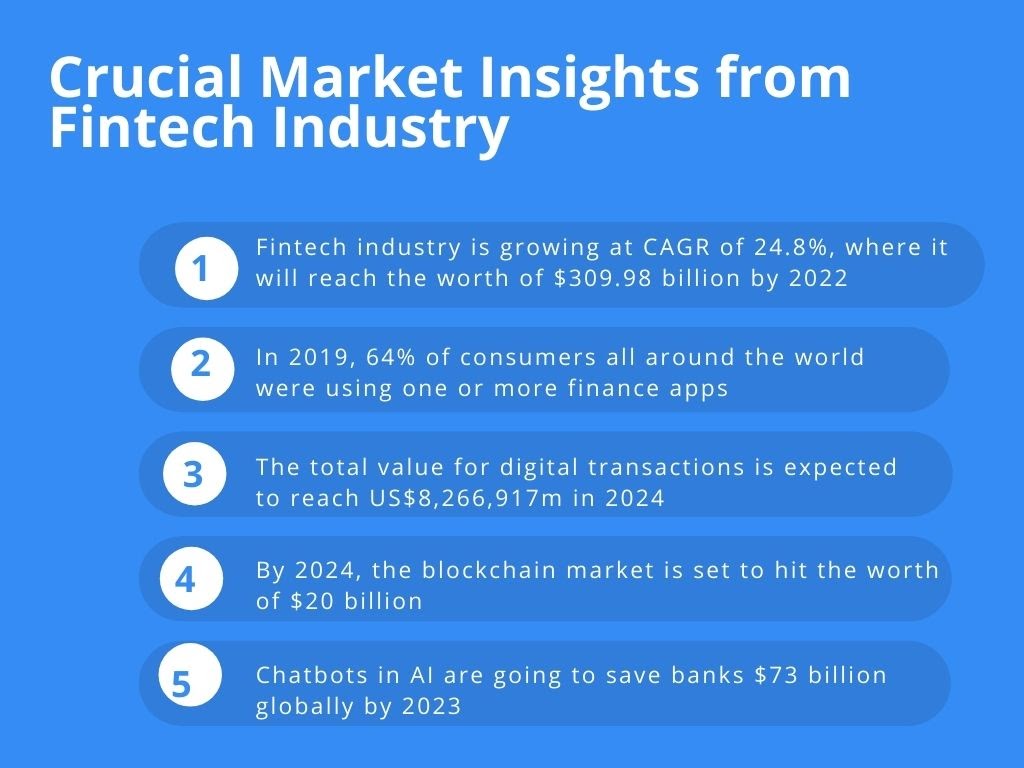 Whether it is about conserving the financial data or digital cash, investors and businesses have got a zillion reasons to try their hand in the fintech industry. Out of this, digital payments seem to make the largest share because a majority of people are using digital payments. 
 Considering the stats mentioned above, we hope you are well acquainted with the magnitude of the impact fintech applications have left across the financial sector. These market insights will provide you with the needed flexibility to build software architecture for a fintech solution that aligns with the market trends. 
Want to know more about fintech app development? 
Refer to our guide to finance app development. You will get the crucial insights and direction that you need to develop smart and robust solutions.
Now, let's see some crucial features that you should include in your fintech application.
Must-Have Features in a Finance App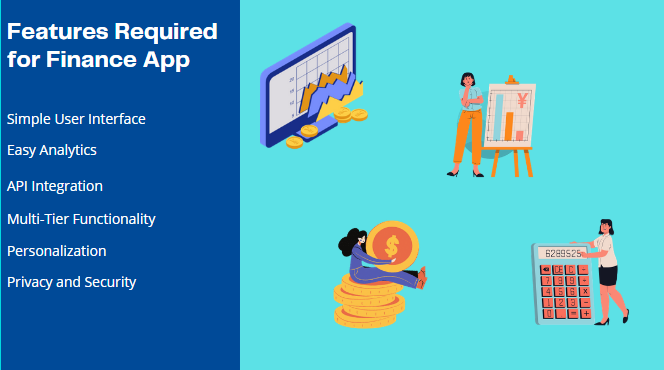 Mobile applications are designed to simplify the process related to a specific domain. In the fintech industry, customers focus more on the usability of the app rather than aesthetics. The app must have all the crucial features that enhance usability. Some of the features are mentioned below, let's have a look at each one of them: 
1. Simple User Interface
Fintech apps usually have an impression of having a confusing and dull interface that takes people's attention away. Currently, simplicity is something that's winning the game of engaging UX/UI for FinTech apps. Your mobile application should be able to translate complex information into simple, comprehensive, and actionable data. 
2. Easy Analytics
Easy analytics is also a crucial aspect of a fintech app as it enhances the user experience. With easy analytics, users can get access to real-time data. It helps them keep track of their financial activities and personal capital. Also, make sure that your app allows the users to generate reports and set saving goals that will give them an idea of their spending pattern. 
3. API Integration
API integration is one of the basic requirements of a fintech mobile application, considering the numerous financial needs of the users. 
GooglePay is the best example of API integration where it uses EMV Payment Tokenization Specification. Customers' payment data is end-to-end encrypted. The user gets access to their payment cards saved to Google accounts. 
The app comes with a simple checkout process from one card to another and convenient access to make payments. Moreover, it takes care of your privacy and security concerns by keeping the customers' payment information private from the retailer. 
It is ensured by replacing the customer's credit or debit card Funding Primary Account Number (FPAN) with a tokenized Device Primary Account Number (DPAN). This tokenized device's primary account number creates a security code for each transaction that takes place
4. Responsiveness Over Different Platforms
Considering the multi-tier access over devices and phones is another crucial aspect of a successful fintech app. Make sure your mobile app development team looks into it along with maintaining a pleasing response time while building a successful fintech app. 
Users nowadays need an app that allows them to keep track of thousands of concurrent sessions over their smartphones and desktops. And the multi-tier functionality perfectly supports that. 
5. Personalization
Personalization is the core of today's modern marketing that has gradually become a must-have feature in fintech solutions. It helps fintech companies analyze users' financial behavior and build mobile solutions tailored to their interests. This way, your users feel addressed and valued, making your application more interactive and reliable. 
6. Privacy and Security
Data security and privacy are something that cannot be ignored during the development process of any web or mobile application. Since users are concerned about the privacy and safety of their financial information, you must provide them with a safe environment to use your financial services through your app. 
 
When it comes to maintaining privacy and security, developers tend to use secured APIs to ensure the safety of their data. The common features users see include displaying only the last three digits of the payment card or requiring user information to change passcodes. 
In case you don't know, top-notch security has always been amongst those fintech trends that must be considered while developing an app.
 
Now that you know the important features to include in the fintech application, let's have a look at the average cost to build one. 
What is the Cost of Developing a Finance App?
It wouldn't be wrong to say that Fintech apps have become an integral part of everyone's lives. As a result, more and more businesses are thinking of investing in Fintech app development. 
But the cost of development is still a concern for many because businesses need a robust solution within a budget. If we talk about the average cost of development, then it varies from one geographical location to another.
 For example, the cost of development may vary in India as compared to the USA. In the USA, the hourly rate of development for a basic fintech app is higher on average while in India, the average cost could be lower. 
Other than this, the cost of developing the app also depends on various other factors such as features you include in the application, the technology used, and the complexity of the project.
The common formula used to calculate the cost of development is mentioned below-
Total App Development Cost = Development Time x Cost Per Hour
If we talk about the cost of developing an application with the basic UI and common features, it could come down to the amount ranging from US $20000 to $35000. 
If you include a few advanced functionalities in your fintech app then you can expect the cost to increase to the US $40000 to $70000.
Now that you know the average cost of development, let's see the average cost according to the type of fintech application.
Need a Smart Fintech Solution?
Discuss Your Requirements With Us!
Cost of Developing Different Types of Fintech Apps that You Can Consider for Your Business
When it comes to fintech applications, the market is choke-full of various solutions. However, you should know the different types of apps available in the market that serve different purposes and are built at different budget ranges.  Some of them are mentioned below: 
1. Banking Apps
Banking apps are the most commonly used fintech apps that allow users to view their balance and transaction history. Also, you can initiate money transfers from banking apps up to a certain amount. 
Nowadays, with the help of a banking app, you can schedule payments for monthly bills, send person-to-person payments, and locate ATMs in different locations.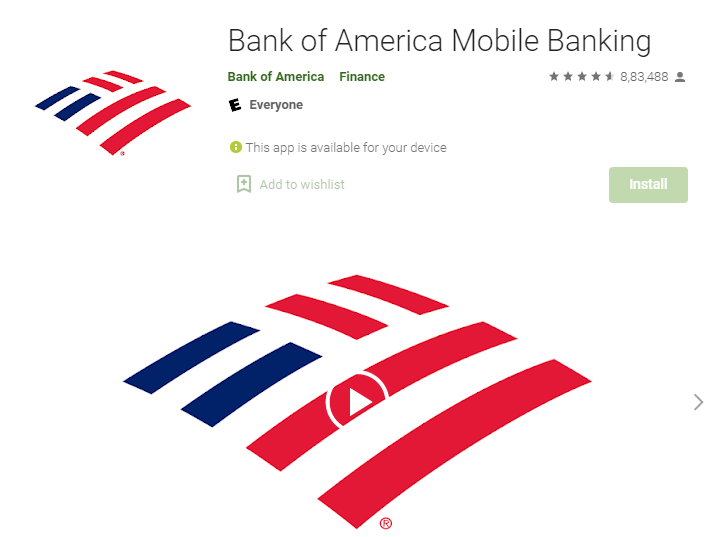 Bank of America app is one of the best banking apps in the world and also a great example to learn about this type of fintech app. It has the most advanced functionalities that customers expect. 
The app also includes facilities, such as checking balance, viewing statements, transferring money, paying bills, push notifications, and message alerts.
 
To build a similar banking app, you would require the US $100 to $120 hourly on average. The cost may increase or decrease depending on the additional features you want to include in your mobile app. 
2. Investment Apps
Investment apps are best suited for businesses in trading and investment. These apps will help your customers get their personal finances organized, convenient trading, and track their spending. Other than this, many benefits draw investors' attention to using investment apps as they are simple to use. 
Invstr App can be taken as the best example of an investing app. Here you will find a great mix of learning, real-time trading, and community that guides the beginners to navigate the twisty terrains of real-time trading.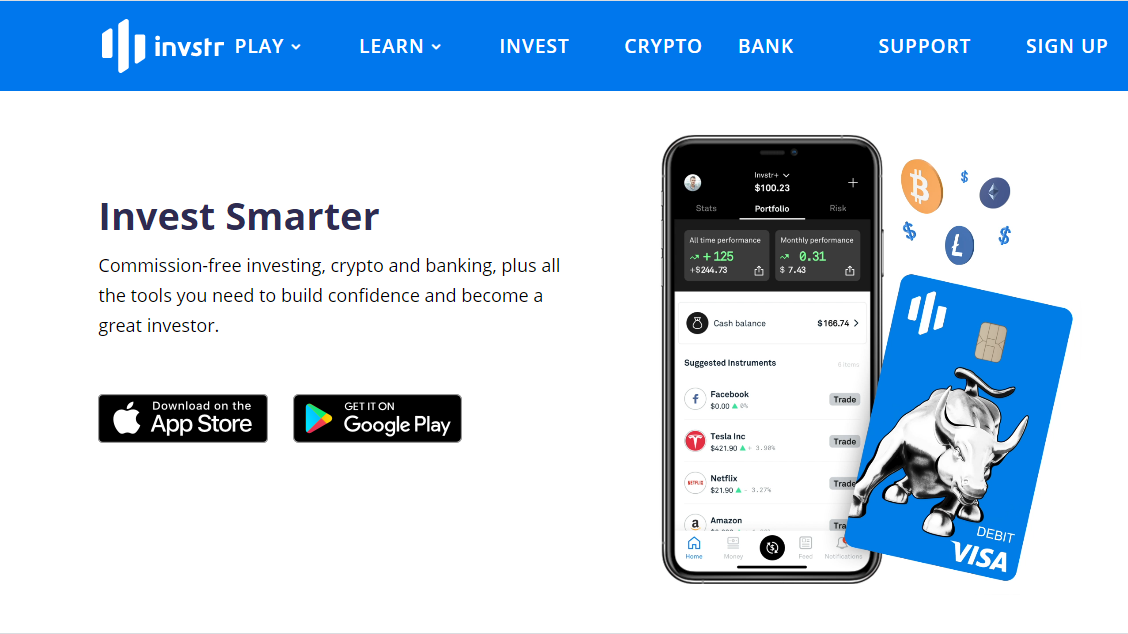 If you wish to create a fintech app focusing on investors, the hourly rate starts from $50. It can vary from location to location and the additional features you include along with the project complexity.
3. Lending Apps
Loan lending apps are the new rage in the market that have mushroomed forbanking-level quite a while as they serve one of the most important financial needs of customers. If you offer loan lending services, you can consider this type of app for your business.
Dave is one of the best loan lending apps in the fintech category that lets you borrow a small amount of money so you can cover your expenses. It offers loans that are different from traditional loans and the app also features a side hustle attribute that lets you earn extra income. The app is fully automated and offers banking-level security.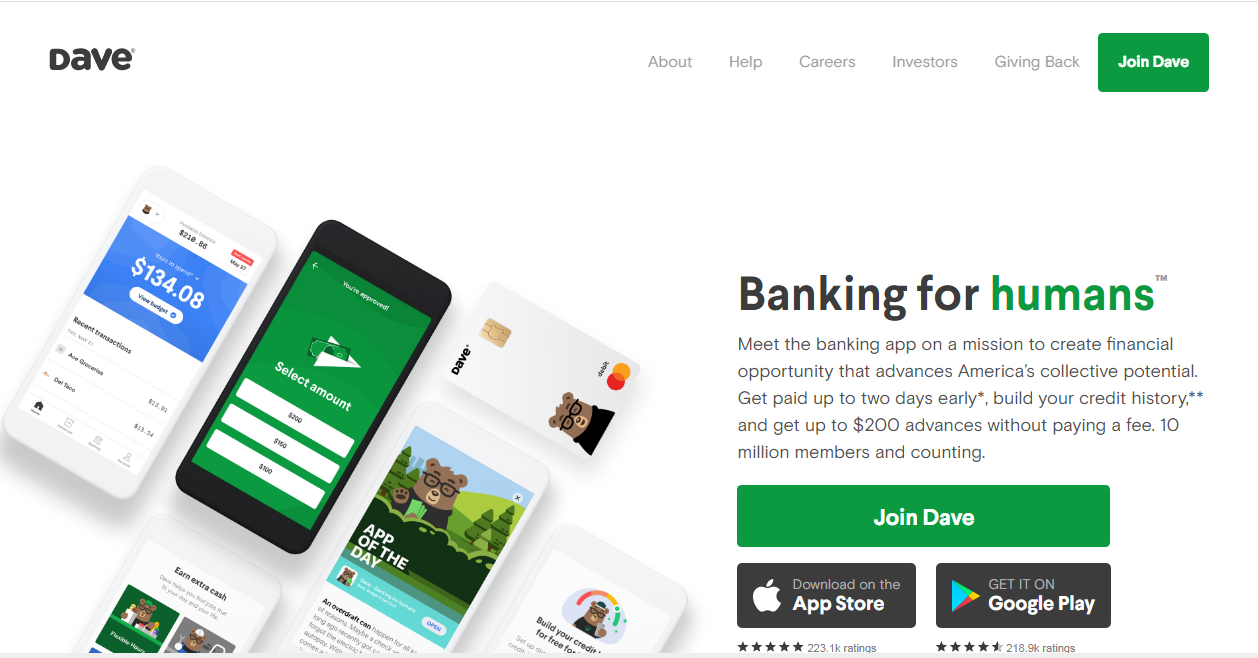 If you wish to create an app like Dave, you need to spend around the US $50 to $200 per hour on average. The cost may vary according to the technology used, features you wish to include, and other factors. 
4. Insurance Apps
Insurance apps are ideal for those who are running insurance businesses. Insurance apps are designed to simplify the process of insurance for customers. 
Users can apply for policies or renew the same, make crucial payments related to insurance, file insurance claims, and do other important tasks.
Allstate is one of the best mobile applications from the fintech domain that offers numerous insurance services. You will get a simple dashboard with advanced features that show crucial insights that help you in determining what type of insurance you need.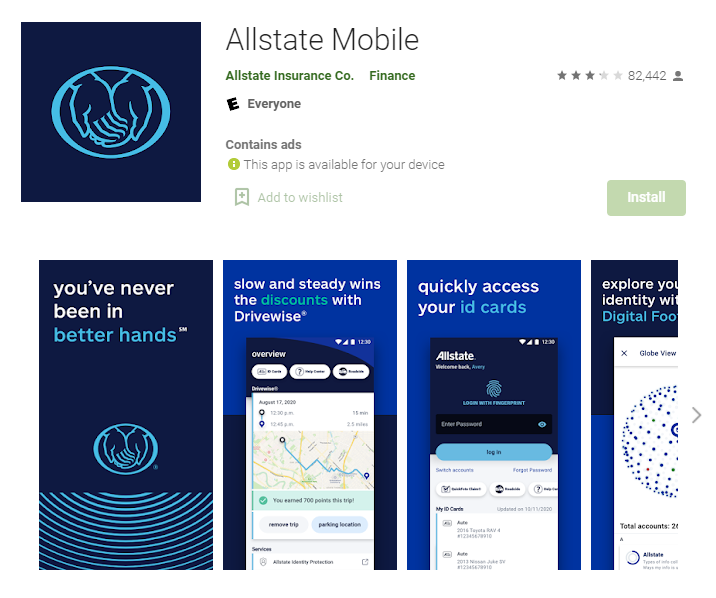 To build an app like Allstate or an insurance app with better functionality and aesthetics, you are required to spend money ranging from US $25000 to $60000. 
Want to Develop a Robust Fintech App?
Consider the cost analysis according to the type of app before you head to your development team to get an app developed. 
But as we mentioned, there are many factors you must be aware of that determine the cost of mobile app development. So, let's now discuss that!
Factors that Determine the Cost of Fintech App Development Project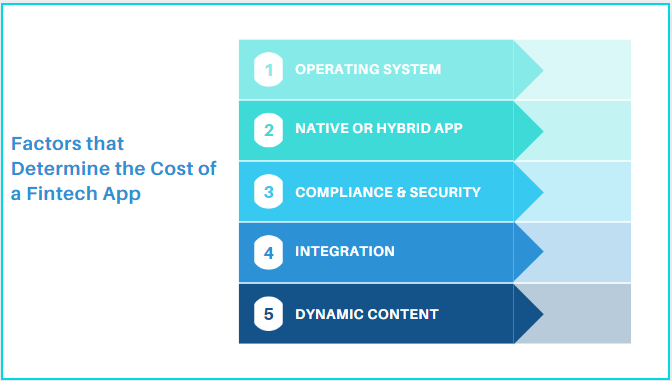 Factors-that-determine-the-cost-of-fintech-app-development-project
As discussed in the sections above, features and country demographics are crucial in determining the cost of developing a fintech solution. There are a few other factors that have a significant role to play. Some of them are mentioned below:
1. Operating System
When it comes to operating systems, the two common operating systems are iOS and Android. The cost of development is different for both iOS apps and android apps. 
As a matter of fact, iOS app development is costlier than android app development. The reason is that the iOS app is faster as it is majorly on Java which has high readability. 
2. Native or Hybrid
Native apps are costlier than hybrid apps because they require expertise in specific languages. Moreover, in native, you develop your apps for each platform like iOS and Android, separately, in different codebases.
Whereas, hybrid apps have elements of both native and web apps that use a single code for both platforms. Thus, hybrid apps require less effort on the part of coding which makes it an affordable option as compared to native apps.
Also, native apps take more time to get developed and hybrid apps are easier and fast. No matter how long it takes, if you prefer quality over everything, then we would recommend you to go for native app development. 
3. Compliance and Security
Compliance and security is another crucial factor that affects the cost of development. An app's foremost requirement is the secure infrastructure that must follow specific security standards such as ISO-27001 for ISMS, ISO-27002 for controls, ISO-27001 for information security best practices, and more.
There are many security and compliance parameters that may increase the cost of development. It includes application logic security, code security, web-server security, API security, identification, authorization and authentication, payment blocking, and data encryption. The more security measures you include, it will increase the cost and thus these factors tend to affect the cost of development.
4. Integrations
API integrations have a huge impact on the cost of development. Usually, companies opt for third-party APIs to gauge users' financial stability, analyze lending criteria, and saving goals just with the intent to get clear data and insights. 
Being third-party software interfaces, these APIs require additional costs from businesses to get featured on their websites. As a result, the development cost increases. 
Common API integrations include Yodlee for authentication, PayPal for payment processing, and more. The more you include integrations, the higher will be the cost of development.
5. Features and Functionality
Features are essential in fintech web or mobile applications to enhance the usability and user experience. For this reason, many companies include various functionalities and dynamic content in their website and applications.
Content would include videos, images, graphics, texts, banner content, blogs, infographics, and more.
Features include advanced context-based pop-ups, personalized offers and suggestions based on users' browsing patterns, and more. The more features you add, the higher the cost of development would be. This way, it could affect the overall cost of development.
Knowing the factors that determine your cost of development might have put you in a dilemma. You might be wondering what's the best way to build an ultimate fintech app. Well, we would recommend you to work with a digital marketing agency for your fintech projects. 
Look for a professional team with good experience that suits best to your budget. You can also look to hire fintech app development services from India. Wondering why? 
Well, we have discussed a few crucial points in the section below, let's have a look.
Why You Should Get Your Fintech Application Developed From India?
India has become the most sought-after IT hub for developing robust applications in various industry domains, right from travel to finance. 
Not only cost-saving but there are also more crucial factors that would surely compel you to get your fintech app developed from India. Some of them are mentioned below:
1. Regulatory Compliance
In India, you will get a team of experts who are aware of the regulatory terms and conditions of your business and your area along with the industry standards followed. They can help you with robust finance apps that comply with the laws and regulations of your business operations and your local area.
2. Expertise
India is the hub of IT experts and a great pool of talent. Here you can expect a team of dedicated fintech developers that can help you with their robust fintech solutions. The experts will understand your requirements and accommodate your needs if they fit in the box.
3. Value for Money
The cost of app development also depends on the geographical location of the team you're looking to outsource. If you choose to hire a professional company based in the USA, UK, or any other European country, then the development cost would be higher. 
Whereas, if you're looking for quality mobile app development services on a budget, India is the best market to outsource IT services. Here you will get the best value for money even when you are having a tighter hand on the budget. You will get affordable developers as compared to the west. 
4. Round the Clock Availability
Another great benefit of picking a mobile app development team from India is the time zone difference that ensures round-the-clock availability. It boosts their productivity which leads to faster turn-around time. Thus, businesses don't face any issues on the part of deliverables.
So, this was all about fintech app development. We hope you found it useful and informative. If you want more such interesting topics, you can consider reading insightful blogs for different industries and IT services.
However, if you are looking forward to getting a finance app developed, connect with Auxesis Infotech. Here you will get industry experts who begin with gathering requirements and understanding your needs. Considering all the essentials, the professionals with seasoned experience make sure that they provide nothing less than quality output.
If you have any queries, you can contact us to know more about our mobile application development services.
Need Our Assistance?