Table of contents
Introduction
An Insight Into Fitness App Industry: Why You Should Create One?
How Fitness App Turned Out to Be a Boon in COvid-19 Pandemic?
Features of a Fitness App

Common Features For All Types of Fitness Apps
Other Features That a Fitness App Must Have According to Its Type

Monetization Model For Your Fitness App

In-App Purchases
Free Apps
Paid Apps
Advertisements

Tips For Business Owners to Create a Successful Fitness App
Cost of Developing a Fitness App
Fitness App Development Stages

Market Analysis
UX Strategy
Design and Development
Testing
Deployment

Conclusion
Fitness has always been an integral part of people's life. And in recent years, the industry has witnessed a major shift as more and more people are becoming health conscious and entering the industry.
As per a report by Statistica, the total number of fitness app users increased from 62.7 million in 2018 to 86.3 million in 2022 solely in the USA. This clearly shows the increasing demand for fitness apps and platforms.
Those numerous fitness apps have certainly made it easier for those who want to attain a healthy and fit lifestyle. But with the increasing number of fitness app users, comes the demand for these apps.
And seeing that, more and more fitness businesses are going digital with fitness app development. They want to create an app that not only helps them provide exceptional services to their customers but also brings more and more users to the app.
So, if you are one of those businesses that are still in the research phase to develop the best fitness app, well, this guide will help you with everything.

An Insight Into Fitness App Industry: Why You Should Create One?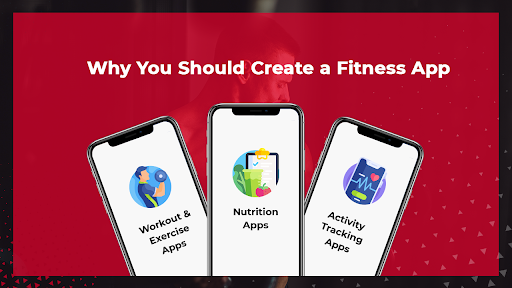 In 2021, the global market size of the fitness app industry was valued at USD 1.1 billion. And these (CAGR) numbers are expected to grow by 17.6% from 2022 to 2030.
If we just talk about 2020, as per Statista, health and fitness apps were downloaded a total of 593 million times in just the first quarter of the year. All these numbers were highly influenced by the outbreak of COVID-19.
Types of Fitness Apps:
In the market, you can see different fitness apps offering different services and serving different types of users. However, in general, there are 3 types of fitness apps.
1. Nutrition Apps
2. Workout and Exercise Apps
3. Activity Tracking Apps
However, there could be fitness apps that cover two or more categories. For example, an app can also provide nutritional information to users along with scheduling workout charts for them.
The dynamics of the fitness industry are such that you don't have to stick to just one category. In fact, it's always a good option to try to cover all three categories in your workout fitness app.
Along with that, there are some other fitness app categories as well that are very much in demand at the present time. These are logbook apps, personal trainer apps, fitness apps that pair with devices, self-care & mindfulness, and more.

How Fitness App Turned Out to Be a Boon in Covid-19 Pandemic?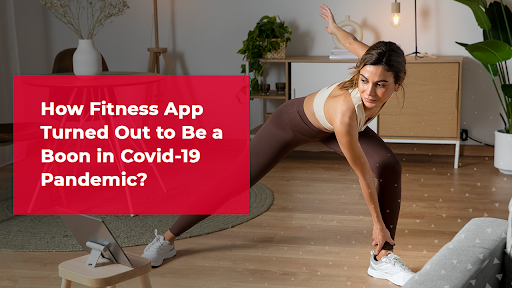 When COVID-19 hit the world, let's be honest the world didn't know what to expect and how to react. But after a while, there came 'the new normal. And as a part of this new normal, we got to see a lot of new adaptions in the conventional ways of how things work.
For example - before the covid pandemic, no one ever thought that working from home could actually be a long or in fact, a permanent solution for many businesses. But here we are!
Similarly, the healthcare industry saw a lot of changes and advancements in its operations during this time. And wellness and fitness industries weren't far behind.
This was also the time when people had time to focus more on their health as they were at home all the time. As a result, the fitness industry and the wellness industry flourished at a great pace.
As per a report by World Economic Forum, just between quarter 1 and quarter 2 of 2020, the daily active users increased by 24% for fitness apps. And if we talk about the region-wise growth, India saw the maximum growth of 84% DAU.
What used to be a challenge without a professional coach is now possible through a fitness coach app. Home workouts became an actual thing during the lockdown time.
It wouldn't be wrong to say that the fitness industry has been highly affected during the COVID-19 pandemic, and as a result, it also caused a significant emergence of the need to build fitness apps for beginners, intermediaries, and experienced fitness professionals.

Features of a Fitness App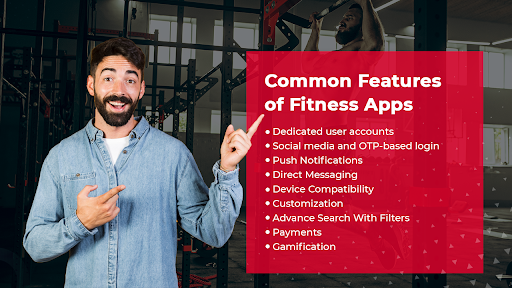 It's not just the design and user experience that makes a fitness app successful. Providing users with an exceptional experience on your fitness app is important, but incorporating the right set of features into your app is more important.
In fact, your app's features also play a major role in defining its user experience. But understanding the concept of what features should be added to your app, well, it mainly depends on the type of fitness app you want to build.
Common Features For All Types of Fitness Apps
Every fitness app builds on the same foundation, i.e., to serve the fitness industry. Thus, there must be some common features that every type of fitness app should have. These are
Dedicated user accounts
Social media and OTP-based login
Push Notifications
Direct Messaging
Device Compatibility
Customization
Advance Search With Filters
Payments
Gamification
Other Features That a Fitness App Must Have According to Its Type
| | | |
| --- | --- | --- |
| Nutrition App | Workout & Exercise App | Activity Tracking App |
| Diet Planning & Recipes | Integration With Audio Streaming Apps | Maps & Routes |
| Calories Counting | Workout charts | Integration With Other Devices and Services |
| Community | Video Tutorials | Blogs |
| Education Content | Video Chat/Live Streaming | Social Sharing |
| Video Chat/Live Streaming | Social Sharing | Integrate geolocation |
Build a trending, feature-rich fitness app under the supervision of the best tech experts.

Monetization Models For Your Fitness App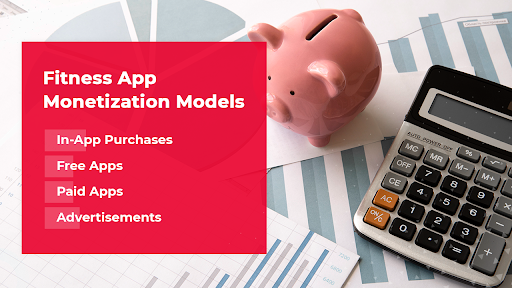 Of course, there should be proper planning and process to build an exceptional fitness app for your business. And it must include the monetization model of your app.
Now, to help you understand it better, let's dig a little deeper into the monetization model of a fitness app.
For a fact, you can still make money by creating your own fitness app. Obviously, for that, you have to follow a proper approach to encourage users to buy something (product or services) in the app.
You can lock a few features or the content of the app and encourage users to buy a premium version to be able to use all features of the fitness app.
Free apps are basically the freemium model of any app. It works in a way that allows your users to use the fitness app for free. You can either entirely make your app free for users or can make it partially free, i;e., the freemium version which is like you lock a set of features for premium users.
Firstly, it is important to understand that paid apps and in-app purchases both are different app models. In paid app model, users have to first buy the app in order to use it.
If your app provides a good value to users, there are higher chances users will pay for them. This model mainly works in a way where you provide a 3-day or 7-day trial to users and ask them to purchase the premium version to further use it.
This is another app model which is quite popular in the fitness industry. Many fitness companies may take interest in partnering with you and running ad campaigns in your app. This way you can also some commission and earn through the app.

Tips For Business Owners to Create a Successful Fitness App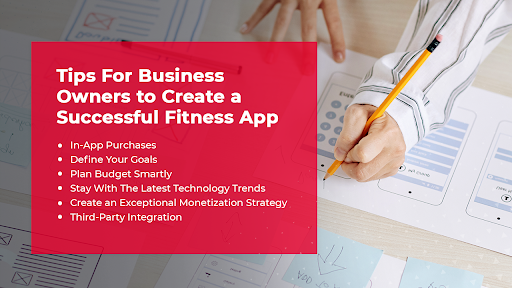 We understand that as a business owner, it is important to get some useful insights and tips to build an outstanding fitness app. And to help you with that, here are some useful tips for mobile app development tips in 2022:
It's not just for a fitness app but for any app, it is very crucial to lay the foundation of an application on its goals. It helps filter out a lot of things such as defining the target users, what set of features your app needs, what app model to follow, and more.
This is a crucial tip as it defines the making and breaking of your fitness app. Once you are done defining your goals and missions, the next big step is to plan your budget smartly.
Estimate how much money and time need to be invested in the app. If you're a first-timer, understanding the risk associated with building an app is also very crucial.
Stay With The Latest Technology Trends
Apps that do not follow the latest technology trends are unlikely to make it in the market for a long time. Thus, it is crucial to building your fitness app considering the latest technological trends and include all the latest features. And to build a fitness app with the latest features, it is crucial to do thorough research of the market.
Create an Exceptional Monetization Strategy
This is probably the most important tip you could get as a business owner who's planning to invest in professional mobile app development services to build a fitness app.
Above we mentioned a few monetization models that you can follow. But that won't be enough until and unless you have a proper plan of how and the ways your app will eventually give you the ROI.
It is crucial that your app doesn't restrict to just a few functionalities. As a business owner, it is crucial to be flexible towards the functionalities you want to incorporate into your fitness app.
Cost of Developing a Fitness App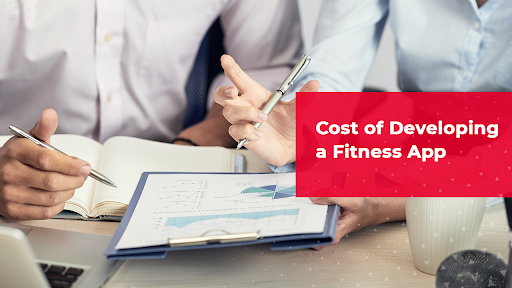 Just to let you know, the cost of developing a fitness app varies from project to project. In other words, there are many factors that influence the development cost of a fitness app. These could be:
Features
Technology Stack
Project Requirements and its Nature
Discovery
The Geographical Location of the Service Provider
Post-Development Service Requirements including mobile app maintenance.
However, that's just not all! The development time also remains a concern for many business owners. But it mainly depends on the hiring model or the outsourced mobile app development services you choose. The development time also influences the development cost of your fitness app.
With that being said, let's categorize the development cost into various segments.
Custom Development: From $40000 to $200000
UI/UX Design: From $5000 to $20000
Quality Assurance: From $5000 to $25000
Project Management: From $7500 to $35000
Business Analysis: From $2500 to $15000
To sum up, the overall cost of developing a fitness app ranges from $55000 to $300000.
You're just a step away to get an estimation for your fitness app development.
All you need to do is fill out this form.
Fitness App Development Stages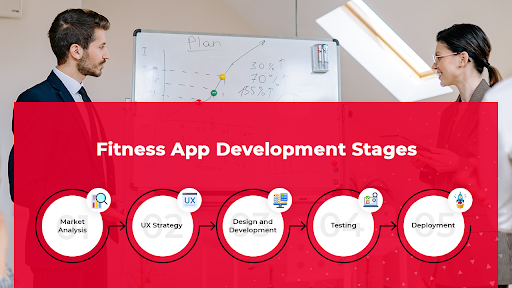 Now that you are familiar with all the aspects of fitness app development including its cost, let's move on to the development phase.
You have the idea, right? Now, let your mobile app development team do market research to know if your fitness app idea is marketable. As a business owner, it is important to brainstorm with the project manager, designer, and developer.
It is crucial to make a vision for your app and create a full plan for all the requirements, target audience, challenges, acquisition channels, competitors, USP, and revenue sources. This stage also includes idea validation to analyze the problems your fitness app will solve.
Once you're done with all the research and planning part, it's time to hit the ground to make your vision a reality. Your hired mobile app development team will help you with the UX strategy.
In this phase, it is crucial to ensure that you build a data structure and interconnections using an informational diagram. Besides, create a high-fidelity prototype that must include an interactive interface. Along with that, also make sure that your team is creating a rough project plan with the deadlines and the assignments.
The designing and development part of your fitness app should be divided into sprints. Make sure the project manager prioritizes the tasks, assign them to the right person, tracks their progress, and keeps a track of the backlog.
During the design concept sprint, it is also crucial to ensure that the style guide is made to use in any part of the project. Besides, make sure that the team elaborates the design of functionality, builds up the technical environment for the next sprints, and refines documents.
The app must be built in sprints in the development phase and the project manager should keep and manage plans for the next sprints.
Now your fitness app has been developed, the next step is to test it in all different environments. Without testing, you cannot proceed with your app. In case any error occurs, make sure to rectify and improve them. To best test your app, you can follow certain ways:
Taking inputs from users to know if the app is working properly
Track the KPIs of your fitness app
Fix design or technical errors
Improve your fitness app's performance and functionality
Since your app is fully developed and ready to roll in the market, it's time for the big launch. You can deploy your fitness app through app distribution platforms such as App Store and Play Store.
To help you build an app of your vision, Auxesis Infotech is here to help you.
Connect with us and let's get it done for you.
Conclusion

It's no doubt that the fitness app market is growing rapidly and is expected to be the same in the coming years. It will definitely attract more fitness buffs in years to come.
If you are a fitness business, then you should be prepared for all the potential benefits that await. For that, Auxesis Infotech is here to help you. We are a leading mobile app development company offering the best quality fitness app development services to businesses that aim to make the most out of the technological advancements happening in recent times.