"Knowledge is power. Information is liberating. Education is the premise of progress, in every society, in every family." - Kofi Annan
Agree or not, but it's the knowledge that derives the evolution of humankind, be it in healthcare, IT, energy, financial, or any other industry. Now talking about evolution, well, it would be unfair to not talk about the evolution of the education sector itself. The traditional way of learning or imparting knowledge has served humankind for centuries. But with digitization, there comes a new way of learning or gaining knowledge. Yes, it is eLearning! 
In recent years and especially post-COVID pandemic, the entire scene of the education industry has changed. Where there were a limited number of eLearning platforms before the pandemic times, the number significantly increased during these times as it was the best solution for educational institutions, academies, schools, and universities to ensure the continuous education of their students. In other words, businesses realized the importance of digital presence as a market trend. 
It wouldn't be wrong to say that the eLearning industry has opened up new opportunities for businesses. As a result, many businesses have started to realize the exponential growth of the industry and have started to invest in it. And if you are also someone who is looking to build an education portal, well, you must know all the tips and tricks to create an exceptional eLearning platform. Developing an eLearning platform is as easy as it sounds; there are many exclusive features that have to go into an education portal in order to make it seamlessly operational for students and learners. 
Talking about that, SCORM is one such important feature that cannot be avoided in an eLearning platform. And to let you know everything about the SCORM, we have created this post. 
What is SCORM?
If you are new to the eLearning industry, you must be wondering what SCORM actually is? Sharable Content Object Reference Model or SCORM is basically a set of international standards for eLearning platforms or websites. In other words, it describes a particular way of building a learning management system. It creates units of online training material that can be shared across different systems.  SCORM covers a list of technical requirements in which there are detailed descriptions of the principles and the e-course structure on any learning management system. 
How Does SCORM Work?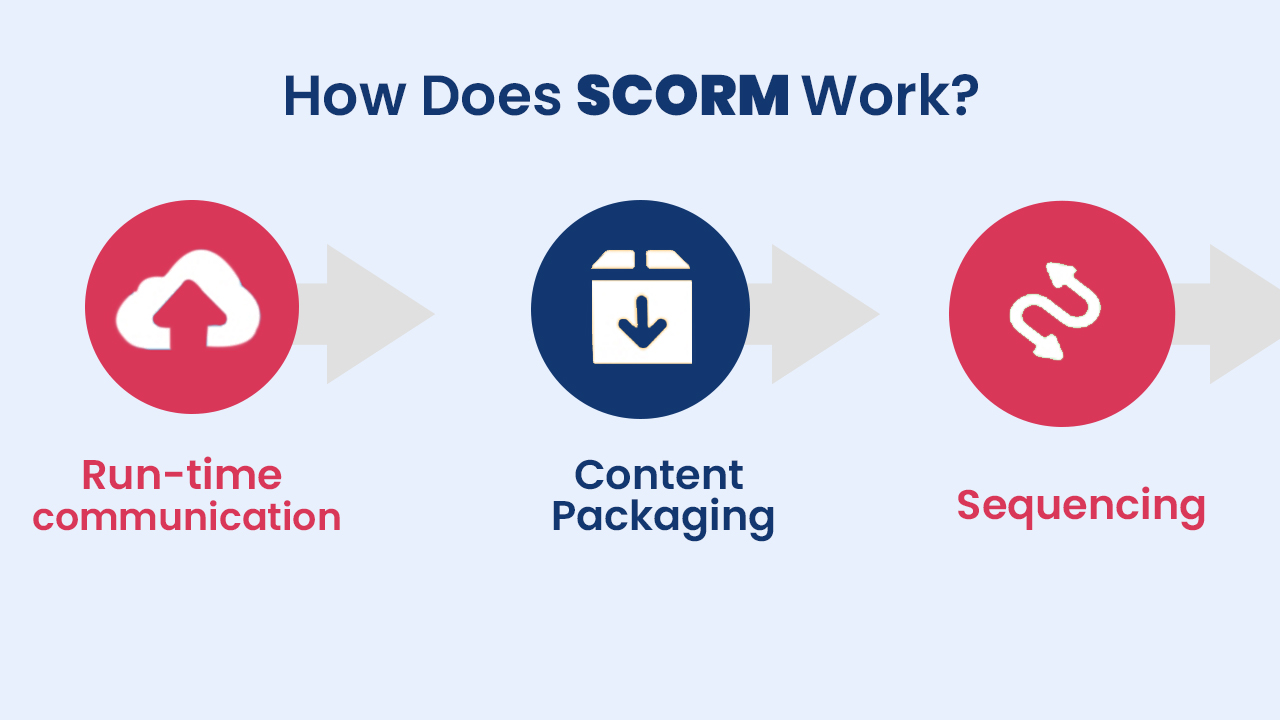 After knowing about SCORM, if you are now wondering how it works, well, there are three elements that work together to make SCORM deliver courses on an education portal or a learning management system. 
1. Run-time communication:
Run-time communication is one such element of SCORM that facilitates data exchange between the content and a learning management system (LMS). It basically is responsible for tracking and delivery. Now talking about how this entire process works, there are certain steps. First, the content finds the LMS. Thereafter, through the corresponding vocabulary along with the 'get' and 'set' calls, they communicate. Through these, things happen like informing the LMS about the learners' score in a test or quiz or asking the learner's name. 
2. Content Packaging:
Under this element, all learning materials, be it videos, tests, and lectures, are placed into a SCORM package. Now, this is the information that is needed for launching the content. Under this element, questions like what is the name of the content and which document should be launched are answered. 
3. Sequencing:
This element is responsible for ensuring how a student or learner will navigate through the course. In other words, this element defines how a user will move after being done with a certain task and also ensures which activity should be completed before proceeding to the next step. 
Why Should You Use SCORM in Your eLearning Platform?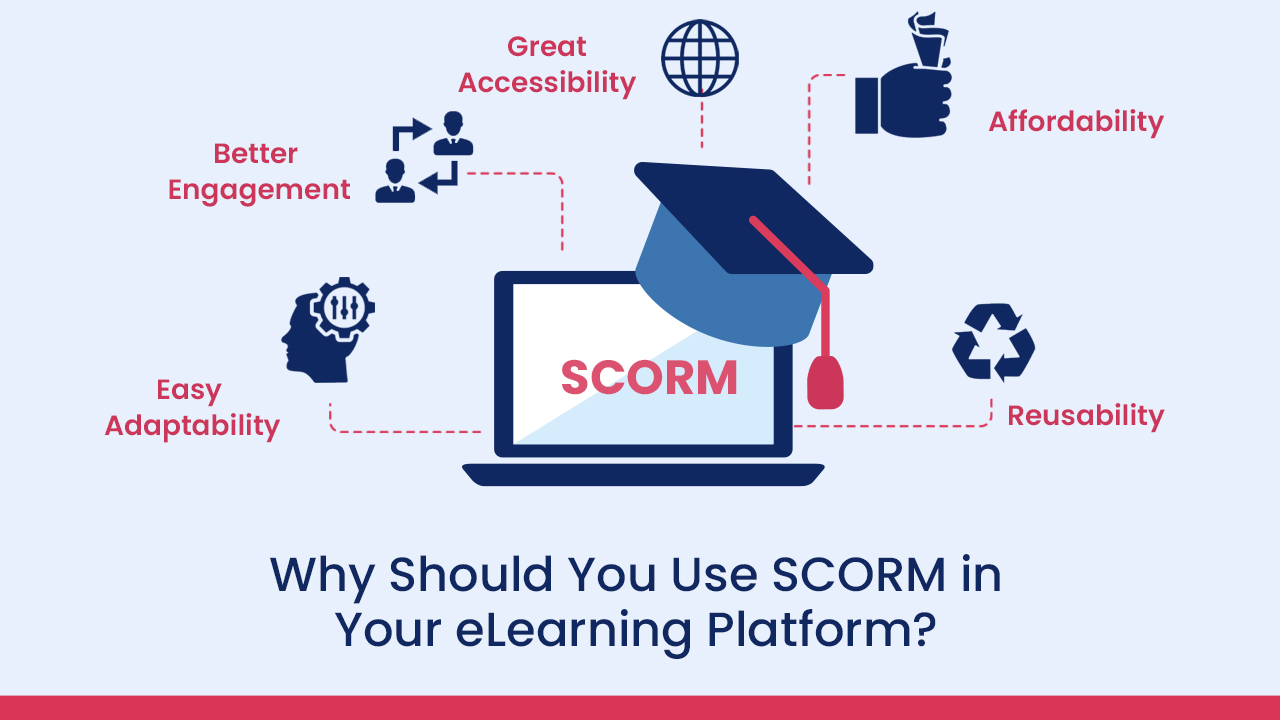 Let's understand the need to integrate SCORM into your business model in a simple way. If you are producing different types of content on your education portal or eLearning platform, then it is crucial to integrate that content into a learning management system (LMS). Therefore, comes the need to use SCORM. It basically makes the integration process seamless. Having said that,  let's now have a look at the perks that you can enjoy using SCORM in your eLearning platform or education portal built with the help of the best professional web development services. 
Adaptability is one of the biggest advantages of using SCORM in your learning management system. The model allows great flexibility for businesses to create a variety of content to fulfill the needs of every type of user, be it an individual learner or a group of learners. In simple terms, the sharable content object reference model makes it easier for the business to create customized content for users. 
Not just this, the tool also allows you to keep control of the length of the course as well as the time one spends on it. Along with that, you can also merge a course and assessment to provide a seamless and better experience for users on your education portal or eLearning platform. 
The core concept of SCORM talks about engagement on an eLearning platform or education portal. Since integrating the tool into your learning management system facilitates systematic management of the content which allows users to easily find the desired course and also navigate them through the course, the engagement on your education portal improves. However, it is also crucial to understand that the engagement factor on your eLearning isn't solely dependent on the SCORM tool, the quality of your content also matters. Therefore, your content ought to be engaging and interesting enough to provide learners a better learning experience. 
Courses that are SCORM -compliant can easily be delivered to users. Not just this, users can get access to your courses even from a remote location on a SCORM-compliant learning management system (LMS). It works on the simple concept; as soon as your content gets updated on your learning management system, any learner or student from across the globe can access it. In other words, you don't have to reconfigure your SCORM courses in order to make them accessible from any location. 
The last and probably the most important benefit of building SCORM-compliant software is affordability. Many think that integrating SCORM into their learning management system is a costly process. But in reality, it is an affordable solution for your eLearning platform or education portal. Making the most out of this tool, you can improve efficiency by ensuring a reduction in the cost and time required in content creation. 
In the present world, reusability is one thing that has become an evident need in almost everything and everywhere. Not just SCORM-compliant content can be accessed on the different learning management systems, but they can also be used or referred to create new content. Along with that, the tool also gives you the option to make changes to the existing content that is already live on your learning management system or education portal. 
You may also like: 
Why Should You Build Your Education Portal On Drupal?
Top web development and design strategies trending for your company
Important Features to Consider Before Choosing a CMS For Your Web Development Project
SCORM is a tool that could actually take your education portal altogether to new heights. But for that, you need to hire the best professional web development firm. Talking about that, Auxesis Infotech is a top-rated web development company having immense experience in the field of eLearning. Over the years, we have created many eLearning platforms for businesses across diverse needs. Connect with us now to know more about our eLearning web development services.