When it comes to top CMS platforms, well, Drupal is one of them with a 2.2% CMS market share. Do not be amused to know that the CMS platform facilitates 1.4% of all websites on the internet. As a renowned content management system, Drupal CSM has an amazing range of capabilities and features to facilitate any type of website. Whether you want to build a corporate website, blogging site, travel platform, news website, or any other type of website, the one-stop solution is Drupal web development. Now of all those different types of websites that can be built with Drupal, one important category is education portal, educational institute/college website, or e-learning. 
Drupal is one such CMS that offers great flexibility and scalability to build an exceptional educational website. With that being said, let's have a look at the reasons why you should go for Drupal web development to build a website for your education portal, college, or university. 
What Features does an Online Education Portal or e-Learning Website Generally Have?
Being a business owner who is looking to invest in online education portal development or e-learning website development, it is very crucial to be aware of what sort of features go into an education platform. So, let's have a look at the features that are important for your online education portal. 
Virtual offices for users
Collaboration of different learning tools
Web-based business support
Brand integration
Online course catalogs
Self-registration
Offline reading
Cloud-hosted platform 
Assessment tools
Analytics
Content Security/DRM Protection
Why Choose Drupal CMS?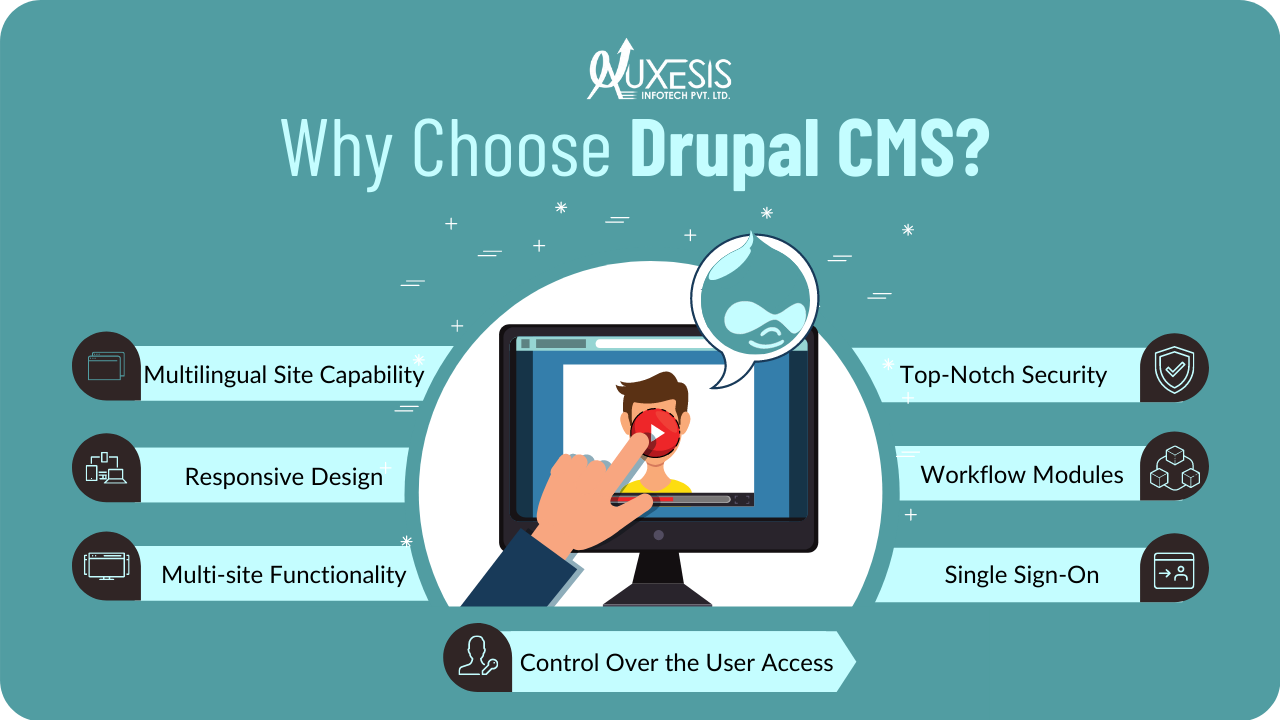 Being an open-source, free CMS platform, Drupal is a perfect option for high-traffic and content-heavy websites. From scalability to flexible integration to top-notch security, there are many reasons to choose Drupal CMS to build a website, in general. 
However, that's not all! Let's talk about the reasons why Drupal CMS is the right choice for e-learning websites or education portals.
Multilingual Site Capability
Drupal is one such CMS platform that comes with multilingual capability. And through Drupal's multilingual feature, you can build a website in 90+ languages. This helps businesses to target a wider mass of audience, irrespective of their geographical location. For any educational institution, college, university, or e-learning business, it is important to build a website that is for international students as well. And since Drupal offers you a good number of language options in which you can build your website with the help of a professional Drupal company, you can build a powerful multilingual education portal. 
Easy-to-go Responsive Design
In the present time, the majority of smartphone users are from the young generation. And we also know that a majority of students are from the young generation. Now in order to provide them a great user experience, it is important to have a responsive e-learning or education portal. Now when it comes to building a responsive website, choosing the right content management system becomes very important. And Drupal CMS is one such platform that is known for its easy-to-go responsive design. With Drupal web development, you can build an ultimate education portal for your institute, college, or e-learning business that can easily be adapted to evolving user patterns of smartphones. 
One of the main requirements of a majority of universities or educational institutions is to build multi-facet websites. Since an education portal or e-learning website can not only be used by students, but parents and tutors as well, there comes for colleges/universities/e-learning businesses a need to build a multi-facet platform to cater to the needs of all the users.  Now, to build such a type of website, Drupal CMS is the best bet. Choosing Drupal web development and outsourcing a professional Drupal company for your project can help you harness the power of multi-site functionality of the CMS. With this functionality, you can also give role-based ownership and control to different departments. As a result, the administrative overhead gets reduced from the IT department. 
Doesn't matter if it is a corporate website, an eCommerce one, or an educational site, the security should be the top-most concern for any type of website. As a business owner, it is your responsibility to ensure the protection of your users' personal information and maintain confidentiality. Therefore, comes the Drupal CMS into the frame. By choosing Drupal web development, you get an exceptional safeguard mechanism that ensures the protection of users' information on your e-learning website or education portal. Just to let you know, one of the main reasons why Drupal CMS is a popular choice to build a business website is because of its top-notch security. It wouldn't be wrong to say that a Drupal website is hard to breach or hack. 
Being one of the renowned CMS platforms, Drupal comes with a wide range of modules to support easy and quick web development. For universities, educational institutions, and e-learning businesses, Drupal CMS provides a number of workflow modules to make it easier to create and manage the publication process and that too without even limiting their use. With these modules, you can have control over every content operation. Not just this, the control also ensures that each and every step, the employee is being notified to complete the task. There are a number of modules and distributions that Drupal offers to facilitate the seamless operation of education portals or e-learning websites. Some of the popular Drupal's e-learning distributions and modules are BigBlueButton API, Course, Quiz, Opigno LMS, and more
However, in order to make the best use of Drupal's workflow modules, you will need professional support from an experienced company that offers best-in-class Drupal development services.
You must have seen a majority of universities '/colleges' websites or education portals asking for email authentication. Well, it is to ensure secure logins. But choosing Drupal web development ensures the same for your website with its single sign-on feature. In case you don't know, Drupal CMS is known to use CAS and LDAP that facilitate easy single sign-on for e-learning sites or education portals. These work in a way that they offer a secure environment for users who are looking to login into the website for resources and services. 
Control Over the User Access
Drupal CMS offers an important feature of Content and User Access Control. It allows administrators to give permissions to certain people to access the website as admins. But the best thing is that you can assign these permissions on your education portal or e-learning website to a fleet of customers. This saves the time of granting permissions manually. Besides, it also supports the transfer of task responsibilities such as creating, managing, and editing content. 
You may also like: 
Some notable big name brands that are using Drupal
How does an open-source CMS feed your website?
7 Reasons to Choose Drupal Commerce to Build Your Online Store
With that being said, we come to the end of this guide to why Drupal CMS is the right choice to build an education portal or e-learning website. And if that was helpful to choose Drupal for your education website, let's talk about some business. Auxesis Infotech is a top-rated Drupal development company that carries immense experience and expertise in creating and delivering powerful e-learning/LMS/education websites to businesses across the globe.