Sections - 
Introduction 
Interesting Statistics Related To FinTech Startups 
How New-Age Technology Has Paved The Way For FinTech Services?
Why Startups Must Invest In Fintech Mobile Apps? 
Renowned Fintech Startups To Take Inspiration From 
Profitable Fintech Startup Ideas To Note 
Which Unique Features Do Fintech Startups Provide Customers With? 

P2P payment apps 
RegTech 
Crypto exchange portal 
Personal finance apps 

Conclusion 
Introduction

Finance industry today has come a long way from where it used to be a decade ago. Gone are the days when we had to pay a visit to financial institutions whenever we wanted to withdraw cash, pay utility bills, transfer funds to another user, invest in fixed deposits, or even apply for a loan or mortgage.
A big reason for that is the digital platforms most of us rely on to perform all finance-related tasks right from our home in just a few clicks! And these platforms come under the FinTech industry. However, they still have much to do with this revolutionary change that we are experiencing today.
Wondering how startups have changed the way we perceive financial services today from what they used to be back then? Then, this blog is for you!
But, before we delve into that, let us begin with some interesting facts about fintech startups.
Interesting Statistics Related To FinTech Startups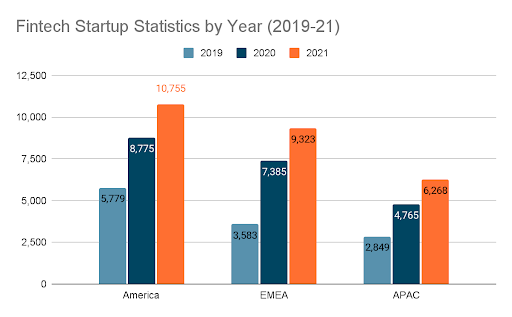 As of November 2021, the number of Fintech startups in America stood at 10,775, and for EMEA and Asia Pacific region the numbers were 9,323 and 6,268 respectively. And if we compare these numbers to that of startups in the previous three years, there has been a constant rise in the numbers.
Talking about Fintech investments, the year 2021 has been good for the Fintech industry with a recorded $91.5 billion investment. This is twice the amount being invested in the year 2020. The demand and growth is real.
The Fintech sector has about 96 VC-backed unicorn companies that sum up to $404 billion.
One of the most renowned Fintech unicorn companies is ANT Financial with a value of $150 Billion.
You might already have an impressive idea to kickstart your fintech journey! Yes or not, we are here to help you build it to reality. Talk to our team!
How New-Age Technology Has Paved The Way For FinTech Services?
The way we perceive financial services today has changed significantly, thanks to evolving technology. We have mobile apps for all our banking and financial needs today, which we couldn't have imagined about a decade ago.
While debit and credit cards were still popular payment options at POS, internet banking was still an alien concept for many. But today, investing in smart mobile app development solutions has helped startups create unimaginable fintech products and services.
Right from peer-to-peer lending platforms and crowdfunding portals to digital mobile wallets and investment & trading mobile apps, startups have shown us what Fintech is capable of doing.
And in this, cutting-edge technologies have contributed their fair share!
Artificial intelligence - Used in personalizations, Chatbot, facial recognition systems, market trackers, intelligent data retrieval.
Blockchain - Used for decentralized finance, digital wallets, authentication ecosystem, real-time transaction settlement, and more.
IoT - Used for embedding smart technologies, connected end-point devices, and narrowband IoT.
Implementation of such technologies in mobile apps has resulted in improved performance of fintech products and services. Startups and financial institutions can leverage these tech trends to build impressive finance products.
Want to add AI-powered chatbots and blockchain security to your mobile app? We can help you with that. Talk to our Fintech app developers to know more about how we shall help achieve that.

Why Startups Must Invest In Fintech Mobile Apps?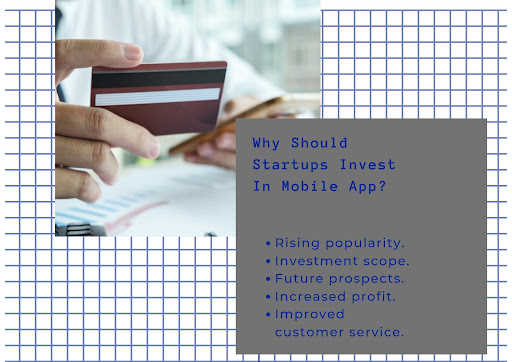 Startups might wonder if having a mobile app is a must for their business. Today, having a mobile app is no longer an added facility but more of a basic necessity as most customers (especially millennials and Gen Z generations) find mobile apps more accessible and usable.
So, that speaks for the demands of a mobile app! But, why should a startup choose mobile apps for their fintech journey, here you can find out.
In the year 2020, the mobile banking app market revenue was worth $3.6 Billion and mobile payments app revenue was worth $1,390 Billion as per Statista report. Mobile apps have been a preferred mode of utilizing banking and finance facilities in recent times and not targeting the huge number of potential customers could be disastrous for any business.
As mentioned above, the scope of investment is quite high for fintech businesses, provided they have the right business idea. With options like angel investors and venture capitalists, a startup has plenty of opportunities to grow its fintech business the right way.
Besides the popularity and usage of technologies for improved performance, the need for fintech mobile apps is also backed up by unprecedented circumstances like Covid-19. More people are seemingly using mobile apps to complete their financial needs. And in the coming times, people will need mobile apps that can help them with anything and everything related to finance.
Having the right mobile app can help startups save on money and generate higher profit as the customer engagement and conversion rates will be higher. And less paperwork and the need for resources make the deal profitable for businesses.
However, businesses should be aware of the cost of fintech app development services and implement smart business strategies to maximize their profit.
Improved customer service
It is needless to say that mobile apps can be helpful in providing elevated user experiences to customers. They can contact the team to query about a product or service, learn how to use the app, raise a complaint, or more. However, that wasn't the case with traditional financial institutions as seeking solutions and raising a complaint was a challenging task.
Mobile apps could save time and money for your customers as well as a business when built the right way! And thanks to the development experts in our team we know the right way, Get started today!

Renowned Fintech Startups To Take Inspiration From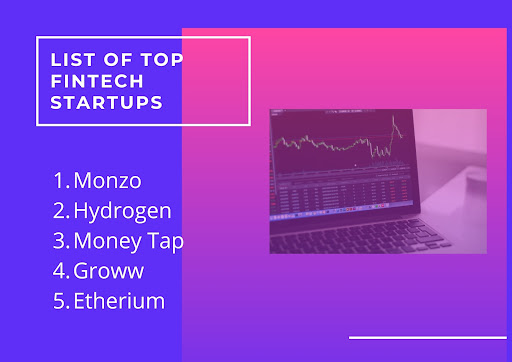 When we look into today's finance market, there are plenty of renowned Fintech startups that are making it big and are an inspiration to many. Here, we have enlisted many such FinTech startups that businesses could look up to.
1. Monzo
With around 5 million account holders today, Monzo is a UK-based digital-only bank. Founded in the year 2015, it is one of the most renowned fintech startups present in the United Kingdom with ab
Key Features -
Smooth app UI and UX.
Improved customer service.
Support online payments.
Categorized spending and budget tracking.
2. Hydrogen
Founded in late 2017, Hydrogen is a standalone fintech company built with the aim to help small to large businesses offer financial services seamlessly. With an innovative take on fintech, Hydrogen employs around 50 to 100 professionals.
Key Features -
Simple navigation menu.
Fast performance.
Smooth UI & UX.
Quick support.
Social proof.
3. Money Tap
Money Tap is an RBI-approved digital lending app that provides eligible candidates with a credit amount that is payable in EMIs of up to 36 months. It was 2015 when three Indian entrepreneurs started Money tap as India's first digital credit line application. And through their sheer determination and smart know-how of fintech mobile app development, they have made it this far.
Key Features -
Easy borrowing options.
Less paperwork.
Easy to follow procedure via app.
Flexible EMIs and multiple payment options.
EMI tracking.
Instant approval.
4. Groww
Groww is a Bengaluru-based company that is worth $1 Billion today and was founded in the year 2016. The app allows customers to invest in mutual funds and stocks and is certified and safe to use the app.
SIP calculator.
Explore options for mutual funds and US stocks.
Access to real-time market data.
Quick investment payment facility.
Safety and security practices.
Charting tools.
Customized dashboard.
5. Ethereum
Initially released in 2015, Ethereum is a blockchain system with Ether as their native cryptocurrency. In terms of market capitalization, it is followed by Bitcoin and has become quite popular in the fintech industry.
Decentralized operation.
Smart contracts.
Secure transactions.
Simple UI/UX.
These mobile apps have definitely changed our used-to-methods of availing of financial services. Otherwise, we would still be visiting financial institutions for each of our needs and query.

Profitable Fintech Startup Ideas To Note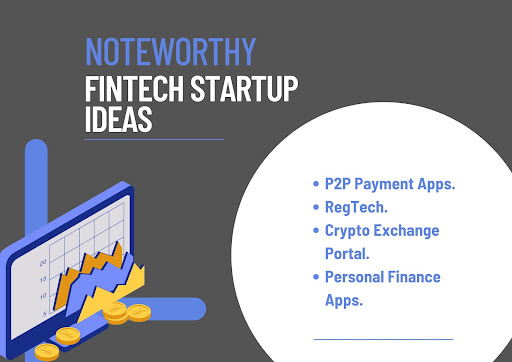 With plenty of Fintech giants already available at our service, businesses might wonder if any of the ideas have already reached saturation. Or, what kind of fintech software or mobile app can be most profitable for their business.
While the sky's the limit for fintech startup ideas, here are some kinds of fintech software and app ideas that are in trend today.
P2P payment apps have become a must-have for fintech businesses owing to their rising popularity. It has become one of the most preferred payment options used by people today and there lies a sea of opportunities for startups to develop a P2P payment app.
Examples of P2P payment applications - Paypal, Apple Pay, Google Pay, Venmo, Phone Pay.
It is another kind of popular Fintech app that startups can build to help various businesses comply with the regulatory guidelines more efficiently and in a cost-effective manner. In fact, statistics show that between 2020 and 2026, the Regtech market is expected to witness a growth of 21.27% CAGR.
Examples of Regtech applications - MindBridge, Ceptinel, REGnosys, Dathena, Cappitech.
The market value for cryptocurrency will reach up to $1,087.7 Million by the end of 2026. And these market predictions and current trends cumulatively show the promising future the crypto market holds.
Thus, investing in cryptocurrency exchange portals is one of the excellent fintech startup ideas. However, businesses have to hire a renowned fintech software development company and add unique features to sustain themselves in the industry.
Examples of crypto exchange applications - Coinbase, Bitstamp, Binance, Kraken, Bitfinex.
Most of us struggle to make feasible financial decisions as it requires a lot of fintech knowledge, time, and expertise on one's part. So, personal finance apps are extremely useful for individuals to make financial decisions like retirement, investment, financial goals, lending, and more.
While there are plenty of personal finance apps already available in the market, a well-planned app can still engage well with customers and convert more leads.
Examples of personal finance applications - Mint, Personal Capital, Turbo Tax, Quicken, Future Advisor.
Mentioned above are a few Fintech startup ideas that businesses can use. However, these aren't the only options that startups can choose to develop. If you have a unique and profitable idea in mind, Auxesis Infotech can surely help you develop it.
Our mobile app development team will assist you in building a highly engaging and futuristic application. Connect to our team and get started today!
Conclusion

Financial services are now more readily accessible with mobile applications and cutting-edge technology in place. Such apps are changing the way we have perceived finance till now. We can build different kinds of fintech applications and elevate customer experiences to a greater extent. Here, you can see the way fintech has changed the finance industry for good.