Introduction
What to Consider Before Developing a Mobile App and Deciding its Features?
What Do Patients Want in a Mobile Healthcare App?

Easy to use functionalities
Seamless communication with healthcare professionals
Illustrative information with actionable CTAs
Engaging patient community
Effortless integration with fitness wearable devices

Top Performing Patient-Centric Healthcare Apps and Their Features
Must-Have Features According to the Type of Healthcare app
Conclusion
Introduction
As per reports, the international mobile health market was evaluated at $40.05 billion in the fiscal year 2020 and it is estimated to grow up to $148 billion by the end of 2028. Undoubtedly, this evident growth is resulted due to the highly engaging and interactive healthcare mobile apps present today.
We have mobile applications to cover almost every aspect of the healthcare industry such as scheduling appointments, medicine reminders, online doctor consultation, retrieving crucial data, ordering medicine online, and more. While one can add a plethora of functionalities to their medical mobile apps, it becomes important to know which features are most desirable for a particular kind.
In this blog, you will learn in detail about the various kinds of healthcare mobile applications, their features, and how to choose the most desirable and suitable functionalities to add in your app.
What to Consider Before Developing a Mobile App and Deciding its Features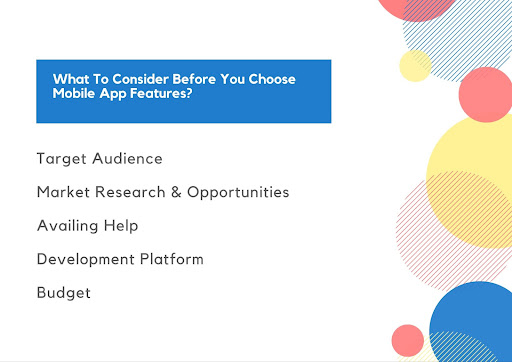 Developing healthcare mobile apps is crucial and can help a business with -
1. patient engagement,
2. increased revenue generation,
3. and ease of operation.
However, all these things can be achieved only if you include suitable functionalities to your mobile app.
So, what do you consider before deciding on the features? Is it your budget or the project requirements that help you decide?
Well, here we have curated a list of pointers that can help decide most suitable features for your healthcare mobile app.
It is critically important to analyze and understand the target audience and their needs and then choose your app's functionality. In this case, it will be either doctors or patients and considering what can make their experience easier is of extreme importance.
So, it is essential for businesses to not get distracted by the latest and overwhelming features and focus on what's really important. Ask yourself questions like -
Which features can make my target audience's life easier?
And then, decide on the features.
Market research & opportunities
When you are planning to develop an app for the healthcare industry, you have to conduct research about the market conditions, demand, competition, and latest trends. It will help you with future-proof and seamless mobile app development process.
Before deciding on the functionalities you want to add in your mobile healthcare app, make sure you have the right assistance beside you. Avail help from a renowned mobile app development company and discuss with the team if they are able to develop the functionalities you have envisioned.
Believe it or not, a development platform decides the flexibility and usability of an app. For instance, a hybrid app is more easily accessible, interactive, and usable. Whereas, the native app is built to be more sturdy and rigid. Thus, deciding on the features after you choose the development platform will ease the decision.
Decide on your budget first as you wouldn't want to add a feature that would cause you to over exhaust it. See what streamlines with your budget and then decide.
Besides these, do you have any more concerns you need to address before deciding on the features?
In that case, we are here to help you with the process!

What Do Patients Want in a Mobile Healthcare App?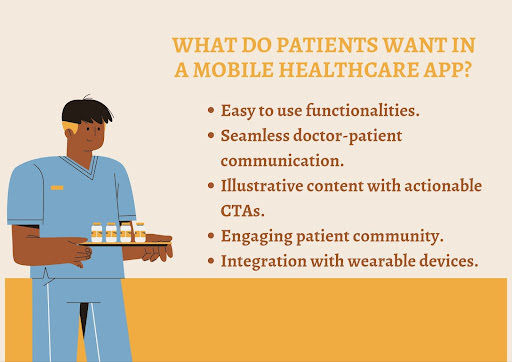 As a healthcare business owner, you have to conduct rigorous research to understand what the end users (patients in this case) needs and want from your application. While there's a lot of data showing the healthcare development and design trends that patients prefer, deciphering those complex data could be another common problem that users face.
Consequently, we have made it simpler for you to understand what patients want from your mobile healthcare app.
Easy to use functionalities
Having unique features on your app may help in various ways but it is essential to realize that patients want to use healthcare mobile apps that aren't too complicated to use. Since such applications can be used by patients of all ages, designing a simple yet engaging UX and UI is important.
Seamless communication with healthcare professionals
Ever since the Covid-19 pandemic has begun, the need for online medical consultation has always been on the rise. And patients seek medical consultation via phone and video conferencing using such applications. Thus, creating healthcare mobile applications that arranges for seamless doctor-patient communication is most desirable for patients.
Illustrative information with actionable CTAs
Since patients aren't well familiar with the medical terms, they seem to look for healthcare mobile apps that explain the complex terms easily. Hence, developing a mobile app that has simple and easy-to-understand content with prominent CTAs is much preferable by patients.
Engaging patient community
Patients want to become a part of a trusted and large patient community where they can engage and communicate with other fellow patients. They can share their concerns, get healthcare tips, and more.
Effortless integration with fitness wearable devices
Integration with health wearable devices is another desirable feature that patients want as it helps track their vitals with accuracy. Patients can check vitals like pulse rate, heart beat, and more.
Do you have an app development plan? Auxesis Infotech might help you with quality mobile app development solutions. Request a quote today!        

Top Performing Patient-Centric Healthcare Apps and Their Features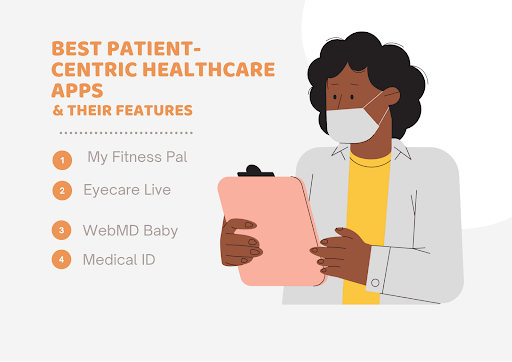 As of 2021, the patient-centric mobile app market was at $10,235 million and is expected to grow at a CAGR of 40.9% to reach a market value of $113,728 million by the end of 2026.
With the rise of patient-centric mobile apps, it becomes extremely important for businesses to design their mobile apps with perfection. They need to include exclusive and engaging features to do the same.
And sometimes, it is best to look into the top patient-centric medical apps that there are today and see the successful key features present in the mobile app. It can give businesses a brief insight into the trending and useful features that they must include in their healthcare mobile app.
Here, you can look into some of the leading patient-centric healthcare applications and their key features. Check them out!
This fitness app is for patients to strategically plan their diet, food logging, setting fitness goals, creating meal and sleep plans.
Platforms - iOS and Android
Key Features -
1. Food logging to check whether it is good or bad for you.
2. Custom goal setting for macronutrients and calorie consumption.
3. On-demand customer support.
4. Creating diet plans.
5. Exercise as per your calorie and weight goals.
This eyecare app connects patients to a virtual eye specialist so they can get timely treatment, ask queries regarding their various weye-related problems, contact lenses, and more.
Platforms - iOS
Key Features -
1.Appointment scheduler.
2. Virtual eye testing and consultation.
3. Quick communication with the doctor.
4. Video consultation.
Taking care of a baby could be tiresome for parents, especially if it is their first time. Right from timing their meals and sleep to noting their vaccination, weight, and growth details, this mobile app helps one with all.
Platforms - iOS and Android
Key Features -
1. Nursing record.
2. Feeding record.
3. Sleeping record.
4. Diaper keeping track.
5. Synchronizing medical suggestions.
6. Quick connection with a pediatrician.
This medical app could be a lifesaver for patients as it allows them to add emergency contacts, record their medical history, allergies, and emergency medicines. Even when the patient is unable to communicate, one is able to retrieve crucial health data of the patient from the lock screen itself.
Platforms - iOS and Android
Key Features -
1. Access health data from lock screen.
2. Send emergency SMS and alert in single tap.
3. Multiple profile creation.
4. Current location information using GPS and sharing with emergency contacts.
5. Localizing nearby hospitals.
6. BMI calculation.
These are a few best performing mobile apps that patients can use for seeking medical attention, plan their diet, manage health data, and more. You can look into these features and decide which features to include in your healthcare mobile app design.
We help organizations decide on the unique features to add in their healthcare app. Need help with your application? We have got that covered for you!

Must-Have Features According to the Type of Healthcare app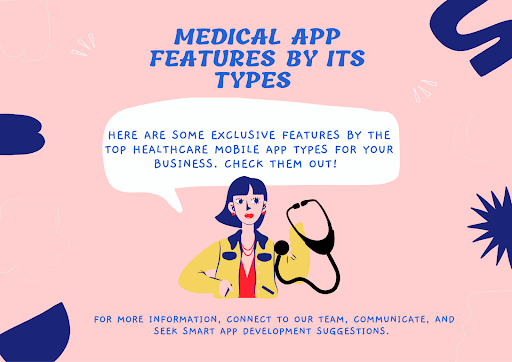 There are numerous kinds of medical mobile apps available in the market that healthcare businesses can develop. Here, we have created a list of best features of each of these healthcare application types. Check them out!
Remote patient health monitoring apps
Such mobile applications allow healthcare professionals to track the wellness of a patient and their current medical condition and take immediate steps. It helps hospitals keep a track of their patients even when they are outside the hospital.
Key features -
1. Video conferencing with doctors.
2. Notification and reminders.
3. Explanatory content.
4. Customized experience.
5. Integrate IoT devices.
Clinical appointment scheduling apps
Such applications make the process simpler for patients as well as hospitals as patients can schedule appointments in a few clicks and doctors can coordinate their process with much less hassle.
Key features -
1. Doctor and patient profiles & customization options.
2. Search option.
3. Automated notifications.
4. Chatbot.
5. Multiple payment methods.
6. E-prescriptions.
7. Telemedicine.
Medical reference database apps
Such applications are quite useful for doctors to keep themselves up to date with the latest medical technologies, research data, diagnosis, treatments, and more.
Key features -
1. Access to huge medical databases.
2. Quick search feature.
3. Accurate diagnosis based on patient symptoms.
4. Customization options.
Medication reminder mobile apps are especially useful for elderly people who may forget to keep a track of their medications and forget when to consume one.
Key features -
1. Reminders.
2. Medication tracking.
3. Refill or repeat reminders.
4. Color and shape identification feature.
5. Notify other family members.
The EHR systems allow patients and healthcare institutions to manage health records seamlessly. It gives them quick accessibility and higher accuracy in record keeping and management.
Key features -
1. Task management.
2. Auto scheduling.
3. Processing claims.
4. Digital charts.
5. Smart prescriptions.
6. Reporting.
7. Invoice generation.
Urgent care healthcare app development helps patients at the time of emergency as they can quickly avail immediate medical attention. These applications can contain crucial health data of a patient which can come handy in emergency situations.
Key features -
1. Quick access to important medical history.
2. Single tap alert to emergency contacts.
3. Ambulance calling facility.
4. Locating the nearest healthcare facility.
5. Sharing the live location of patients.
Health and wellness applications help users live their best lifestyle by managing their diet, health, weight, stress, and more. Such applications can be helpful for people willing to live a healthier and positive life.
Key features -
1. Step counter.
2. Drink water reminder.
3. Calorie counter.
4. Step counter.
5. Gamification.
6. Sleep tracker.
7. Personalization.
Above pointers illustrate some of the popular kinds of healthcare mobile apps and their most exclusive features. As a healthcare provider, you can choose any of these features that suit your mobile app type.
Once you have decided upon the features to add to your app, you must hire a professional mobile app development company and convey the information properly to them. It is upto them and their talented team to help you realize those through quality app development.
That's where Auxesis Infotech comes into picture as we have years of experience in developing mobile applications for the healthcare industry. We are well aware of the development standard and compliance and can develop feature-rich and futuristic mobile applications for your business.
Conclusion

It is quite important for healthcare businesses to invest in mobile app development to sustain in the healthcare industry in the years to come and provide exemplary services. However, determining the right way to do so could be as challenging as finding innovative methods to engage the audience.
Luckily, we have got this covered for you as we bring everything about the healthcare mobile apps, the popular kinds and their features to the table. You can check out the considerations you must look at before choosing which features to add in your app.