The history of healthcare itself tells the world what changes it has witnessed over the years. At present, it is growing at a rapid pace - thanks to technological advances. Just like any other industry, healthcare is also shifting digitally. The study says the global market of digital healthcare is expected to grow to $426.5 billion by the year 2027. 
As a result, more and more healthcare businesses are going digital by investing in mobile app development. Over the years, innovations in mobile applications and their far-reaching expansion offer companies numerous growth opportunities.
The development of healthcare applications has also given people greater access to the health care system. It isn't wrong to say that, mobile health applications serve not only consumers but business owners as well.
Healthcare mobile app development services greatly simplify the healthcare process, which is why more and more healthcare professionals are leaning towards these digital environments. And as a result, healthcare software has become an essential component for healthcare businesses.
Medical requirements are flexible, requiring the ability to remotely support patients, timely virtual healthcare, and others. With that being said, let's have a detailed look at why your healthcare business needs a mobile app and how it can benefit your business in the healthcare industry. 
What Do Patients Want in Mobile Software?
If we consider patients' requirements, they look for three main features: the ability to schedule/cancel appointments, the ability to request prescriptions, and easy access to medical records. The data shows that only 11% of hospital apps offer one of these features. What's more worrying is that hospitals can only host 2% of their patients through their healthcare software.
A healthcare mobile app must offer functionality keeping user experience in mind. Sounds simple, but in reality, very few healthcare apps successfully implement these two important components. We can say that healthcare organizations have a great opportunity to improve patient satisfaction with mobile software.
Types of mobile health apps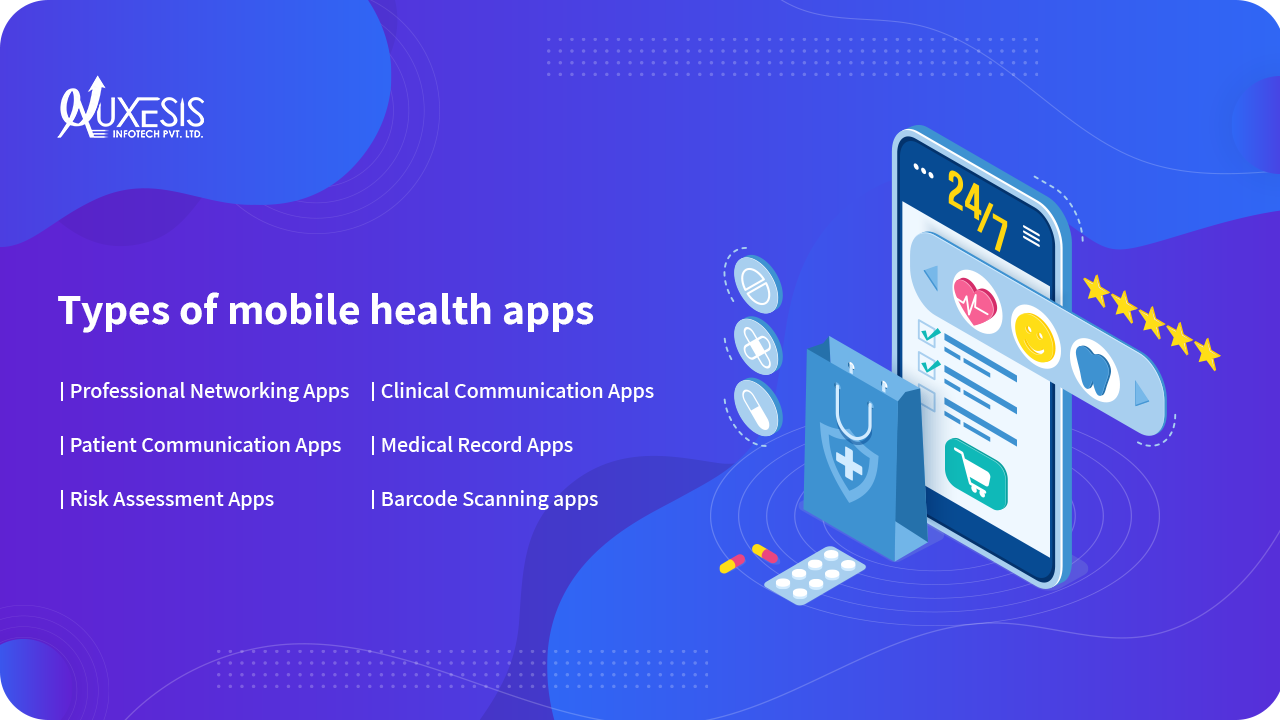 There are different types of healthcare apps that also have different end-users such as medical professionals, labs, and patients. These impact their features, some integrations, and the degree of data security required. According to different needs and end-users, there are different types of healthcare apps as given below:
Professional Networking Apps
These healthcare apps are mainly used by medical staff. Healthcare professionals use the app to interact within the community to exchange knowledge, interact, and ask and answer queries. You can hire a professional team for healthcare mobile app development to facilitate a seamless digital healthcare service.
Clinical Communication Apps
This healthcare software is designed to improve clinical decision-making and communication with clinical professionals in a specific hospital. The prominent features of these apps include voice chat and messaging, file sharing, and electronic health records systems. An example of such a healthcare software is Halo, a communication and collaboration platform for clinical professionals that include the functions. It includes sending test results to doctors and nurses and integrating PACS with EHR (Electronic Health Record) to edit patient records in real-time. Cloud. file-based storage, Amazon Web Services
Patient Communication Apps
This type of application improves customer satisfaction, loyalty, health outcomes and provides greater transparency between patients and doctors. This type of healthcare software gives users features like inviting family members online, notifying them through text, photos, and videos, send pre-prepared mass messages to patients and their families to keep them informed. confidentiality and avoid data leakage. These types of digital healthcare services have facilitated easy access to healthcare for patients.
These apps make it easy to update patient records, such as blood pressure, doctor visits, examinations, prescriptions, and other information to track patient progress. Medical Records is a healthcare software that belongs to the category of mobile healthcare applications that includes:
A prescribing module that allows doctors to save medical records.
Patient appointment scheduling function.
Record video or procedure instead of messages.
Search for patients by their registered ID.
If we talk about digital healthcare services, they actually are to minimize the risk of patients' lives. These risk apps are integrated with Electronic Health Records (EHR) and wearable devices. These enable real-time monitoring of patient health, heart rate tracking, and patient identification at risk. recognize, as in our recent project, a neural network for the detection of skin cancer.
Healthcare barcode scanning mobile app that allows you to scan patient electronic medical records and drug barcodes with the camera built into your mobile device, avoiding expensive barcode scanning devices.
Additionally, this healthcare app offers features like integration with Epic Electronic Health Records for better drug intake and treatment and view patient's progress information in the form of Building messenger charts. These enable communication with patients to other medical personnel.
Top Healthcare Software Development Trends
A mobile app can help boost your brand in many ways. Advancements in technologies, devices, business models, etc. in the healthcare industry have skyrocketed the need for digital healthcare facilities. As progress is rapid, it is important for the healthcare industry to keep up with the trend that helps both patients and professionals. And defining the rapid progress of the healthcare industry, here are top trends in digital healthcare through healthcare software development:
*uWearable technology can go a long way in helping users maintain a healthy lifestyle. With wearable devices, users can regularly monitor Spo2 levels, blood pressure, etc. Thus, this integration of technologies into your healthcare app can guarantee users better health and lifestyle by preventing medical problems from occurring. In addition, it can track various health-related activities as well as maintain real-time data. By 2023, the market for wearable technology will be worth $ 100 billion. So, if you are planning to develop a healthcare app, you should partner with an experienced mobile app development company to integrate wearable technology into your app. 
When you provide digital healthcare services, storing patient data is very important, especially when there is a huge demand for healthcare services after havoc like Covid-19 as it will help track contacts, the whereabouts of infected people, their travel history, etc. While this trend will experience several new highs in the coming years, it is expected to be repeated in the future. Also, well-maintained and synchronized data will also help healthcare professionals carry out their work strategically. Take a cloud-based approach to develop a next-generation digital healthcare mobile app for your business.
Over the years, artificial intelligence has become a technology milestone for many industries. It has also played a fundamental role in the healthcare industry and spearheads its revolution. A report says that AI has the potential to increase profit rates by an average of  35% across 16 industries by 2035. Healthcare software with AI technology can help schedule timely check-ups, CT scans, and the like without human intervention. Thus, the possibility of human error is excluded, and the patient will get the best quality healthcare solution.
In recent years, the telemedicine market has grown rapidly. And with the development of mobile applications for healthcare, the telemedicine industry has not only become user-friendly but also simplifies the process of processing medical information. Telemedicine is important to contact the right doctors through this collected information. 
It is also an inexpensive way to seek advice from the best doctors. In addition, it will have a CAGR of 14.5% from 2021 to 2030. The biggest benefit of telemedicine apps is that they facilitate treatment to patients by medical professionals through the use of technology. So, as a healthcare business, if you want to be a part of the telemedicine sector, it is crucial to partner with an experienced healthcare mobile app development company.
Blockchain technology can be used in different ways in the healthcare industry, be it data storage or clinical trials. Technology can improve the way the industry works. In addition, blockchain also enables seamless communication and data transfer between healthcare professionals. 
In a digital healthcare system, the technology can be used to eliminate vulnerabilities in supply management. Thus, as a business organization, you can provide excellent mobile healthcare app development services using blockchain technology. However, for that, it is crucial to know your target audience and their needs so they can include core functionality and make your app more consumer-centric.
Top 4 Considerations For Healthcare Software Developers
Apart from the latest mobile app development trends, every healthcare mobile application development team has to focus on some important considerations before taking over the project for the healthcare app.
Accessibility has been allowed by the cloud-hosted applications to the modules and data from anywhere anytime. Not just this, these healthcare applications contribute to reduced or no infrastructure costs, enhanced user engagement, streamlined business performance, and data security.
Along with that, independent APIs offer healthcare agencies the freedom to integrate a specific functionality into the users' devices or applications. Users can set up only the required module or integrate it with other third-party apps instead of installing the whole new mobile application.
While developing healthcare software, the main focus of your team of offshore developers should be user-centric UI/UX. It renders an exquisite user experience. It also facilitates seamless exchange of information, data storage, report generation, etc. that drives better user engagement. 
As one of the most important mobile app development practices, data security is the most important aspect of any app. When you plan to offer digital healthcare services, data security is one of the most important components. And that being said, for healthcare apps security should adhere to standard medical compliances. The data must be assured by enforcing end-to-end data encryption and secure data transfer through valid communication channels. 
Thus, these are the standard considerations that should be followed by the healthcare app development team.
You may also like:
Hybrid vs Native App- Which One To Choose?
Why Choose Laravel for Healthcare App Development?
Android or iOS App Development: Which is Best for Your Business?
Conclusion:
Healthcare mobile app development has changed the paradigm in the healthcare industry. A digital healthcare solution not only provides easy access to healthcare services to patients but also gives healthcare businesses an opportunity to grow and excel in the market. All you need to understand your target audience and choose the right healthcare mobile app company that will help your business to grow exponentially. Talking about that, Auxesis Infotech is a top-rated app development firm that has immense experience and knowledge in offering top-quality mobile app development services to businesses across various industries.