Introduction
What Is Artificial Intelligence?
Statistical Data To Back The Growth of AI in the Healthcare Sector
How Does AI Influence The Healthcare Industry?

Healthcare data mining
Organize treatment plans
Virtual augmentation AI
Medication management
Analyzing healthcare system
Drug creation
Track vitals using wearable devices
Repetitive jobs

Limitations of Artificial Intelligence
How Auxesis Infotech Leverage AI to Build Seamless Healthcare Mobile App Solutions?
Conclusion

Impact of AI in the Healthcare Industry and How Auxesis Infotech Can Help?
Introduction

If you are in the mobile app development business, chances are that you have already heard of the term 'Artificial intelligence'. You might have used applications that use the concepts of AI or your fellow competitors are using the technology to deliver improved experiences to customers.
And now when you look at the various uses of AI around you, it might make you wonder if AI has any potential to impact the digital healthcare industry? Well, it has more than one advantage when used efficiently for healthcare app development.
Going forward with this blog, you will learn in detail about the various usage of AI in healthcare and how we help you in this regard.
What Is Artificial Intelligence?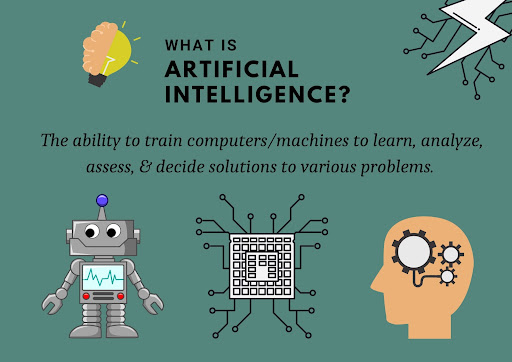 All humans or living beings are bestowed with the gift of intelligence to perceive a particular situation and respond to it accordingly. It is a result of learning, reasoning, language analysis, and perception to develop problem-solving capabilities.
Unlike living beings, non-living machines, computers, or robots couldn't do the same if it weren't for concepts like 'Artificial Intelligence. With the help of AI, machines can now be trained to assess a particular situation and provide intelligent solutions as needed.
Can you think of any day to day applications of AI?
Here are some of the applications that you might have come across, or not.
Used in navigation apps to detect traffic, incidents, speed of movement of vehicles, user-reported closed routes.
Utilized for creating intelligent chatbots to elevate customer support experience.
Summarizing video content or creating thumbnails for streaming apps.
AI can be used to build virtual assistants, smart speakers, and other smart devices for your household.
3D photography.
Media or shopping recommendations also use AI to deliver customized results.
Facial recognition software also utilizes artificial intelligence.
While these are a few common applications of AI, it has numerous benefits in the healthcare industry as well. But, before delving into those, look at the statistics below.
Artificial Intelligence is everywhere! And, we can also improve your healthcare mobile app's performance by embedding AI. Talk to us about your requisites and we will guide you with the appropriate development solutions!

Statistical Data To Back The Growth of AI in the Healthcare Sector
| | |
| --- | --- |
| Healthcare AI Market Value in January 2022 | $15.4 Billion |
| Forecasted Revenue in 2030 | $208.2 Billion |
| CAGR | 38.4 (Between 2022 and 2030) |

As per reports, the global market worth of AI in the healthcare industry is $10.4 Billion in 2021. And the market is expected to grow at a 38.4% CAGR between the years 2022 and 2030. In fact, between 2019 and 2021, the market grew at a rate of around 167.1%. This humongous growth of AI and healthcare was mostly due to the rise of coronavirus as more and more people resorted to seeking digital medical solutions.
During this short period, AI-powered technologies have been widely adopted as the quality of healthcare has significantly improved. And the healthcare institutions and professionals were able to reduce the overall burden that the pandemic had caused.
Technology has influenced many sectors of healthcare right from quality diagnosis of ailments, virtual assistants, and clinical trials, to telemedicine, cyber security, and robot-assisted surgeries.
To further understand how artificial intelligence affects the way businesses develop healthcare apps, keep reading further.
Auxesis Infotech is one of the recognized healthcare app development companies that can help build top-of-the-shelf mobile solutions. Now, share your project details with us and get the best quote!

How Does AI Influence The Healthcare Industry?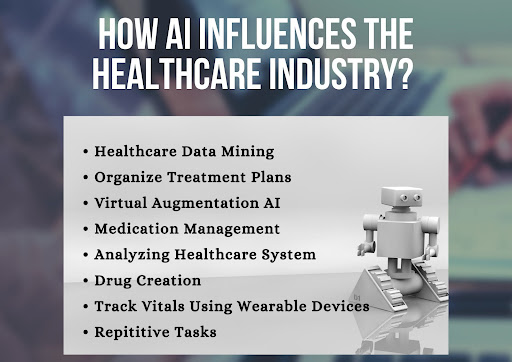 While the numerous applications of AI in our day-to-day lives are already discussed, it has also altered our healthcare mobile app development procedures. With healthcare AI technology in place, we have been able to deliver better-performing apps that excel in providing -
Highly accurate diagnoses.
Immediate medical attention.
Remote healthcare facility, and more.
Furthermore, look at the various impacts of artificial intelligence in healthcare app development in detail.
1. Healthcare data mining
Being one of the most desirable features of a healthcare application for professionals, data mining is extremely useful in improving the quality of treatment while decreasing the incurred costs. Data mining in healthcare has been made possible with technologies like AI to affect numerous areas of treatment.
For instance, detecting fraud, efficient healthcare management, predictive medicine, measuring treatment efficacy, and customer relationship management are some of the key areas that are affected by data mining.
2. Organize treatment plans
From government to private healthcare institutions, they all have to deal with complex healthcare cases that require designing treatment plans. And, AI and automation in healthcare allow medical professionals to create and organize highly accurate treatment plans.
The AI-powered software can be used to analyze loads of healthcare data, create reports, and help professionals design efficient treatment plans.
3. Virtual augmentation AI
A mobile app is a necessity for any healthcare business as it allows them to improve the quality of medical diagnosis and treatment. And the AI healthcare industry is thriving as medical professionals can meet unimaginable results with cutting-edge technology at their exposure.
While telehealth solutions can help doctors to connect with patients over the phone or through digital platforms, the use of artificial intelligence can help them make viable decisions based on real-time data and the condition of patients.
4. Medication management
Artificial intelligence can be used to create medical applications that assist patients with chronic diseases in regularly taking medications with the help of virtual assistants. Such assistants can not only remind patients to consume medicines timely but can keep an eye on the patient and monitor their condition over a period of time.
They can assess a patient's condition and how they are responding to a particular form of treatment. The virtual assistant app is built to provide patients with follow-up care, and customized monitoring services.
5. Analyzing healthcare systems
Artificial intelligence can also be utilized to assess the performance of a healthcare system, as a whole. A hospital may operate digitally in addition to the physical consultations it caters to. And in the case of businesses needing to analyze their performance, AI has much to contribute in this case.
With options like data mining and report generation, it becomes easier for businesses to analyze and assess the mistakes they are repeating in treating certain conditions. Reporting vital mistakes and avoiding them in the coming time can elevate the quality of healthcare services for your organization. And AI-powered software helps you do just that, and more!
6. Drug creation
Professionals in the healthcare sector have to face a lot of challenges to combat the various diseases and come up with effective drugs that can treat patients. However, clinical trials to compose drugs can be time-consuming as well as expensive.
But, with artificial intelligence and healthcare platforms working in sync, pharmaceutical companies can look for various available medicine compositions and create new drugs efficiently and quickly. Creating such software can help healthcare businesses accelerate their drug-making process.
7. Track vitals using wearable devices
Digital wearable devices like smartwatches and smartphones can help track vitals like a heartbeat, pulse rate, steps walked, calories burned, etc. Artificial intelligence retrieves actionable insights from the data fetched via these devices and allows users and healthcare practitioners to understand it.
8.Repetitive jobs
Artificial intelligence can help healthcare institutions create cognitive health assistants that can help detect and diagnose issues quickly and with accuracy. Such assistants are well trained to assist patients based on their previous diagnosis and treatment records. It helps healthcare institutions focus on other important things while the cognitive assistant does its job rather quickly and efficiently.
Want to know how we use AI for developing your healthcare application? Our development team will keep you in the loop about the development progress and the milestones we achieve. Get a quote today!

Limitations of Artificial Intelligence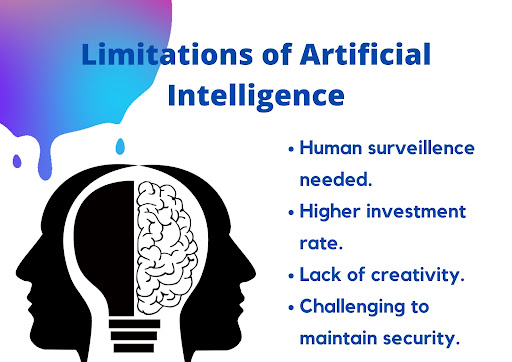 Despite the numerous benefits of AI in healthcare, certain limitations make healthcare businesses wonder if it is as used as it seems. Here are some of those drawbacks mentioned for your reference.
Artificial Intelligence is no longer an out-of-the-oven concept that is only used for building features like chatbots. Even AI-powered chatbots used today have become sophisticated enough to continue interactions on their own. However, human surveillance is still needed to observe how AI is performing for your system.
Social variables might be disregarded when AI is used as it works solely based on the collected data. For instance, AI might help patients find the nearest hospital or a suitable treatment facility centre but might disregard constraints like economic conditions, personalized preferences, etc.
Missing data or redundant data can cause errors and affect the accuracy of results.
It is challenging to incorporate AI and maintain high-level security at the same time. Thus, businesses have to hire the best mobile app development firm to ensure that's not the case.
Our app development team has the right expertise and experience to ensure these limitations of AI don't affect your mobile app's performance. Want to build powerful AI-guided healthcare apps?

How Auxesis Infotech Leverage AI to Build Seamless Healthcare Mobile App Solutions?
As a healthcare business owner, you might wonder how we help use AI to develop seamless healthcare app solutions. Or, what sets us apart from our contemporary mobile app development firms?
To answer that -
Firstly, we develop customer-centric mobile solutions so that healthcare institutions can boost their engagement and conversion rates sufficiently.
And secondly, we encourage our development team to deliver tech-driven solutions that can sustain for a long and adapt as per situational demands.
We utilize the concepts of AI to build secure and intelligent mobile solutions with features such as sophisticated chatbots, secure AI-powered appointment scheduling systems, AI-driven content recommendations to users, healthcare data mining software, and more. While at it, we assure to utilize the latest and accurate data and train our AIs to deliver personalized and intelligent solutions to customers.
That makes us a reliable app development agency of today. And if you need any assistance in creating quality healthcare mobile app solutions, then our team is right here to help you out!
Conclusion
 
Artificial Intelligence can be implemented in various sectors and industries including healthcare to achieve improved results. And with the ever-increasing demand for healthcare solutions, it becomes imperative to find out ways that assure immediate medical attention while maintaining the quality of treatment.
And AI-powered solutions can help doctors, pharmacists, hospitals, and healthcare institutions greatly in this regard. Right from virtual medical assistance to data mining and disregarding redundant healthcare jobs, it can help create more productive solutions.
Nevertheless, the need to use intelligent development tactics is crucial as AI has its downsides too. That's where Auxesis Infotech comes into the picture. We have a talented team of professionals who are well versed in using the concepts of AI to build healthcare mobile solutions that can convert.