Should I go for a web app or website?
What's the major difference between a website and a web application?
Why do I need either of them?
What purpose does both of them solve?
If these are the questions that linger in your mind, then you have landed at the right place. In this blog, we will discuss the most confusing topic- Web App Vs Website. So, let's find out the difference and gain clarity on which option suits your business goals and needs.
Web App Vs Website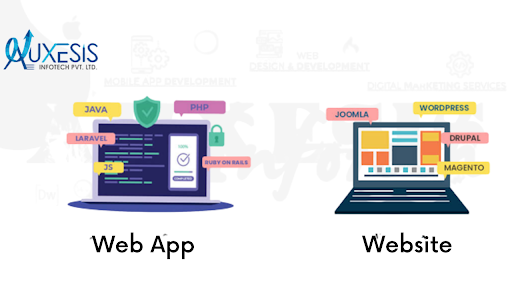 It is a never-ending debate when it comes to the core competencies of both areas. Well, both run on browsers, both need internet access, and both have the same language in which the front end and back end is written. Then,
what's the difference?
Moreover, both web apps and websites are interactive, possess integration, and authentication. Still, there is a difference that we will be discussing further and throw some light on both aspects to get clarity. So, let's begin with what a website and web app mean.
What is a Website in Web Technology?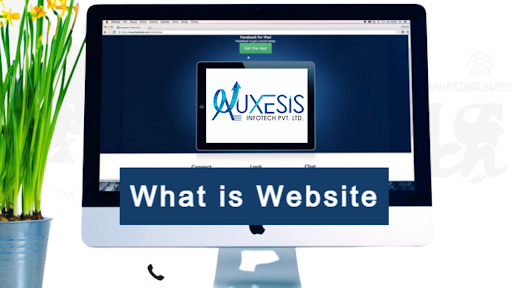 In simple layman terms, a website is a set of related web pages that has a location on the web and is hosted on a web server. It is accessed using a URL or uniform resource locator. Generally, there are two types of websites namely- static and dynamic.
Static websites are flat or stationery websites that are created using HTML and have static information. These are loaded on the web server and client's browser. Here users don't have the flexibility to make any modifications to the information available and they can only consume the information present on the website.
Dynamic websites are made using Ajax technology and they are the ones that show different information at different points in time. Here there is flexibility to make modifications as per the requirement without loading the entire page. It includes two types of pages: server-side dynamic web pages and client-side dynamic web pages.
When it comes to server-side web pages, they are created using server-side scripting considering various parameters that determine the final assembly of web pages. Also, it helps set up the client-side processing.
On the other hand, dynamic web pages include client-side scripting such as javascript to process web pages that are passed into a Document Object Model (DOM).
Build a feature-rich, engaging website under the supervision of the best professional experts. Sounds like a good deal?

What is a Web Application?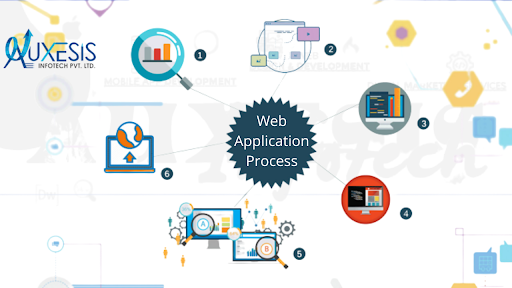 A web application or web app is a software program that performs its functionality using a web browser. Here the web servers store all the information from the computers connected to it. It has client-side and server-side both, where the term client relates to the program a user uses to run the application.
It gives the liberty to enter specific information or data and access the same. The classic example of the web application is a contact form or webmail, where the users have the liberty to enter data and go through it.
The best part of using a web application is that you don't need to install it and can be used on the internet. Moreover, it has lower technical requirements that reduce the cost both for the businesses and end-users.
Now that you have got a basic idea of a web application and website, let's move ahead and figure out the difference between website and web application.
Want to create an exceptional web app with a great user experience? Well, we're here to help you.

Difference between a Website and a Web App
| | |
| --- | --- |
| A web application focuses on interaction with end-users. | A website basically contains static content. |
| The user of a web application can read the content of a web app and also manipulate the data. | The user of a website only can read the content of the site but not manipulate it. |
| The web application site should be precompiled before deployment. | The website does not need to be precompiled. |
| Web applications are quite complex in their functionalities. | On the other hand, websites include simple functionalities. |
| A web application is interactive for users. | A website is not interactive for users. |
| Web apps have high browser capabilities. | The browser capabilities involved with a website is high. |
| Integration is complex for web applications because of its complex functionality. | Integration is simpler for websites. |
| Web application mostly requires authentication | In web site authentication is not necessary. |
| EXAMPLE:- Amazon, Facebook, etc. | EXAMPLE:- Breaking News, Aktu website, etc. |
When Should You Go With Website Development?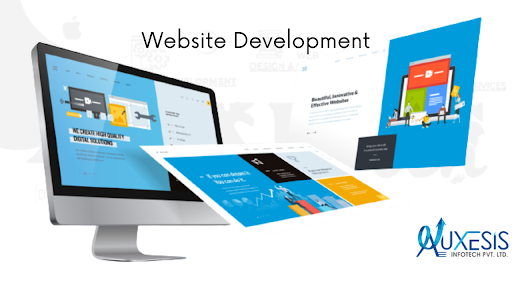 A website serves as a communication medium for users and businesses, where businesses can show their products and services. A website helps businesses to attract customers by highlighting the best reviews and testimonials on the website.
Also, you can increase your visibility by integrating the website with Google maps and encouraging local SEO that will increase the reach. And, the best part is that it is an affordable option, using which you can encourage your customers to contact you. Well, irrespective of the company size, we know the website is crucial for survival in the digital era. But, the question is, when should you go?
If you have a business that needs more reach, consider building a website. A website would help establish credibility amongst people. Otherwise, people would question the organization's legitimacy. Moreover, it will give customers an opportunity to peak into your business that will eventually portray professionalism and create a great first impression.
Moreover, if you have announcements and frequent product launches, we would recommend you go for website development. It is the best way to showcase your brand before prospective customers. When you are planning to expand your business and reach out to the masses, a website has to be the first step.
When to Go For Web App Development over a Website?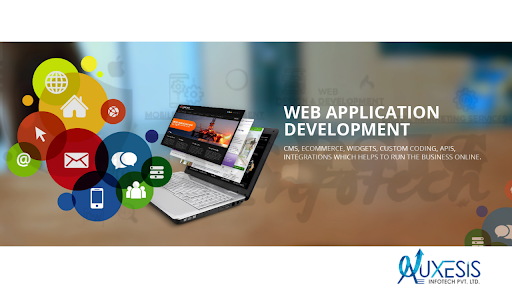 Web app development is another crucial area that has to be launched smartly. But, the question is, whether you should go for a web app over the website?
If you have an established business and you are looking forward to enhancing the interactivity, functionality, personalization, and faster reach to the market, then you should consider building an app. A website could bring you optimal results for the investments that you make in the direction of growing your business.
Another biggest thing that an app can offer is the convenience of running even without an internet connection. Yes, mobile apps can run without an internet connection and it can have a huge impact on the users and they can access information anytime and anywhere. Thus, it is one of the biggest factors that can eventually help you retain your customers because you are offering 24/7 accessibility. Also, modern web applications have the capability to leverage features that the device has to offer like camera, GPS, location, and more. This makes the entire experience far more convenient for the users.
Question to Ask Yourself First to Decide Between App and Website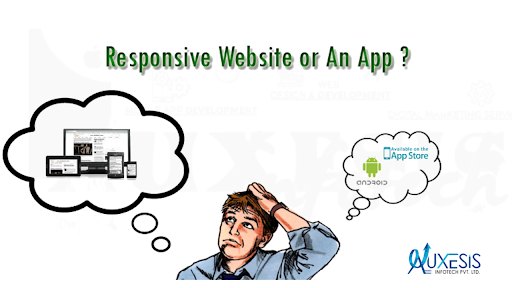 What are the risks associated with apps and websites?
As a business owner, it is important to know your outside dependencies that could affect the timescales. Addressing this upfront will save you a lot of problems further down the track.
Even for what seems to be a simple app product, it is crucial to keep yourself informed with the risk register and be updated about it throughout the development process.
Along with that, make sure that each risk is covered with the needed actions to ensure the successful development of an app or a website.
Who are the actual stakeholders?
Is this who you are working with, or are there others that you need to know about? Who is the budget holder? Who is the project owner? Your contact, or someone else. What are the decision-making stages? Who needs to be consulted at what stage to move from Ideation to prototype, to build, to test, to release?
Who are you going to work with post-launch? Is there a formal process here (you should hope there is), or is this a more organic process, and if so it's point 1 on your Risk Register, in big, bold, black ink capitals?
Who is the actual target audience?
The next question that presents itself is about your website's target audience or the people you'd like to attract as visitors.
It is important to get an idea about who would actually have an interest in your digital product and if they would be willing to pay for it in order to use it.
In that regard, you should also ask a few specific questions like - what level of experience your target users will witness on your app? and how you can encourage them to buy your product?
What will attract more audiences?
Use digital marketing to your advantage. Launch our own blog. Stay active on social media. Regularly haunt online forums. Practice search engine optimization. Even pay for ads if necessary.
In a real sense, your goal should not be to attract traffic to your website or app, but it should be luring the right demographic of traffic to your product.
What takes more time to get developed?
Building an app or website into a number of smaller phases is always a great option. Yes, it might sound like a complex procedure but it will definitely help you save some money and money.
What is the end goal of development?
There are different types of apps that work differently in the market. Therefore, it is crucial, as a business owner, to give a clear understanding of the end goal of your app to the mobile app development team.
The app could be for your employees and have a goal to increase work efficiency within your organization or it could be for the general users in the market to provide your services.
Knowing the end goal could actually help you influence the development process in a positive way. It could give you a fair idea of what core features to include, what platforms to run on, and what KPIs and analytics need to be tracked after the app is live.
What are the actual constraints and considerations during development both for app and website?
Know about any corporate guidelines that your mobile app needs to conform to. Will this work in a mobile format? Are there constraints on how it can appear in the app store?
Will this limit how the app will pop out at someone browsing the store? Is there any scope to push back in terms of branding in order to get some freedom in the design aspect to come up with an outstanding product?
So this was all about the fair and clear comparison between web apps and websites. Hope you've found this guide informative and useful. If so, you can check out more such amazing and informative blogs related to website and mobile app development.
Besides, if you are planning to build a web app or a website, you can also consider us as Auxesis Infotech is a reputed website and mobile app development company. We have dedicated teams consisting of highly skilled and competent professionals having rich experience in different industries.