Introduction
What Are Progressive Web Apps?
PWA Statistics To Note Before Developing One
How Progressive Web Apps Are Useful for Ecommerce Portals?

Elevated user engagement with push notifications
Home screen installation for improved user adoption
Improved SEO
Better conversion rates
Saves storage space
Reduced development and maintenance cost

Best eCommerce Features To Add in Your Progressive Web Apps

Live Chat
Social Integration
Improved Checkout
Security
Seamless Web Payments
Introduction

The eCommerce industry is thriving and today we have portals that cover almost every possible vertical. And due to the ever-increasing popularity of online commerce, businesses have various digital platforms such as websites, mobile apps, and progressive web apps or PWAs to improve the accessibility of such eStores.
However, a Statista report mentions that about 70% of the entire eCommerce website visits come from a mobile device. Thus, the need to target smartphone users becomes inevitable.
In this scenario, mobile apps and mobile-first websites aren't the only options a business has. Besides these, progressive web apps have also become a popular way for an eCommerce store because of their ease of accessibility. Customers wouldn't have to download or install them from Google Play Store or App Store and can still get to use all its features.
Now, one might wonder what progressive web apps are and how it helps create the best eCommerce platforms? Well, to learn all that and more, you would need to read the blog as you go!
What Are Progressive Web Apps?
Progressive web apps have a mix of web and native app features. It is built on technologies such as HTML, CSS, Web assembly, Javascript, etc., and is accessed through the web just like websites. However, they are designed to be responsive to any mobile size and have a native app-like feel.
Since it contains features from both web and mobile apps, one might be confused about what PWAs actually refer to. Here, look at the difference between these three terms to understand better.
'Responsive Websites' Vs 'Native Apps' Vs 'Progressive Web Apps'
| | | | |
| --- | --- | --- | --- |
|   |        Responsive Websites |                 Native Apps |                    Progressive web Apps |
| Speed Performance |               Fast  |                    Fastest |                         Faster |
| Accessibility |           From Web |  Needs to be download via app stores | Using the web (Though Can be directly saved to home screen & functions like app) |
| Offline Capabilities  |             None |                yes |                           yes |
| Push Notifications  |         Not possible |       Yes (well built) |                           yes |
| Development Cost |             Low |             Higher |                          High |
| Discoverabilty | Search engine optimization (SEO). |    App Store optimization (ASO). | Search engine optimization (SEO). |
PWAs, mobile apps, or websites, we can help your business build any eCommerce platform of your choice! Just let us know what your requirements are and get a quote!
Now that you are aware of what PWAs are and how they are different from websites and mobile apps, you might wonder if they are the right fit for your eCommerce store. Before you jump to any conclusion, let us tell you a few interesting facts about progressive web apps.
PWA Statistics To Note Before Developing One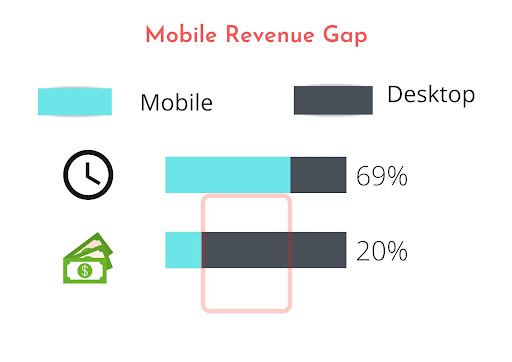 Progressive web apps can help improve your customer engagement rate from a minimum of 20% up to 250%.

Few examples of customer engagement -

OLX with 250% more audience re-visits.
Twitter with a 25% increase in pages per session.
MakeMyTrip with 160% more mobile sessions.
Trivago with 150% more revisits.

As per a PWA report, the average time spent on mobile is 69% and that of the desktop is 31%. Despite the frequent usage of mobile apps, it accounts for only 20% of sales while the rest 80% of sales are from desktops.

PWAs help bridge this performance revenue gap and have a conversion rate of more than 36% than native apps.

The development cost for PWAs is about 3 to 4 times lower than that of native applications.

Besides, PWAs require about 33% less maintenance cost than native apps.

How Progressive Web Apps Are Useful for Ecommerce Portals?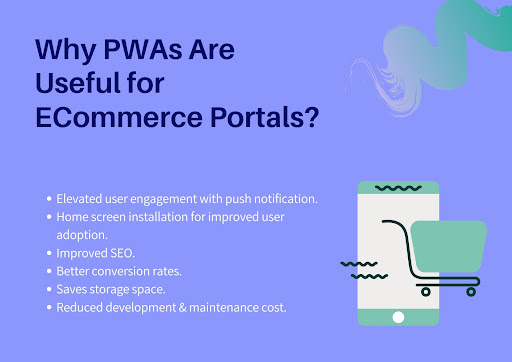 Even with the numerous benefits of progressive web apps, eCommerce businesses might wonder why they should choose PWAs particularly. Whether the platform is capable of helping their business get the needed recognition they deserve and help convert their visitors or not.
Well, there are plenty of reasons why businesses may prefer this method of web design and development. And to be able to answer all of these questions, here are some points for you to consider!
Elevated user engagement with push notifications
Using push notifications can help get the highest return on investment of 2200%. Besides the ROI, the click-through rate (CTR) and app traffic are also higher when push notifications are implemented.
And PWAs support push notifications feature to help eCommerce businesses engage with their customers, keep them informed of the latest deals, alert price drops on their wishlist products, or remind them of the products in the cart. It is a deal-breaker for eCommerce businesses as it also helps reduce cart abandonment rates to a certain extent while keeping users engaged.
Home screen installation for improved user adoption
Web apps have capabilities similar to a native app but they are easily accessible as a website. You can browse to a web address and answer a prompt to get the PWA on your home screen. And then, it works just like your native app with the only difference being that you don't have to go to the app store and install it.
Besides, there are customers who often shy away from downloading an app on their phone for reasons like inconvenience or storage issues. With a progressive web app in place, businesses can engage them as well. Thus, it is highly likely that more people will adopt PWAs for shopping.
The reason why eCommerce businesses can perform better with PWAs is they can be ranked higher in search engines when built correctly. The search engine crawlers can index PWAs based on their performance and promotional quotient and rank them in SERPs (search engine result pages).
Since web apps load quickly, have inherent responsiveness, assure lowered data usage, and reduced bounce rates, eCommerce progressive web apps have better chances of ranking higher in search engines like Google, Yahoo, Bing, etc.
Conversion rate is directly proportional to user experience. The better experience your customers have the more likely they are going to purchase your products or services. So, eCommerce websites have to ensure the user experience is top-notch and progressive web apps can surely help with that.
Web apps are responsive, easily accessible, and have capabilities as that of native mobile apps, so delivering optimized user experiences wouldn't be much challenging for eCommerce businesses.
Nevertheless, they must watch out for UI and UX designing trends in 2022 and develop efficient progressive web apps for their online store.
Mobile apps may take up to hundreds of MBs on one's storage space and customers might be hesitant to use it for that reason. Whereas, progressive web apps take only a few megabytes and provide customers with the same functionalities as that of a native app.
Thus, businesses can increase their target audience range and get more customers to visit their online store, and boost sales.
Reduced development and maintenance cost
Most eCommerce businesses rely on multi-platform or omnichannel capability, i.e., building multiple platforms for their customers. In addition to eCommerce website development, investing in app development could increase the development cost up to four times.
But, progressive web apps are a cheaper alternative to native apps. All businesses have to spend on is the website version of PWA and the maintenance cost is affordable too.

Best eCommerce Features To Add in Your Progressive Web Apps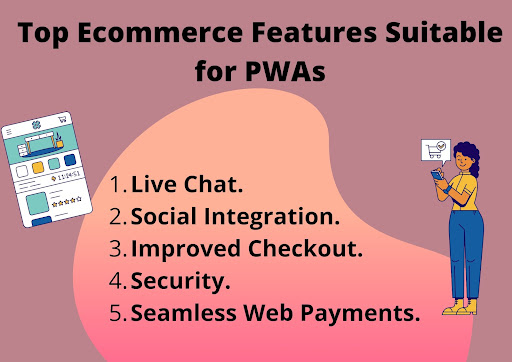 Developing the best eCommerce platform requires a lot of research and work. Businesses must look at the latest trends in the eCommerce industry, decide their target audience, choose which platform to use for development, and hire a professional eCommerce portal development agency.
Besides these, what's important is deciding the best eCommerce features for your digital platform. Because ultimately, this is going to help with user engagement and conversion for improved sales.
1. Live Chat
Customer support is an indispensable part of any customer-centric business and eCommerce surely can't survive without it. So, when you are building an eCommerce progressive web app, live chat is a must-have feature to add.
With features like real-time chat and AI-powered chatbot, your customers can get immediate assistance for their queries and complaints.
Advantages - Positive customer experience, customer loyalty, increased sales, high customer retention rate.
2. Social Integration
Nowadays, social media integration is an unavoidable feature for any eCommerce platform. Customers may choose to sign up via their preferred social media accounts, share the products and services via numerous social media accounts with their friends and family. It saves customers from the trouble of filling in each detail as they can sign up quickly.
Advantages - brand visibility, attract qualified leads, quick sign up, social proof, new leads.
3. Improved Checkout
An eCommerce progressive web app is built so that users can have a more convenient checkout experience. Therefore, adding features like a one-click checkout page, single-click product purchase, auto-fill forms to add various necessary information like address, name, contact number, etc., is much necessary.
Advantages - usability, time-saving checkout process, fast conversion, maximizing revenue.
4. Security
To encourage customers to purchase products from your eStore, businesses have to assure them of the security. Thus, creating a highly secure web app is the need of the hour, especially with the number of cyber threats going around. Using HTTPS and security certificates like SSL is a must to add an extra layer of security to their eCommerce web app.
Advantages - Secured platform to transact, trust building, secure user accounts, browsing, and data privacy.
5. Seamless Web Payments
The new web payment feature enables customers to pay seamlessly from the same billing and shipping page without having to go to the checkout page. To be precise, the checkout page doesn't exist in this case and shoppers can quickly pay from the billing page itself. This is extremely helpful in improving the conversion rates as one extra page is removed from the process.
Advantages - Quick checkout process, better conversion rate, multiple payment options.
With such features in place, progressive web apps can be really advantageous for eCommerce businesses. And the future prospects of eCommerce PWA seem positive as shoppers are now preferring this portal.
However, businesses must hire a proficient team of developers and designers to fully utilize the usability of progressive web apps. And, Auxesis Infotech is well capable of doing the job. With our seasoned team of professionals, we can create future-proof progressive web apps for your online store.
Conclusion
Progressive web apps or PWAs are a must-have for all kinds of businesses and it is specifically helpful for businesses that don't have the budget to develop a native mobile app. With native app-like capabilities, progressive web apps are extremely useful for shoppers as well as businesses. While shoppers can experience convenience, businesses can engage customers better and convert them more easily to boost sales.