Table of Contents
Introduction
Why Are Real Estate WordPress Themes Crucial to Your Website Success?
Features You Should Have in Your WordPress Real Estate Website

Professional image gallery
Interactive stacking charts
Visible contact information
Interactive area map and directions
Virtual touring option

What The Real Estate Market Demands From a Real Estate Website?

Easy navigation
Advanced search option
Analytics for users
Mobile responsiveness
Social sharing and linking

5 Best WordPress Themes for Your Real Estate Website

Divi
IMPress Listings
Astra
Vellum
Real Place

Final thoughts
Real Estate WordPress Themes!
WordPress is indeed one of the most powerful CMS platforms that comes with a wide variety of themes and templates for websites or every industry including real estate.
The popular CMS platform has many themes available to choose from for any real estate business. Implementing WordPress themes in your real estate website is a great way to refurbish your website and make it stand out.
For a fact, companies that miss updating their website may lose a huge share of traffic because 38% of people don't engage with unattractive websites. So, you must consider working on making your website seamless and interactive using real estate website templates.
Investing in WordPress plugins and themes would not only enhance the aesthetics but would also help you beat the competition. Apart from this, there are a lot of features that WordPress themes have to offer that make them a crucial part of a WordPress website. Let's see how important it is for a real estate website.
Why Are Real Estate WordPress Themes Crucial to Your Website Success?
WordPress real estate websites are integral to business success in the real estate domain as it gives the platform to better connect with realtors and other stakeholders. Also, it highlights the services of your real estate WordPress development company and helps your visitors make an informed decision.
However, you must also invest in maintaining the aesthetics of the website. It doesn't only enhance the look but acts as a driving force for customers to visit your WordPress real estate website.
The best way to do this is to use real estate WordPress themes and templates as they have stunning designs and some really unique elements that separate you from others. Thus, it beats the competition and keeps you ahead of your contemporaries.
Apart from this, WordPress themes are customizable and easy to update, where you can add new and interesting features, tweak them, and remove the same without much hassle. You get complete responsiveness in the designs that will ensure that your content not only looks valuable but is also presented in a readable fashion.
The elements are completely unique that you would hardly find on some other websites and thus there is a premium version that acts as a barrier to people using it everywhere. Another crucial aspect of themes is that they are completely free of bugs as they undergo rigorous testing by experienced developers from the WordPress community.
The reason is that they have a well-written code that ensures better performance of your WordPress real estate website in the long run. Moreover, it offers great access to tech support through a huge community of industry experts because they understand that you will have doubts along the way. You will get comprehensive answers to all your queries.
Well, WordPress themes can add in features, enhance aesthetics, improve the functionality of the overall website. But, it is crucial that the WordPress real estate website should have important features and they should be in proper alignment. We have discussed a few common features that every real estate website should have. Let's have a look at each one of them in detail.
Get a free consultation to know what's best for your real estate website.

Features You Should Have in Your WordPress Real Estate Website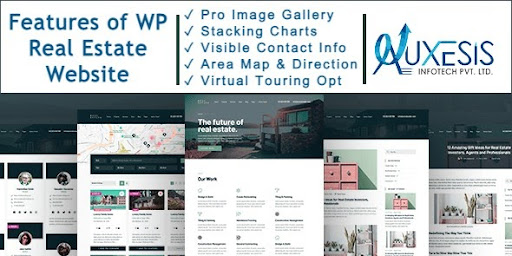 When it comes to design elements, real estate templates, themes, plugins, and the overall functionality of the website, everything has to be aligned well.
The features included should be customer-centric that serve a purpose and resolve customer issues. We are here with a few crucial features that you should consider including in your real estate website development project. Let's have a look at them in detail:
Professional image gallery
You need to understand the fact that people begin their property search through images the moment they visit a website. So, a professional image gallery is a must especially for a WordPress real estate website because that's how customers will peep through your property. Consider including high resolution and clear images preferably in landscape view.
Interactive stacking charts
Stacking charts make for crucial graphical elements that every real estate website should have. It helps understand the property layout in detail, where each and every element and design comes to life and spurs interest in the given property space.
Visible contact information
Contact information makes for crucial information that a real estate website should include. It could be in the form of a simple design with an email address, contact number, and office address.
However, you can add a twist and a little creativity to the contact us page and the way you present the contact information there. Here you can include FAQs or direct links to common help topics related to your real estate business and website along with your contact information.
Interactive area map and directions
Think of yourself searching for a property, you would want a proper map and direction not just to reach the place, but also to know more about the locality even before visiting it.
The same is with your customers, they don't want to waste time searching for the exact location. So, include interactive area maps in the website design along with directions so your customers have an easy time finding you. Also, it will improve your visibility in Google listings.
The virtual touring option is one of the important things that you must include in your WordPress real estate website because people want to see a particular property remotely. And, this trend has become popular especially after the COVID pandemic where people are avoiding as much physical traveling as possible.
Moreover, you can consider this as the best way to present your property as the user can navigate on their own and check every damn detail. And, you can also inform your customers, realtors, and other stakeholders of any exclusivity you have added to the property.
Create a feature-rich, customized real estate website that caters to your users' needs.

What The Real Estate Market Demands From a Real Estate Website?

A section of updated news from the real estate industry is also a great addition to make to your real estate website. Your customers won't go to other news sources and will get crucial information right at your website.
You will surely grab eyeballs because you are adding value to your website through the content in the form of news you are offering to your customers.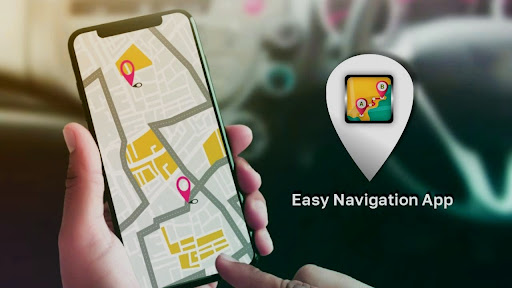 Navigation is a broad term that encompasses everything that relates to enhancing the user experience when they are browsing the website. It includes elements like slider, search fields, pagination, tags, icons, message boxes, model windows, progress bars, bar notifications, and more. All these would contribute to easy navigation that will direct the user to the information he needs and enhance the experience altogether.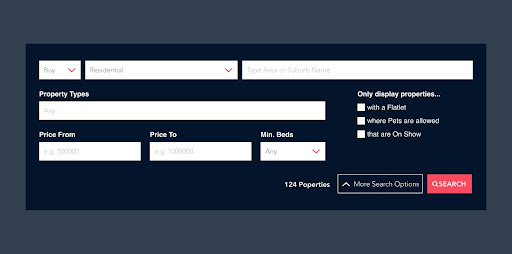 Advanced search options are a great way to eliminate irrelevant information to help your customers find the exact content they are looking for. Filters according to various parameters in a real estate website like property type, pricing, or features will help customers get the information they are looking for in your website. This way your customers would be able to modify and refine their search, get the intended results faster, and will save their time.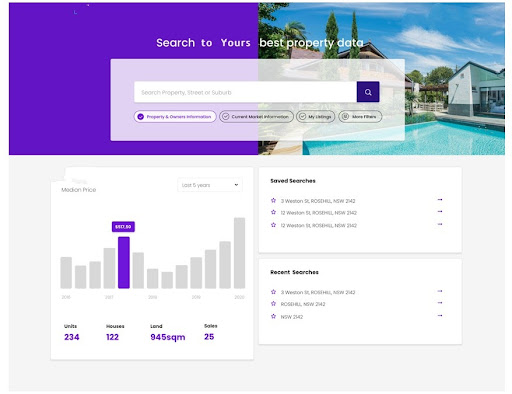 When it comes to people browsing your website, they could be realtors, investors, and others who need market insights and data to analyze the trends. Also, it helps them evaluate the price of the property, EMI, or interest rates. A few examples include ROI calculators, EMI calculators, Time value, and more.
The analytics part in the real estate website helps them make better-informed decisions in regards to buying and selling properties. Including analytics in your website, you are adding information and value for your customers.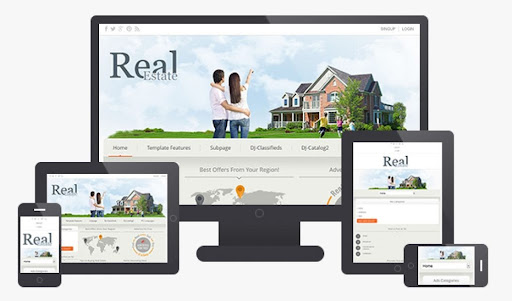 Mobile responsiveness is an integral part of a real estate website design that you should consider. It is because users generally browse apps and websites on mobile due to the increased usage of smartphones. The best part of building a responsive website is that you don't need to maintain two different websites. Instead, a responsive design would take care of both desktops as well as mobile sites.
Also, you have better chances to rank higher on search engines as more people will find your website on their smartphones. And, more people are going to share it with others that will, in turn, attract more customers and traffic.
Social sharing and linking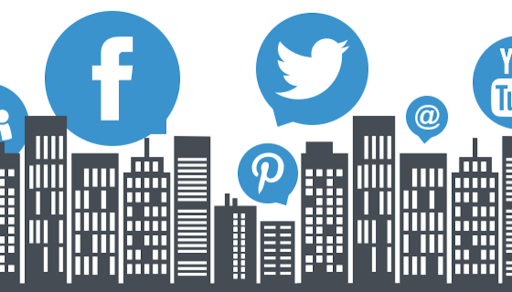 As we discussed in the point above, when people are using smartphones they tend to share content through it. It is recommended to integrate social networks with your website through social sharing buttons and links.
It will be a great addition to make to your real estate website as people will have an easy time sharing property images and links. Moreover, it will also increase traffic when the website link is shared on multiple social platforms.
The only thing is that you should avoid overcrowding your real estate website with too many buttons but keep limited options. Otherwise, it will disrupt customer attention and they may end up scrolling the social sharing buttons leaving the rest.
If you're looking to build a real estate website that is market-driven and user-centric, we're here to help you.
5 Best WordPress Themes for Your Real Estate Website

As we mentioned above, there are numerous perks of WordPress; a huge library of amazing themes is one of them. Now, after the features, let's talk about the best WordPress themes that you can look to use for your real estate website.
It is a powerful drag and drop WordPress theme and page builder that comes with hundreds of layouts and templates for different kinds of websites.
You can create and save your own Divi layouts. You can also export a layout from one Divi installation to another. With Divi, you can easily change your site's colors, fonts, headings, and much more without knowing any CSS code.
Divi is fully responsive. It's also designed for good WordPress SEO, so your site will rank well in Google and other search engines.
IMPress Listings is a free plugin designed specifically for real estate websites. It generates a fully-responsive listing management system and can be integrated with your current MLS (multiple listing service) providers.
Once installed, you can create individual listing pages for your properties. You can show and hide specific property fields like pricing and square feet, as well as add contact forms for your visitors to connect with you.
This not only makes it easier for clients to find different types of properties on your site, but it also streamlines the communication process so visitors can quickly contact you once they discover a property that they're interested in.
It comes with designs customized to fit your real estate business's specific needs. You can build an amazing real estate site using Astra with added sidebars, mega menus, transparent headers, and more to further improve your site.
There are also pre-built Astra widgets that are ideal for real estate websites like the address widget and the info list widget. These elements are handy when creating a property listing because you can include the address of the property as well as some unique features specific to that location.
There aren't many limitations with this theme — especially if you opt for a paid subscription. While the free version should provide you with everything needed to create a stunning real estate website, the paid version unlocks tons of cool features that can really take your site to the next level.
The Vellum theme comes with 12 website starter packs, unlimited headers and footers, and unlimited home page variations. It also has 6 different post formats that can be customized with the help of WP Bakery page builder.
As one of the most popular WordPress real estate themes, Vellum comes with a great option of embedding videos on a real estate website. The theme supports an HTML5 video player which is self-supported. It can be used to display videos of the listed properties on your site.
For those real estate sites that want to present virtual home tours or apartment walkthroughs, this theme is an ideal option.
Real Places is also one of the renowned WordPress real estate themes for real estate companies and agents. It comes with different features perfect for real estate organizations. Along with that, the theme also comes with multiple variations for each page layout.
This real estate theme focuses on helping you bring a great user experience to your website. For that, there is an advanced search feature that allows users to easily filter results to search for properties. The advance filter includes options like locations, property, price, features, and more.
With that being said, we have come to the end of this post. And if it has helped you find the right WordPress real estate theme for your website, let's talk about the best way to integrate the theme into your site.
Auxesis Infotech is a highly reputed WordPress development company with immense experience and a team of competent professionals to create the best-customized solution and implement it effectively into your business.
Build a real estate website under the supervision of the best and skilled tech experts.