Table of Contents
Introduction
 
Real Estate Website- A Way to Promising Leads
 

Creates Web Presence
Serves as a Property Listing Platform
Generates Potential Leads
Creates Brand Awareness
 

Analyzing the Working Model of a Real Estate Website
 
What is the Cost of Real Estate Website Development?
 
Popular CMS Platforms You Can Use to Build a Real Estate Website
 

Ease of Use
Functionality
Scope of SEO Optimization
 

Compelling Features You Must Consider Adding to Your Real Estate Website
 

Mobile Responsiveness
Advanced Search Options
Voice Search
Contact Forms
Detailed Listings
 

Best Tips to Build a Real Estate Website
 

Devote a Page for Each Section
Provide Details About the Property and the Area
Personalized and Pressure Free Contacting
Include Analytics and Market Data
Start a Newsletter
 

Final Thoughts

Who says managing a real estate business is easy?
Selling a home or property is never an easy task for any real estate business or realtors. In the process, they experience many challenges. Amongst those, getting bombarded with cold calls and texts every day from potential buyers is a very common struggle that realtors and real businesses face. 
With that, it is also a fact that in the process of addressing cold texts and calls, sometimes, you lose actual potential leads to competitors. Therefore, it is crucial to have a better solution in implementation that could make you stand out in the market. 
But, how do you separate yourself from the competitors?
The answer is - building a REAL ESTATE WEBSITE!
In today's time, where 60% of the global population is using the internet; being a realtor, you cannot afford to miss such a large chunk of the audience. Digitizing your real estate business is no more a luxury; instead, it has become a necessity.
It helps you attract not only real estate investors and home buyers and sellers but also streamlines your real estate operations so that you don't miss out on any leads.
However, building a functional and robust real estate website without compromising on the aesthetics could be a little tricky. Thus, we are here with another interesting blog where we have discussed various dynamics of building a website for your real estate business. We have tried to cover everything, right from platforms and features to costing and tips. 
So, without further ado, let's get started! 
Real Estate Website- A Way to Promising Leads
Why do real estate agents need a website?
A real estate website offers numerous benefits that will help you grow your business. Here we have mentioned a few that will compel you to invest in a real estate website. Let's have a look at each one of them in detail: 
A real estate website creates an easy gate to handle customers. If you add a FAQ section to your website, it helps reduce the cost of customer service and save your time and money. 
And, when your customers or real estate investors get as much information and instant reply, they feel valued. It paves the way for a great realtor and investor relationship in the long run, which is essential in a real estate business. 
Serves as a Property Listing Platform
As you have more and more information about various properties in different regions or locations, it makes for a rich database. This database acts as a property listing presentation that investors and realtors look for.
Currently, BIM or Building Information Modeling technology is all the rage that has become an integral part of the real estate industry. Since realtors have a huge database that also includes properties under construction, you can include BIM-enabled visuals and videos.
It will help realtors and investors make an informed decision while considering all aspects of the design and the entire structure of the building. 
Building and starting a real estate website is the freshest way to generate potential leads. There is so much you can do with your website to attract investors' attention. For a fact, you can choose to do the following to generate huge leads:
Optimize your landing pages with the most searched keywords
Welcome your visitors by creating a dropdown overlay
Point investors to your important pages
Get interactive with quizzes, polls, and surveys
Use live chats
Use content gating by making things inaccessible to investors that will create a sense of emergency, and they will eventually sign up on your website 
Your real estate website acts as an advertising platform that can be used to establish your real estate business. In today's modern world, where things are easily accessible at the click of the mouse, a website would be significant to create brand awareness.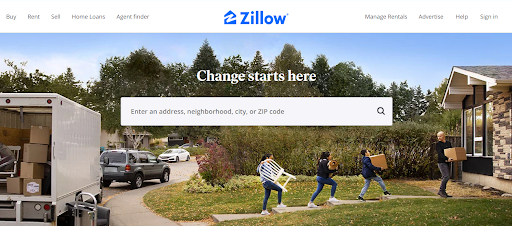 You can include rich and informative content and play around with visuals to lure investors' attention. A great example of a comprehensive real estate website is Zillow, which is a prerequisite to getting promising leads in today's digital space.
Knowing the significance of having a real estate website, we know you are curious and want to know how it works. Thus, we are here with its working dynamics in the section below. 
Analyzing the Working Model of a Real Estate Website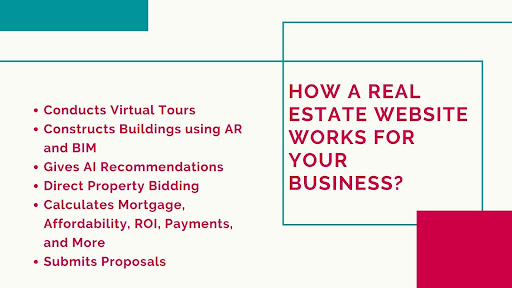 When it comes to the real estate industry, processes are complex, the cost involved is huge, stakeholders are endless, and the competition is tough. To curb the challenges, a website acts as a boon for both realtors and investors.
A real estate website with highly customizable features will be one of the most profitable deals. It can help you with the following:
Conduct virtual house tours for property buyers and sellers even for faraway locations.
Construct interiors through AR where BIM that we discussed in the point above can be used.
Browse various properties at different locations.
Give AI recommendations regarding properties to your potential leads based on their browsing patterns. You can suggest properties in a specific price range or a specific direction.
Bid for properties directly through the website or contact the owner
Calculate their mortgage for the property that the prospects are planning to buy
Submit proposals to property owners who are planning to sell their properties
So, from the perspective of a realtor, real estate agents, and property buyers, a website would work in every possible way to enhance user experience, attract the right customers, and increase conversions.

Knowing how a real estate website would work in the best interest of the real estate professionals, you might want to go ahead with the development. But, before you begin with the real estate website development, let's see the overall cost of development. 
What is the Cost of Real Estate Website Development? 
Formula to Calculate the Cost of Real Estate Website Development
Total Website Development Cost = Development Time x Cost per Hour

Determining the cost of real estate web development is a complex area that includes various factors. These factors include country demographics, website layout (simple or complex), number of features, time consumed, technology used, content writing, assembly, planning, the team of professionals, and industry experts employed in the project. 
Moreover, usability testing and project management, which makes for 10-15% of the total cost, also affect the overall cost of real estate website development. If we talk about the exact cost, then after doing a little mathematics, we stand somewhere in between as low as $5000 to as high as $100000.
Let's break it down a little-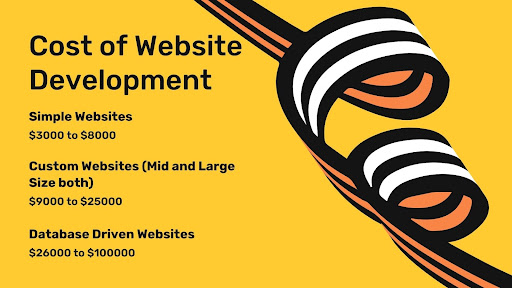 Still, there could be variations depending upon the demographics and the country you choose to get your real estate website developed. We would recommend you to get it developed from a country like India as the cost of development is affordable as compared to the west. 
Moreover, you will get a dedicated team of professionals that is result-oriented. They would accommodate your needs and deliver a robust and functional solution within the stipulated time. Also, you will find smart assistance from industry experts during the entire website development cycle. 

Popular CMS Platforms You Can Use to Build a Real Estate Website
If you are planning to invest in real estate web design and development, you must know that there are plenty of options available in the market. You can go for custom web development as there are plenty of programming languages that support it.
But CMS development is a popular option when it comes to building a real estate website.  However, choosing the best CMS platform is still a tricky part. Thus, we are here with a comparison table for five popular CMS platforms that you can consider for real estate web development. But, before that, let's look at the common features that you must keep in mind before making a final choice. 
When it comes to choosing the CMS platform for your real estate website development project, then a feature that it should have is easy to use not just for users but the owner as well. Make sure you choose a simple interface that doesn't require much technical knowledge to handle the dashboard and make changes. 
Go for a CMS platform that not just possesses open-source capabilities, but must also have the flexibility and a wide scope of functionalities. It relates to plugins, extensions, ready-to-use themes and designs, templates, and other components. However, we would also recommend you to focus on the core as well. 
Scope of SEO Optimization
Since you are building a real estate website, it is going to be published online. This gives a scope to advertise it on various digital marketing avenues so more and more people can notice it and contact you. You must go for a CMS platform that gives you the margin of SEO optimization so that your website could be ranked in SERPs.
Below is the comparison table for different CMS platforms -
Features

WordPress

Drupal

Joomla

Plugins and Extensions

55K+

39K+

6K+

Themes and Templates

5K+

250K+

8K+

Built-in SEO Tools
(Meta Data, SEO Friendly URLs, Open Graph)

Yes

Yes

Yes

Sitemap

No

No

No

Security

1

5

3

Multi-Language Content Creation

No

Yes

Yes

Ease of Use

Easy

Hard

Moderate

Popularity

30M+

1.5M+

2.2M+

Cost

Free

Free

Free
Compelling Features You Must Consider Adding to Your Real Estate Website
When you are to build a real estate website, it must-have features that help you provide exceptional services to users. Because the website will be seen online, it has to be in such a way that it gets ranked in SERPs.
If you have a real estate website and it doesn't get exposed to the audience and potential customers then what's the use. Ultimately, your website serves the purpose of maintaining a stronghold over the digital presence.
Well, to maintain that strong web presence and get maximum traffic along with engagement and conversions, here are a few must-have features that you should include in your website. 
Surely, you're creating an amazing real estate website for desktop users. But would you want your mobile users to get frustrated while accessing your website? Obviously, not! Thus, developers should build a mobile responsive website by implementing native lazy loading, using a fluid grid, hamburger menu, smaller elements and buttons, and responsive fonts.
Also, use responsive breakpoints, which are also called media query breakpoints; so, the website content can be adjusted to the screen size to display the accurate layout. 
You can also consider building a mobile app for your real estate business that will improve your digital presence to grow in the market.
By advanced search options, we mean advanced filters. They will help realtors, sellers, and buyers find the information they need without wasting their time. You can include options like:
Another key filter that you must have on your real estate website in the calendar. You can include various types of calendars such as monthly payment calculator, mortgage calculator, financial calculator, Return on investment calculator, affordability calculator, loan amortization calculator, travel time calculator, and real estate calculator.
Tabular charts comparing various properties based on locations or type. Property buyers and sellers can use the chart to draw meaningful comparisons based on the features, facilities, and other factors. It will help them make a better decision.
Location drawing tools and maps are other advanced search features that you should consider adding to your real estate website. Clients can easily create a specific search area using location drawing tools on the map.
On noticing the cutting-edge services that you are offering for your clients, they will never be able to resist the urge to visit your real estate website. 
As buyers and sellers usually ask questions directly, it is evident that voice search is no more a future feature. Instead, it has become the need of the hour, and you must include it on your real estate website.
The best part of including this feature is that you can optimize your real estate website for voice search using long-tail keywords. You might have seen people usually ask questions with the suffix "near me." You can optimize your website for this specific "near me" search. 
Every real estate website, not only the real estate ones, should have contact forms with a dedicated submit button in the end. They are designed with a specific purpose to gather crucial information about the customers visiting the real estate website. Moreover, it gives a platform for your customers to introduce themselves.
Basic fields that you should always include in the contact form are name, email address, or phone number. You can also choose to customize your contact forms by including detailed functionalities like drop-down boxes, CAPTCHA verifications, checkboxes, or file upload. 
You should also consider including multiple listing services on your real estate website. Categorically segregate which properties are for sale and which are for rent. Also, differentiate between the type of properties such as residential, commercial, industrial, condominiums, and more. It will give your buyers and sellers a holistic view of different properties that are listed in the market.

Best Tips to Build a Real Estate Website
Now that you know the must-have features, let's have a look at the best practices or tips that will ensure a solid web presence of your brand in the real estate industry. 
Your real estate website is the first step towards guiding your customers towards making an informed choice. Thus, here are some of the best tips to ensure a solid real estate site that will not only assist your buyers and sellers in their journey but will also establish you as a digital leader in the real estate industry. Let's have a look at each one of them:
Devote a Page for Each Section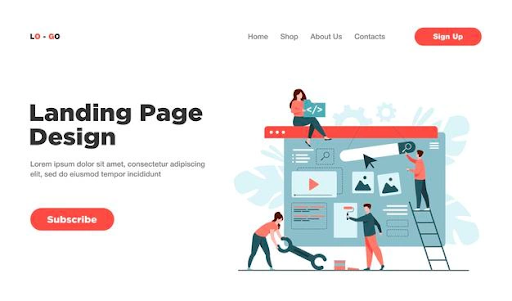 When it comes to real estate web design and development, make sure that you dedicate a page to each section or service you provide. Don't overcrowd one single page with a lot of information related to different services. Instead, try to segregate the services based on specific locations, categories, or other important factors. It will keep the real estate website clean without compromising on the information you provide.
Provide details about the Property and the Area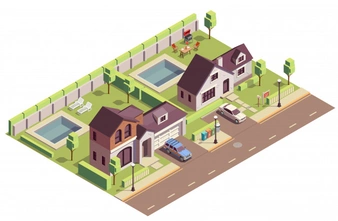 Always make sure that you better communicate the lifestyle you are trying to sell to your buyers. You can use words like quiet and safe, ideal for families, ideal for bachelors, close to popular restaurants, theatres, and tourist spots. Include high-quality images of the property from every angle.
Apart from this, try to be as descriptive as possible when you are presenting a property. Include all the important information such as the number of rooms, bathrooms, parking space, lobby, floor coverings, outdoor spaces, square feet area, furnishings, appliances, year of construction, and margin for new renovations.
Personalized and Pressure Free Contacting
When it comes to buying property, buyers are already hesitant to contact realtors. Make sure you customize your listings where you should mention the agent with a photo along with his phone number and name so that the property buyer would be at ease.
Also, convince your visitors that you maintain strict confidentiality regarding the data provided by users. It will ensure pressure-free contacting and customers will be willing to share more details.
Include Analytics and Market Data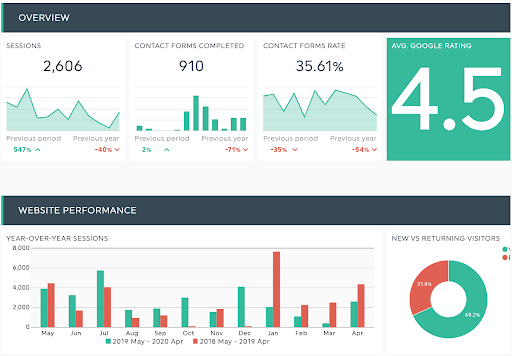 Analytics and market data form an integral part of the real estate industry that agents and most stakeholders refer to when they want to conclude. The more information they have, the more accurate decisions they will make.
So, to gather information, market data, and analytics, consider including lead capture forms through pop-ups, slide-ins, or placing them on the footer notes. 
You can conduct contests and promotions, send information requests, offer tips and advice, and ask your visitors to comment to get more information or make new property announcements while sending invitations to view new properties.
Other than this, you can include trackable landing pages on your real estate website for different services or resources. A few great opportunities to include landing pages are real estate property announcements, a how or property buying guide, tips and tricks to deal in the real estate industry, a page highlighting a promotional offer, or a questionnaire to help with property buying.
As we discussed lead capture forms in the point above, we would recommend you include a newsletter to gather as many subscriptions as you can. It will not only give a peek into crucial insights about the visitors on your real estate website but would also help you build credibility. 
As you provide valuable information in your newsletters to your buyers and sellers, it establishes you as an industry leader. So, just discuss with your web development team to include an RSS feed to email capabilities so newsletters can be published on email platforms without needing to touch a button.
So, this was all about real estate website development. We hope you liked the blog. If you find it informative and want to read more such interesting and valuable content, stay tuned with us!
Meanwhile, if you are looking for a website development team to help you build a website for your real estate business, consider checking Auxesis Infotech. It is one of the renowned web design and development companies known for delivering quality solutions. 
From frontend to backend development and designing part, we have highly-qualified developers and graphic designers to work on your project. At Auxesis Infotech, you will get professional assistance from the top industry experts and consistent guidance during the entire process of website development.