FinTech is one of the most flourishing industries in the world at the present time. However, as per experts, the industry is yet to witness the peak phase of growth. 
If you are someone who is still not aware of the transformational growth of the FinTech industry, well, you must know that the FinTech industry was valued at around $111,240.5 million in 2019. But that's not all! The most interesting fact is that by 2023, the industry is expected to grow to around $158,014.3 million. 
Over the years, the FinTech industry has seen a lot of positive advancements with an aim to help financial services companies to manage their operations effectively, navigate risks, and more. 
But as we mentioned, it's just the beginning! 
There is still a long path ahead of the FinTech industry to reach its pinnacle. And in the way, you can expect to see a lot more advancements in the industry. 
Since the COVID-19 pandemic has forced every business sector to go digitally and the FinTech industry is no exception to it, there will also be a number of advancements ensuring the digital growth of the industry. 
What is the FinTech Industry?
FinTech is a term used to describe both "finance" and "technology". It refers to those businesses that use technology to automate financial services. The FinTech industry is known to serve both businesses and consumers. From banking to cryptocurrency to insurance to investment apps, there is a wide range of finance apps. 
From a broader perspective, FinTech talks about any company which is using mobile devices, the internet, cloud services, technology, or software. In the initial stage, the technology was meant for the back-end systems of financial institutions and banks. But over the years, it has grown to become more popular and is today can also be seen in other consumer-focused applications. Today, with FinTech technology, you can manage funds, insurance, trade stocks, pay for food, and more. 
How Does FinTech Work?
Do not be amused to know that if you hear that FinTech is not a new industry. It has been in the market for a while and has evolved very quickly. Talking about how the FinTech industry works, well, it varies from application to application or project to project. But in order to understand how the FinTech industry works, it is important to know about the popular examples of FinTech technology. So, let's have a look at that:
Cryptocurrency and Blockchain
Both Cryptocurrency and Blockchain are prominent examples of FinTech apart from traditional banking. Popular crypto platforms like Coinbase and Gemini allow users to buy and sell cryptocurrencies like litecoin and bitcoin. 
In case you don't know, crowdfunding platforms are known to support app and internet users to send as well as receive money from others. Not just this, these platforms also allow businesses and individuals to pool funding in the same place from different sources. There are companies like Patreon, Kickstarter, and GoFundMe that vouch for different types of FinTech apart from traditional banking. 
The insurance industry is another example of FinTech technology. In fact, there is a separate term associated with FinTech that is used in the insurance sector - 'insurtech'. It covers everything from data protection to home insurance to car insurance. 
Smartphones have become an unprecedented need for people in the present time. In fact, smartphones allow you to do everything, including mobile payments. 
Popular FinTech Trends to Watch Out For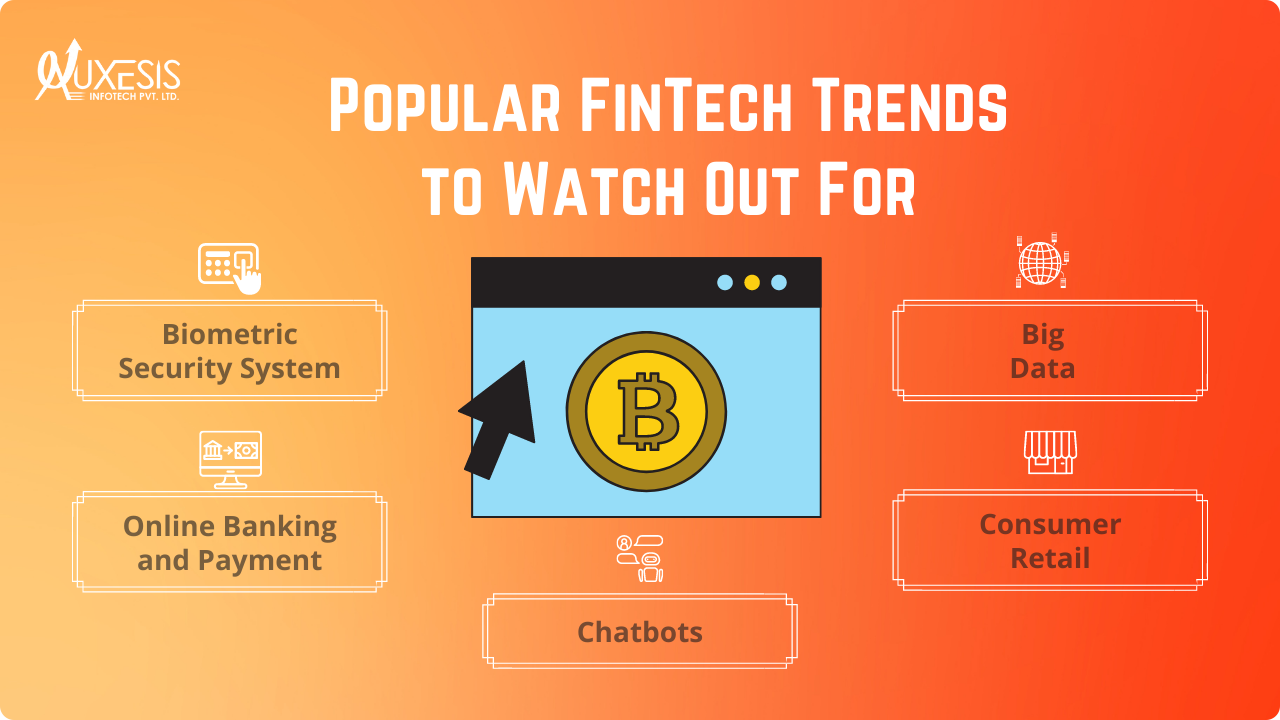 With that being said, let's have a look at all the popular FinTech trends that will shape the finance industry. If you are in the FinTech industry, you should make use of these trends to make the most of the technology. 
Biometric Security System
Now, people can do banking activities at the tip of the finger - thanks to smartphone technology. As the finance and banking industry is becoming more and more digitized, security is becoming a hot topic amongst businesses and users. Talking about security, the best way to ensure top-notch security is by operating in the FinTech industry. With a finance app, you will be able to avail all the security measures offered by the FinTech industry. 
There is no better way than biometric security to safeguard your users' data and information. Despite being a huge thing in the security field, the biometric market is witnessing some major changes. It is expected that there will be a drop in the popularity of biometric sensors involving physical touch. In place of that, there will be contactless solutions going forward to ensure no flaws in security. 
Online Banking and Payment
This is one of the significant changes that the banking and finance sector has seen. Over traditional banking, people prefer the digital option owing to their busy and hectic schedules. Besides, the digital model of banking is easier and convenient. As a result, there has been a significant shift in the way banks and financial institutions deal with their users. As a result, more and more banks and financial institutions are going with the trend by investing in finance app development. 
Talking about the payment methods, well, there was a time when credit and debit cards used to be the most convenient way to carry money. But the time has changed with the advent of the FinTech industry. You can see a lot of finance apps that support digital payments through a secured pin code. 
Financial institutions and banks collect huge amounts of customer data. And to manage such a massive amount of data, businesses need big data technology. Big data technology will offer useful insights and personalized advice to banks for their better operation. Not just this, a finance app supporting big data technology enables banks and financial institutions to understand the translation history of users. It can also help them recommend products to customers based on their spendings. 
Chatbots are much in trend in the FinTech industry. Using chatbots along with artificial intelligence and machine learning technology, more and more organizations are providing finance-based bots to consumers. Chatbots act as personal financial assistance for users that can help with the payment history, account balance, making payments, and more. Not just this, through chatbot development, you can also provide information to users about their existing loans. 
The consumer retail industry has seen a tremendous hike in FinTech industry app development in recent times. More and more big retailers are looking to invest in finance app development services and are partnering with financial institutions. The advent of retail products with FinTech technology is a new concept in the market. It allows users to get discounts to pay their bills through debit and credit cards via third-party finance apps. 
You may also like: 
Design Errors that Can Destroy Your Mobile Application
6 Mobile App Development Trends in 2021 to Watch Out For
Reasons to Work With a Digital Marketing Agency For Your FinTech Project
So, these are some popular trends that are highly expected to transform the FinTech industry. However, in order to make the most out of these trends, it is also crucial to have the best professional support from an experienced finance app development company. Talking about that, Auxesis Infotech is a top-rated app development company having immense experience working in the FinTech industry and delivering top-quality mobile app development services to businesses.