If you are someone who keenly follows the FinTech industry, then you know that the industry has evolved in many ways in the past few years. Not just this, organizations that are into financial services have also evolved a lot in terms of running their marketing operations. Traditional marketing isn't a thing anymore, instead, they look to target data-driven, modern marketing means, i.e., digital marketing. 
And why not? With the continuously changing digital landscape, FinTech businesses need a more dynamic approach to market their business. Thus, digital marketing comes into the picture. Digital marketing is a market trend for businesses in this digital era to target potential customers and make it easier for them to find your website in a natural way.
Now as easy as marketing a business through digital marketing sounds easy, it isn't in reality. You need professional help when it comes to marketing your FinTech business or else you can end doing those common digital marketing mistakes. This is where a digital marketing agency can help you look after the marketing aspect of your FinTech business. 
With that being said, we are going to mention some important reasons to work with a digital marketing agency to promote your FinTech website. 
What is FinTech?
Well, you are free to skip this part if you are someone who already knows a lot about the FinTech industry. But if you are a person who is new to all this, you should have a clear understanding of the industry before looking to hire professional digital marketing services. 
The term 'FinTech' is a combination of two words - "financial" and "technology". Now, this certainly gives an overview of what FinTech is about, i.e., finance and technology. The industry is still unknown to many people and the technologies associated with it are also relatively new that are helping financial businesses and consumers to deliver top-quality financial services in faster ways.
From the apps that allow consumers to make financial transactions to tools that support quick lending decisions for financial institutions all are a part of FinTech. Not just this, the ability to invest in stocks, do research and see the portfolio performance for investors is also a part of FinTech. 
The Importance of FinTech
The FinTech industry has seen tremendous growth in the last few years. As a result, the small financial organizations now can compete with the pioneers or the big players. FinTech has erased the concept of "who is the biggest". Now it is all about who is the fastest at acknowledging the dynamic customer demands. Such is the importance of the FinTech industry that it has changed the financial sector in a way that it is no longer about "one solution for all". Instead, it now fills the financial needs of the businesses depending on their niches or services. 
Reasons to Hire Digital Marketing Services For Your FinTech Business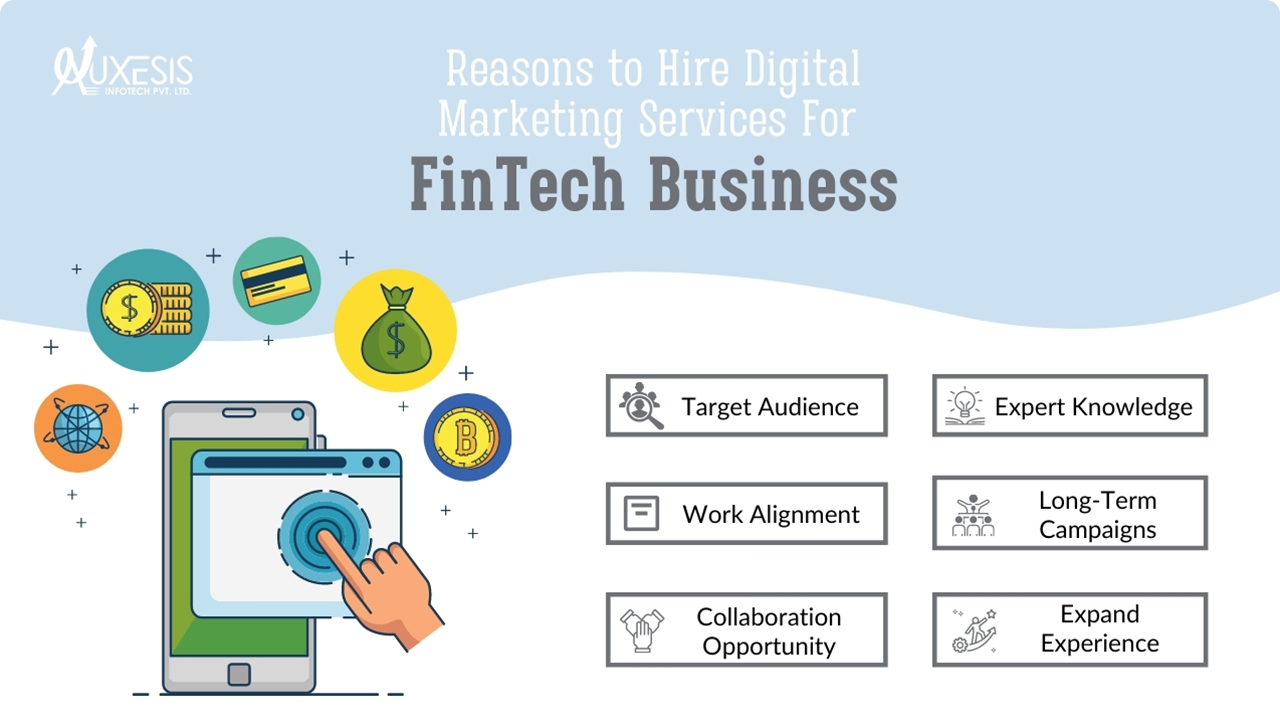 Being into the FinTech industry, it is pretty clear who's your target audience as more than 50% of banking customers connect with FinTech businesses for their financial needs. But that's not the exact case! Trust is still an issue in the industry which is also an important consideration for marketers in the FinTech business. Hiring a digital marketing agency to promote your FinTech website or business can help you get a better and clear picture of your current audience. Not just this, their years of experience can also cover you for how to retain the customers and their trust. 
Expand Connections and Industry Experience
Working with a digital marketing agency, or even better with a dedicated FinTech digital marketing firm, you benefit from their years of experience. While working with an agency, you can reduce the learning curve. Wondering what that means? Well, a professional digital marketing agency can instantly work on supporting your marketing efforts. However, to enjoy all that, it is also crucial to hire a digital marketing agency that has immense experience and a proven track record providing exceptional results to FinTech businesses that it has worked with in the past. 
Well, it's no hidden secret that FinTech is one of those complicated industries that not everyone has knowledge of. So, when it comes to hiring someone who is going to look after your marketing strategy, it is crucial that a digital marketing agency has dedicatedly worked in the Finance sector or FinTech websites. A dedicated FinTech digital marketing brings even bigger perks onboard when you choose to work with it. Such a firm is more specialized in providing top-quality digital marketing services due to its immense experience working in the FinTech industry. Not just this, the company also gives you a number of marketing campaign options that it has previously worked on to choose the right one for your business. 
Make Your Marketing and Sales Teams Work in Alignment 
Making the sales and marketing teams work together is a tussle for any FinTech business. And as a business owner, it is very much crucial to ensure that both the teams are working together in order to increase the ROI. Having an experienced digital marketing agency by your side, you can get a solution to make your marketing and sales teams work in harmony. However, for that, it is also significantly important to hire the best-quality digital marketing services from a professional firm that has the specialization in sales, effective marketing, CRM platforms such as Marketo, HubSpot, and Salesforce.
Build Long-Term Effective Campaigns 
A professional digital marketing agency not only can provide you with effective strategies or professional SEO services for the marketing of your FinTech website but can also help you in building long-term effective campaigns to drive quality leads and traffic to your business in the future. Just to let you know, it is an important inbound marketing strategy. 
Opportunity For Collaboration
This is probably one of the main reasons why you should bring an experienced digital marketing agency on board. When you choose to hire professional digital marketing services from an experienced firm, you involve the company in more departments other than marketing. As a result, you can get more resourceful and creative inputs. And if you are a startup in the FinTech industry, the opportunity to collaborate with a professional digital marketing agency can give you many benefits including a useful insight into the market. 
What Strategies a Digital Marketing Firm Can Build to Market Your FinTech Website?
As we have mentioned above, there isn't just one way through which a digital marketing agency can help your FinTech website or business attract more leads and generate more sales. The company can help you create a number of effective strategies under digital marketing services. Keeping in mind the latest marketing trends, there could be the following strategies that you can expect to get from an experienced digital marketing agency. 
Making the process user-friendly
Going bold with branding
Investing in video content
Getting influencers on board to spread the word
Being smart with the ad campaigns. 
Increasing focus on mobile with marketing initiatives
Targeting social media or investing in social media marketing
Opting for paid ad campaigns
You may also like:
Growth Marketing For Startups: Scale Your Way to the Top
Will the COVID-19 Crisis Boost Digital Marketing in the Future?
Strategies How New Publishers Can Boost Revenue With Organic Traffic
With that being said, we now come to the end of this post. Hope you have understood all the benefits of hiring professional digital marketing services from an experienced firm for your FinTech business. Talking about that, you can consider Auxesis Infotech for your FinTech business's marketing needs. As a top-rated digital marketing agency, we provide the best quality services across diverse industries including FinTech.