Real estate is an industry that has always been in demand for obvious reasons. Gone is the time when people used to visit sites to buy a property. Now searching, selecting, and buying properties have become a lot easier - thanks to the technology. The introduction of technology in the real estate sector has certainly turned out to be a boom not just for real estate businesses but customers as well.
And one of the recent technological introductions in the industry is the "data-focused" approach with artificial intelligence in web development and app development. Indeed AI technology is infiltrating many industries and healthcare is no exception to it. The technology is revamping the entire industry that is not just affecting the decision-making process in a positive way, but also improving the efficiency of tasks. Not many know that artificial intelligence is changing the real estate industry in many ways. And that is what we are going to talk and know about in this post. 
The Current State of AI Technology in the Real Estate Industry 
It's no hidden secret that artificial intelligence is a futuristic technology that has been going around in the IT world for the past few years. But as a matter of fact, there are many industries including real estate that are already making the most out of this technology. There are industry leaders and business owners that are investing on AI-based apps for their respective real estate business. 
It was the year 2018 that saw the first AI-based real estate transaction worth $26 million in Philadelphia. This transaction was made on the basis of the "soon to market detection" algorithm. But before that, a lot of planning and analysis went into it. Amongst those tons of data points that were analyzed some are:
Characteristics of property and its KPIs
Property's potential economic value
The state of local area estate market
The possibility of natural disasters in the region/area
The supply of the units that will be released
If we sum it up in simple terms, the technology of artificial intelligence in a real estate business varies from knowing the state of the market to calculating the value of the property. One of the main reasons to bring artificial intelligence technology into the real estate market is the effective completion of tasks that are done by agents and brokers manually. 
Talking about the most popular example of artificial intelligence technology in a real estate business, well, it's Smart Contracts which is a transaction protocol used to extract relevant information from your contracts and help you make a better decision. 
Ways How Artificial Intelligence is Transforming Real Estate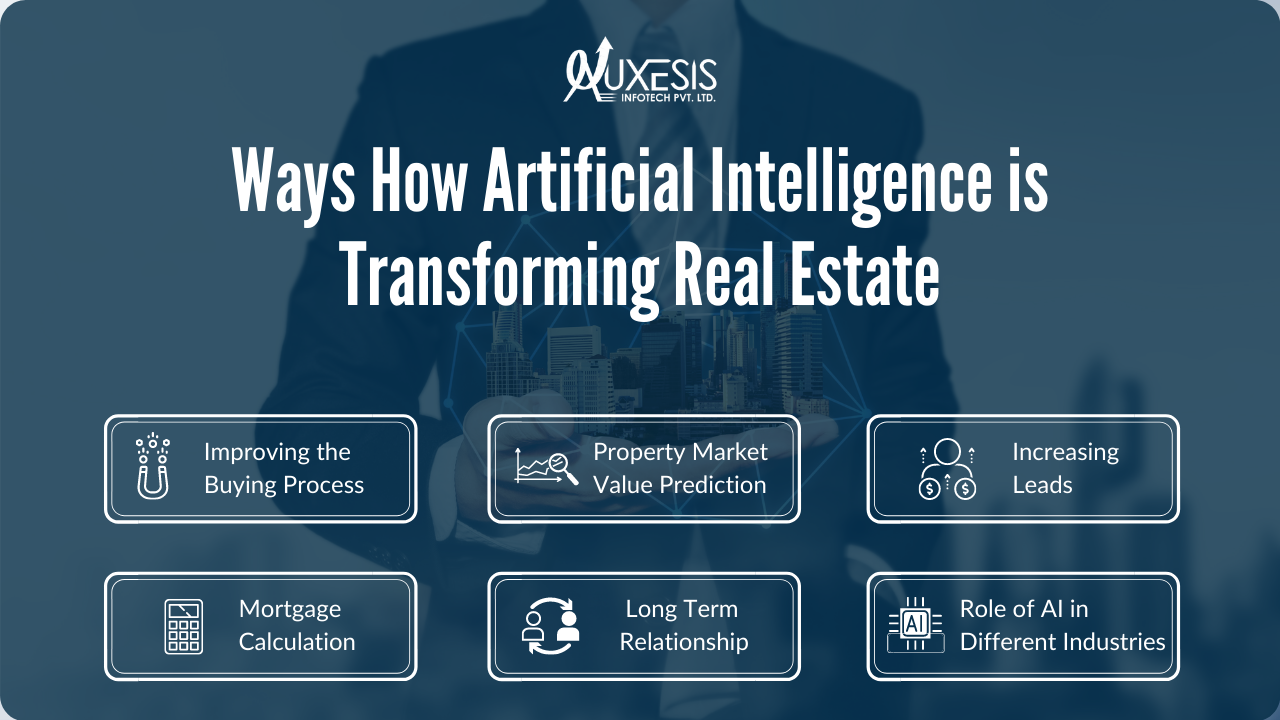 There are a number of different reasons why a real estate business should invest in artificial intelligence. So, whether you have a real estate app, it is crucial to understand the importance of artificial intelligence for your business. 
Improving the Buying Process
Finding and buying a house isn't an easy task for anyone. But with the advent of artificial intelligence and machine learning, the buying process has become a lot easier for buyers. In other words, technology has filtered the entire process of buying a property to a great extent. By investing in artificial intelligence and machine learning to improve your software development for your real estate business, you can not just only improve the buying process but also contribute to the environment by making the process paper-free. 
Property Market Value Prediction 
In case you don't know, artificial intelligence is one such technology that works on the concept of analyzing patterns in large amounts of data. As a result, the technology can be used to make predictions about the future value of the properties. If you are wondering how that works, well, AI technology combines the market data using the algorithm from CRM and the marketplace. Besides, with the help of AI technology, you can also consider public information to combine and evaluate the current market data. 
Now, it is important to know that market data combinations can be more than tens of thousands which obviously can be difficult to analyze manually. Thus, the technology of machine learning and artificial intelligence makes it a lot easier for a real estate business or a real estate app to predict the future value of a property.
Improving Marketing and Increasing Leads
One of those many benefits of machine learning and artificial intelligence is better marketing for your real estate business and improve lead generation. An AI-based real estate app with chatbot and machine learning technologies incorporated in it can help its real estate business by collecting user data. Not just this, the AI-based app can also help in lead generation and content marketing. 
Chatbots are the future of marketing and the technology can turn out to be of great use for a real estate business as well. Let's understand it in a better way. Let's say you are targeting the younger generation for a new house listening in a downtown area. Now to get the leads, you can either follow the traditional way of posting a Facebook ad or can follow an advanced approach of taking leads in a chat window of Facebook Messenger upon clicking on the ad with a chatbot ready to acknowledge their queries. 
 
As a result, your leads will automatically get subscribed to the chatbot's newsletter which is another way of marketing your real estate business. 
Mortgage Calculation is also one of the most important reasons why you should invest in an artificial intelligence and machine learning-based mobile app for your real estate business. There are still many real estate businesses that struggle with mortgage calculation. But with the implementation of artificial intelligence technology, you can make the entire process a lot easier and effective. It works in a way that the algorithms read the mortgage applications and uproot the errors. Not just this, using AI algorithms, your real estate app 
Establishing a Long Term Relationship With Customers
Amongst all those benefits of artificial technology in a real business is establishing long-term relationships with customers. An AI-based system not only provides customers with what they are looking for but also helps them to make a purchase. Not just this, the AI technology along with machine learning also ensures better services to customers even after the sale is done. In other words, it assists both agents and customers in the process of buying, selling, or renting a property. 
The Role of AI in Different Industries
It's not just the real estate industry that is making the best use of artificial intelligence technology. There are many other industries as well where artificial intelligence technology is certainly giving a lot of benefits to businesses. Let's have a look at the role of AI in other industries. 
Talking about the healthcare industry, technology has made the entire healthcare operation easy and seamless. It made electronic healthcare records possible. It also provides effective and accurate information through medical machines like CT scanners, X-rays, and MRI machines. 
Talking about the manufacturing industry, artificial intelligence facilitates faster growth of the manufacturing industry. The technology has supported the development of self-learning machines to ensure consistent quality results. 
Talking about the automotive industry, well, AI technology also has a huge positive impact on the automotive sector. The technology has empowered advanced safety features. Today, we see autonomous cars with safety warnings and gesture control. 
Talking about the education sector, there are various AI-based learning programs for students. For that, there are AI-based apps for various educational institutions. 
Talking about the cloud computing industry, artificial intelligence is a recent adoption in the industry. Hence, we can expect to see a new age of cloud computing in the near future. 
Though these are some important ways in which artificial intelligence technology along with machine learning is taking the real estate sector altogether to new standards, there are many other reasons to invest in artificial intelligence technology for your real estate business. Talking about the other reasons, well, they are task automation, online assistance, better house search, demand for smart buildings, property management, and more. 
You may also like:
Is AI becoming the threshold of Web Development?
6 Mobile App Development Trends in 2021 to Watch Out For
How has Chatbot Development Lifted Business dimensions?
If all these reasons or the ways in which artificial intelligence technology is transforming the real estate industry has inspired you to invest in an AI-based real estate app for your business, then you need the best professional support. Talking about that, Auxesis Infotech is a top-rated mobile app development company that has immense experience and great knowledge of working in the real estate industry as well as artificial intelligence. We have a dedicated team with qualified and experienced professionals having hands-on experience in delivering the best artificial intelligence services for your real estate business mobile app.