Sections -
 
Introduction
Website Revamp Vs Website Redesign
Is it Necessary to Revamp Your Healthcare Website?
When Should You Revamp Your Healthcare Site?

A new addition to available treatments
Change in Google algorithm
It's been years since your old website design is revamped
Change in staff
New standard or form of treatment introduced
Awareness about any new disease

Does Revamping Healthcare Websites Affect SEO?
What All to Consider While Revamping Healthcare Websites?
Conclusion
Introduction

Did you know that about 90% of individuals abandon a site because of poor website design?

The bad experience could be a result of poorly designed UI and haphazard user experience or outdated content for that matter.
And when it comes to healthcare websites, the design matters equally if not more! Since the healthcare industry serves patients of all age groups, creating a seamless website design that's suitable for all becomes of utmost importance.
Older generations might not want a design that is too complex as they are still getting used to the new technologies, while the new generations need engaging, dynamic, and latest content.
Thus, revamping your website design is necessary to meet a common ground and keep your target audience engaged. In this blog you will learn in detail about healthcare website revamping, how it is different from redesigning, reasons and time to redesign, and more!
Website Revamp Vs Website Redesign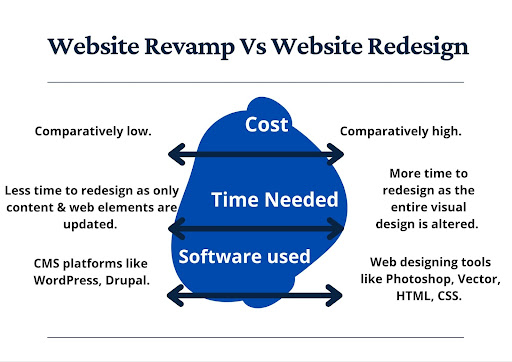 It is crucial to understand the very difference between website redesign and revamp as the two terms are often used interchangeably, but don't possess the same meaning. A website redesign might demand more thorough designing requirements compared to website revamping as the latter is concerned more about the content and information part of the website design.
While both redesigning and revamping hold the same goal of optimizing website performance, we can differentiate between the two terms quite easily. Here's how!
Website Revamp
Why should you revamp your website?
When you want to change your website content and provide your customers with the latest information without changing the website structure, layout, or visual design, revamping website design is suitable.
Website Redesigning
Why should you go with website redesigning?
When you need to rebrand your website, make it responsive, or change the web design, redesigning it is a wise choice instead of revamping. However, you must form a robust website redesigning strategy and see what needs to be changed and how to implement those changes.
Unlike redesigning, website revamp is usually done when a business needs to change or update any information about their brand or optimize their website for SEO.
Healthcare website revamp or re-designing? Whatever may be the case is, we are here to assist you with that! We have trained our web designing team to look through the nuances of web designing and update your site as per the latest web design trends for optimum performance! Connect with us now!

Is it Necessary to Revamp Your Healthcare Website?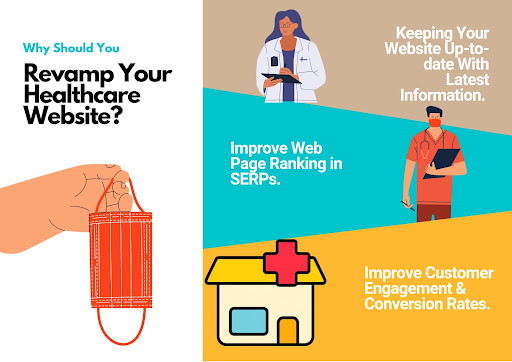 If you own a healthcare website, it is obvious for you to ponder upon whether revamping is a feasible option for your business or not. For that, we are here to guide you!
According to a Statista report, the digital health market was worth $200 billion in the year 2020 and is expected to surpass the $500 billion mark by 2024.
Thus, it is evident that the healthcare industry is relying heavily on the digital platform and you need to provide the unique and latest information to your customers for your business to perform well here.
Talking about the healthcare industry, there's a new development, drug, disease, or treatment every other day. And it is necessary to keep your users informed about the same while you extend digital healthcare services.
In fact, it is of utmost necessity for businesses that are struggling with improving their ranking in SERPs (search engine result pages). Healthcare institutions can attract more audiences and convert them by adding relatable content to their site and revamping the website design.
Thus, revamping your healthcare website design is of extreme importance. However, finding the right time to do it is crucial, otherwise, you may end up spending money unnecessarily.
Revamping old website design, modifying web elements, and visual elements to change the look and feel of your healthcare site; we help with all that and more! Connect to our team and let us know how we can help you with your website design.

When Should You Revamp Your Healthcare Site?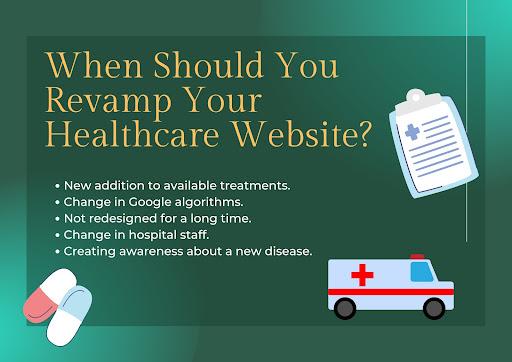 In the fast pacing digital healthcare industry, your website should also be constantly evolving to keep up with the changes. But, when is the right time for that?
Here's what you need to know!
1. A new addition to available treatments
There could be instances when a new treatment or drug is introduced or maybe the already available method of treatment is no longer effective. Whichever the case is, it is important to remove the old unnecessary information from your healthcare website and add the latest information in place.
2. Change in Google algorithm
There are about 500 to 600 Google algorithm updates within a year, meaning about 1 to 2 updates each day. However, these updates don't include major algorithm changes and can't alter your site's SEO ranking.
After a core update in December 2020, Google updated its core algorithm twice in June and July in the year 2021. So, it becomes necessary for websites to adhere to these changes and optimize their website design.
3. It's been years since your old website design is revamped
A span of 2 to 3 years is more than enough time for a website design or content to become outdated. Within this duration, a lot can happen right from the change in the process of healthcare services, addition or removal of new technologies and equipment, and more. And you need to revamp website design to provide your customers with new information.
4. Change in staff
If your hospital staff has been changed in recent times, or there's an addition of some health specialist or surgeon to your team, your website should also add the information.
5. Awareness about any new disease
In the healthcare industry, we can always see frequent news of some new virus or disease that doctors have to deal with. Your website content should also illustrate to the general public the common symptoms, treatments, and remedies.
Thus, if there are any such occurrences, revamping your website design becomes of utmost importance.
Is it time to revamp your healthcare website design? We could help you with the redesigning part! Drop us your query and we will get back to you in time!

Does Revamping Healthcare Websites Affect SEO?
The two major reasons why should you revamp your website are -
1. To update your website content with the latest information.
2. To improve your website's SEO ranking and performance on the web.
So, does revamping affect your website's performance, organic traffic, and ranking on search engines in any way? Read on to find out!
Since revamping website design means a change in content and information or updating the feel and text of your website, your organic traffic can be potentially affected. What if you end up removing the pages which were your primary source of organic traffic? Or, the pages for which you have created backlinks from authoritative websites?
Evidently, if you aren't mindful of the process, you may end up hampering your SEO performance instead of improving it. In this context, all you need to do is consider the following points -
1. Analyze and monitor your site's traffic source and SEO performance
Firstly, you must use Google Analytics to monitor your site's performance and track various metrics like source of traffic, bounce rate, average page load time, pages every session, page views, and more.
Generally, most of the organic traffic directed towards your website comes from 20% of your web pages. Hence, analyzing which web pages are responsible for this traffic is quite essential.
2. Don't abruptly change the content of high-traffic pages
Abruptly changing the entire content of your high-traffic web pages could result in a drop in SERP ranking as your previous ranking based on the targeted keywords could be lost. Instead, healthcare businesses should be careful and change only what's necessary at a time and update their site content accordingly.
3. Reuse & renew old posts
You have to renew or reuse old posts from your healthcare website if you don't want to lose visitors to your site. Over time, a lot can change in the healthcare industry and this change should reflect in your content too.
So, instead of deleting old posts or keeping them as it is, you need to add new information, images, and videos to improve your conversion rate.
Worried if redesigning would hurt your existing organic traffic and SEO ranking? Well, our web designing and SEO specialists can ensure you revamp your healthcare website without affecting your organic traffic and SEO performance. Contact us to know more.

What All to Consider While Revamping Healthcare Websites?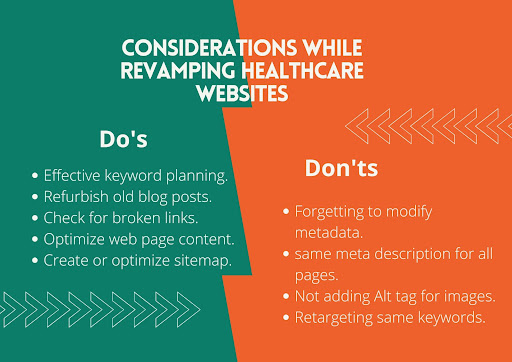 It goes without saying that patient experience is influenced by the healthcare UX design. And to keep your website's user experience top-notch, revamping design is quite crucial.
But, even slight mistakes during the revamping process can affect your healthcare website's user experience and SEO performance.
Do you know how to take care of the website revamp process the right way? Yes or not, these do's and don'ts will help you out!
Do's -
Effective keyword planning
Before you start updating or removing any content from your website, make sure you have consulted your digital marketing team and have access to the keywords you want to target for your healthcare website.
Make a list of keywords that you would use in the content and check which keywords are already ranking from which pages. You should ensure not to delete the page entirely and update content as necessary as the pages are already ranking.
Instead of deleting old blog posts, make sure you refurbish them with the latest and updated content. You should also structure the content as per target audiences' interests and current user trends to attract more audiences.
Check for broken links or backlinks created for pages that don't exist
If you are using broken links on your webpage, it is time to get rid of those as search engines like Google can rank your site lower based on these factors. Check for any/all broken links on your website and make sure to replace them with functional links to provide a better experience to your users.
Optimize web page & blog content as per Google algorithms
Time and again Google updates its algorithms, and websites have to adhere to these guidelines and write content accordingly so they can rank better on the web. For instance, creating a well-structured and readable piece of content, with properly placed keywords, abundant LSI keywords, and subheadings is the basic requirement these days.
So, hospitals or healthcare institutions have to pay attention to these content writing suggestions and optimize their content accordingly while revamping website design.
Create a sitemap as per the new website design
In case you haven't already created a sitemap during the website development process, now would be the best time to get it done. Once you revamp your healthcare website with new content, you can create a well-designed sitemap that is easy to follow by customers and also helps search engines to crawl through your site and rank the web pages.
Don'ts -
Forgetting to modify metadata
One of the common mistakes people make is updating their content while they forget to pay any attention to the metadata. Meta title and description help search engines to understand what the page is all about and if the inside content is different from what you have mentioned in metadata, it can create confusion. Thus, you should never forget to update the metadata as you update the content of the pages.
Same meta description for all pages
If all your pages have the same meta description, it could be an alarming sign for your search engine ranking as Google might not understand what the pages are all about and might confuse one with another. So, having informative meta descriptions for each page is essential.
Not adding Alt tag to images
Using Alt tag to images help one understand what the image is referring to. It not only helps users understand the meaning of the image but also helps search engine crawlers understand so that whenever a user searches for a related image, such results can be fetched.
Retargeting same keywords
Retargeting the same keywords is a wasted effort as your site is already ranking with those keywords. Instead, you can create another list of keywords with high search volume and work for getting those ranked.
Following these do's and don'ts will help healthcare businesses understand how they can better revamp their website. Now that you are aware of the reasons why your healthcare website design needs a revamp, you might want to get it done the right way.
And for that, Auxesis Infotech is right by your side with expert web designing professionals at your service. We have an experienced team of website designers and developers who can help you revamp your website design the way you want it to.
Conclusion

In about a year, a lot can change right from different healthcare treatments to new technologies. And you need to revamp your healthcare website design to cope with these evolutions.
Your customers need to be constantly informed about the various progress your healthcare firm makes, any new form of treatment, addition to the staff, or others. And by updating your website content, you can achieve the same. Nevertheless, adhere to standard design practices and revamp your website design for better engagement and conversion rate.