The world has become so competitive and growth-oriented that everyone wants to live a better life. Unlike the bygone time, millennials in the present time are ambitious about things they want to do in life, be it getting a good education, making a strong career, or living an independent life. And if we talk about all the things that you can expect a millennial to work hard for to get a better life in the current world, buying a house or property is certainly amongst their top priorities. With the world being more and more digital, finding and selecting the right property has become an easy task for people; thanks to the ever-growing mobile app development technology. 
One of the interesting stats about mobile app usage says that there are more than 3.2 billion smartphone users across the globe. This clearly talks about the huge market that is out there for every real estate business to target. People go online even for the smallest task and property hunting is no exception to it. Therefore you need to build an effective online presence for your business. Yes, having a website for your business is a big advantage, but a mobile app built by a team of professional app developers has its own set of benefits that you cannot afford to ignore as a real estate business owner in the present time. 
In this guide, we will have a look at how a real estate app benefits your business. 
Why Real Estate Agents Must Have an Online Presence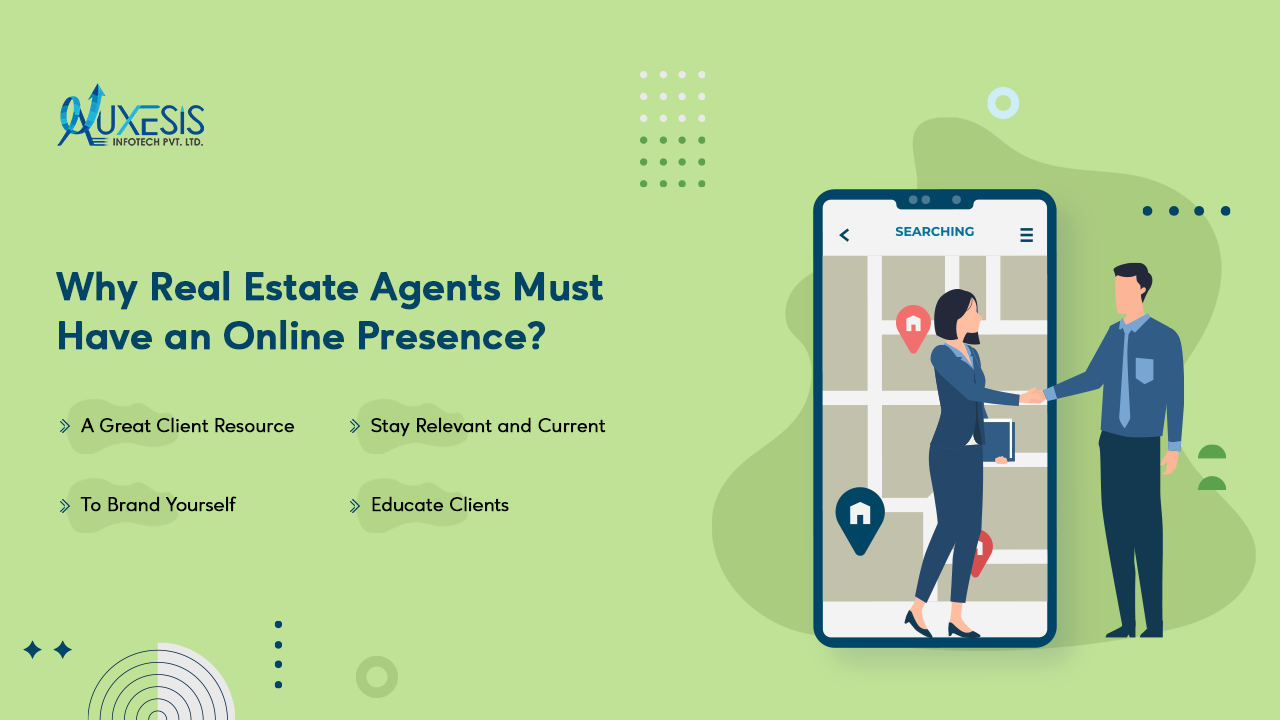 Because of the dynamic market, how people perceive your business keeps on changing. Therefore, as a business owner, it is crucial to be adaptable to the market conditions. Talking about the current digital era, a real estate business needs an effective digital presence to survive and grow in the market for different reasons that we're going to know about here. 
One of the reasons why your real estate business needs a strong digital presence is because of your clients. A website or mobile app for your real estate business can help your clients in the seamless buying and selling of properties. However, at the same time, it isn't just about buying and selling homes. A strong digital presence of your real estate business also means that you are the ultimate resource for your clients to get answers to any query relating to property buying and selling. 
Stay Relevant and Current
For any business, staying current and relevant is a secret mantra to stay alive and active in the market. And if you want to stay on track with the current market trends, it is crucial to follow them. And if we talk about the present time, people go on the internet to find, buy, and sell anything. This means there is a huge demand to have a strong and effective online presence for businesses in the market. Therefore, a website or real estate mobile app, be it iOS or Android app development, can help you stay relevant and current with the market trend. 
When it comes to how a business should work, a lot has changed in the last decade. With more and more digitization, businesses have a great opportunity to establish themselves as a renowned brand. Even a small business can become a big brand using its digital presence in the right way. As a real estate business, you should not restrict your business operation to a particular geographical location. And in order to be an established brand in the field of real estate, it is crucial to market your business in the right way. For that, let your users know what you are special in. This is the only way you can create a unique identity and establish a strong brand image for your business through a mobile app in the market. 
One of the most pivotal reasons why having a digital presence is crucial for any real estate business is because a website or mobile serves as an important means to educate customers. With a strong online presence, you not only get the opportunity to reach out to a large number of people. But you can also make your customers informed about all the latest events and updates in the real estate industry as well as in your business. In this way, customers feel connected with your business that helps in establishing a sense of trust. 
Why You Should Have a Real Estate App For Your Business
In this digital world, it's quite difficult for users to trust a business, especially if it is about real estate. Gone is the time when people used to go site to site to explore new properties. Instead, people now rely on mobile apps to buy their dream property. Property buying is not a thing that happens every day, hence, people always prefer to explore a range of properties first to find the right one. And in that entire process, a real estate app built by a professional mobile app development firm helps users to find the right property. Talking about why a real estate business needs a real estate app, here are some important reasons:
Over 90% of people between the age of 53 and 71 believe that exploring a property virtually is the best feature of a real estate app. 
A majority of realtors, homebuyers, and sellers in the present time have real estate apps on their smartphones to go through the market. 
In 2018, around 44% of people started searching for properties online.

Benefits of Having a Real Estate App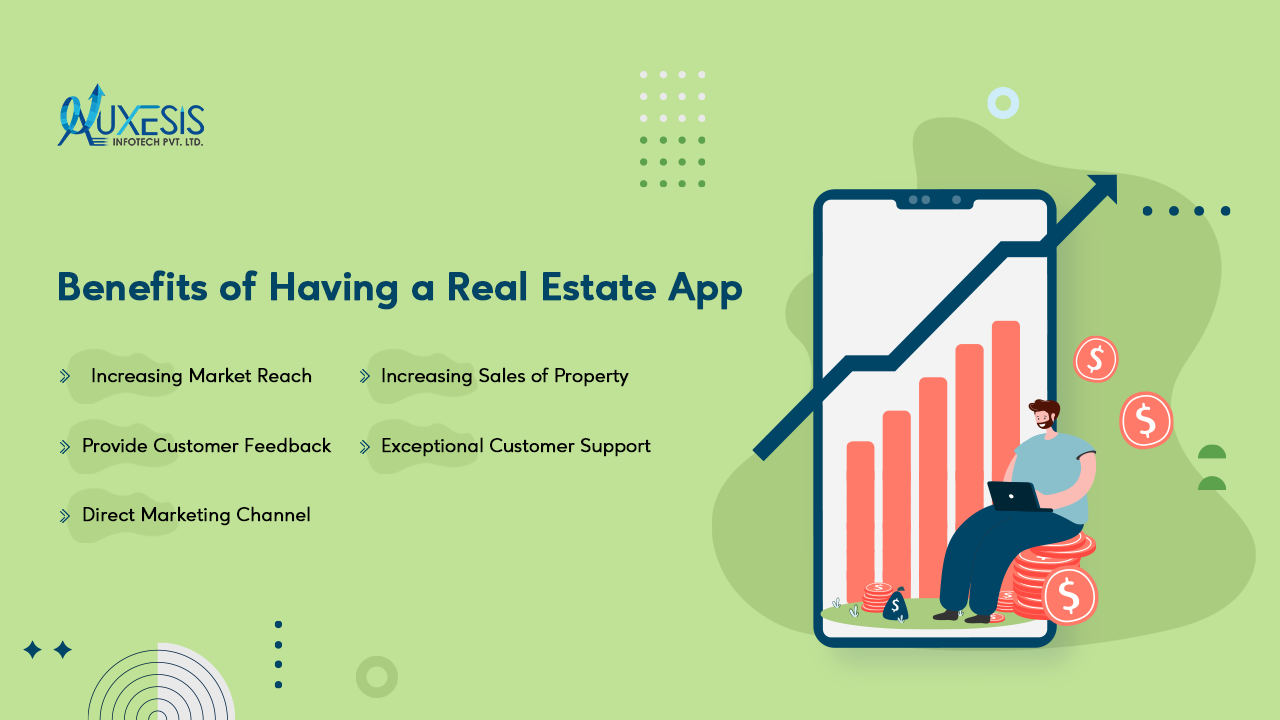 There are many ways how a real estate app can benefit your business. But for that, it is crucial to understand that you need the best professional mobile app development assistance from a team of experienced app developers. With that being said, now let's have a look at all the benefits of an app for your real estate business. 
People are so much into their smartphones in the present time. In fact, a stat says that on average, people spend 3 hours 15 minutes a day on their smartphones. As a result, the demand for mobile apps is also increasing at a significant rate. Therefore if you have an app for your real estate app, you will be able to target a wider market audience to establish a direct connection between buyers and sellers. 
Increasing Sales of Property
The key aim of any business is to increase sales and a mobile app can help you achieve that. Through a real estate app built under the supervision of professional offshore app developers, you can send messages and notifications to users and stay connected with them. If a person is looking for a new property, you can send push notifications and allow users to reach you without any difficulty finding the right property. As a result, users find your real estate business trustworthy which eventually leads to increased sales. 
Exceptional Customer Support
In the process of buying and selling a house, customer service plays a crucial role. Surely, it isn't possible to attend to each and every query physically every time. Therefore, comes the need to have a mobile app. You can integrate chatbot technology into your real estate app to make your customer support even better. Along with chatbots, AI technology also has a great impact on the real estate sector. These technologies help in the best way for real estate businesses to acknowledge some major issues of the customers. 
Provide Customer Feedback
Customer feedback is very crucial. For any business, it is crucial to know what their users think about them. And once you know about their needs and requirements, you can satiate their needs and cater to them with better customer services to make sales right. A mobile app is an exceptional tool to get honest feedback from customers and know what they think of your real estate business. 
Marketing is no hidden concept in the present time. Its importance has reached its pinnacle. And a mobile app is one of the effective marketing channels for any business. Through a real estate app built by a professional mobile app development company, you can get in touch with customers directly. Not just this, you can also target a large market to interact with customers and provide them better customer services.
you may also like:  
Hybrid vs Native App- Which One To Choose?
6 Mobile App Development Trends in 2021 to Watch Out For
Top Reasons Why You Should Go For Native Mobile App Development
So, these are the ways how a mobile app can benefit your real estate business. However, to enjoy all these benefits for your real estate business, having the best professional mobile app development help is very important. Auxesis Infotech is a leading mobile app development company that has immense experience and expertise in building exceptional real estate apps and delivering the best quality mobile app development services for businesses across diverse needs.