Table of Contents
Introduction
A Few Interesting Facts about WordPress as CMS

35% of Web Users Use WordPress
Websites Built Under WordPress Have More Chances to Rank Higher
2,940,000 is the Number of Times WordPress is Searched Every Month
WordPress Enjoys a Huge Market Share
WordPress is Available in 196 Languages
WordPress Currently has a Huge Directory of Plugins
It has ridiculously fast number increments

Does WordPress Have Everything Required to Create a Website for eLearning?

Student Management
Certifications
Simple Sign-in
Smart Course Management
eCommerce Integration
Reports
Video Tutorials
Multiple Subscription Models

8 Reasons Why You Should Choose WordPress for Your eLearning Website

WordPress Offers versatility
Easy GDPR compliance
WordPress offers security and encryption
WordPress LMS allows easy access to child's progress
WordPress offers one-click access to all courses
WordPress offers better control over branding
WordPress helps gamify learning
WordPress is scalable

What's the Cost of Building an eLearning site on WordPress?
Final Thoughts
Perhaps you have come with a great name and idea for your education business. Now, it's time to give it a concrete shape. But, how?

Go WordPress Way!

For small businesses in an education domain, CMS names like WordPress, Drupal, Joomla, Shopify, Wix, or Magento may sound like an alien. But, as you enter the process of going digital through eLearning, you will see these names as some popular choices. However, each of these top CMS come with their own set of advantages and disadvantages. But amongst all, WordPress is quite popular. The reason behind such a huge popularity is its ease of use and the fact that it is free and open source.
We know the initial expenditure is considerable, and you might want to decide certain things on your own, like which CMS to use. Thus, WordPress could be your go-to option to develop an eLearning platform especially if you have budget constraints.

In this blog, we will discuss 10 reasons you should consider WordPress for your eLearning website development. But, before that, let's dive deeper into the details and see whether or not WordPress website design and development has everything that you require for your eLearning website.

Let's begin with a few interesting facts about WordPress!
A Few Interesting Facts About WordPress as CMS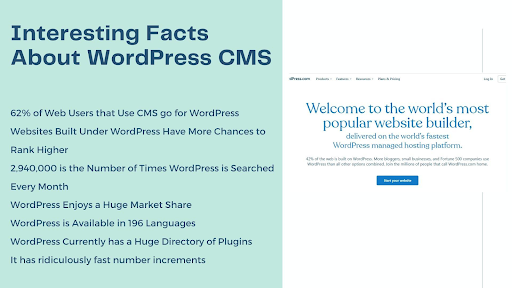 We all know that WordPress is a free and open-source content management system, but do you know how it came into existence? Not only its existence, but many facts are still not in the public eye, and people don't know much about it. So, here are a few interesting facts about WordPress that may compel you to try it for your small business.
62% of websites that use CMS are powered by WordPress
Since WordPress CMS is SEO-friendly, it takes 80-90% of Google's crawling issues.
2,940,000 is the number of times WordPress is searched every month
WordPress enjoys a huge CMS market share of 65.2%
WordPress is available in more than 100 languages
WordPress currently has more than 54000 free plugins
The latest version, WordPress 5.3 has been downloaded more than 7 million times

These interesting facts might have compelled you to at least have a look at different aspects of the WordPress site. Let's see whether it has all the features required for a successful eLearning development.
 
Need a smart web solution for your eLearning course?
Does WordPress Have Everything Required to Create a Website for eLearning?
If you are looking to transform your WordPress site into a fully functional and robust platform for eLearning or LMS business or wish to create one from scratch, you can move ahead.
WordPress can offer you great features and functionalities that will help you sell various online courses and enhance the learning experience of students and trainees. Let's have a look at some important features:
Student management is essential as it helps streamline the joining process for different courses on your eLearning WordPress site.
It is a crucial feature that helps learners get the certification of completion upon completing their course, which allows them to showcase their achievements.
Make sure that the login system is simple for people with different roles in your learning management system.
Another important aspect is course management that includes creating and uploading courses, where WordPress LMS helps you do it swiftly.
Using WordPress website design, you have the option to add customization to your online store and sell your courses easily.
The WordPress site now can also help the admin and the tutor with generating reports that will give crucial insights into a student's performance. Moreover, it will also give you a clear picture of the revenue generated for your eLearning business.
With the growing popularity of digital videos, WordPress also offers features like video tutorials and management. They can be of great help for teachers as well as students for teaching critical lessons and concepts and memorizing them.
Multiple Subscription Models
WordPress sites have also come up with multiple subscription models where your learners can now subscribe to your online courses and services such as assessment tests, multiple users, and more.
Perhaps you are planning to launch your eLearning WordPress site? Be sure to talk to us for support and advice regarding your eLearning development project.
After knowing the compelling features that WordPress has to offer, it is evident that WordPress CMS is apt for eLearning development. Now, let's see the other reasons that you should consider for your eLearning website.
8 Reasons Why You Should Choose WordPress for Your eLearning Website

As we have discussed the features of the WordPress site, let's have a look at some important reasons that might compel you to choose WordPress for your eLearning platform.
1. WordPress offers versatility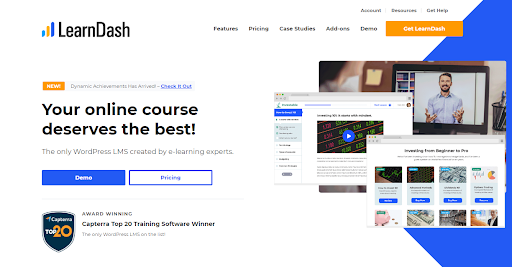 LearnDash, the leading LMS plugin for WordPress is a great solution for educators, institutes, universities, and schools that help create a suitable learning environment for the students.

The best thing that you get here is the SCORM (Sharable Content Object Reference Model) support which has many benefits. It allows uploading SCORM compliant courses, which work great with other eLearning software. With WordPress plugins, you will get different features that would support teaching in different settings.

Teachers can provide learning materials by drip-feeding them for their learners. Apart from this, you get interesting features like superior quizzing capabilities, video tutorials, and structured content delivery.
Here you will get an immersive learning experience through simulations, story-telling scenarios, or game-based learning with the help of gamification and problem-solving plugins.
2. Offers Easy GDPR Compliance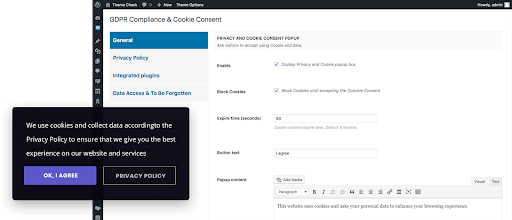 The CMS platform you are using for your LMS or eLearning website should be GDPR (General Data Protection Regulation) compliant as it brings fairness and transparency when it comes to dealing with data. It not only brings security but also helps in data minimization and ensures accuracy.

WordPress comes with built-in features to tackle GDPR compliance, where it feeds its data to a database on the same server. This way, it eliminates the possibility of data transfer into external systems.

Also, it allows setting up user accounts with student numbers or unique IDs which are non-identifiable credentials. This way, it keeps children's personal information secure and doesn't go public on the site.
3. WordPress offers security & encryption
For all education institutes and training centres, security is paramount. They cannot afford to act carelessly on data protection as that will not only cause data loss but would also damage their reputation.
WordPress offers extensive security and encryption, right from SSL encryption to rollback capabilities that help to store data securely and keep it under wraps.
Although, WordPress is an open-source platform that allows easy access of source code by anybody, free of charge. Now this feature has been harboring the common misconception of WordPress being less secure but that's not true.
Many website builders access the source code and they haven't experienced any major security flaws as WordPress picks up and fixes it. Conclusively, we can say all the codes are reviewed and tested to ensure they are secure.
4. WordPress LMS allows parents to access their child's progress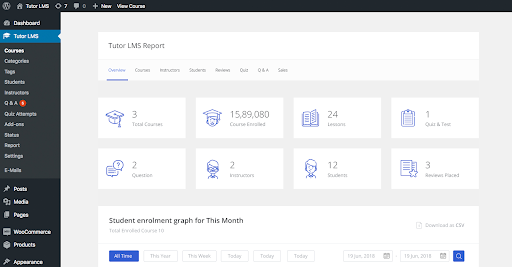 Parental involvement is always positively associated with children's academics and learning process. Considering the need for parental involvement, education institutes and teachers must act collaboratively with parents to create a comfortable environment for students wherever possible.
It is possible with WordPress, as it allows parents to engage with students by accessing their children's progress through reports, submissions, and certificates. All this gives insight into their child's progress and learning activities.
The best thing is you don't need to worry about security and data protection as the LMS or eLearning website built under WordPress is completely GDPR compliant. It allows parents to access the reports and track the progress of their children only.
However, it is highly recommended to install various WordPress plugins. It will allow better coordination and communication between teachers, students, and parents. All this will eventually create a comfortable and nurturing environment for students, where they can excel in their academics.
5. WordPress offers one-click access to all courses
Accessibility is crucial to LMS and by building your eLearning website on WordPress, you offer one-click access to courses to students and teachers. Using WordPress, teachers and instructors can assign courses to learners and manage their progress throughout.
Moreover, an LMS built under WordPress ensures that it meets all web content accessibility guidelines (WCAG). It allows students to access the resources they require.

WCAG-compliant systems offer easily accessible, user-friendly content. It also includes videos with captions, boosted brand images, engaging color schemes, and improvement in the entire website usability.
If you're looking to make a WCAG-compliant WordPress site for your eLearning website, we would love to help you.
Let's discuss your requirements and we will do our bit to make your LMS more inclusive and functional to create a nurturing learning environment.
6. WordPress offers better control over branding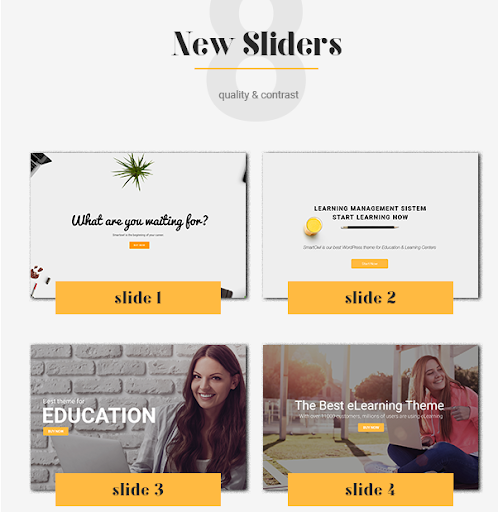 Given the fact that WordPress is one of the most flexible platforms for learning, it helps create websites that cater to all the stakeholders in the education institute.
It ensures that your WordPress site matches your brand, through fully responsive and customized templates. For this, you can make use of various eLearning WordPress themes like eLearning WP, Learn, SmartOWL, Language School, Eduma Education WP, and more.

All this catches attention, enhances the user experience, and creates an open connection between the course content, users, and your brand. Thus, it eventually helps in better learner engagement and better control over branding.

However, it also depends on the approach of the WordPress developer or the WordPress development company hired for the eLearning project. Make sure that the learning content is well optimized according to the age group it is aimed at.
Well, if you are looking for a dedicated team to help you with configuring the right sitemap and user experience, we can help you create an engaging WordPress site for the education business.
Contact us right now and our team will create a well-optimized WordPress site that's informative, and apt for learning.
7. WordPress helps gamify learning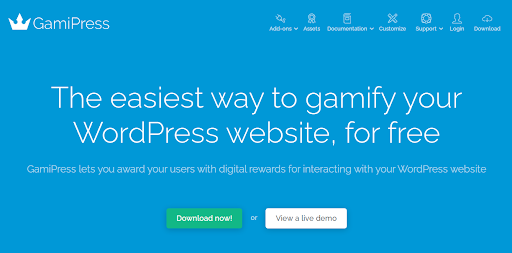 Following the theory of learning by fun, many education businesses have started investing in the gamification of their eLearning platforms. And, the best thing is, you can do it in WordPress now.

WordPress offers great gamification opportunities that can turn many mundane lessons into exciting tasks that increase their retention power. It will not only improve the productivity of your website but will also keep up the motivation of students to indulge in creative and innovative tasks.

You can use various gamification plugins in WordPress for your learning management system. These include GamiPress, myCRED, BadgeOS, MoolaMojo, Captain Up, and more. You can easily integrate game-based elements like point scoring, score tables, peer competition, and more with these plugins into your WordPress site.
8. WordPress is scalable
WordPress is a highly customizable platform that can bring so much more to the table, where it can be used as a simple blogging platform to a fully functional LMS. You can add all sorts of functionality and features using 50,000+ plugins that it has.
Not only it can be used as an online learning platform, but you can also add a variety of features that makes it extremely scalable. These include a web store where tutors can sell their individual courses, media galleries to show achievements, videos for lessons, contact forms for student and teacher insights, a mailing list, forums for community support and analysis, and a lot more.
This way, it allows education institutes to spend more on resources to help your students and staff. We can say that WordPress is scalable, flexible, and has the scope of upgrades, where it can power numerous websites.

Considering the features and benefits, we hope you have a strong reason to invest in an eLearning platform using a WordPress site to make the best out of it. But, before you move ahead with the eLearning development process, it's important to know the cost of development that we have discussed in the section below. Let's see how much does it cost to build an eLearning WordPress website.
What's the Cost of Building an eLearning Site on WordPress?

When it comes to the cost of creating an eLearning platform that is fully functional and futuristic, there are several factors involved. And, the most important elements are the tools and technologies used to support your WordPress eLearning site. Essential tools include:
WordPress hosting services make for the main cost of the eLearning development process. It ranges from

$5 for beginners to $20 for pros

.
LMS plugins come in free as well as premium versions. It completely depends on the type of website you want. The

cost starts from $o to $299 for a professional-looking website

.
LMS themes also make for an integral part of the WordPress site that allows you to change the look and feel of the website. Either you can go for a fermium model or pay for the custom designs you add. The

cost begins from $0 to $199

for a professionally designed customized eLearning WordPress site.
eCommerce plugins are also important as they are the major source of revenue. You can start with a freemium model of WooCommerce and purchase the addons later on to customize your WordPress site. The cost ranges from a freemium version to $250 for a pro version.
Here's a table that you can refer to for a quick comparison considering the above factors:
Cost for Essential Tools for eLearning WordPress Site
 
| | | | |
| --- | --- | --- | --- |
| Tools | Beginner($) | Novice($) | Pros($) |
| Hosting |         5 |      20 |   100 |
| LMS Plugin |         0 |     149 |   299 |
| LMS Theme |         0 |      79 |   149 |
| eCommerce |         0 |      50 |   250 |
Apart from this, various factors impact the cost of eLearning web development. These include the following:
eLearning website designing
Number of pages included
Type of features and functionalities included in the eLearning or LMS website
Cost of maintenance
Experience of developers deployed for the development project
However, if we talk about the exact cost of eLearning WordPress website development, it might cost you somewhere in between from $400 to $1000.
Get the best quote for your website.
Final Thought
When it comes to building a website for an eLearning program, education institutes and businesses are often tempted to build a website from scratch for that personalized experience.
Considering the tasks you are already dealing with in your business, do you have the time, money, and resources to bear all the frustration? Probably not! Keeping in mind the needs of students, teachers, trainers, trainees, and parents, WordPress is the best option to build one of the best eLearning platforms on budget.

Auxesis Infotech is a reputed WordPress development firm with immense experience in the eLearning industry. We can help you develop a robust WordPress website design for your eLearning business.
Our WordPress development specialization covers everything related to the CMS and that too in almost every industry out there in the market. Here you will get a dedicated team of experts who are ready to help you create a functional and robust eLearning platform.
Now if you're ready to proceed with your eLearning website development project on WordPress, connect with us now to know the process.