Table of Contents
Introduction
How is an Ecommerce Website Different from Other Websites?
Different Types of Ecommerce Websites
B2C Ecommerce Website 
B2B Ecommerce Website
C2C Ecommerce Website
C2B Ecommerce Website
Best Practices to Develop Ecommerce Websites
Mobile Responsiveness 
Keep the Design Attractive and Clean
Focus on Improved Functionality
7 Proper Ecommerce Web Development Trends 2022
Voice Shopping Experience
Usage of AI
Integrated Social Selling
Customized Packaging and Context-Based Personalization
AR and VR for Immersive UX
AI for Better User Experience
Micro Interactions
Final Thoughts
Wide market reach
Customer insights
Low-cost advertising solution
Or an alternate marketing channel
In case you are wondering what all these points refer to, well, they boil down to developing a robust eCommerce platform that will contribute to the growth of an eCommerce business. 
Why are we saying this?
It's because 81% of shoppers search online before they make a final purchase.
What does this mean for you?
Having a website improves your chances to expand your business operation and earn more customers and higher revenue. And eCommerce is one such industry that has greatly benefited from the web world. In fact, it was born as a result of the digital world! 
Considering the stiff competition in the market, eCommerce businesses are trying every means to acquire customers, be it personalization, addressing customer calls, ensuring customer support, or enhancing the overall user experience on their online store.
So, what else can you do to stand out from your contemporaries?
Well, as an online retail business that wants to expand its reach and grow globally, the most effective way to achieve that is by following the eCommerce industry trends. When there is a trend coming in, be open to accepting it in your business so that you can reap its early benefits.
However, for that, it is crucial to have a clear understanding of what's trending in the market. 
Therefore, we have come up with this blog for you! In this, we will discuss some crucial aspects of eCommerce websites along with the emerging eCommerce trends that you should watch out for in 2022. 
So, let's begin!
How is an E-Commerce Website Different from Other Types of Websites?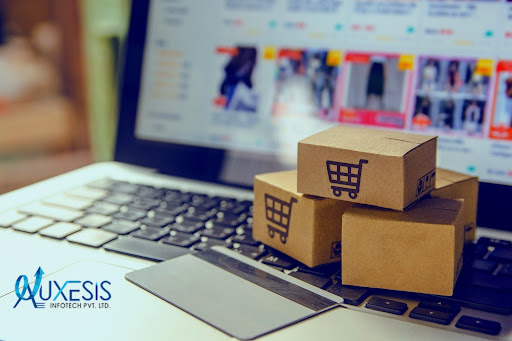 With 1.86 billion websites on the internet, the web world seems to be a busy place where there are plenty of options to choose from. In fact, in the eCommerce industry itself, there are different types of online retail websites. 
Therefore, as a business owner, it is very crucial to understand how your eCommerce business is different from other types of websites. Some common examples of websites include -
Blogs
Magazines/News/PR websites
eCommerce websites
Social media websites
Portfolio websites
Directories and contact pages
Corporate websites
Crowdfunding websites
All these websites are meant for different purposes. Some are for providing information, branding/advertising, PR, or online selling. If we broadly categorize the websites mentioned above then it comes down to two categories: Informational websites and E-commerce websites.
Informational Websites

All websites other than eCommerce ones are categorized as informational because they are designed and developed with the intent to deliver information. 
The information could be anything such as blogs, DIY tips, news, businesses or agencies delivering information about their products and services, contacts, or portfolios.
Not just the information provided on these websites could be different, but the end goal as well. For example, a software development company having a business website delivers tech-related information. Through the website, they can educate their customers by providing information about their services.  
The end goal for a software development company delivering information through their website could be to reach out to a wide audience and lure them into buying their solutions.
Similarly, a website that gives parenting advice or fashion tips is to keep their audience entertained with new blogs and display the effectiveness of their products and services. 
Whether it's a news website or a company website, the intent is to deliver information related to the products or services they offer. So, they can reach out to a wide audience, entertain them, increase traffic, and improve engagement while the transactions take place offline.  
Ecommerce Websites

Ecommerce websites are different from usual informational websites that are meant not only for promoting but selling the products online. Such websites allow customers to buy a product through the internet. 
However, it is different from a regular brick-and-mortar store where you can walk around and see different products. An eCommerce website offers marketing services and gives space to other merchants to market and sell their products for which they are charged a fee.
Apart from this, there are also many design elements that separate an eCommerce website from any other website. Some essential elements that many eCommerce fail to look out for are:
Bestseller products on homepage
Product collections
Product details and descriptions
Ratings and reviews
Shipping details
Order tracking
Wishlist
Sharing options
Shopping cart and checkout process
Call-to-actions
Security and privacy
Price filters
High-quality images for products along with zoom-in option
Customer feedback and contact information of the seller
If you compare the structure and elements of an eCommerce and any informational website, you will see a clear difference. Regular websites usually don't have these many elements because most transactions there take place offline.
Moreover, there is a difference in eCommerce websites too. When you explore the internet you will see different types of eCommerce sites based on different models that we have discussed in the section below. Let's have a look at each one of them in detail.
Get a Unique eCommerce Website For Your Retail Business
Different Types of E-commerce Websites

As we mentioned eCommerce websites are based on business models, it mostly depends on who is the buyer and who is the seller. Customers are not confined to the idea of a single person purchasing products or services. 
Instead, a customer could be anyone –individual, business, or government. Likewise, a seller could be anyone, an individual, a business, or a government. So, let's have a look at each of the eCommerce websites based on different business models:
B2C Ecommerce Website

B2C (business-to-customer) eCommerce websites are developed to target online buyers, where a business sells its products to consumers online. Much like a brick-and-mortar store, either it hooks your customer or draws his attention away depending on the features and elements you include in your website.
Here are the common features that a B2C eCommerce website should have:
Responsive design
Price and product filters to direct the consumer to exact product he is looking for
Search functions
Geo-location
Advanced payment options
FAQ pages for common queries
Social linking
Reviews and ratings
B2B Ecommerce Website

B2B (business-to-business) eCommerce website covers the online sale of products to buyers that are usually businesses. Here also transactions are carried out digitally unlike other traditional modes of business. The common features that a B2B eCommerce website includes are as follows:
Password protected access of website
Mobile responsive website design
Advanced search options
Sample product ordering
In-depth product images as businesses deal with intricate components
Complete order tracking
Secure and flexible payment options like credit, debit, and BACS along with offline options
Discount details for bulk buying
Live customer support
Minimum order quantity for wholesale businesses
Re-order or bulk order form so customers can add more products
Real-time inventory leads to keep the businesses informed about the stock
Quick enquiry button and request a quote facility for complex ordering process
Flexible checkout option
C2C Ecommerce Website

C2C eCommerce website targets sellers and buyers that are consumers and not businesses. However, the procedure is similar to B2B and B2C but what separates a C2C eCommerce website from another is that the seller is charged a commission fee for listing his products. 
In this specific case, you can consider a C2C eCommerce website as an intermediary which is not liable for the product quality or refunds on the orders.
Here are a few common features that you will find in C2C eCommerce website:
Space for multiple sellers to sell products
The buyer can also have a seller account where he can choose to sell
Social media linking to build communities
Payment setting that offers various payment options
Liberty for all sellers to bid on one single product to educate the customer about the best deals available
Best seller products, popular products, from your city tags on homepage
C2B Ecommerce Website

C2B eCommerce website targets businesses who are seeking products and services from customers. Here both the parties take offerings that they consider beneficial for them. More emphasis is given to customers who create value and businesses that consume value.
Common features included in C2B eCommerce website are:
Social linking on the website to encourage social commerce
Payment settings
Multiple sellers
In-depth product images and descriptions
Sample order facility
Order tracking and reordering form
Mobile responsiveness
Discount details on the product
Advanced search options to search exact products
So, this was about types of eCommerce websites and the features that are commonly found in each one of them. Now, let's see the best practices web developers should follow to develop an eCommerce platform that we have discussed in the section below.
Best Practices to Develop an Exceptional Ecommerce Platform

We have discussed the common features in eCommerce websites in the section above. Considering the technicalities, let's have a look at the best practices developers should follow to develop an eCommerce platform:
Mobile responsiveness is the foremost element without which an eCommerce platform is incomplete. It relates to the adaptiveness of the website to adjust to the screen size of different devices right from desktop to mobile.
Things to Consider
Focus on omnichannel online shopping experience so a customer can place his/her order from his mobile app if he can't from his workplace PC.
Keep in mind the latest UI/UX design trends before designing the entire website while considering common human factors such as palm size, fat fingers, background, color blindness, readability, and haptic touch.
Create easy, simple, and navigable content that can be accessed at one tap.
Use viewport meta tags and follow W3C standards as it impacts users' area of visibility and helps create a unique web experience.
Use new image formats like JPEG XR, JPEG 2000, and WebP that are easily compressible to optimize images.
Include AMP(accelerated mobile pages) support pages as it helps reduce load time.
Keep the design attractive and clean
Less is more! A simple design is the foremost rule when it comes to designing an eCommerce website or an online store. Avoid using too many elements on your website as it distracts the users' attention. By too many elements we mean big menus, banner ads, pop-ups, and extremely bright colors.
Choosing the right colors, fonts, images, words, and eye-catchy visuals can very well convince your customers to visit your online store.
Things to Consider
Highlight products through high-quality well-optimized images with clear and concise descriptions with popular keywords. Include 360-degree shots or videos to show crucial aspects of the product sold on the online store that impacts users' life.
Use simple menus with clearly labeled items and intuitive design so it doesn't eat users' time.
Solid web page layout structure using the grid as it creates a sense of order, rhythm, and maintains consistency throughout the website layout.
Good typography forms a crucial element in an online retail website. Stick to two typefaces on your online store and keep experimenting with size, color, and case to maintain a hierarchy throughout the design.
Don't forget the breadcrumbs as it shows the current location in the site hierarchy based on the text-based navigation. It will enhance the customer journey on your site and will not leave the customer rattled and lost on the website.
Stick to a limited color palette to visually unite the elements so that they don't go off the design theme. Moreover, it keeps the user focused on the information and doesn't disrupt him from the task at hand.
Maintain visual hierarchy by strategically placing the images in harmony as it gives a clean appearance and keeps the customer focused on the product. Ultimately, when all the images are placed together, it encourages the user to take action.
Focus on improved functionality
Functionality or usability of eCommerce websites relates to the ease of use and navigation. However, we have already discussed navigation in the point above. Here we will focus on other crucial and technical elements that enhance the functionality of the website.
Things to Consider
Website hosting is the most important element that you can't afford to miss as it helps get your website launched on the internet. Either you can go for hosted or self-hosted websites. Hosted is when a company takes care of everything, which is also known as SaaS. 
Self-hosting is when you have to take care of everything right from choosing the plan and paying for it to installation and maintenance. We would recommend you to go with hosted as it offers ease of use, complete maintenance by the company, easy installation, customer support, and technical upgrades.
Make sure to reduce page load time; otherwise, your customers might choose to browse another website while abandoning your cart and leaving your page.
Add schema markup to add more depth to your existing structured data on the eCommerce website. This way, you can alert search engines regarding special events like Black Friday sales, new products, discount prices, coupons, vouchers, etc.  
Use XML sitemap while building an eCommerce website so users can easily navigate. It will help users' access relevant information quickly in response to a query.
Always add a search bar as it is crucial to increase the functionality of the website. Most consumers and businesses use it to navigate and search for the exact product they are looking for. Try including filters based on price, quantity, brand, user rating, color, material, size, popularity, promotion (new featured), and theme.
Use simple checkout because a complex checkout process with lots of formalities disrupts user attention, builds frustration, and encourages the user to abandon the cart and leave the website. Don't ask for unnecessary information, give billing information, avoid surprise cost, shipping information, shopping method, confirmation, secure payment options, and lastly a thank you page.
When it comes to secure payment options, provide adequate payment options that include credit card/debit card, E-Wallets, mobile payments, prepaid card payments, bank transfer, cash on delivery, eCommerce payment gateway, and EMI.
After knowing the best-known practices for eCommerce web development, let's have a look at the current eCommerce 2022 trends.
Build an exceptional eCommerce platform ensuring the best practices.

7 Popular eCommerce Web Development Trends in 2022

There are various aspects of web development and design that keep on evolving based on current trends. In this section, we will be discussing the same. Let's have a look at each one of the eCommerce website trends in 2022.
1. Voice Shopping Experience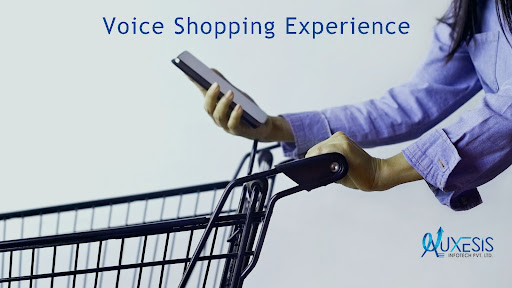 Voice shopping is one of the eCommerce trends that will be seen in 2022. And voice commerce will be a major eCommerce trend in 2022. A voice-activated interface is a way to offer a voice shopping experience to your customers.
Begin with differentiating the pattern of search in voice search and typed queries. You would realize there are more questions from queries in voice search. For instance- What are the best deals on refrigerators? 
Considering this change, include long-tail keywords in your product descriptions and optimize them for local search as well to match user intent.
Make sure you optimize all search questions- who, what, when, where, why, and how. It will help you present your products to be relevant and thorough against the voice query. When a customer gets your product asking for a query, it will help reduce churn rates.
One of the best examples of voice shopping on Google is Chipotle. The brand has been pioneering voice shopping with voice assistant Alexa, where customers can use it to re-order their favorite meals for delivery or pickup. 
2. Usage of AI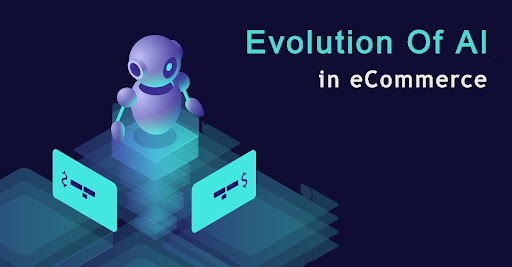 Businesses have started using AI in eCommerce websites to ensure a better customer experience by offering relevant products when asked. Moreover, AI enables businesses to get competitor insights through analytics.
If we talk about usage to enhance the shopping experience, there are many ways you can implement AI. They include pricing optimization, image tagging/recognition, auto-generated product descriptions to address buyers, recommendation systems, personalized search, facial recognition payment methods, and sponsored products.
One of the best examples is Amazon's image recognition feature that has made the visual search of a product easier. Here customers can click an image or find one on the internet and can easily find it on Amazon.
3. Integrated Social Selling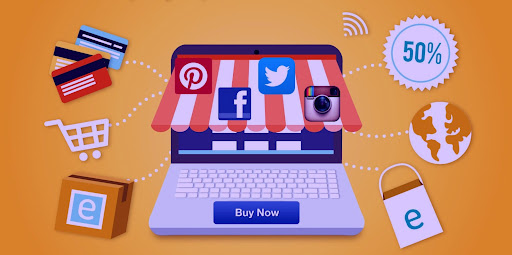 Social commerce allows the purchase of products through a third party and that's where social linking on your eCommerce website could be a great thing to add. 
You can integrate social commerce into your eCommerce website and let users make comparisons and buy online products on social media channels.
You can include social commerce in many ways and increase engagement and conversions on your eCommerce website. You can choose to implement social commerce in numerous ways such as:
Creating shorter paths to purchase products
Social sign in options makes it easy for users to access your eCommerce store and reduce purchase friction
Leverage user-generated content to encourage sales
Add social widgets and plugins to your eCommerce store can help increase conversion rates
Advertise using Facebook pixels to track visitors who visit your store
Adding call to action buttons in your social profile that will direct your customers to your website
Influencer marketing is also a great way to integrate social commerce and build trust and brand value
4. Customized Packaging and Context-Based Personalization

Customized packaging is another trend that has taken the eCommerce industry by storm. It helps you form an emotional connection with customers and enhance their user experience. This ultimately leads to brand loyalty and increases revenue.
It is the best way to bridge the gap between your customers and your brand by reminding them of your company's theme color, designs, and logo printed on the package. It not only enhances the user experience but also strengthens your brand.
Here's what you can do to include customized packaging:
You can go for green packaging as it is in trend and also it sends a clear message to your customers that you are conscientious stewards of the environment.
Include clear typography and graphics that make your brand stand out from the rest.
Enhance the aesthetics by including graphic art, geometric patterns, and intricate texts to attract customers and make their unboxing experience enjoyable.
You can also include a story and character-driven packaging such as wide-eyed animated characters with your brand. When people will see it every time they buy your products, they will gradually start associating that character with your brand.
Don't forget natural language processing and try to understand the shift in context-based search. For instance, if you are a business owner selling shoes, you need to be aware of the local flavor in the language. 
At some places, people call it sneakers while at some places it is called tennis shoes. Make sure you use both the terms in your content and give personalized suggestions.
5. AR and VR for Immersive UX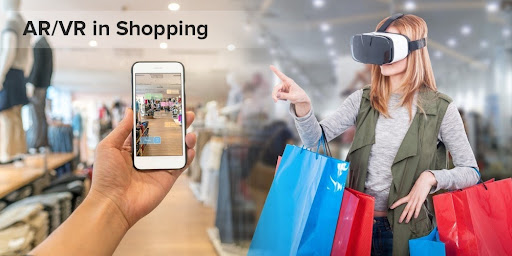 Augmented reality (AR) and Virtial Reality (VR) in your eCommerce industry will be the dawn of a new online era. Using both in online stores will help increase store visits, enhance consumer engagement, reduce product return rate, customize the content, and increase conversions.
Ecommerce companies are already investing in a mixed reality that has a combination of AR and VR to replace flat displays for an immersive experience altogether. Here are a few things you can bring to the table by including AR and VR:
You can interact with your customers through a live stream on your social profile and leave a link to your eCommerce store or newsletter for your customers to follow.
If you have a business-related to makeup or apparel, you can include Snapchat filters on your social profile and virtual makeup on your eCommerce store to give your customers an immersive experience.
As customers want to try things virtually, you can offer immersive product demos to give information about how your product fits your customers' lifestyles.
You can include AR-based games and leverage customized mobile apps and incentivize visitors to play and win coupons.
6. AI for Better User Experience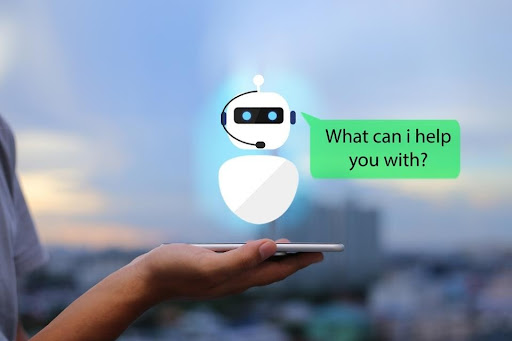 AI holds the power in the coming time as it can influence customer choices. Well, all thanks to the automation that comes with AI, where you get to know about your customers' previous purchases, searched products, purchase patterns, and browsing habits.
There's a lot that you can do with AI, right from advanced video and image recognition to using smarter chatbots for customer interaction. Here are a few ways you can include AI in your eCommerce store to enhance customer experience:
You can create email campaigns using AI by following search patterns and browsing patterns of your customers to retarget them.
Include advanced virtual assistants like Alexa, Google Now, and Siri that are rooted in NLP (Natural Language Processing) that would help companies interpret the context of a query made by a customer.
You can target exceptional opportunities while using AI and resolve enterprise challenges like lead generation. The best way to do so, is with AI integrated CRM/HRMs to get insights about your competitors and increase your sales.
7. Micro Interactions
Micro interactions have become an integral part of eCommerce websites. These tiny breakpoints that facilitate interactions between the users and brand catch user attention and keep them engaged for a long time.
All you need to do is to identify trigger points by understanding customer needs which will give you an idea as to when he/she will decide to interact. Either you can implement user-initiated triggers or system-initiated triggers.
You can include illustrations, bold typography, bold colors and fonts, and 3D motion in the pop-up design to stand out. Also, you can include visual or audio feedback on the user action to keep them informed and enhance their browsing experience manifolds.
Apart from this, you can include swipe actions, progressive forms, and pull to refresh to refine the experience more.
Final Words

In 2022, we can predict a slew of eye catchy websites in the eCommerce industry with a thumb-friendly design. Following the eCommerce trends mentioned above will help you create websites that will positively impact your brand and revenue.
Besides, if you want a modern and user-friendly website for your store, contact Auxesis Infotech today! We offer top-quality eCommerce web development services to retail businesses of all scales and sizes. 
Get a detailed quote for your eCommerce project!