It's no hidden secret that mobile applications are easy-to-use tools that have made our lives easier and sorted than ever before. Take sports for example; a decade ago we never thought of watching sports online or booking online tickets or even getting all the insight about our favorite team all through a mobile app. And today here we are with all that as a reality! So, it's fair to say that it's not just the humans' lives that have benefited from the advent of mobile app development technology, businesses are also making the most out of mobile apps, especially sports businesses. 
So, even if you're a sports business owner, having an online presence for your business is as important as it is for retail, healthcare, eLearning, or finance businesses. And for a fact, mobile app development is still a relatively new technology in the sports industry. Businesses are investing in it knowing its unprecedented benefits. 
Whether it's live streaming games or fantasy sports betting, everything is easier than ever through sports mobile apps. Users can now check scores, highlights, and game information with just a few taps on a mobile app. But with that, also comes the need to build an exceptional sports app with which your users can feel connected. So, in this post, we are going to talk everything about sports app development. 
Why App Development For Online Sports?
The value of having a mobile application from a favorite sports team or a business that offers exceptional services has an unmatched value for a sports fan. This clearly talks about why sports mobile application development has become an integral part of the online sports business. 
Mobile application development for online sports businesses has facilitated many benefits for users. Depending on the type of sports app, it can inform users about every detail about the match, venue, players, weather condition before they go to the stadium or can let them stream a match from anywhere or can even play legal betting. 
Along with that, there is so much a sports app can help users do. Take online sports ticket booking apps for example;  they not only help users book tickets and do an early check-in, but some can also help them find the seat, figure out where their favorite food is and the shortest line, and whatnot. The app even lets them order from their phones while being in the stadium so they don't miss a minute of the game.
Types of online sports applications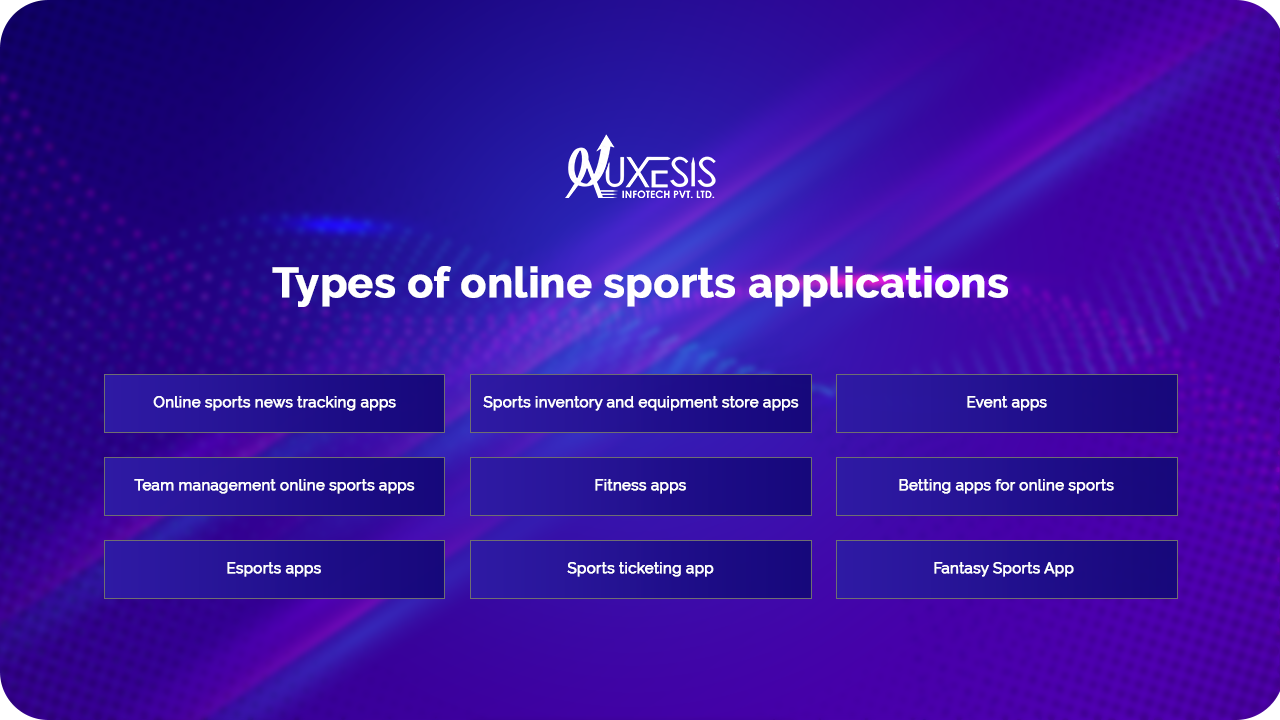 Talking about the types of sports apps, there are many different types of mobile applications offered in the sports field that are categorized into different types such as live commentary, live match streaming, player management, and more. 
Let's take a closer look at reliable solutions for every fragment of the sports environment. Regardless of which sport you focus on or who your end users are, your sporting needs will be fulfilled by these sports mobile application development.
Online sports news tracking apps
The sports news applications are mainly aggregators of all kinds of information about a specific sport or multiple sports; news associated with sports, scores, team stats, championships, and many more. These sports apps also feature blogs and interviews with sports personalities, athletes, coaches, experts, and other people who influence the sports industry.
Team management online sports apps
Sports management mobile applications are useful for coaches and team members to stay organized and connected with the team. They usually feature information regarding team members, chats, updates, stats in the sports industry, scores, and news.
The survey says that over 250 million people watch esports, and every year its popularity has been growing at a significant pace. It has been becoming more evident that esports is a strong competitor to traditional sports businesses. Such apps allow sports buffs to watch video streams, clips, & highlights, follow matches, communicate in a live stream chat, and more. 
Betting apps for online sports 
People geeks like to watch sports, but it becomes exciting if your money is on the line. Nowadays, online sports betting apps are very popular, and they are available in different forms; from traditional betting with a central bookmaker to betting marketplaces. In the betting marketplaces, anyone can create and accept bets with anyone across the globe.
It has been observed that nearly 56% of sports fans rearrange their plans to watch the game they want. However, there is a probability of unexpected events in life. So, this is where a sports ticketing app comes into the picture. Ticketing apps enable people to buy tickets for the games and you can also resell them. Basically, these apps work in a way that they allow users not to just buy tickets but also sell them. 
Sports inventory and equipment store apps
These types of apps are eCommerce apps that sell sports equipment online. The app offers wearables, clothes, sports food, products associated with sports for professional athletes as well as for fans. Well-established sports brands or franchise mainly sell their products or merchandise through such apps. 
The sports industry is renowned for its requirements, therefore online sports fitness apps are popular among sports lovers and professional athletes. Renowned tech giants Google and Apple have their own native fitness apps. 
These apps are helpful to organize sports events. Users can navigate with the help of indoor and outdoor maps provided on the apps, buy tickets, order food and drinks, and participate in activities. These apps can also offer comprehensive information regarding sports events and social features to share experiences on social media.
These are the most popular online sports apps in 2021. Fantasy sports are often played online, where participants create imaginary or virtual teams with proxies of real sports players of a professional sport in real life. Most sports fans prefer these apps to play their favorite sports.
Important Features of a Successful Sports App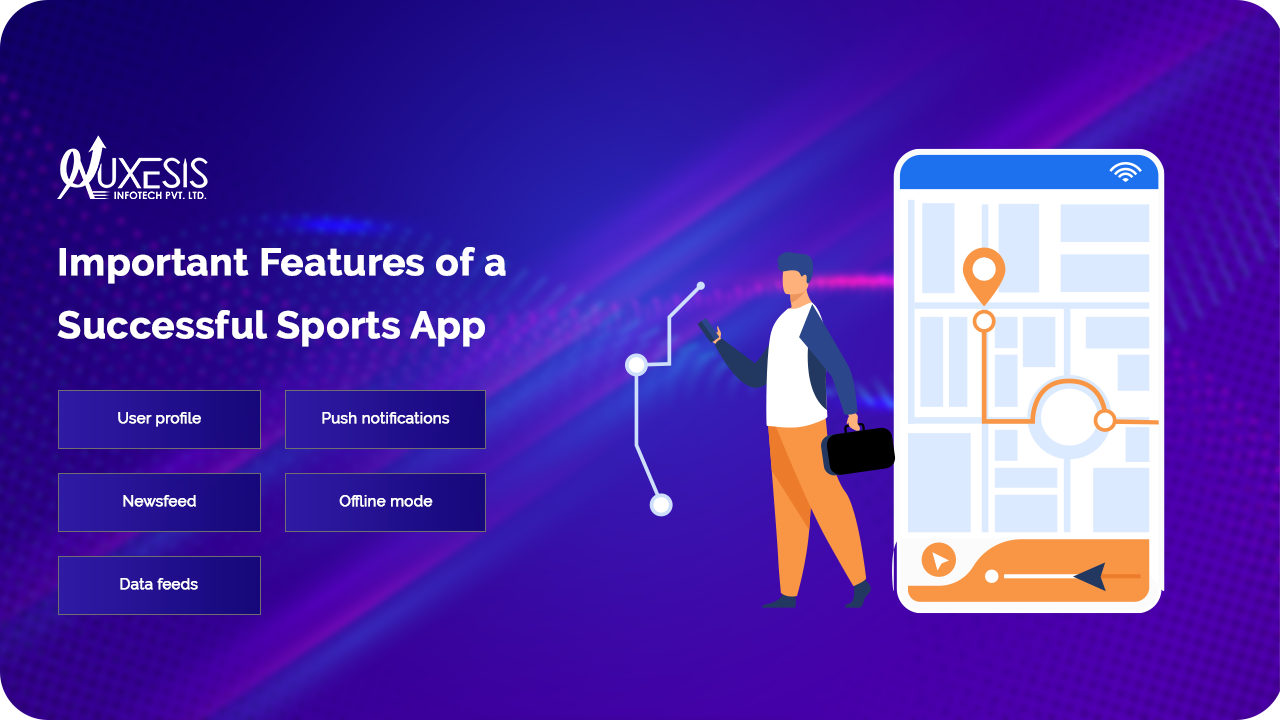 Be it sports or any other industry, an exceptionally built mobile app can help boost your brand in many ways. So, if you are considering developing a sports application, it is better to know the key features of such a solution as it will give you an edge over your competitors and allow you to target the users in a better way. 
Creating a profile gives your users identity on the platform and gives them a digital face to discover their passion within the community. In the world of sports, the ability to create a profile also opens the door for a fan to participate in live chats all around.
 
For example, think of the streaming service Twitch where fans set up their profiles not only to watch and stream live broadcasts but also to share their own opinions and comments with the community
To ensure that user feedback is guaranteed, the content must also be kept up to date via a news feed. Allowing them to follow, bookmark, or flag players and teams is a tactic to ensure content stays relevant. Liveblogging is a real-time blogging tool that enables publishers to deliver text, photos, and videos in an engaging, interactive content stream on the go.
Every sports app needs real-time data since the sports industry is very dynamic and new things are happening every day. Keeping fans updated on every kick, swing, and the point is one of the best ways to keep them engaged with their favorite sport. You can provide fans with an overview of the stats, a page of facts and figures, players' stats, records and achievements, and a list of professional earnings. This shall keep online sports app users engaged with your app.
The world of sport moves fast. With push notifications, you can make sure your app users don't miss a moment by keeping them updated on what's new and trending in the industry. Push notification offers them a reminder and an easy way to return to your sports app. 
 
However, to send a notification, it is crucial to choose the timing wisely. You don't want to target a time when users are sleeping or busy, and hence, just might swipe the notification without even looking at it. To avoid such situations, keep your push notifications' aim to inform and alert fans, but not spoil the game.
Anything you can do to make the fans' engagement more interesting will increase the chances of them returning. Enabling certain product functions when users are not connected to the Internet helps satisfy their hunger for sports content even during times of internet inactivity.
Take the Pocket app, for example, which allows users to create a reading list of internet articles and videos that can later be read offline. In a sporting context, this feature can be used by users either to catch up on the news of the day or to see the statistics of the players. If you allow people to catch up whenever they want, you can expand your potential audience. You can even give them the option to download the video content through the internet so that they can later watch it offline. 
Things to Consider Before Developing an App For Sports Online
By now, you know that sports apps are converging in the market and they sure will stay. However, you still have to ponder some crucial considerations that play a fundamental role in the process of developing a sports mobile app. 
The Popular Sports of the Country 
Suppose you have decided to create a sports application. Now you need to think about the most common sport that is played and continued in a given country. For example, you can find soccer fans in Europe and South America and cricket fans in Asia. 
Getting to Know Specific Customer Needs 
It's no hidden secret that the market is very dynamic, and hence, the mobile app development trends change every year.  Just like that, the needs of users also keep changing. Thus, you should consider the specific needs of the end-users when planning a sports mobile application development. And, market research is the best way to obtain this information. Besides, learn what not to do and what additional features should be added to your sports app. Including these specific highlights gives you a superior advantage over others, and hence, advances your application.
Lastly, now that you've selected the sport you'd like to create the app for, this is an ideal opportunity to focus on finding the apps that have established themselves with customers in your sports app category. Know more about them and how they are performing in the market. If there is any competitor who is doing extremely well in the market, learn about their strategies to find out the best and the unique solution that you can deliver to sports lovers. 
You may also like:
Top Reasons Why You Should Go For Native Mobile App Development
Android or iOS App Development: Which is Best for Your Business?
How to Hire the Best Mobile App Development Company in 2021
Conclusion:
The growing interest and capabilities of mobile devices create the need for mobile applications as an urgent tool for online sports businesses to be cultivated for both customers and businesses. You can develop powerful yet easy-to-explore mobile sports applications that can provide all the information and the services that sports fans and professional athletes need. This simple but crucial guide for developing a sports mobile application can help you develop an exceptional app for your sports business. And for more professional help, you can also connect with Auxesis Infotech as we are one of the top mobile app development companies. We have a team of highly qualified experts who can provide you the best mobile app development services for your sports app.