The smartphone industry has seen tremendous growth in the last decade. Let's be honest, a decade ago, we never thought of living a life like this where almost everything is possible with just a few taps on your smartphone. 
Even the founder & editor of Mobile Marketing Daily, David Murphy once said "the future of mobile is the future of online. It is how people access online content now."
Well, he was indeed right. With the fast-paced lives of people, today, the whole web space is greatly dominated by the smartphone industry. But with the growth of the smartphone industry, the world has also witnessed the significant growth of the mobile app industry. As a result, there are different types of mobile applications to choose from in the present time. 
Out of all types of applications, native mobile app development is quite popular amongst businesses. As the name itself says, native mobile app development is the process of developing a native app, mainly for platforms like android and iOS. It is trusted by many businesses and developers. However, if you are a business owner who doesn't know whether or not developing a mobile app is right for your business, well, we first recommend you to do some research. 
Now, considering the popularity of native mobile apps, we will talk about those convincing reasons that say why businesses go for native mobile app development. 
But before that, let's understand why your business needs a mobile app, as a whole. 
Who Do You Need a Mobile App For Your Business?
Even though the history of mobile apps says that the first mobile app, "Snake" - an arcade game for Nokia 6110, was built in 1997, it was after the advent of the Android operating system, mobile apps became a huge thing. Many experts believe that 2015 is the year of the upsurge of smartphone users. And since that year, the mobile app industry has also witnessed continuous growth along with new advancements and the introduction of new mobile app development frameworks. 
Now, talking about the importance of a mobile app for your business or small scale business, well, an application can be crucial in many ways, especially when you have the best professional support from an experienced mobile app development company by your side. Let's have a look at all the perks that your business can enjoy when you have a mobile app:
Increases brand visibility
In-house marketing channel
Gives more value to customers
Instant service & support to customers
Aid business promotion and great support
Better customer engagement
Since you're well aware of the unprecedented need for a mobile app for your business, now it is about which app is the best for your business. And there has always been a debate between native mobile apps vs hybrid apps. 
Native mobile app development has indeed received a lot of attention from businesses for various reasons. So, let's have a look at all the advantages of choosing a native mobile app development. However, it is important to note that you will also need the best professional help from a team of experienced mobile app developers in order to create a powerful native app. 
Benefits of Choosing Native Mobile App Development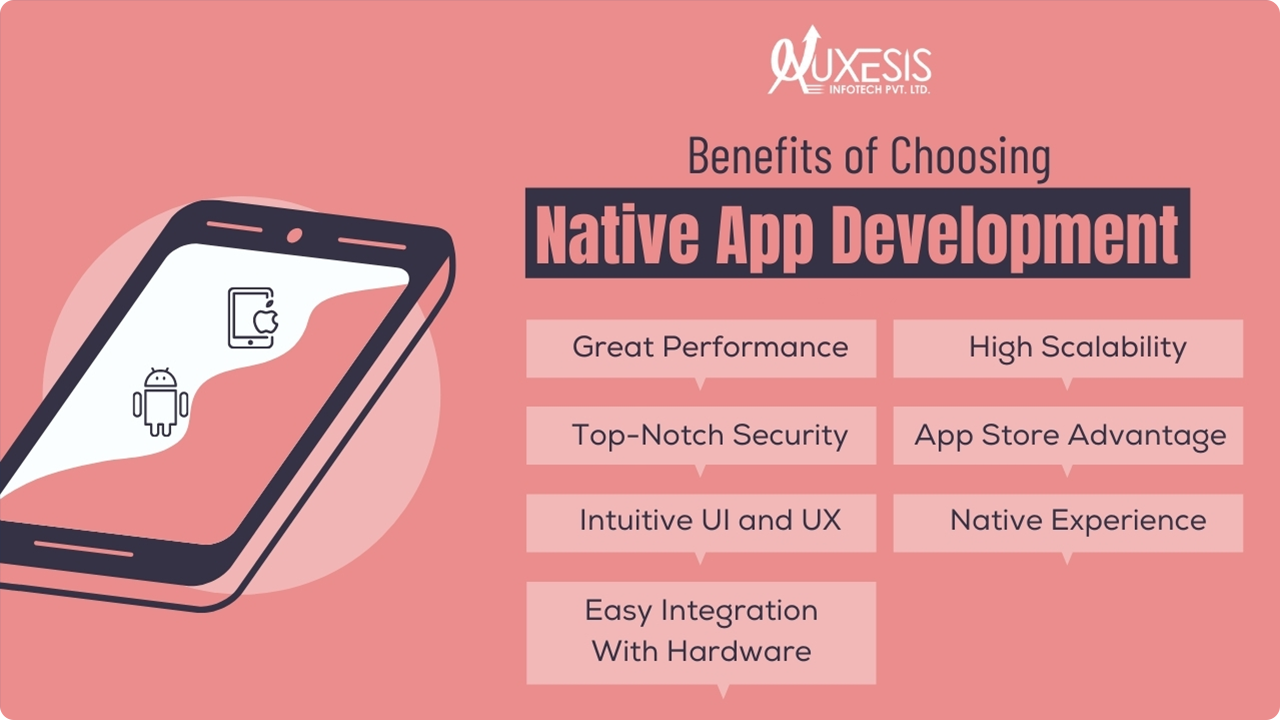 As compared to any other type of mobile app, native apps are way better when it comes to performance. As a result of being built on a specific platform, they are faster and smoother. This is because the language in which native apps are being built is backed by the respective operating systems. 
Just to let you know, native mobile app development supports quicker configuration since they are built for a specific platform. Now, as a result, it is easier to make a native app compatible with various versions of the same platform. 
Since native apps are built for a specific platform, the operating system protects apps through its multiple layering system. This ensures the top-notch security of native apps that can be hard to breach if your native app is supported by the best app development services offered by an experienced mobile app development company. 
One of the most important mobile app facts that you must know says that app stores only allow you to submit your app if it's a native app. And as per the user behavior, when a person wants to download your app, he/she will probably look for it in the respective app store. In that way, users also feel secure using your app as they download it from a trusted platform. Besides, when you choose native mobile app development, you also get the option to look for a mobile app development company that can also help you submit your application to the respective app store. 
Since native apps get direct access to the device's hardware, they can provide better and enhanced UI and UX to users. Not just this, the basic UX is quite similar in all native applications. This makes it even easier and intuitive for users to move around in a native app. 
Easy Integration With Hardware
When you choose to build a native app with the help of the best mobile app developers, it brings another benefit of easy integration with the device's hardware. This is also one of the main reasons why a majority of businesses prefer to invest in native mobile app development and choose a team of professional offshore mobile app developers.  Native apps can effortlessly access all the features of a device such as GPS, microphone, camera, and more. 
One of the most pivotal reasons to choose native mobile app development is the native experience that you won't get in hybrid or web applications. Since native apps are built for a dedicated platform, it becomes easier for mobile app developers to maintain the DPI level for the devices in order to make the app work seamlessly in a particular type of device. However, to build an intuitive and exceptional native experience for your app, it is highly recommended to bring an experienced team of mobile app developers on board. 
With that being said, we come to the end of this post. Certainly, all these reasons are enough for any business owner to invest in native mobile app development. And if you do decide to go for it, then you will need the right mobile app development company for your project to help you build an exceptional native app. Talking about that, Auxesis Infotech is the best choice in the field of native mobile app development. As a leading service provider, we have a team of highly skilled and hardworking mobile app developers who are known to craft the best and the most unique solutions for clients using their immense knowledge and expertise and keeping the latest mobile app development trends in mind.