It would be wrong to say that sports has become an integral part of us in today's world. Even if you do not play a sport, surely you must follow at least one sport, right? Although there is nothing wrong if you are not a sports lover! But there are billions of people who love sports. One of the most interesting stats about sports says that soccer is the most loved sport in the regions of Europe, Asia, Africa, and America as it has a more than 3.5 billion fan base. Followed by this, cricket is the second most popular sport with a 2.5 billion fan base in the regions of Australia, the UK, and Asia. 
All these statistics clearly talk about the popularity of the sports industry in this digital era. Talking about the digitization of the sports industry, well, there are many big sports corporations that have taken their business on to a new level by having their digital presence through an online sports app. There is nothing wrong in saying that they have transformed the sports industry and set some high standards in the market. As a result, sports businesses now have to take care of the huge expectations of customers. 
Doesn't matter if you are just a sports academy, a club, franchise, association, equipment provider, or a sports news platform, having a digital presence is equally important for all sports businesses. And hence, for that, it is highly recommended to build a sports app. 
Now with mobile app development, there also comes the aspect of how to make it successful. Talking about that, well there are a number of things and factors that must be taken into account in order to make your sports app development project successful. And in this post, we are going to talk about the easy tips to make your online sports app successful. 
But before that, let's talk more about the sports app, its role, and its importance for your business. 
Types of Sports Application
Before you even begin the sports app development process, it is highly recommended to first research well about what type of sports app your business requires. Ideally, there are eight types of sports apps. These are:
Sports News Tracking App
Live Streaming Sports App
Team Management App
Betting App
Sports Events App
Tickets App
Esports App
Sports Equipment App
Why Does Your Sports Business Need an App?
Do you know there are more than 2.87 million and 1.96 million apps for download on both Google Play Store and Apple App Store, respectively? This stat itself talks about that having a mobile app has become a trend for businesses in the present time. And if that is not enough to convince you, well, you must know that mobile applications are expected to make more than $935 billion in revenue by 2023. Now, let's have a look at some more convincing reasons to invest in mobile app development for your sports brand or business. 
In the present time, it's more about seamless customer services than being a big brand name. One of the most prominent reasons why customers would prefer your brand over others is because of the exceptional customer services that you have to offer to your users. And to ensure that, an online sports app is the best deal. In order to provide better customer services, it is crucial to invest in sports app development. 
As a sports business, surely you want to grow and establish a unique brand identity in the market. And to help you make it certain, an investment in mobile app development is the solution. A sports app can work as a great marketing channel to communicate your business visions amongst a wider mass of audience. In other words, a mobile app can boost your brand image in many ways. 
Engage Fans From Anywhere
The aim of any sports business is to connect with sports buffs from across the globe. And surely, an online sports app can help you, as a sports business, to reach globally. You see those big franchises or sports clubs as the prominent example; they have millions of fan following and their sports app helps those clubs and franchises to stay connected with their fans all across the globe. 
For any sports business, it is very crucial to analyze data for smooth operation. An online sports app can help you get useful insights about what type of content your users like and what content works best for a particular age group. Not just this, it also helps a sports business to know more about its fan/user base and helps the business to create a more personalized experience for fans/users. 
An app being an exceptional marketing tool isn't a kind of benefit that is restricted to certain types of businesses. Even if you have a business, building a sports app can be a great means to market your business, especially for clubs or franchises. An online sports app not only will give your users a better customer experience, but also decreases the effort and time to access information on your application. 
Effective Tips to Ensure the Success of Your Sports App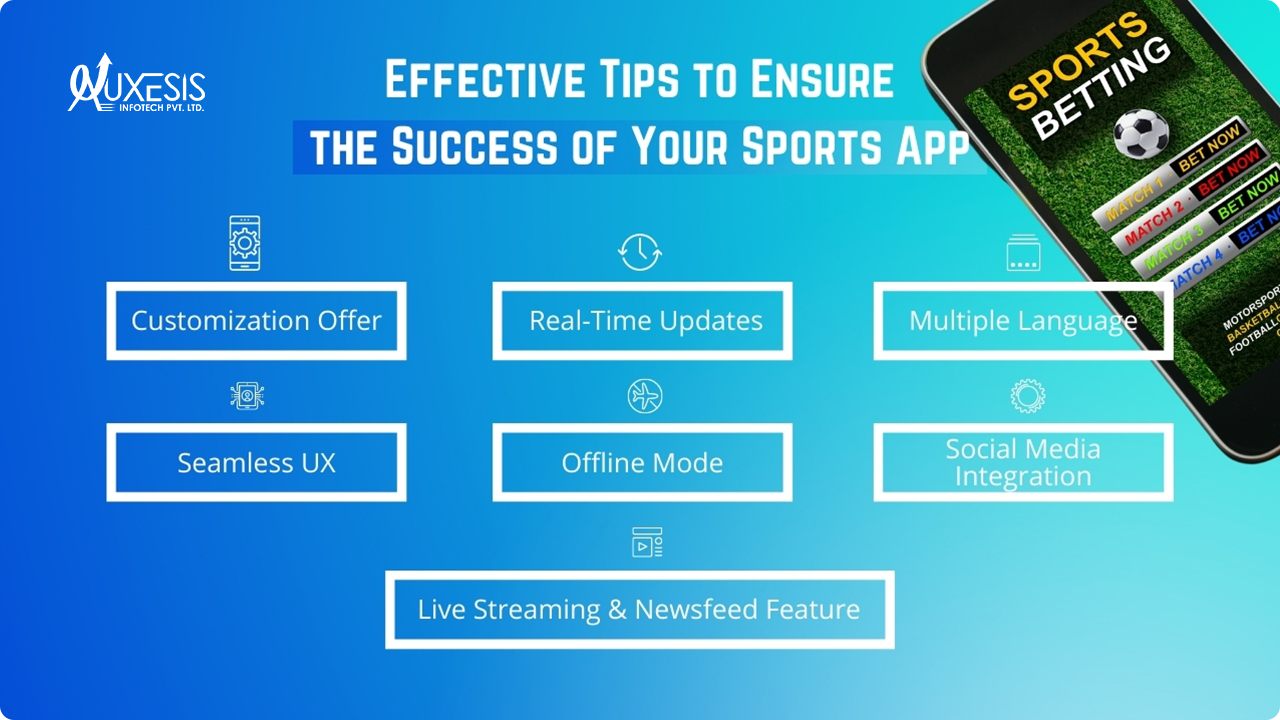 Now that you have understood the importance of investing in sports app development, let's have a look at some useful tips through which you can also ensure its success. 
Give Users the Option to Customize the App Interface
It's no hidden secret that not every sports lover is a fan of all sports activities. In other words, it's isn't necessary that an individual who loves cricket and football also loves watching basketball or baseball. The choice of sports for an individual often comes from a geographical perspective. People in European countries are more into football whereas people from the Asian continent love cricket. Therefore, if your online sports app covers different types of sports, it becomes crucial to give the user the option to customize the app interface. So that an individual can receive regular updates about his favorite sports on top. 
With so many sports apps available in the market that cover different sports, there is huge competition in the market when it comes to online sports coverage. And if you want to make your sports app stand out in the market, offering real-time updates is one of those essential features that could define your app's success. Not just this, your sports app should also be able to deliver credible information to all sports enthusiasts. For that, you can also go for a news and updates section in your app. Along with that, create a strong real-time database that includes all the players, teams, clubs, rankings, and matches information so that a user gets more detailed information about the sport. 
Surely, you want to look to target sports enthusiasts from all across the globe. Well, if so, then one tip that you should consider during the sports app development process is the multiple language factor. This will definitely increase your chances of getting more and more downloads. Though English is a universal language, there are still many countries, especially in the European region, where people do not speak English. So, targeting different languages is a great marketing strategy to increase your app downloads and attract more and more users to your online sports app. 
Doesn't matter if it is a sports app, eCommerce one, or any other business app, user experience is probably one of the most important factors responsible for the success of a mobile app development project. In case you don't know, user experience (UX) makes an app user-friendly and intuitive which contributes to the success of an application. Now as a business owner, it is also crucial to know that there are a number of factors to consider when creating a seamless user experience. And of all those, easy navigation, appealing visuals, and quick load time are some important factors that influence user experience. 
More than a tip, it is a feature that has to be there in your online sports app in order to be successful. Wondering why? Well, a simple reason is that sports enthusiasts never settle for less. And you can encourage them to be like that through the offline mode in your sports app. This means even if users do not have internet connectivity, they can still access content on your app. So make sure that you find the right mobile app development firm with the right expertise that can help you add this particular feature to your app during the sports app development process. 
This is another very important tip to consider when developing a mobile app for your sports business. Gone are the days when users were asked to fill in all the personal details to sign up in an app. Now, signing up can easily be done with a single tap through social media platforms like Facebook, LinkedIn, and Twitter. And this particular feature is the trend. If you do not incorporate this feature during the sports app development process, there are higher chances that a majority of users are just going to abandon your app because of the long signing-up process. 
Add Live Streaming and Newsfeed Feature
If we talk about what sports app development trends are, well, live streaming and newsfeed features are loved by the users the most. Through newsfeed, you can keep the users or fans engaged with your sports app even if there are no matches. Whereas, the live streaming feature is definitely an added bonus for users that they love to use. This particular feature also helps users to record the games and watch them later. 
You may also like: 
Hybrid vs Native App- Which One To Choose?
Design Errors that Can Destroy Your Mobile Application
Android or iOS App Development: Which is Best for Your Business?
Though there are many other mobile app development practices as well that define the success of any application, the aforementioned ones are the beginning to walk the path of success. However, in order to implement all the tips in the most effective way, you need professional mobile app development services from an experienced firm. And talking about that, Auxesis Infotech is the best bet. We have years of experience and expertise working as mobile app development experts in different sectors including sports.