Well, as much as you try to disagree, but the choice between iOS and android does matter for your business! 
Now, we can safely say that we've come a long way to witness the growth and evolution of mobile app development. With the smartphone industry progressing at a great pace, the mobile app development industry has also witnessed significant growth in the past few years. 
A decade ago, there was no such classification of smartphone users. But with the increase in the user base of iOS and Android, and both operating systems reigning the smartphone industry, the classification concept actually came into existence. 
As much as it sounds unfavorable, the impact of this entire classification concept is, in reality, very positive, especially for businesses. And consequently, more and more business owners are realizing the importance of a mobile app for the brand or their business and are investing in app development. 
If you are also one of those business owners who is wanting to invest in mobile app development, well, the important tip is "know your audience". This is because your user base decides which type of app your business needs; is it iOS or android? 
Now obviously, knowing the right type of mobile app for your business isn't an easy task at all. Well, there has to be deep research that must also include a comparison between iOS and android app development in order to choose the right type of app that you are supposed to build for your business. 
And to help you with that, we have created this guide to the comparison between iOS and android to help you know which is the best option for your business. 
Factors to Consider For iOS vs Android Comparison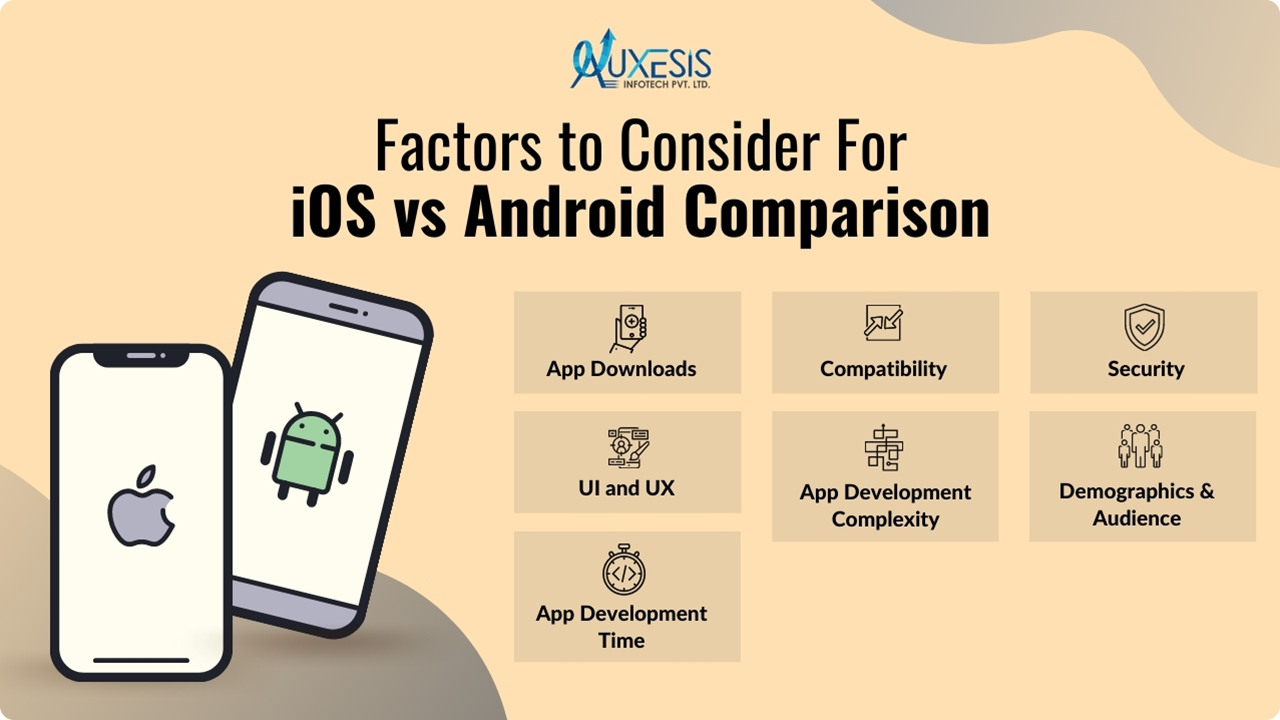 Since there are more android users than iOS ones, android has a larger market. As a result, the total number of applications on the Google Play Store is also more than the App Store. Undoubtedly, Google Play Store is the biggest app store in the present time with around 3.48 million apps to choose from for users. 
But this does not mean that the popularity of iOS is anything less than that of android. The App Store is the second most popular app store in the world with around 2.22 million apps for iOS users. 
Along with that, one of the most important mobile app development facts says that android apps might have more downloads than iOS apps. But despite that, the iOS ones tend to have greater engagement rates. 
When it comes to compatibility, well, you won't get flawless compatibility with android app development. The reason is that android struggles with the compatibility issue with new updated versions of the operating system. However, there is a similar issue with iOS app development also as a number of iOS apps don't work with the older versions of the operating system. 
Demographics and Audience
Do not be amused to know that android is majorly used in developing nations. Whereas, the user base of iOS apps are people from higher-income groups, and thus, it is mostly used in developed nations. 
Therefore, it is very crucial to understand your target audience and be clear if you want to target the global market. Now, if you want to target the higher income groups, then choose to build an iOS application using the best iOS app development tools. But if your target audience is both higher and lower-income groups, then the best and the safest way is to invest in android app development. 
This is one of the most important points to consider when choosing the right type of app between android vs iOS. Let's be clear about which app development process takes more time and yes, it is android app development. Even if you have hired the best mobile app developers, the android app development time can still be lengthier than that of iOS app development. 
There are a number of mobile app development frameworks that support the development of both android and iOS apps. But android has a long fragmentation and release cycle. This is also the reason why iOS mobile app developers have lesser work than android mobile app developers. 
App Development Complexity
Well, developing a mobile app isn't an easy task at all. But surely, the complexity of every type of app isn't the same. And between both iOS app development and android app development, it's android. 
Even with the best android app development tools, the process of developing android apps is complex and time-consuming. It is because there are many smartphones and tablets that run on the android operating system and it is quite time-consuming to make the app responsive to each type of device. Whereas this isn't the case with iOS app development, and hence, the development process is easier and quicker. 
The UI and UX aspect is also very important for any application. And if you're looking to build an application with great UX, well, android has an upper hand as compared to iOS. It is said that android applications are easier to understand and use by people of all classes and ages. 
Whereas, when it comes to UI, it is iOS that has the upper hand. On a whole, you can say that android is a platform for the masses and iOS is for classes. 
Security is probably one of the most important factors that any business owner should consider when choosing the best type of mobile app. For android apps, Google Play Store makes sure to check the security of each and every app. And hence, ensures security for users and businesses. The same is the case with Apple's App Store that ensures to deliver the most secured apps to users. 
You may also like:
Hybrid vs Native App- Which One To Choose?
The Impact of Mobile App Development On Your Brand
Design Errors that Can Destroy Your Mobile Application
With that being said, we have come to the end of this comparison between iOS and android. Now that if this guide has helped you decide which type of mobile app, it is time to talk about some business. Auxesis Infotech is a top-rated mobile app development company that has years of experience and expertise working in the industry. Our expertise under mobile app development services covers both iOS app development and android app development. We have dedicated teams for both iOS app development and android app development that include world-class experts that create the most unique solution using their immense knowledge and the latest mobile app development trends. To know more, connect with us now!