Travel has always been a passion for many people! But in recent years, a lot of people have started taking traveling as a full-time profession. As a result, more and more travel agencies have also been established in recent times to provide globetrotters with a better and seamless travel experience. And with that, there has also increased the competition in the market. 
Now there are dedicated travel agencies that are operating online. Unlike the traditional way where a traveler has to visit a travel agent for bookings and itineraries, he/she can easily take care of all the bookings, payments, itineraries, and guides with just a few clicks through a travel website. In this digital world, everything is possible with the internet and just a few clicks on a smartphone or desktop. 
If you are a travel agency that is still operating offline, it is high time to build your digital presence and make the best use of a travel website for your business. And if you are wondering why it is so important, well, it's the market trend. Besides, users prefer convenience and feasibility over hard work. In this digital era where the number of smartphone users is increasing year by year, it becomes utmost crucial for any business to have an online presence. 
Now to give you a better insight into the importance of being an online travel agency or investment in web development for your business, we have created this post. 
Features That an Exceptional Travel and Tourism Website Must Have
Before talking about the role of an online travel platform for an online travel agency, let's know about the features that your travel and tourism website must have in order to be successful. 
Responsive Design
In order to create an exceptional user experience on your travel and tourism website, it is crucial to create a responsive website design with clean functionalities. One of the travel and tourism stats says that 85% of travelers book their trips through mobile phones. This clearly shows the need to build a mobile responsive travel and tourism website.
Search Filters
Traveling isn't just about booking tickets, it is way more than that. From travel guides to itineraries to blogs, you can find a lot of things on a travel and tourism website. Besides, there are countless destinations which means there will be separate guides, itineraries, and more for each destination. Surely, no user would want to go through the hassle of searching the desired resource of a particular destination amongst those piles of resources. Thus, comes the search filters in handy. It will ensure the easy and quick search of the desired resource for users.
Customer Reviews
Even though this is not a technical feature, it is an important one in order to make your travel website successful. Being an online travel agency, you should be transparent about your customer reviews. Let the users know about your services through reviews. This will help them make a decision about whether or not to book their trip from your travel website. 
Secure Payment Gateway
Operating and managing a travel website also include online payments and that is where you have to be very cautious in terms of security. No user will prefer to insert his/her banking details on a travel and tourism website that doesn't have a secure payment gateway. 
Along with that, there are some other important features as well that you must include in your travel website by hiring a professional web development company. These are:
Flight Management
Query Management 
Account Management
Car/Bus Management
Hotel Management
Real-time Cancellation
Multi-Currency Support
Check Booking Status
Importance of Travel Portal Development For a Travel Website  Development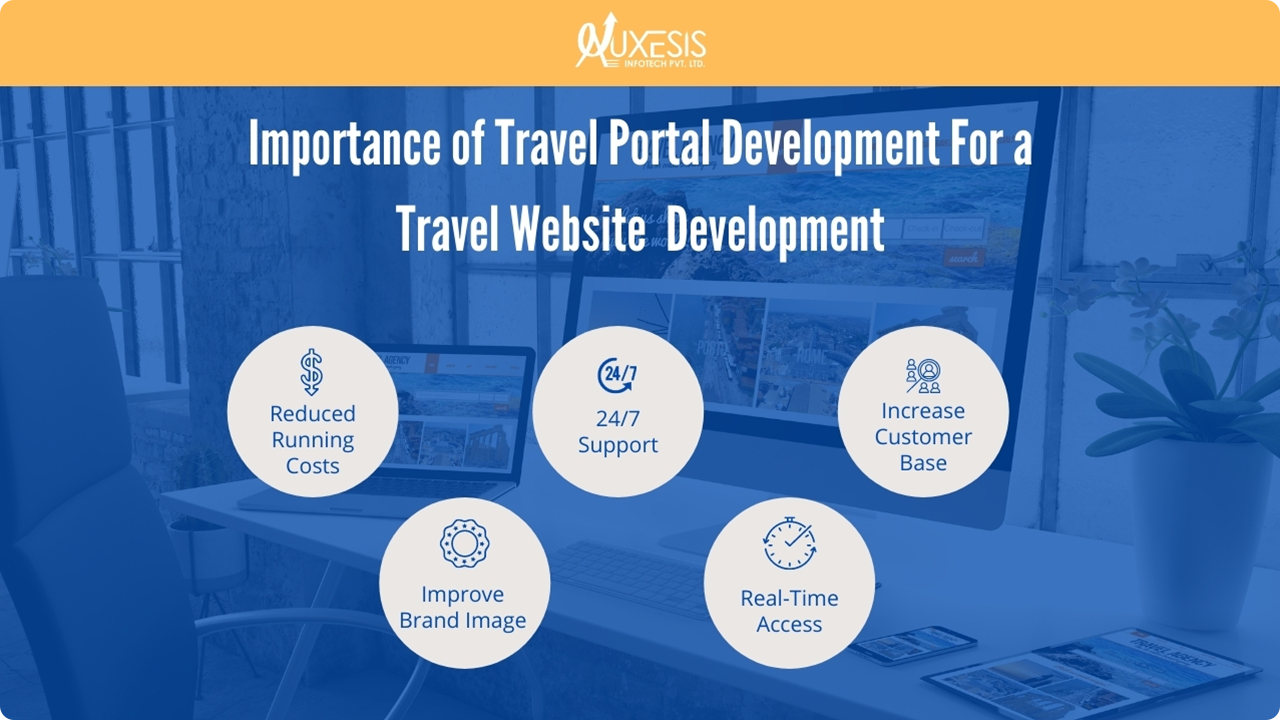 Being in the travel sector, it is crucial to know the importance of travel portal development. With that being said, let's have a look at the role of a travel website for your travel business. 
Reduced Running Costs
Being a travel company, if you are operating offline, you need several travel agents to help travelers with their trips. But a travel website can help you save the expenses of hiring travel agents. Besides, you can also cut down the cost of managing your travel business. Many think that investing in a travel website requires a huge investment but in reality, this isn't the case. The development of a platform for your online travel agency will also decrease the cost of your resources and maintenance for a physical office. 
24/7 Support
One of the biggest challenges that travelers had to face prior to the online travel and tourism website is visiting a travel agent's office for bookings. Thus comes the need to have a website for your online travel agency. Not just you can provide better convenience to your users through a travel and tourism website, but can also be available for them 24/7. It means irrespective of your working hours, you can help your users to book their trips at any time. By providing 24/7 support, you also provide quality customer assistance. Now, by saying 24/7 support, it not only means allowing users to book their trips but also resolving their queries through customer support. 
Increase Customer Base
It's no hidden secret that the travel industry is flourishing at a great pace. And as a result, there are a lot of opportunities for businesses. Of all those opportunities that you get building a travel and tourism website with the help of a web development company, an important one is to increase the customer base. Now you must be wondering how you can do that? Well, it doesn't matter where your travel agency is located; with a travel website, you can attract users from all across the globe. In other words, a travel website gives you the opportunity to target a wider audience for your travel business. Not just this, through a travel portal, you can also create a social presence for your business. In case you don't know, a majority of travelers also plan their trips through social media. 
Improve Brand Image
Believe it or not, a website also serves as an important marketing channel for your online travel agency. A well-developed, feature-rich travel and tourism website gives you more chances to convert leads into sales. Over the years, a portal evolved into a brand as it keeps on getting a good amount of traffic and providing better customer services. Now as consequence, you also get the chance to improve your brand image. 
Real-Time Access
One of the concerns for travelers, when they choose an offline source to book their tickets, is the real-time price of hotels, rental services, and flights. Thus comes the need for an online travel platform that has a booking feature for flight, rental services, and hotel booking. This feature allows them to compare the prices in both normal season and peak season. As a result, they can make better decisions. 
With that being said, we come to the conclusion and in the end, it all says that building a travel website with the help of a web development company is the unprecedented need for your online travel agency. And if all these reasons have convinced you to invest in travel website development for your business, then you must know that you will need the best professional support from an experienced web development company like Auxesis Infotech. As a leading service provider, we provide top-notch web development services to help travel businesses build powerful, feature-rich portals. 
You May Also Like: 
Top Reasons to Build a Travel App For Your Travel & Tourism Business
8 Types of Website That You Can Build Through Drupal Development