Do you know that Drupal is one of the top 7 CMS platforms with a 2.5% CMS market share as of May 2021? But despite that, Drupal is an underrated CMS. 
Yes, it is not as famous as WordPress, yet Drupal comes with an amazing range of features and capabilities to create exceptional websites. As per many experts, Drupal is more technical than any other CMS available in the market. But at the same time, with the help of a professional Drupal development company, one can build a powerful website using this CMS platform. 
Drupal is indeed overlooked when it comes to its capabilities. Doesn't matter whether you want to build a corporate website, a travel one, healthcare, finance, eCommerce, blogging, or any other site, the fact is, Drupal can be the best bet for any type of website. However, there are still a few types of websites that must be built on Drupal, considering the exceptional capabilities of this CMS platform. 
Well, knowing that, are you curious about the types of websites that you can build through Drupal development?
If so, let's learn about it together! 
Why Drupal CMS?
Since we have talked a lot about the amazing capabilities of Drupal, why not go into a little detail? So, before knowing about what types of websites you can build using Drupal CMS, let's first know what all advantages you get by choosing Drupal development. 
In this digital world, websites always remain under the endangerment of cyber attacks and breaches. Therefore, you need a CMS that is exceptional when it comes to security. And Drupal is indeed one such platform that you can trust. Drupal CMS is considered one of the highly secured content management systems to build a website. The level of Drupal's security can be understood by the fact many government agencies and organizations have chosen Drupal CMS to build their websites. Of all those, some popular names are Data Gov (UK), French Government, New Zealand Government, The White House (USA), and more. Along with that, there are non-government internationally-renowned brands using Drupal. 
Flexibility is another important selling point of Drupal CMS. Using the best pf Drupal's flexibility feature with the help of an experienced Drupal development company, you can easily create and manage a gamut of content on your website, ranging from statistics, blogs, and videos, to polls and podcasts. 
One of the best things about choosing Drupal development is that you get extensive support from a large community. Just to let you know, Drupal's community includes world-class developers from across the globe who work hard and fast to keep the CMS up and running in its best possible form. You can also reach out to these developers if you're stuck somewhere in your Drupal development process. 
Another amazing capability of Drupal CMS is its multilingual features. Do not be amused to know that it supports more than 90 languages. Now, this means you can make your website multilingual with Drupal development. If you have a global user base, well, you now know which platform can the best for your website.  
A Huge Library of Modules and Themes 
When it is about the benefits of choosing Drupal CMS, well, you can't ignore its modules and themes that are available in the abundance. As a result, you get plenty of themes and modules to choose from even if you have a specific requirement. Not just this, you can do customization in exisiting themes and can even create a new one according to your requirement. 
Types of Website That Can Be Built Using Drupal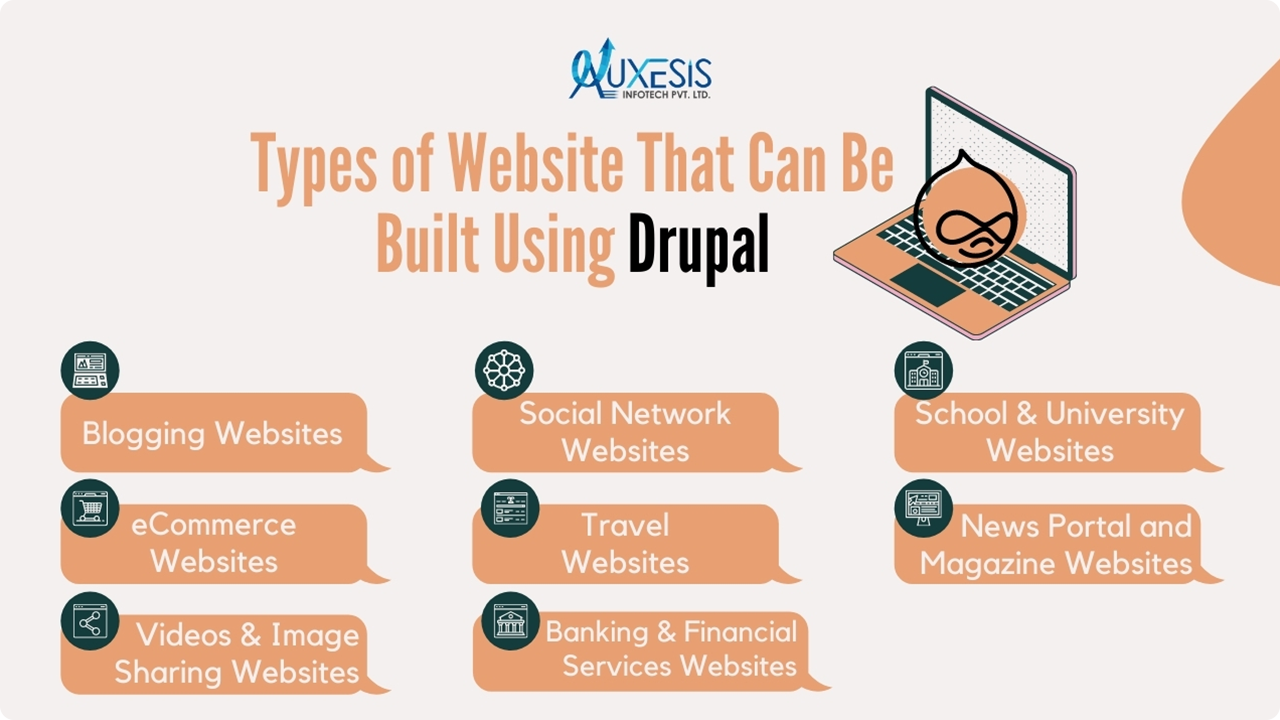 Surely, WordPress is the best choice when it comes to building a blogging website. But do you know Durpal CMS is nothing less than WordPress to create an exceptional blogging site? The best thing is you don't need any additional module for establishing a blogging site on Drupal CMS. The popular blogging platform, Wise Bread is also built on Drupal. 
Videos and Image Sharing Websites
Video and image sharing websites have received a lot of attention from people in recent times. And building a one isn't an easy task. But surely Drupal has got you covered. With the best Drupal development services offered by a Drupal development company, you can create an exceptional video and image sharing website. Drupal comes with a number of powerful modules that support video sharing and image sharing. 
Weren't expecting social networking sites to be on this list? Well, you've got a surprise! With the unrivaled capabilities of Drupal CMS in terms of user management and permissions, you can create an exceptional social media network with Drupal. Along with that, there are a few modules that you can also use for your social networking website. 
News Portal and Magazine Websites
With the world gone digital, more and more news and magazine platforms are also going digital. And for that, they certainly need a website. By choosing Drupal development, you can ensure to create an exceptional news portal or magazine website for your business. For that, there are some specific themes and modules that Drupal CMS offers. 
School and University Websites
If you have an educational institution and looking to build a website, well, consider Drupal CMS your best bet. With the help of the best Drupal development services, you can create a powerful education website. Drupal comes with some amazing features such as seamless content management, easy customization, enhanced security, user roles & access management, and multifunctional site capabilities that support the easy development of education websites. Along with that, Drupal also facilitates eLearning and LMS website development. Harvard University, Bucknell University, and Brown University are just a few names on that long list of universities and schools using Drupal.
You must be wondering there are many dedicated eCommerce development platforms to build an eCommerce platform, so why choose Drupal? Well, Drupal has all the capabilities that any renowned eCommerce development platform offers. But there is one thing that also makes Drupal an ideal choice for eCommerce websites is its security. Drupal CMS is a highly secured platform that helps you build an exceptional eCommerce site. All you need is the best Drupal development services from an experienced Drupal development company to make the most out of its capabilities to create a powerful online store. 
People have started taking it as their profession. As a result, there are many travel agencies that have come into existence in recent years. If you also want to create a website for your travel business, Drupal is the best platform to go with. There are many popular travel websites that are built on Drupal such as Discover Los Angeles and Adventure Tasmania. Drupal is a highly mobile responsive platform and supports booking engines such as BAT and Easy Booking. Besides, it also has a wide range of themes and templates that can be customized according to your own requirements. But to build an exceptional travel website, it is highly recommended to get the best Drupal development services by hiring an experienced Drupal development company. 
Banking and Financial Services Websites
Just like the eCommerce websites, banking and financial ones also need the best security. And for that, Drupal has got you covered. The security aspect is very important when it comes to building an exceptional banking and financial services website. And in offering top-notch security, there is no platform better than Drupal. So, now you know why your website should be on Drupal for your banking and finance business.  Besides, there are also many themes and modules to help you build a powerful website for your banking and financial services. 
You may also like:
Future of Drupal as CMS Technology in 2021 And Beyond
Drupal 9 Readiness Checklist: How Prepared Are You to Migrate?
6 Companies and COVID Vaccine Producers That Have Their Website On Drupal
To conclude, these are the 8 different types of websites you can build through Drupal development. However, in order to build any of these websites, you definitely need professional help. Auxesis Infotech is a top-rated web development company that has its chief expertise in Drupal development. We have a team of world-class Drupal experts who are best in crafting the most unique solution for the client's website and delivering exceptional services and great end results.