"The world is a book and those you do not travel read only one page."
Agree or not, travel today has become an essential part of the lives of people of almost every age group, especially the young ones. It can be ascertained by the fact that amongst all the people who travel, 20% are millennials. And it's no hidden fact that people have started taking traveling as a full-time profession. Where a huge majority of individuals are full-time travelers, there are also people who travel for leisure with their friends and family. And to make traveling easier for all types of globetrotters, travel and tourism agencies come into the frame. 
With traveling becoming both the passion and profession of many, the industry has seen tremendous growth in recent years. As a result, more and more travel and tourism agencies were established seeing a great business opportunity in the industry. But with the continuous advancement in the web and digital world, there is an unprecedented need of having a travel app for travel and tourism businesses in the present time. Even if you have a website, a mobile app is still important for your business. However, despite that, there are still many travel and tourism businesses that are still looking for some convincing reasons to invest in mobile app development. 
If you are also amongst those business owners that want to know about the importance of building a travel app for your business, well, here we have created a list of all the important reasons. 
What is a Mobile Travel Application and What it Does?
If you are still not aware of the concept of the travel app, well, it is like any other mobile application. A travel mobile app is developed for travelers to manage their bookings, itineraries, and more. Since there are a number of things that need to be taken care of while traveling, a travel app can be of different types such as a hotel booking app, flight/train booking app, an app for travel guides, an app for travel itineraries, and more. 
Each of these travel apps serves different purposes. The hotel or flight booking app is to find and book the best hotels or flights in a particular location and the itinerary app is to find a combination of itineraries for a trip. Now, it doesn't matter if you want to build an iOS app or an android app, or both, it is important to have the best professional assistance on board to create an ultimate app for your target audience. 
Why You Should Build a Travel App For Your Travel & Tour Business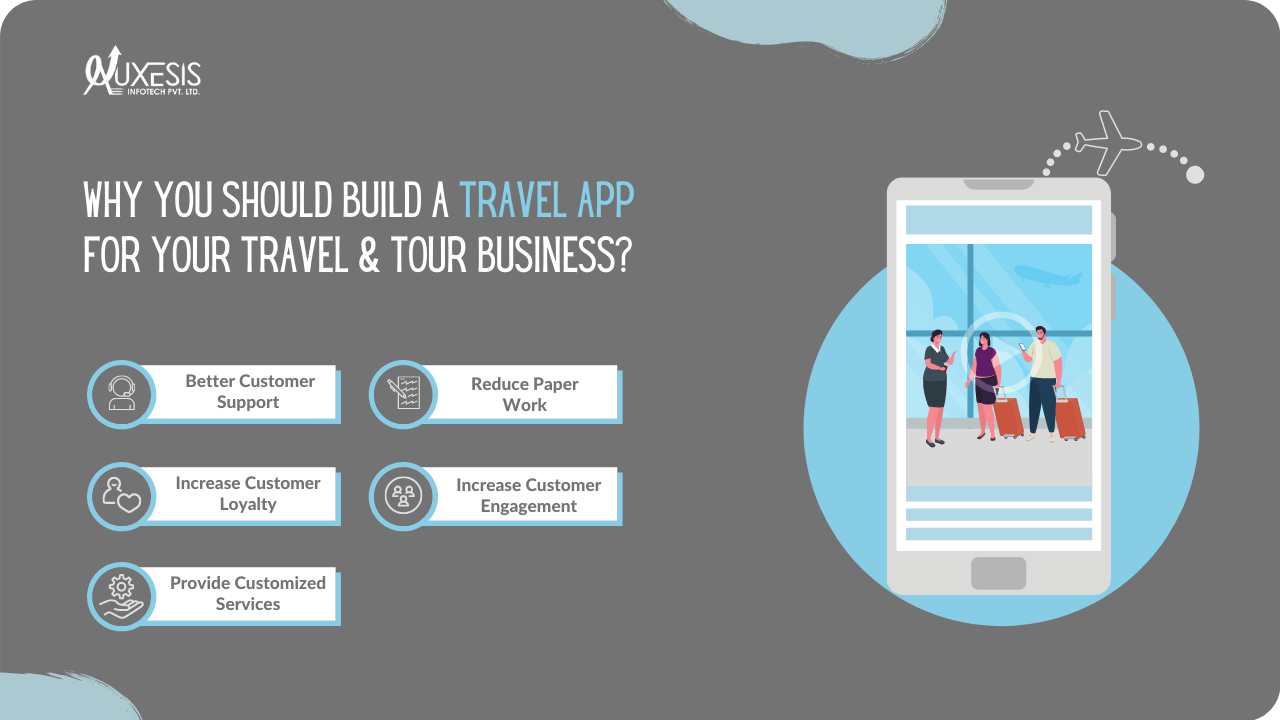 To Provide Better Customer Support
Travel and tourism is one such business that requires no physical interaction between a client and the business representative. Thus, it becomes even more important to provide top-notch customer services or support. Thus, a travel app can be a great source of providing better customer services to users. Even though there are different types of travel apps in the market, it is always recommended to build a responsive app for your business that offers all types of travel services ranging from ticket booking, hotel booking, and itinerary to food, transportation, weather, guides, and more.  With your investment in mobile app development for your travel and tourism business, you can create a solution for users that includes all essential aspects of traveling, and hence, they won't have to use any other travel app except yours. 
In the current hectic world, no one likes to visit a travel agency and wait for hours to get the paperwork done for a trip. A travel app makes the entire process a lot easier by taking it to digital. Not just it reduces the paperwork but also simplifies the entire process. And a user can do all that by himself. Users can book flight tickets, make hotel reservations, and can create customized itineraries as per their interest - all that through their phone while using a travel app. Not just this, a travel app, built using the latest mobile app development trends, also facilitates the option of making digital payments through the internet for any of the user's transactions. For any travel and tourism business, this is probably one of the biggest benefits and an important reason to invest in mobile app development. 
To Increase Customer Loyalty 
The travel industry is flourishing at a great pace and since it has gone digital, it could be difficult for any travel and tourism business to retain its customers. But a travel app here can help you with that. Wondering how? Well, by providing a top-notch customer experience to your users through an exceptionally built app by a mobile app development company using the best app development practices, you will create greater chances for your business to not just retain existing customers, but also luring new ones. 
Now the question is how customer loyalty can be achieved through a travel app. Well, for that, it is crucial to invest in professional mobile app development services to build an advanced travel app that must include different integrated technologies essential to run any travel and tourism application. Along with that, you can also incorporate advanced technologies in your app such as virtual reality, augmented reality, and more. 
To Increase Customer Engagement
In this current digital landscape, one of the best ways to increase engagement is by providing exclusive offers and deals. Well, it is often considered as an effective new marketing way to attract more and more users. A travel app helps you do the same for your travel and tourism business. Since there are countless travel agencies in the market, converting visitors into customers often remains a tussle. But with a travel app that offers deals and discounts to customers, you can increase the conversion rate. Along with that, a reward program can also be a great means to increase customer engagement in your travel and tourism business through a travel app. However, to achieve all this, it is highly recommended to have the best professional support from an experienced mobile app development company that carries immense experience and knows about the key features your app needs in order to be successful. 
To Provide Customized Services
Certainly, it is a difficult task to provide customized services to your customers while operating offline. But with a travel app, it is a lot easier. With a travel app, you can allow travelers to customize their tour packages according to their own preferences. It is because providing customized travel services is what users want in the present time from travel agencies. 
Now, if you are thinking of providing customized travel services offline, well, as we mentioned before, there is a lot of struggle in it. You will have to understand the needs and preferences of each and every customer to create customized travel services for them. This entire process could take days and the amount of effort is also quite high. But by building a travel app with the help of a professional mobile app development company and incorporating a system where it asks users' about their personal preference and demand, you can provide customized services. 
You may also like:
App Review: 5 Easy Ways to Do It
An Ultimate List of 5 Little-Known App Stores

How to Hire the Best Mobile App Development Company in 2021
So, these are some important reasons why your business needs a mobile app. After knowing all these reasons, we can say that a travel app is an unprecedented need for your travel and tourism business at the present time. However, if you are still not sure about developing an app, well, we recommend you to do deep research to know if developing an app is right for your business or not. But if you have decided to go for it, you will need professional help from an experienced mobile app development company. And that's where Auxesis Infotech comes into the picture. As a top-rated mobile app development company, we have immense experience working in the travel industry and delivering top-notch travel app solutions to businesses across the globe.