"First impression is the last impression" Well, this popular saying not only goes for individuals but businesses and brands as well, especially the ones that are operating digitally. Have you ever given thought to what your users think about your business or what the potential customers think about you as a brand or business when they first land on your website? If you haven't, it's high time to consider your business reputation as an important aspect to attract more customers. If your website is unable to convert your visitors into customers, your business impression or reputation could be one of the reasons. Now talking about the solution, well, it is online reputation management. It's your online reputation that determines how people are going to perceive your business when they get to know about it online. 
Now to understand the concept of online reputation management and why it is so important for businesses, it is crucial to dig a bit deeper. Therefore, in this post, we are going to help you understand the ORM as an important digital marketing means. So, here we go!
Online Reputation Management as One of the Most Important Digital Marketing Channels
Online reputation management, also referred to as ORM, is basically a process to generate, monitor, and leverage user feedback published online. In simple terms, ORM is about taking charge of the online conversation. This digital marketing means use various techniques and strategies to ensure that the potential customers see the right materials on the web when they look for a particular business or brand. Now, if you are wondering what's the purpose of online reputation management services, well, it allows a business to gain a strong foothold in the market by ensuring the right balance and counteracting misleading information. 
The digital landscape is very competitive, and hence, if you are not controlling your business, there are higher chances that someone else will do. Now, by controlling your business, it means shielding your business from any defamatory actions and negative comments. Let's understand the entire thing with a simple example - anyone can easily write a negative review, a post, blog, or video on the internet, and can even file a false complaint against your brand or business. Surely, the digital world isn't as safe as it seems. Thus as a precaution, it is pivotal to invest in online reputation management services. 
Who You Target With Online Reputation Management?
There are many businesses that believe that online reputation management as a part of their digital marketing strategy helps them to create a good online reputation for clients. Well, in reality, your online reputation management strategy can target anyone who is looking for your business or brand. Be it a potential client or an individual who's looking for employment, customers, investors, stockholders, or co-workers, they are going to perceive your business according to your online reviews, blogs, and other content. 
Situations That Say You Need an Online Reputation Management Solution
In case you don't know, you can assess your online reputation by just searching for keywords relevant to your business on search engines. Now, according to the user behavior, a majority of users do not go past the second page on the search engine. This way you can know what information users get on the internet when they search or stumble upon your brand or business. Now, let's have a look at those situations that say you need online reputation management under your digital marketing strategy for your business growth. 
Upon searching relevant keywords such as your brand name, company name, handles or usernames, and product/services, if the search result isn't about you, then you need to build an effective online reputation. 
If you haven't thought about growing your search results, well, that's a situation where you need an effective online reputation management solution under your digital marketing strategy. 
When the search engine results about you are irrelevant, that is a situation to build a strong online reputation for your brand or business. 
Another situation that says that you desperately need an effective online reputation solution under your digital marketing strategy is when your company received unfounded negative reviews and feedback. 
Crucial Ways to Protect Your Brand With Online Reputation Management
Now that you are all aware of online reputation management as one of the most effective digital marketing means, let's have a look at those important ways to protect your brand through online reputation management.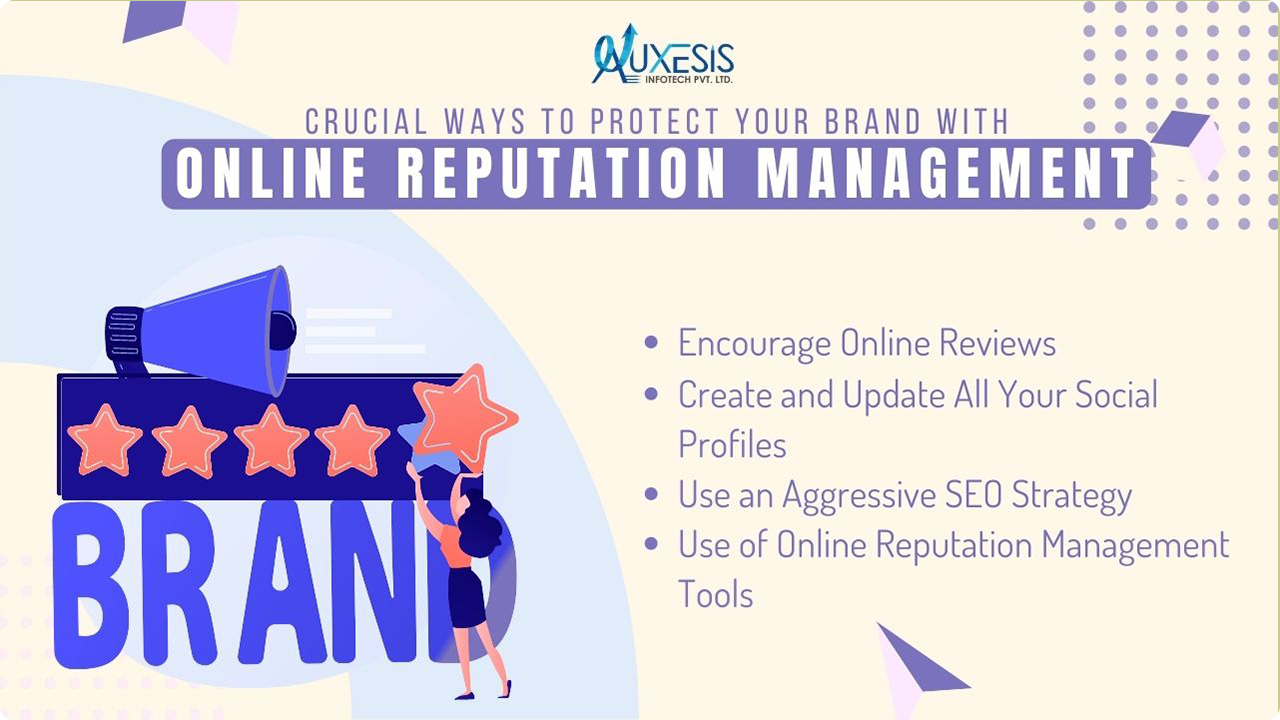 Encourage Online Reviews
Long before the final meeting or purchase, your potential clients or customers definitely go online to see your reviews. In fact, according to a stat, the average customers refer to at least 10 reviews before purchasing the product. 
Now in order to build a strong online reputation, reviews can actually help you. For that, it is important to make sure that your actual customers are leaving reviews on the internet about your business or brand. Under a digital marketing strategy, reviews are any time one of the most important means to promote your business. To ensure that the customers do not face any difficulty in reviewing your business or products/services, make the process easy and seamless. 
Create and Update All Your Social Profiles
Having a website isn't just enough for your business to excel in this fast-paced, competitive digital world. To attract more customers and sales, you should have a cohesive business presence built on multiple platforms, especially the social media ones. It will not strengthen your ORM strategy, but your social media marketing strategy as well. Now once you've created your business profiles on different platforms, it is also important to assure that all profiles must include the same essence, aesthetics, and information. Besides, manage them and keep them updated on a regular basis
Use an Aggressive SEO Strategy
Aggressive SEO is a highly effective digital marketing strategy that can help you improve the online reputation of your business. As a business owner, you have to admit that not everything can be controlled when it comes to your business reputation. However, you can ensure the best in terms of ranking through an aggressive SEO strategy. But it must be effective in order to rank in the top search results. Whether you have an in-house SEO team or an outsourced SEO team, your focus should be on creating the best SEO strategy for your business to improve its reputation. An effective SEO solution under your digital marketing strategy can even cover negative feedback about your business. 
Use of Online Reputation Management Tools
When it comes to building a business reputation, well, it is always advisable to invest in professional digital marketing services for online reputation management. But if you have established an in-house team, then there are a few online reputation management tools to manage and monitor your business reputation. 
You may also like:
How can your Web Designs Affect your SEO ranking?
An Insight Into Auxesis Infotech's WordPress Website Development Specializations
Reasons why you should invest in SEO Marketing
With that, we come to the end of this online management reputation guide. Now that you are well aware of the importance of ORM, it is time to talk about some business. Auxesis Infotech is a top-rated digital marketing company that has its specialization in online reputation management. We have a team of dedicated marketers who can create an exceptional digital marketing strategy for your business and can provide you with the best solution using their years of experience and skill.