Just like travel, food has also become an essential part of the current lifestyle. As a result, the restaurant and food industry has also gone digital. People love to explore food and more than that they love a cozy and comfortable dining experience. And to facilitate great experiences, many restaurants in the present time have websites for their customers. If you are an entrepreneur who has established a new restaurant, well, you must understand the importance of a restaurant website for your business. 
In this digital world, people go online to find anything and everything. The same goes for restaurants. Whenever people think of visiting a new restaurant, they always search about it online to get better insights about the restaurant. People always search for a preferred restaurant online. Surely, there are many dedicated review and rating platforms to check about any restaurant. But hey, they can't provide your customers as insightful information as a website can. But, that's only when it is exceptionally designed. 
Talking about that, for any restaurant website, it's the design that speaks a lot. Believe it or not, the restaurant website design represents your business in many ways. Hence, it is always crucial for any restaurant owner to build a feature-rich, exceptional website design for the restaurant to ensure that more and more customers visit you through your website. 
You must accept the truth that when it comes to designing a website, not every website design company can provide you with the desired results.  But hey, you can still ensure that they provide you with the best restaurant website design possible. Wondering how? Well, there are a few website design tips and tricks that you, as a business owner, must make fall in line with your web design project. 
So, in this post, we are going to talk about all the important restaurant website design tips and practices to build an exceptional design for your restaurant site. 
But before that, let's fill you with some other important information. 
Why Does Your Restaurant Business Need a Website in the First Place?
There are still many restaurant businesses that do not have a website. And if you are one of them, well, the harsh trust is that you're missing out on a great opportunity. Well, to understand why you actually need a website for your restaurant business, let's have a look at some important reasons. 
With a website, your business is easier to find. 
A website allows people to know about your menu and rates beforehand. Besides, they can also book their table through a website. 
With a website, you can also provide online food delivery services to customers. 
You can build and improve your brand image through a website. 
You can put up customer reviews on your website that will allow people to know about your services. 
With a website, you can also increase awareness of your business. 
A website also acts as a source of marketing for your business. 
The Importance of a Great Design For Your Restaurant Website
Now that you know about the importance of a website for your restaurant business, let's learn about the influence of a great and intuitive design on your website. 
It helps create a great first impression in the minds of your customers. 
It helps let your users know what's available.
It keeps customers and prospective customers aware and updated about your restaurant. 
It helps you make your website stand out from the crowd. 
With a great restaurant website design, you can build trust with your customers. 
It's the market trend and your competitors are also doing it. 
It enhances usability on your website.
A great and intuitive website design also improves the loading time of your site. 
Useful Tips and Practices For a Great Restaurant Website Design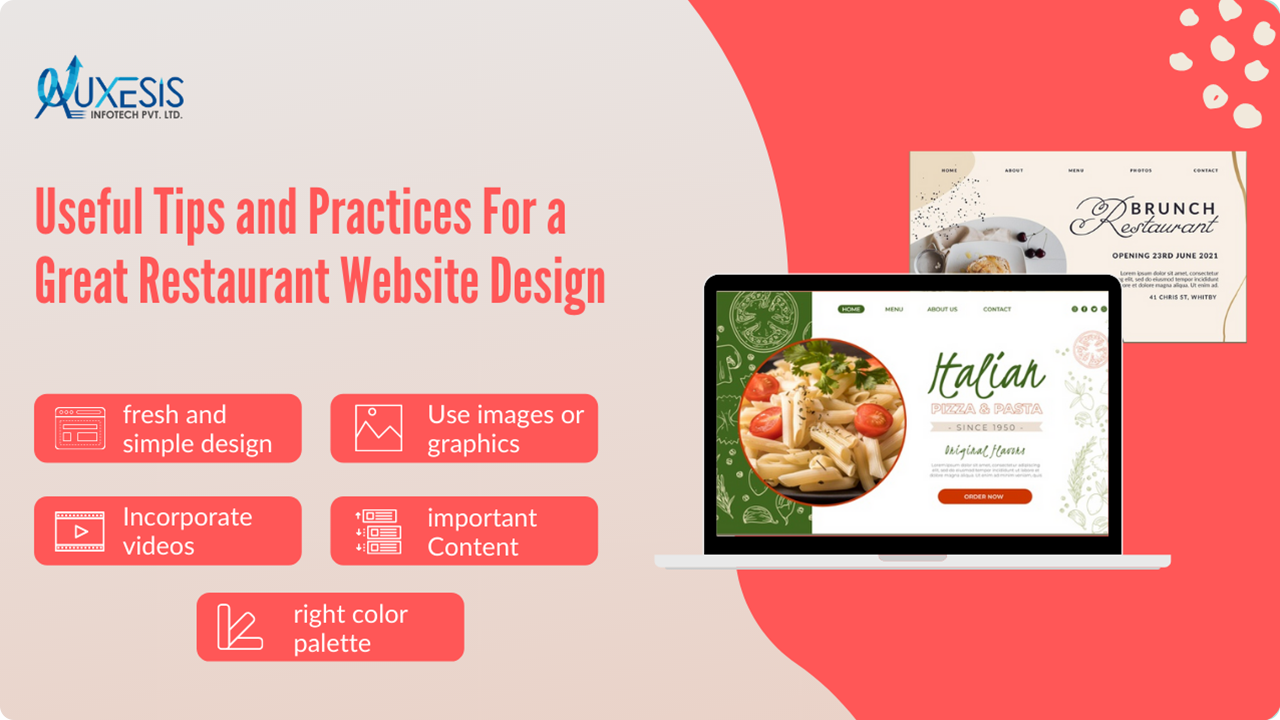 After knowing the importance of website design for your restaurant business, the question comes how to create a great one. Well, as we mentioned above, there are a few website design tips and practices to ensure that. So, here they are:
Keep the design fresh and simple
To build a user-friendly restaurant website design, one of the most important website design tips or practices is ensuring freshness and simplicity in the design. Since the aim of your website is to provide all the information about your restaurant to the customers, it is crucial to make sure that users find no difficulty in finding the desired information. And to ascertain that, create a simple and fresh design with no navigation complexity. Now if you are wondering how you can create such a design, well, think about your potential customers and what they are expecting on your website. Getting answers to these questions will give you a clear picture of how your restaurant website design should look and in what direction it should go. 
This is another one of the very useful and important website design tips to create an intuitive restaurant website design. On any restaurant website, graphics or images serve as the key factor to lure more and more visitors. Besides, it's the food and dining we are talking about, which is all about presentation. So, it's obvious that you need high-quality images or relevant graphics to tell your customers about your restaurant business and the quality of your services. Besides, graphics and images are also a way to tell customers about how your restaurant works. 
However, when you are using images and graphics on your website, it is important to ensure that they do not hamper your website speed. Therefore, comes the role of image optimization for a website. So, make sure the hired website design agency optimizes the images on your site. 
If you are working with a website design company, make sure to ask the firm to make your restaurant website design more attractive and admirable by incorporating videos. Believe it or not, people love to watch videos of a particular restaurant before visiting it. You can use the video somewhere in the header to grab the attention of visitors. If your dining restaurant is one of the unique things or about your restaurant, use the video to show off your dining experience. Similarly, if it is your kitchen and the food, you can ask your website design company to put up a video of the food preparation to make the design intuitive for your restaurant business website. Talking about why videos are important in a restaurant website design, well, they not only provide additional entertainment to customers but also keep them on your restaurant business website for a longer time.  
You must have heard many experts saying content is the key to any website. Well, it is absolutely true! Thus, amongst those important website design tips, you can expect this point on every list. Now, to understand how content is useful to create a great user experience on your restaurant business website, you must be clear with the concept of quality content and poor content. Just because the content is important for your restaurant website, if you are planning to use some other website's content, you will be making a huge mistake. The content on your website should be unique, creative, and informative with all the relevant keywords in it. And for that, you can choose to hire a website design company that can also take care of your content. 
Choose the right color palette
As one of the most important website design tips, the color combination on your restaurant business website plays a crucial role in its success. According to the services, the color palette varies for every restaurant website. Thus, you have to understand which color palette will best suit your restaurant website design. The understanding of color palette is indeed a typical job, and hence, hiring a professional web agency is what can save you from this tussle. Believe it or not, but the right colors convey the right message about your restaurant business in the market. Along with that, they also play a crucial role in increasing readability, capturing visitors' attention, and most importantly building a unique brand identity.
You may also like:
Exciting New Design Tools For Designers in May 2020
For Marketers: A Need For Design Thinking and How to Use It
Important Features to Consider Before Choosing a CMS For Your Web Development Project
For your restaurant business website, these are the crucial design elements that must be there in your restaurant website design in order to make the site successful. Now in order to perform the entire process effectively, it is recommended to have the support of the best website design services. Talking about that, Auxesis Infotech is a top-rated web design and development company that has years of experience working in different industries and delivering the best results, with hospitality and restaurant being no exception to it. Our experts follow an effective and agile approach where they create a solution as per the latest web design market trends and keeping business objectives into consideration.