There is an old saying that says "health is wealth". And rightly so, health is one such thing that no individual avoids in any case. With the healthcare industry also turning digital, it has become a lot easier for anyone to get the best healthcare solution. And the reason is obvious; there are so many service providers in the digital healthcare industry ready to serve you. 
In 2021, the world is witnessing the aftermath of the COVID-19 pandemic. Therefore, patients want to be assured that they are safe in your facilities. So, providing them flawless digital healthcare support is one important way to ensure that. Now when it comes to digital healthcare, the competition is growing at a great pace. Therefore, it becomes a matter of concern for healthcare businesses as to how to enhance the digital presence through their healthcare software.
If you are one of those healthcare businesses that are looking to improve your digital presence, well, healthcare software marketing is the solution that you should be invested in. And in this guide, we will talk about the useful marketing tips that you must include in your digital marketing strategy for your healthcare software. 
Benefits of Digital Marketing For Healthcare Software
Agree or not, but digital presence is the market trend for businesses. And as a healthcare business owner, if you are still not aware of the benefits that your healthcare software can get through digital marketing, let's first know about the perks. 
Build Credibility and Trust
Healthcare is one such industry that highly relies on trust and credibility factors. And as a business owner, you definitely want to create a sense of trust and credibility in the minds of users through your healthcare software. An omnichannel digital marketing strategy allows you to acknowledge your audience via different channels or touch points such as social media, website, email, content, and more. 
Get Found by High-Quality Prospect Customers
One of the main reasons and the biggest advantage why businesses invest in digital marketing is to get ranked high on the search results. This leads to higher traffic on the website or app. Now, the user pattern says that a majority of people only check out only those websites that are displayed on the first page of the search engine. Therefore, if you create an exceptional digital marketing strategy that includes search engine optimization (SEO), you will get higher chances to be ranked on the top of search results and attract high-quality leads. 
Improve Customer Retention
In the healthcare industry, it often happens with businesses as they lose customers because of huge competition in the market. But when you invest in digital healthcare support, you can get insights into your users and their behavior. This could help a healthcare company or business to invest time and effort in retaining existing customers. By investing in an inbound digital marketing strategy, you can address the user lifecycle along with the relationship with your brand after the purchase is made. 
With traditional marketing, it is quite difficult to track down a patient's information. And as we mentioned above, with the right digital marketing strategy, you get useful insights and data about your audience. As a result, you will be able to make data-driven decisions for your healthcare business. 
Effective Digital Marketing Tips That You Must Include in Your Healthcare Software Marketing Plan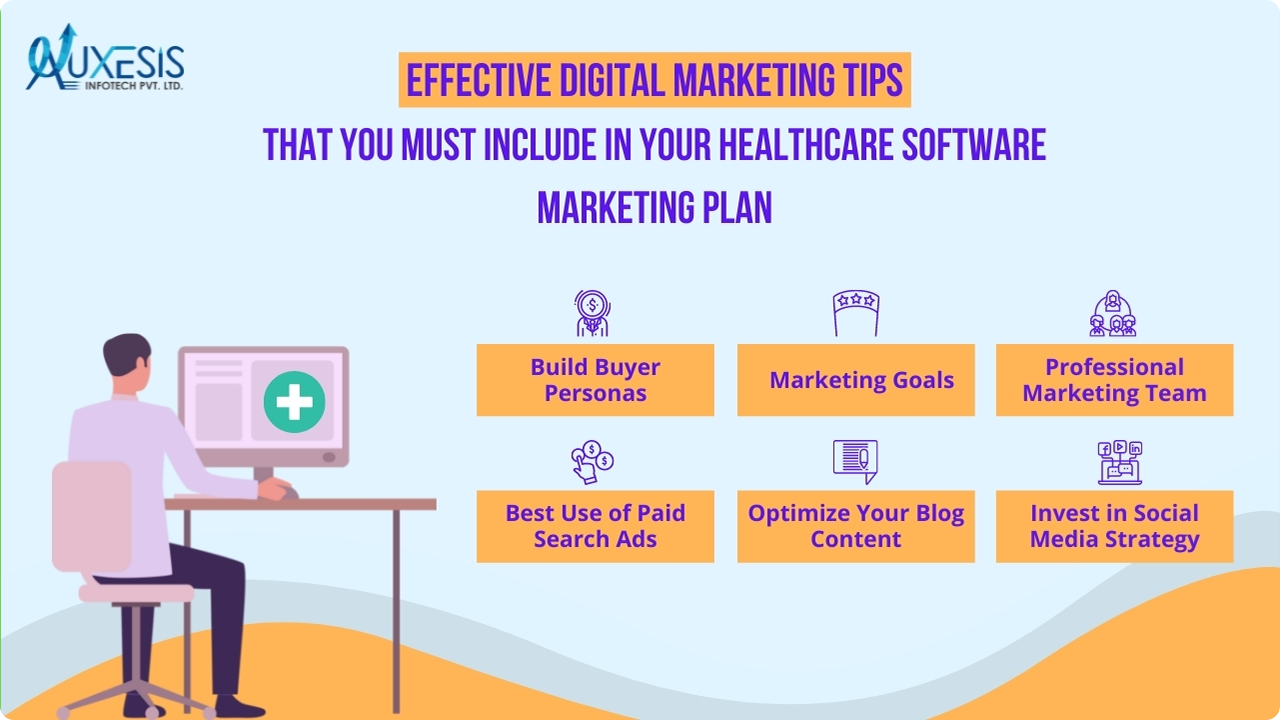 Now that you are well aware of all the benefits of marketing your healthcare software, let's look at some great ideas that can help you create an effective healthcare software marketing plan for your healthcare business. 
More than a tip, this is the first and foremost step that should be done during the research and planning phase. Surely you don't want to embark on the journey of marketing your healthcare software, right? Well, if so, then you must be very clear beforehand about who exactly you are targeting. And for that, it is very crucial to define your buyer personas. In simple terms, you have to think of all different types of potential buyers so that you know about the responsibilities, challenges, and goals of each one of them. By defining each buyer personas will help you curate content that appeals to all of them. 
Define Your Marketing Goals
You cannot create a digital marketing strategy for your healthcare software without any marketing vision or goals. It is imperative to understand that marketing isn't something that you should invest in because others are doing it. Besides, following any other business or your competitor's strategies marketing isn't also a great thing. You have to determine what exactly you are looking to accomplish with your digital healthcare marketing plan. Along with that, make sure your marketing goals are specific, relevant, achievable, and measurable. 
Bring a Professional Marketing Team Onboard
Even though marketing a business seems like an easy task, in reality, it's a whole complex process that gives the best and maximum results when done by professionals. Besides, inbound marketing also requires a gamut of skills. Therefore, having support from a professional digital marketing firm is what you need in order to create and implement an effective digital marketing strategy into your healthcare business. From SEO, email marketing, content marketing, and web analytics to social media management, blogging, and conversion rate optimization, a professional digital marketing firm can help you with everything through its digital marketing services. 
Make The Best Use of Paid Search Ads
Digital marketing has evolved over the years. And with almost every business investing in digital marketing, it has started to become a task to actually get results. By hiring a professional digital marketing company, you surely can turn things around. However, you should be ready to invest some money in some trending and useful digital marketing techniques. In order to define the success of your digital healthcare marketing strategy, it is very important to leverage the paid search ads. In case you don't know, PPC is a great digital marketing tactic for local traffic. And through this marketing means, you pay for clicks and not impressions. As a result, the ROI will be higher as compared to regular display advertising. 
Optimize Your Blog Content
Many businesses often make the mistake of not concentrating on the blog page. But in reality, it is a crucial element that could make or break your digital healthcare marketing plan. You can build a sense of trust and credibility by optimizing your blog content. This also will help you boost your search engine ranking and to drive more traffic to your website. Along with posts, you can also invest your effort in other types of content such as videos, podcasts, surveys, infographics, polls, and more. However, to achieve the best result, it is important to invest in professional digital marketing services. 
Invest in Social Media Strategy
In the present time, social media also plays a crucial role in allowing customers to know about businesses. One of the most interesting social media marketing stats and facts says that a majority of users find about businesses through social media. Therefore, including social media marketing in your digital marketing strategy is very crucial. With social media marketing, you can engage with your followers through posts, content, gifs, and more. This will help you bring more traffic to your website. 
You may also like: 
Best Local SEO Tools to Up Your SEO Game in 2021
A Comprehensive Guide to Online Reputation Management
Growth Marketing For Startups: Scale Your Way to the Top
So, these are some of the most important tips that you must include in your healthcare software marketing plan. However, in order to make the entire digital healthcare marketing plan successful, it is crucial to have support through professional digital marketing services from an experienced firm. Talking about that, Auxesis Infotech is one of the top web development companies along with an acclaimed digital marketing firm that has rich experience and expertise across diverse industries including healthcare. We can provide you with the best marketing solution for your healthcare software keeping your business needs and expectations in mind.