With digital marketing gaining a lot of popularity in recent times due to the immense competition in the digital world, the entire scene of SEO has also evolved with voice-based searches and local SEO, significantly. 
Talking about local SEO; in order to invest in SEO services, now you don't have to be a big corporation that is operating worldwide. Even if you have a local business, you can market it through Local SEO. 
Now if you are wondering how to do that? Well, this is the era of technology! There are many local SEO tools that help local businesses to grow and flourish. 
If you are one of those local business owners who are looking for some ways to market your business with SEO, well, we've got you covered. In this post, we will be mentioning some top local SEO tools to market and promote your local business. 
But before that, let's understand what local business is all about. 
What is Local SEO?
Well, Local SEO is nothing but a search engine optimization strategy that helps local businesses to be visible in Google's local search results. As a part of a digital marketing strategy, this type of SEO is for those businesses that operate in a particular geographic area or have a physical presence through a brick-and-mortar store.
Local search works with those relevant terms or keywords that talks local, such as:
Italian restaurants near me
Doctors near me 
Italian restaurants in (city name)
Why Local Search is Important?
Let's have a look at some convincing stats that say why local search is important for those businesses that either have a physical store or operate in a particular geographic area. 
You would be amazed to know that Google receives as many as 46% local searches of its all searches. 
Searches for terms like "grew by" and "near me" have grown by around 900% in the last 2 years. 
Another stat says that 92% of users' searches pick local businesses on the first page of the search results.
74% of in-shop shoppers search for the closest stores and shops near them.
Of all the people, 97% learn about a local company on the web than anywhere else. 
Popular Local SEO Tools to Use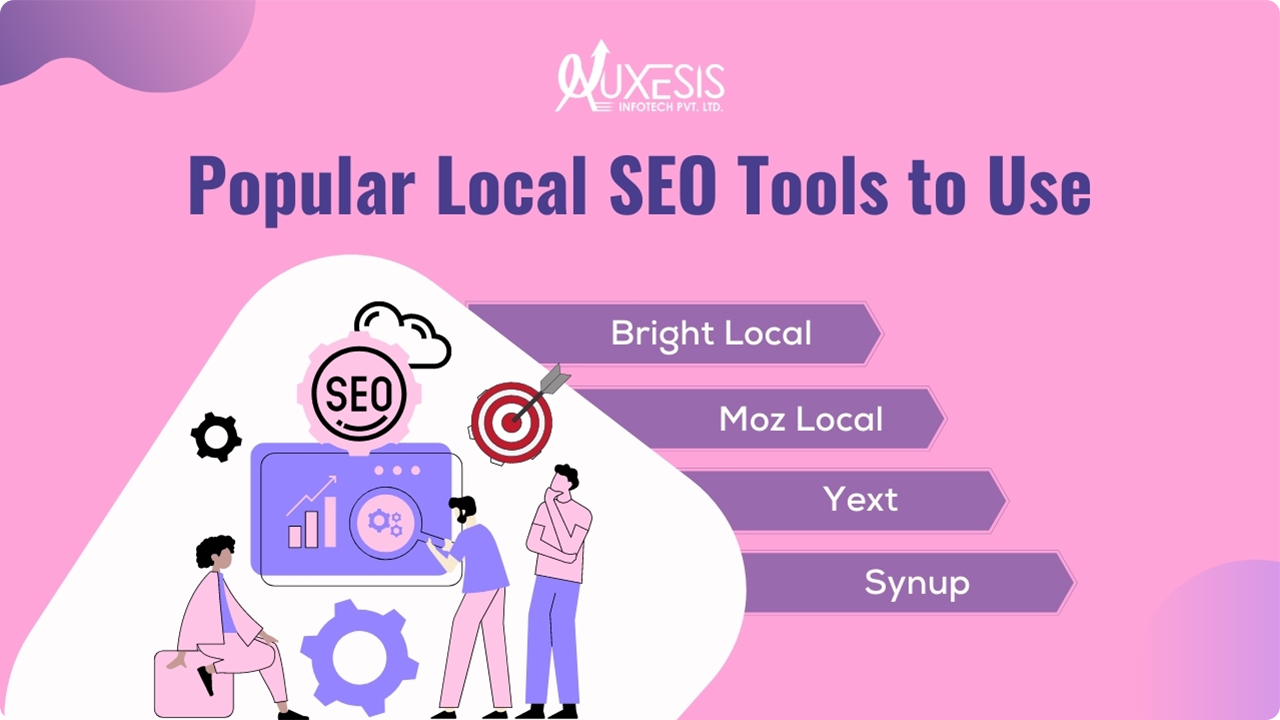 When it comes to local SEO tools, well, you can find both free SEO tools as well premium ones. Therefore, the list includes a mix of both.
1.Bright Local 
When it comes to market your local business, you don't necessarily have to go for professional SEO services; use the Bright Local tool. It is one of those free SEO tools that can help a business track its SEO performance, grow online reputation, and even manage business listings. In other words, Bright Local is also referred to as the all-in-one tool. Now let's have a look at the insights of this powerful tool.
Pros:
It helps you do citation and audits listings.
It includes a keyword rankings tracker. 
It has a 'get reviews' builder that helps businesses to generate review generation CTAs.
It helps you do a Google My Business audit.
Despite being one of the popular free SEO tools, it even helps businesses to do local search audit. 
Cons:
Building manual ranking reports can be sometimes slow. 
The tool does not suppress duplicate listings automatically.
Reports can be sometimes slow to run. 
2. Moz Local
Moz Local is undoubtedly one of the best free SEO tools for promoting a local business. The tool has huge popularity in the field of digital marketing and has been serving businesses for over a decade now. Even SEO experts use this tool to provide professional SEO services. Along with improving your business's local reach, the tool also helps you create accurate and reliable listings. As one of the most popular and free SEO tools, Moz Local works for both small-scale businesses and large enterprises. However, it also has a premium version under the name Moz Pro. 
Pros:
It offers automation
It has a keyword research tool
Ease of use
It comes with a feature of review monitoring and notification
The tool also supports automatic removal of duplicates
It supports social sharing
Cons:
The premium version is a bit expensive as compared to other local SEO tools. 
Lacks in customizability 
The tool doesn't have a dashboard feature
3. Yext
Yext is another big name amongst local SEO tools in the field of digital marketing. Such is the popularity of this tool that is used by businesses from across the globe and digital marketing companies in providing professional SEO services. However, the tool is also a perfect choice for those small local businesses that want to get visible in the eyes of local users. Yext tool is used for accounts, listings, and ratings that can be used to improve brand visibility, traffic, conversions, and sales. 
Pros:
It allows scanning your listings on more than 50 platforms. 
It has a dashboard and data visualization feature.
The tool allows reviewing notifications and monitoring.
It provides an AI-driven analysis of user search behavior. 
Along with the support, you can also get in-person training through webinars and training videos. 
Cons: 
For the best result, an experienced digital marketing team must work on it. 
Does not have additional sub tools.
The tool does not support conventional keyword search. 

4. Synup
Synup is originally a digital marketing tool but serves as one of the most sought-after SEO tools that businesses and digital marketing companies use worldwide in their professional SEO services process. The tool allows businesses to handle their listings and reviews. Along with that, Synup tool also has a location management feature that helps businesses to manage their location with ease. 
Pros:
It comes with a range of widgets to display your reputation data and location anywhere. 
It gives instant notification whenever a new review or social comment is posted about your business. 
It has a unique feature, Niche Specific, that supports easy management of nice-specific sites. 
It automatically tracks traffic, web rankings, and more. 
In order to know any data inconsistency, the tool crawls more than 200 directories and local search engines. 
Cons:
Lack of versatile and detailed report and analysis.
Best work for only US and Canada-based businesses.
The tool doesn't have an integration with Google My Business. 
You may also like:
Should You Do 100% of your SEO In-house?
Growth Marketing For Startups: Scale Your Way to the Top
Most Common Online Marketing Mistakes and How to Avoid Them
 
With that being said, we come to the end of this post. So, these were some popular paid and free SEO tools to improve the visibility of your local business. However, if you are looking for the best and guaranteed results, we suggest you look for a professional digital marketing company that can help you with local SEO for your business. Talking about that, Auxesis Infotech is a top-rated digital marketing agency having immense experience and exposure serving businesses across diverse needs. We have a team of top-class marketers who have in-depth knowledge of the market and search engine optimization trends to provide you with best-in-class professional digital marketing services for local SEO.  To know more about our specialization, connect with us now!