So, you have finally acknowledged the importance of a website for your business and have decided to take it online through a WordPress website. Well, that's a great decision, indeed! WordPress is one of the top CMS platforms suitable for businesses across diverse needs and all industries. But, as a business owner, your work doesn't end here. Taking a decision to build a website is just the first step in the whole process of website development. And surely, if you are focusing on building a website that could be beneficial to your business, you must know the importance of building an exceptional site with the help of an acclaimed WordPress development company. 
As compared to an in-house WordPress development team, an experienced company is more capable of providing you with the best solution. Not just this, the company can also help you enjoy all the perks of WordPress by creating a powerful website. 
Still not convinced?
Well, fret not! We have created this post that will fill you with all pivotal reasons that talk about the importance of having a professional WordPress development company on board for your project. 
Benefits of Hiring WordPress Development Services From a Professional Firm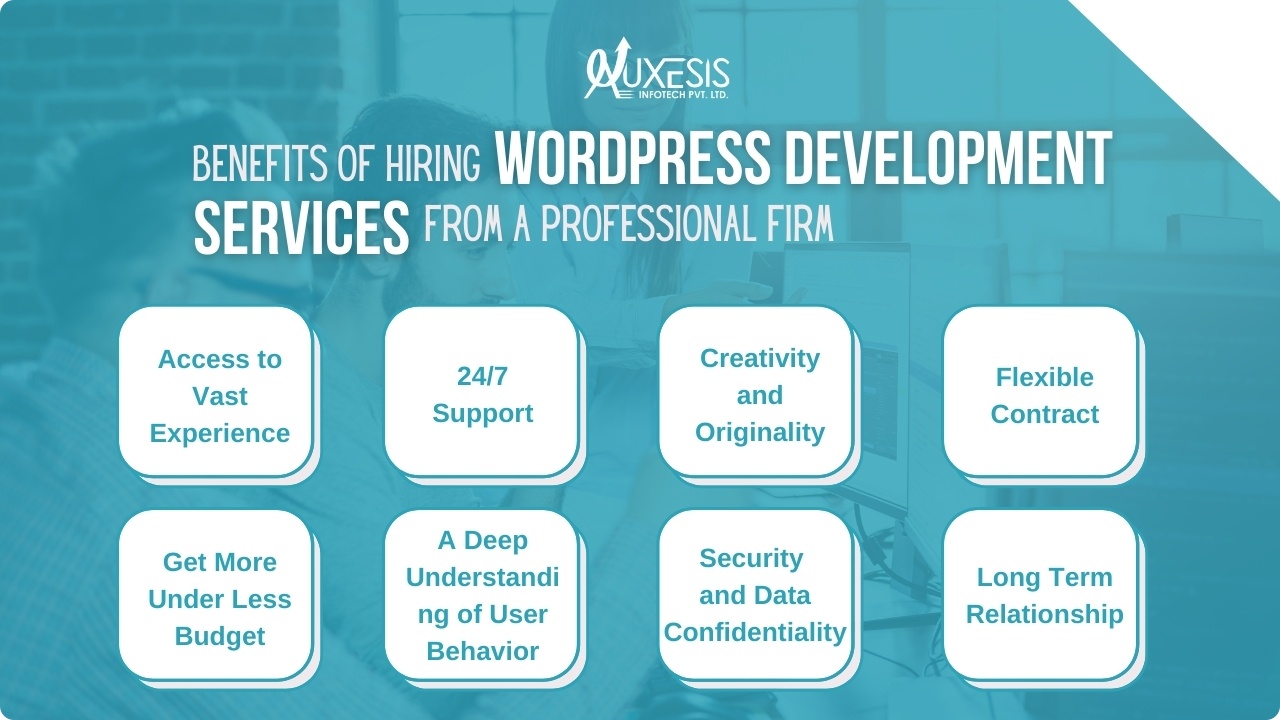 Irrespective of the size of your business, WordPress is an ideal CMS for startups, medium-sized businesses, and established ones as well. But in order to make the most out of this CMS, you need a professional WordPress development firm. Now, let's have a look at all the reasons or benefits of hiring web development services from a professional WordPress development company. 
Access to Vast Experience
This is one of the most crucial points to take into consideration. Surely, you can establish an experience WordPress development team. But are you sure, it will bring a vast experience onboard? The chances are very slim.
Whereas, when you hire a professional WordPress development company after a lot of research, you insure your project with a team that possesses an array of skills and experience across different industries. 
Consequently, you also get the best technical support to build an exceptional WordPress website. If you do not have the technical knowledge, your contract with the outsourced WordPress development company will ensure the best professional care of your website. 
A majority of WordPress development firms provide 24/7 support to their clients and that is the biggest factor that says why outsourcing a company is beneficial. As a business owner, if you believe in the principle of "time is money", then this is certainly the biggest benefit for you to hire a professional WordPress web design and development company. 
These companies have dedicated teams that work day and night to provide the best-in-class services to their clients. This means that they will be working even when you will be asleep and your business is in an inoperative state.
Creativity and Originality
A professional WordPress development company has a team of talented and creative minds. Besides, every WordPress developer at a professional firm is well trained and experienced in crafting the most creative and unique solution for businesses. This particular reason ensures to create an ultimate website for your businesses that has all the capabilities to stand out in the market. As a result, you will get a website that is feature-rich and creative altogether. 
Outsourcing a WordPress development company through a contract is a huge benefit for your business. It will make certain that you will get the final product complying with your business expectations and vision mentioned in the contract. On top of that, you also get great flexibility on the contract. The contract also covers the deadline clause that ensures your website is delivered on time. With an official contract, you can secure your project from any unforeseen or unpredictable circumstances. 
Get More Under Less Budget
Well, many business owners have this misconception that outsourcing a professional WordPress web design and development company requires a huge investment. But as we said, it is just a misconception. In reality, the budget of hiring a professional WordPress development company is even lesser than establishing an in-house team. Wondering how?
Well, there are many factors that define the cost of website development. For an in-house, you set up office space and invest in machinery & resources. All these things require money. Now once your team is established, now you spend money on its regular maintenance, i.e., electricity, internet, and other daily resources. The cost keeps on increasing as long as your in-house team operates. 
Now, talking about outsourcing a professional WordPress developer or a development firm, the investment is just one-time as discussed in the meeting and mentioned in the contract. Besides, when you choose to hire professional WordPress development services from an experienced company, you also get to pay the amount in installment. Not just this, the company also manages its team at its own expense. This means you do not have to spend on office space, machinery, resources, and other things. 
A Deep Understanding of User Behavior
If you really want your website to perform well in the market, well, the first thing you must ensure is effective development keeping users in mind. For that, it becomes imperative to understand your users' behavior and expectations. A professional WordPress developer who has years of experience knows better about user expectations and behavior. Not just it will develop a website keeping your users in mind, but the latest WordPress web design and development trends as well. 
Security and Data Confidentiality
The contract that you sign up with a professional WordPress developer also states the security and data protection clause. It ensures the security of your website and its data. And it is one of the main reasons why a majority of businesses prefer to outsource a professional WordPress developer or a company. From optimizing the database of your WordPress website to using the best security plugin to following other important security practices, a professional can ensures the best security of your website. As a result, you will be able to focus more on the other important aspects of your business than worrying about the data of your website. 
Long Term Relationship
Well, this is one of those benefits that will ensure the good care of your website post-development as well. Surely, you would want your business to grow. And when that particular phase will begin, it will become tougher and tougher to ensure the good maintenance of the website on your own. And that will be the time when you'll need professional help. The relationship that you will build by outsourcing a professional firm will help you to take care of the maintenance part as well anytime in the future. 
You may also like:
Best WordPress Forum Plugins to Build a Thriving Online Community
Optimize Your WordPress Website Database With These Best Practices
An Insight Into Auxesis Infotech's WordPress Website Development Specializations
Although there are many more reasons to invest in a professional WordPress web design and development company, these are the most important ones. Talking about professional services, Auxesis Infotech is a leading WordPress development company having immense experience working in the industry. Under WordPress website development, we provide an array of services for businesses of all industries, scales, and sizes.