Managing a restaurant was never an easy task! And the unprecedented need for having a digital presence for a restaurant business has made the task even more challenging. In this digital era, people prefer to search about a restaurant on the internet first and then make a mind to visit it. 
Today, it's not just about the food, but the location of a restaurant, its ambience, menu, and services are a few other factors that people consider when making a decision to visit a restaurant. And to know all about a particular restaurant, the first instinct of users is always to go online; after all, it's the digital era! 
Doesn't matter whether you operate a high-end restaurant or mediocre one or a small cafe, customers expect you to be a digital presence through a restaurant website. The food and restaurant industry has changed significantly from what it used to be a decade ago and the reason is simple - digitization of the industry!
Now, it is also important to understand that when it comes to a restaurant website, the visual aspect plays a crucial role in it. Therefore, a lot of businesses look either for crucial restaurant website design tips or look to hire a professional team to get the work done. 
But for a restaurant, there are a number of things to take into consideration and graphic design is one of them. As a restaurant owner, you must not only make sure that your food tastes good, but looks tempting as well through graphics on your website, flyers, and promotional posts. 
So, what should be the best marketing strategy? 
Well, graphic design it is! 
Graphic design can actually help you turn your restaurant into a big brand. Through appealing graphics on your website, you can entice customers and encourage them to visit your restaurant. 
In this time of digital age, your restaurant cannot attract new and more customers until and unless its website tells users about the amazing ambience, delectable food, diverse menu, and more incredible services your restaurant has to offer to its customers. 
With that being said, let's dig a little deeper into the perks of graphic design services for your restaurant website. 
What is Graphic Design?
In order to understand the importance of graphic design for your restaurant website, it is crucial to know about the concept of graphic design. Graphic design is basically the act of planning and creating visual content that helps a business to communicate messages and ideas. 
In the real world, graphic design is everywhere you see ranging from product boxes to billboards to websites to apps. There are different principles and elements of graphic design that allow the designers to influence viewers' emotions and perceptions. 
In the corporate world, graphic design is one of the ways through which companies establish a connection with their users. With the help of a professional graphic design company, you can create exceptional designs that can leave lasting impressions on the viewers. This not only can help an organization create a brand identity but also convey a message or promote and sell products. 
Benefits of Graphic Design For Your Restaurant Business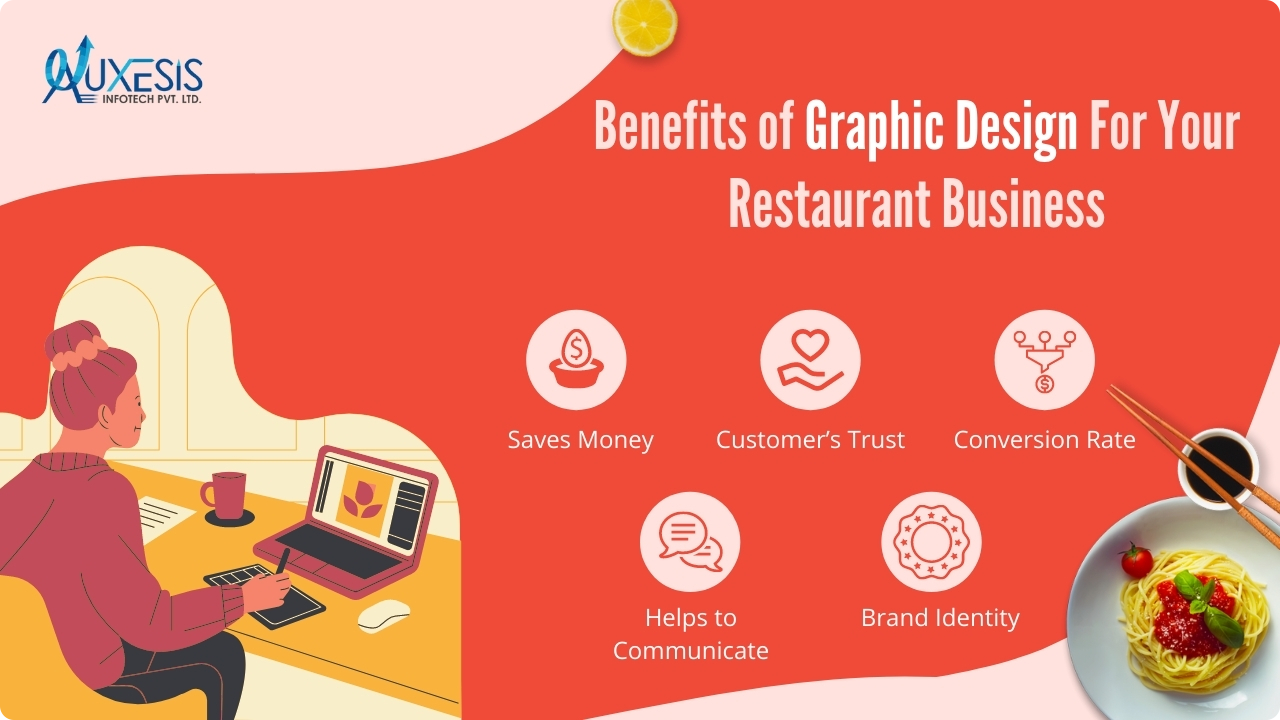 Graphic design can work wonders for your restaurant business when implemented in the right way into your restaurant website. There are many perks of investing in professional graphic design services for your restaurant business. However, below we have created a list of the benefits that are the most crucial for your restaurant business.  
This is one of the most important benefits of choosing graphic design services, especially for restaurant businesses that have the entire corporation of multiple chains spreading across different locations. And if you are amongst those businesses, then your restaurant website design needs professional graphic design care. In the initial stage, you will need graphic design services to establish a brand identity in the market. But as your business will grow, it will become important for your marketing campaign to craft promotional posts. Therefore, outsourcing progressional services from an experienced graphic design company will get you covered for a longer run. Not just this, you will also save a lot of costs when you choose to outsource professional services for your restaurant website design and marketing campaign. 
As mentioned above, graphic design helps businesses to convey messages to customers. And this is one of the important ways to establish brand identity and earn customer's trust. Being into the food and restaurant industry, you cannot bring customers to your restaurant on a regular basis unless and until you don't have loyal customers. And when it comes to loyal customers, well, it is crucial to establish a positive impression in the minds of new customers to earn their trust. In other words, there is a whole process to earn customer's trust. 
And the graphic design, be it on your restaurant website design or a nicely-created thank you flyer, can help you show customers that you appreciate their loyalty. Besides, promoting transparency in graphic design is another factor that can help you earn customer's trust. 
You read it right - graphic design can also help you increase the conversion rate on your restaurant website. It's work on the impulsive human nature concept; people tend to judge or create an impression of an individual, thing, or brand within just a first few seconds. Therefore, it becomes important to leave a lasting first impression on users when they visit your restaurant website for the first time. The same goes even for a promotional flyer that also requires graphic design services. You have to be very transparent and clear in your design to earn loyal customers and improve the conversion rates. 
Along with that, as a restaurant owner, keep your business visions and objectives in mind while determining the visual aspects of your restaurant website design such as fonts, color scheme, and layouts. For example, use graphics that could easily demonstrate the type of food or services (such as dine-in, takeaway, drive-through, online order, and more) 
Brand identity is probably the most obvious, yet an important, reason why restaurant businesses are investing in professional graphic design services. It's no hidden secret that the public perception of your restaurant business highly depends on your brand's identity. And when it comes to branding, well, there are few things such as your restaurant website design, social media posters, flyers, and business cards that play crucial roles in distinguishing your restaurant from others in the market. 
With the help of a professional graphic design company, you can do effective branding of your restaurant business. And with well-designed graphics, it can help you communicate your business brand's identity amongst masses that represent your vision and values. 
Believe it or not, graphics today have become an integral part of digital communication. And therefore, there is a whole design thinking process that goes into creating the best solution and getting exceptional results. It's a fact that the attention spans of users are getting shorter because of the abundance of information provided through mobile phones, radio, billboards, TV, and magazines. As a result, companies today have only a few seconds to capture a user's attention. And hence, the best way to do it is through graphic design. You can convey complex information faster than words through graphics on your restaurant website design, flyers, promotional posts, and more. In other words, with graphic design, you can transform your business into a new age of high-speed and concise communication. 
You may also like:
Important Web Design Trends to Look Out For in 2021
Motion Graphics and Animation: How Two are Different?
Importance of UI & UX design in Building Web and Mobile Application
So, these are some of the significant benefits of graphic design for your restaurant website or we should say the business. And in order to achieve this, it is also crucial and highly recommended to have the best professional support from an experienced graphic design company. Talking about that, Auxesis Infotech is an acclaimed web design company with years of experience and expertise in delivering the best quality solutions to businesses across diverse needs.