As per a report, eCommerce is expected to contribute a total of 19.5% of the total retail sales by 2021.  And by 2024, it can go up to 21.8%. Clearly, these stats talk a lot about the flourishing and the bright future of the eCommerce industry. As a result, more and more retail businesses are turning digital to make the most out of the electronic commerce industry. And to support them, there are many eCommerce platforms available in the market. With so many options, there always remains a tussle for business owners to find the best eCommerce platform for their retail businesses. There are WordPress or WooCommerce, Shopify, and Magento amongst the best choices as eCommerce platforms that are picked by many businesses. But in the very same elite list, there is also Drupal Commerce - an underrated yet powerful eCommerce platform. 
Drupal Commerce is supported by one of the top CMS platforms, Drupal, which is also a highly secured content management system. However, top-notch security isn't just the sole reason that should affect your decision of choosing the right eCommerce development platform. There are many reasons why you should choose Drupal Commerce to build a feature-rich online store. But, as an important tip, hiring a professional and experienced Drupal developer is always essential in the process to create a powerful eCommerce website for your retail business. However, if you are still looking for some convincing reasons why development in Drupal is a better choice, this post is for you. 
Why Choose Drupal Development For Your Online Retail Business?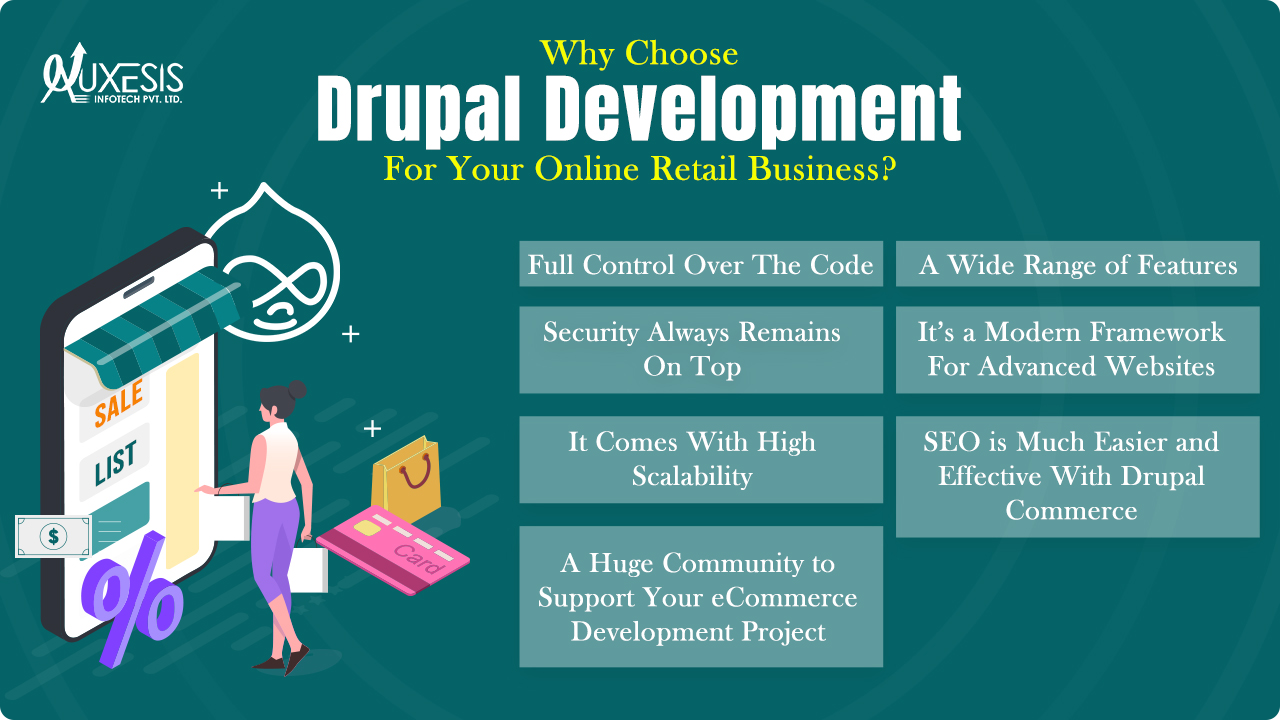 There are many reasons why Drupal Commerce is a popular choice amongst developers and business owners to build an online store. But surely we cannot mention them all. So, let's have a look at all the important reasons to choose Drupal Commerce for your online store.
Full Control Over The Code
Though Drupal is one such CMS platform that requires technical expertise yet, it gives you total control over the code. In other words, the latest versions - Drupal 8 and Drupal 9, give developers the ability to make changes in the code as necessary. This means if you want to expand or make changes in your website's functionality, you can do it by making changes in the code during the Drupal development process. This is probably one of the most important features of Drupal Commerce as it gives you the opportunity to create a fully customized end product. From the front-end to the back-end, you can make any changes to your website with Drupal Commerce during the eCommerce development process. 
Would you believe if we say that Drupal Commerce covers a majority of eCommerce development solutions? Well, that's true! And it's a wide range of features that allows this CMS platform to help you build an exceptional online store with the help of a professional Drupal developer. Being a full-proof platform, Drupal Commerce comes with the option of building or creating free extensions. 
By saying features, we definitely mean modules. Drupal, as a CMS platform, has a huge library of modules that also covers the eCommerce ones. Some of the popular Drupal eCommerce modules that you can implement into your online store during the Drupal development process are Commerce Stripe, Commerce Square Connect, Commerce Shipping, and Currency Conversion. 
Not just this, Drupal also comes with a wide range of themes to choose from for your eCommerce store. A majority of Drupal themes are designed to help a Drupal developer create an attractive layout of the eCommerce website. Not just this, the CMS also gives you the option to go for a Drupal theme developer for a customized website for your retail business. With so many themes and modules, Drupal Commerce is a perfect choice for any retail business to build a feature-rich and powerful online store. 
A Huge Community to Support Your eCommerce Development Project
Do not be amused to know that Drupal has a huge community of more than 10,00,000 passionate developers from across the globe. Now this gives you one important reason to choose Drupal Commerce to build your online store with the help of a professional Drupal developer. Whether you are stuck at any stage during your eCommerce development process or need consulting for anything related to Drupal development, there is a huge community of Drupal waiting to help you out. And to get their assistance, all you need to do is visit the Drupal Marketplace.  
Security Always Remains On Top
Well, we've already mentioned the top-notch security you get for your website when you choose to go with Drupal development for your eCommerce project. But, it is important to get into details! Along with a reason to invest in Drupal Commerce development, this particular point can also be seen as one of the proven benefits of Drupal development for eCommerce businesses.
As a result of the huge community Drupal or Drupal Commerce possesses, the security of the platform remains in its best form all the time. In fact, Drupal is considered to be one of the most safest open-source CMS platforms available in the market. 
When you have an eCommerce business, security is the top priority. With customers giving you their personal and bank details, they invest a sense of trust into your online store, and hence, securing their personal information has to be your responsibility. And Drupal Commerce is the best solution for that. Not just this platform helps retail businesses to safeguard their users' data, but the website data as well. 
It's a Modern Framework For Advanced Websites
Well, in case you don't know, Drupal Commerce is a framework of Drupal CMS, but a modern one. Even after having a huge community, Drupal makes sure it has an effective system in place to make the entire Drupal development process successful and effective. As a result, the platform always aims to take initiative to modernize itself in order to fit in with the advanced requirements of businesses that are looking to invest in eCommerce development. 
One of the most important initiatives of Drupal is the API-first initiative. Along with that, there is also Admin UI & Javascript modernization initiative that makes the Drupal development process a lot easier and helps businesses to create incredible eCommerce stores. However, in order to make the best out of their capabilities, it is highly recommended to hire the best Drupal developer to work on your project. 
It Comes With High Scalability
One of the key features of Drupal Commerce is its high scalability. For a fact, there are many online businesses that are still not aware of the concept of scalability. Explaining the concept in simple terms, scalability basically refers to the handling of business growth. Unlike the offline retail store, some sort of software is used for every single factor in online business. And here comes the scalability part. It allows one software to coordinate and work with another software used in the same eCommerce website. This is done through automation and integration. And Drupal Commerce is best at it. 
As your business will grow, the CMS platform is more capable of handling your store effectively than any other platform. However, for your Drupal development project, it is always recommended to hire a professional Drupal developer that has the best qualities to build an incredible eCommerce website for you. 
SEO is Much Easier and Effective With Drupal Commerce
Well, let's be honest! Mere investing in eCommerce development isn't enough; SEO is also a crucial factor when choosing a CMS platform to build your online store. And Drupal Commerce or Drupal is the best choice for both eCommerce development as well as optimizing the website on search engines. The CMS platform is highly SEO-friendly. It has a number of amazing SEO modules like SEO Checklist, XML Sitemap, and Pathauto that can take care of your website SEO. 
You may also like: 
Future of Drupal as CMS Technology in 2021 And Beyond
Tips to Ensure Successful Ecommerce Website Development

Key Elements of a Successful E-commerce Website
With that being said, you now know all the important reasons or the features that together make Drupal Commerce an ideal choice for your eCommerce development project. However, if you're investing in Drupal development services, it is again advisable to have the best Drupal developer on board to build an ultimate online store. Talking about that, you can also consider Auxesis Infotech - a top-notch Drupal developer recognized by Clutch. We have years of expertise and great experience in the field of Drupal development. Not just this, we are also named amongst the best 15 Drupal development companies of 2020. To know more about our specialization and services in Drupal development, we recommend you to connect with us.