The digital landscape in the present time isn't what it was a decade ago or even five years ago. Over the years, the competition in the digital world has significantly increased. Yet, it has also opened up the scope of new opportunities for businesses. But with more and more businesses investing in website development services, 'how to rank a website has indeed become a topic of concern. With the problem being a major concern for businesses, the solution is also out there, and yes, it is online marketing or digital marketing. 
You would be amused to know that by 2023, the spending on digital marketing is expected to increase to $146B. This fact itself talks about the demand for digital marketing services. There are many businesses that are already investing in digital marketing services to make their website grow and stand out in the market. But in order to get the best result, it is crucial to have an effective digital marketing strategy. Now if you too want to build an effective marketing strategy for your business, well, the first and the most important advice is avoiding online marketing mistakes. Most digital marketing strategies fail because of any flaw or error in the process. 
Therefore, in this post, we have created a list of all the online marketing mistakes that you must avoid in order to make your website rank in the search engines and attract more and more users. 
But in order to understand online marketing, it is crucial for anyone to know the concept of digital marketing.
What is Digital Marketing?
Digital marketing is basically the methods used to promote or market through digital means such as websites, social media, search engines, mobile app, emails, and more. Just to let you know, modern-day digital marketing is a huge concept that includes various channels used by marketers to promote brands. Talking about the digital marketing tips and techniques, well, there are many ranging from SEO, PPC, and content marketing to mobile marketing, social media marketing, and marketing automation. There are different ways digital marketing helps in the growth of a business. 
Now, you must be wondering whether digital marketing and online marketing are the same. Well, to some extent, they are. But there is a slight difference as online marketing is a subset of digital marketing. But many experts and marketers considered them as the one. 
Online Marketing Mistakes to Avoid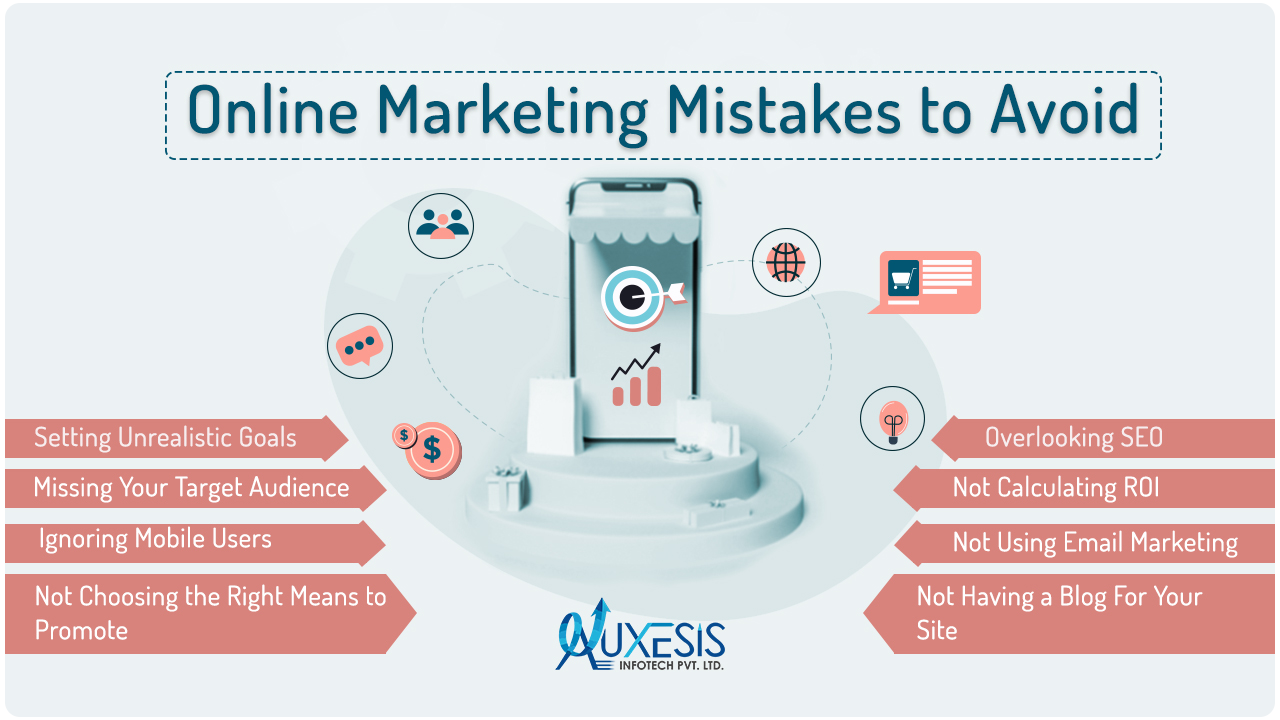 Setting Unrealistic Goals
Ask any expert, a systematic strategy will be one of the most important digital marketing tips they will give to you. However, many business owners understand the concept of digital marketing in a wrong way by setting unrealistic goals, and hence, end up doing some online marketing mistakes that they should avoid. If you want to make the most out of the digital marketing services that you've hired, it is important to understand that you do not create any unrealistic goals or aims for your service provider. Let's say you have kept a goal of attracting more than 4,00,000 visitors to your website in the first year of its operation; that's an unrealistic goal. If you are an established business with a website running for years, it's alright to have such an aim. But if it is the beginning of your website, well, then as one of the most important online marketing tips, it is crucial to set a realistic and achievable aim. 
Missing Your Target Audience
Surely, you have done all the needed do's and don'ts of web development for your website, right? And in that, you must have also got to know about the target audience. And if not, it is highly recommended as one of the most important online marketing tips to find your target audience before creating your digital marketing strategy. And why it is so important is because amongst all those online marketing mistakes, missing your target audience can probably cost you the most. Well, it is because you make the entire digital marketing strategy for your users. And if you somehow fail to keep your target audience in mind, then your digital marketing strategy can be entirely ineffective. 
Not Choosing the Right Means to Promote
For a fact, there are many digital marketing channels through which you can look to promote your brand. And as many experts considered it as one of the most important online marketing tips, knowing the right marketing channel for your brand is very important. As a business, if you want to create a strong base for your digital marketing strategy and don't want to make those online marketing mistakes, then it starts with choosing the right digital marketing channel for your business. 
Now let's come on to the points where you can still make those online marketing mistakes even after creating an exceptional digital marketing strategy. And amongst those, one most important digital marketing mistake is ignoring your mobile users. In the present time, every user has a smartphone in his/her pocket. In case you don't know the importance of a responsive website, then you must know that there are more mobile users than desktop ones. Hence, it becomes crucial to make your website optimized for mobile app users and also to consider them during your online marketing or digital marketing strategy. Now, if you are thinking about why website optimization is important for digital marketing strategy, well, it is because it is a part of it. In 
Not Having a Blog For Your Site
Just to let you know, blogs help in bringing traffic to the website. Therefore, they are considered to be one of the most important aspects of any digital marketing strategy. And if you don't have a blog page on your website, well, you are making one of the biggest online marketing mistakes. An important fact to know about blogs is that businesses that have an active blog page on their website have 97% more inbound links than a website not having blogs. Therefore, including blogs in a digital marketing strategy is one of those important online marketing tips or digital marketing tips that every marketer or marketing expert vouch for. Not just this, with the help of blogs, you can also give your users a chance to visit your website again which eventually will help in building a good relationship with prospective customers. As a business owner, if you're ready to invest in the paid marketing means, then you can also look to put your investment in content marketing over blogging. However, blogging is still considered a great way to lure visitors to the website that too without any monetary investment. 
Not Using Email Marketing
Not many businesses know about the effectiveness of email marketing. And amongst those businesses that know about it, a majority think that email marketing is dead. But in reality, email marketing is an effective digital tool! Even many experts mention email marketing in their list of best digital marketing tips and tools. But when you are including email marketing in your digital marketing strategy, make sure to send such emails that could actually help you generate a response. In fact, you would be amazed to know that email marketing gives higher ROI than any other marketing technique, and hence, it is amongst those unknown yet highly effective online marketing tips and techniques. 
One of the most common online marketing mistakes that most businesses do in their digital marketing strategy is not measuring or calculating the ROI. You have put hours and hours of research to know about those effective online marketing or digital marketing tips, techniques, and tools in order to get higher ROI. But are you really measuring the ROI or just blindly investing in digital marketing? If you are not measuring it, then you won't know whether or not your strategy is successful. Therefore, as one of the most important online marketing tips, we recommend you to do it. 
Doesn't matter even if you have created an exceptional website for your business, if it is not optimized for search engines, you are not going to see actual results. Being amongst those most important digital marketing tips and techniques, SEO comes into the frame. Talking about the importance of search engine optimization, well, it's a no-brainer. However, there are a number of things that you need to consider when working on your SEO plan. As one of the most crucial online marketing tips, your plan must include the best SEO techniques to generate great results for your business. From original and informative content to the use of relevant keywords to writing meta tags and descriptions, make sure to give importance to each and every aspect of SEO. Besides, as one of the not-to-do online marketing mistakes, it is highly recommended to decide the right type of SEO between offsite SEO and onsite SEO.   
You may also like:
How Voice Search Impacts Modern SEO
For Marketers: A Need For Design Thinking and How to Use It
Programmatic Advertising: The Future of the online advertising landscape
With that being said, we come to the end of this post. And now that you know about what mistakes to avoid to make your digital marketing strategy successful, it's time to talk about business. To ensure the best marketing of your business and brand, It's always recommended to have the best professional support on board from an experienced firm like Auxesis Infotech. We are a top-rated digital marketing agency having immense experience and exposure working in the industry and delivering top-quality services.