With increasing competition in the eCommerce market, it has indeed become a tussle for those young online retail businesses to establish themselves in the market. When it comes to making a strong online presence in the digital world for any retail business, well, it means having a feature-rich and powerful eCommerce website. Now as it seems or sounds, building a successful eCommerce website isn't a cakewalk at all! Surely, you need the best professional assistance to build your online store. But there are many other important factors that go into an eCommerce site to make it worth visiting for customers. Of all those elements, the UI/UX design is the foundation of any website, including an eCommerce one, to create a seamless shopping experience for users. As a business owner, one must know how to measure the UI/UX scores of the website for any needed advancements. However, despite that, many businesses fail to uphold the basic standard of the design of their websites. This is because they fail to acknowledge the important UI/UX design mistakes that most businesses do during the design and development process. 
If you are one of those businesses that are still in the research and planning phase, well, you have a great chance of making all things right in the eCommerce UI/UX design department. And to help you with that, we have created this post that talks about the important UI/UX design mistakes to avoid during the eCommerce website design & development process. 
But before that, let's dive into the concept of UI/UX design.
What is UI/UX Design?
Just to let you know, UI and UX are the two sides of a coin. This means there is a difference between UI and UX but both work together to create an impeccable eCommerce website design. Where UI (user interface) is known for the graphical layout of a website or application, UX (user experience) basically defines the website's or app's easiness or difficulty when a user interacts with it. 
There are many factors such as the text users read, buttons they click on, sliders, images, text entry fields, and more that together create the UI design. Whereas, the user experience design includes factors like navigation, speed, and mobile responsiveness. For any website, the business value of a user experience design is very high. 
Together, both user interface design and user experience design create the UI/UX design for a website. 
How to Know That Your eCommerce Website Has a Bad UI/UX Design
If you are amongst those businesses that are struggling with converting visitors into customers, well, there are a few important UI/UX design mistakes that you should acknowledge. However, if you are still unsure about whether or not your eCommerce website design is affected because of the bad UI/UX design, well, there are a few things that will tell you. 
High bounce rate
Shopping cart abandonment
Overly complex menus
Slow site speed
UI/UX Design Mistakes to Avoid During the Ecommerce Development Process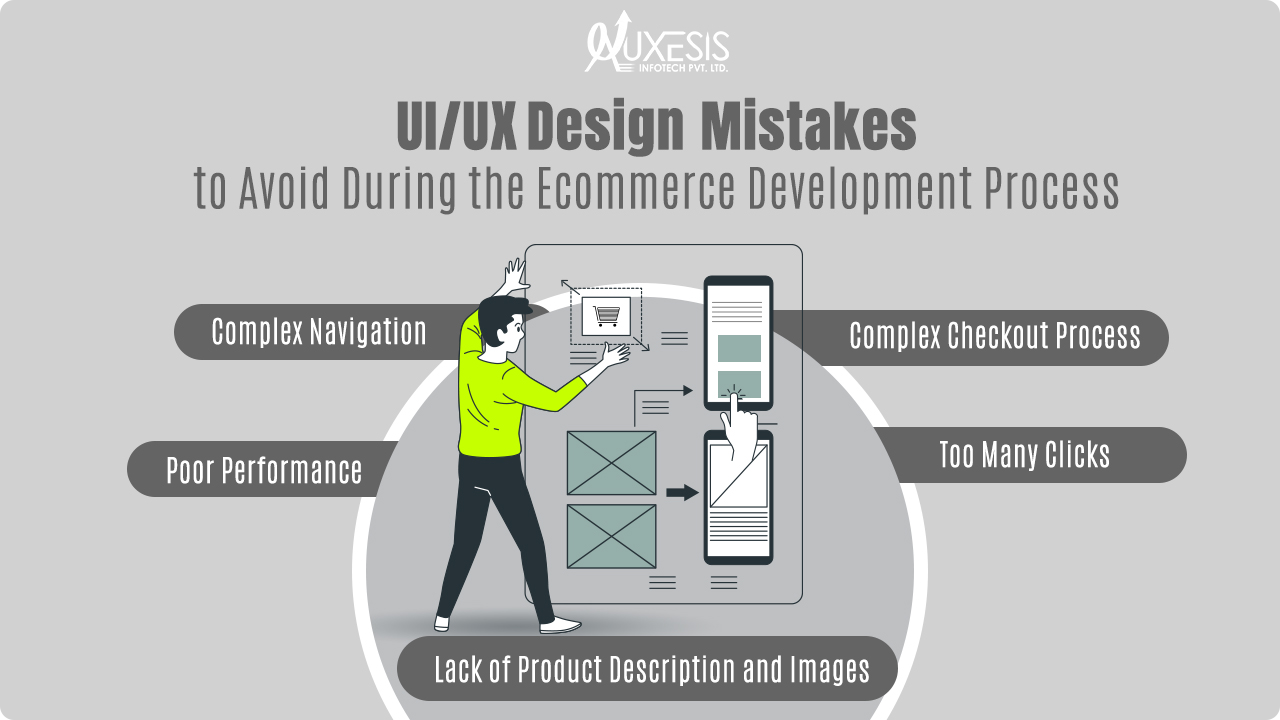 Navigation is one of the most important parts of any website's design, be it eCommerce or any other. Hence, it is on this list of common UI/UX eCommerce website design mistakes to avoid. As a business owner, you surely want your users to find the desired product easily. And for that, the navigation on your website has to be clear and seamless. Create different categories and subcategories and put the relevant products into them to make users easily search for their desired product. Besides, for simple and intuitive navigation, it is also highly recommended to put filter and sort options in your eCommerce website design. Not just this, you can also ask your eCommerce development team to include the navigation breadcrumb to avoid any of the UI/UX design mistakes related to complex navigation. 
Lack of Product Description and Images
When you have an eCommerce website that sells products of different types, it is very important that you give your users detailed information about your products to make a final decision. Since online shopping removes the factor of being interacted with products, it is crucial to put a detailed description of every product to help users understand the specs of the product. But despite that, bad product description is one of those UI/UX design mistakes that a majority of businesses do during the eCommerce website design & development process. Along with the description, images also help buyers to make a final decision. However, the images should be of high quality as they are more capable of showing the important details. 
Furthermore, for the success of your eCommerce website, it is also crucial to write quality content as good content highly influences the user experience design on any website and not just an eCommerce site. 
The complex checkout process is amongst those UI/UX design mistakes that can majorly influence your revenue. Do you know that too long/complicated checkout process is one of the four prime reasons why users choose to abandon a shopping cart in the USA? Along with that, there is also an interesting report by the Baymard Institute that says that through checkout optimization or better checkout design, conversion rates can be increased by 35.26%. 
Now all these stats clearly depict the importance of a simple checkout design. But many online retail businesses fail to understand it, and hence, end up creating a bad eCommerce website design for their online store. The complex checkout process is one of those important UI/UX design mistakes that must be acknowledged by not just the establishing online retail business that are in the eCommerce development phase, but the existing online stores too as a part of managing the eCommerce website. 
Being in the eCommerce business industry, your website cannot afford to go in the 'crash mode' even for 5 minutes. And that is where comes the performance part. The performance of your eCommerce website is one of the most important aspects, and hence, is on this list of important UI/UX design mistakes to avoid during the eCommerce website design & development process. It is important to understand that website performance does not only mean 'free from any glitches, but it is also about the loading speed. Surely,  online retail businesses look out for any glitch during the eCommerce development process, but what a majority overlook is the speed aspect. Ideally, a website should load within 3 seconds. And considering the lightning-fast networks, this time duration is expected to be decreasing from here.
In the present time, users have very fast-paced lives. Hence, they expect and want everything to be quick and seamless. And too many clicks is one of those UI/UX design mistakes that could highly affect your eCommerce website design. As a result, the conversion rate gets affected. 
Now, it is imperative to understand the concept of 'too many clicks'. It nowhere means that you cannot put categories & subcategories that increase the click counts on the website. Rather it refers to the checkout process of the final purchase. You must have seen many online stores that ask users for mandatory signup or login before purchasing a product. Well, that is one of those UI/UX design mistakes that you must avoid. There should not be any compulsion of signing up or logging in to purchase products from your website. Your eCommerce website design would be considered great if you'll allow users to even purchase as guests. 
You may also like:
Voice Commerce – The Future of E-Commerce
Reasons why your Business Cannot Avoid E-Commerce Website Designs
The Key Difference Between UX and UI Design That Every Designer Should Know
So, these are some of the most common yet important UI/UX design mistakes that every establishing online business must avoid during the eCommerce development process. Even if you have a successfully running online store, checking out these mistakes in your eCommerce website design can help you increase the conversion and sales even more. However, if you need professional assistance for that, well, Auxesis Infotech can help you. As a leading web development company, we can help you create an exceptional website design through our UI/UX web design services. We have an experienced and hardworking team that always aims to create the best solution for the client keeping the business requirements and the latest web development trends in mind.