When you run a restaurant, your main focus is on delivering an exceptional experience to your guests, isn't it? And as a business owner, you are always worried about ticking all the boxes - great food, great service, and great atmosphere. But in this digital era, what you also need is a strong digital presence of your restaurant business in order to make it accessible for more and more people.  In case you don't know, the success of your restaurant business highly depends on how it is being perceived online.
 
Before visiting a new restaurant, customers consider the information available on the Internet; the menu, the pictures, and the online reviews. Just like other sectors, the food and restaurant industry has also witnessed digitization in recent times. 
Consequently, it has become essential for any restaurant business to build and manage its online reputation. Well, it's no hidden secret that a great digital marketing strategy can make a notable difference in the growth of a restaurant business. So, in this post, we will talk about everything that you need to know about online reputation. But most importantly, we'll tell you the way to find how effective and healthy is your restaurant's reputation. 
Is it Really Crucial For Restaurant Businesses to Invest in Online Reputation Management?
To improve the customer experience and stay one step ahead of the competition, implementing an effective digital marketing strategy becomes crucial. And for that, there are some essential steps that you must be followed as a part of your restaurant reputation management strategy. 
Surely, if you have a restaurant business, you must be striving to provide your customers with delicious food, a soothing ambiance, and exemplary service. But as we mentioned above, the time has changed. Today, you need an online presence for your business to attract more and more customers to your restaurant. With that being said, let's see how important is online reputation management for your business:
 
These unprecedented times are especially difficult for restaurants, and it seems impossible for customers to visit the restaurant without first knowing about the restaurant just to make sure it's open and everything is as expected. They also check reviews and menus before coming to the restaurant. Thus, your restaurant website should have genuine customer reviews, menu cards, photos, etc to help your target audience to visit your place.
Important Ways to Find How Effective is Your Restaurant's Reputation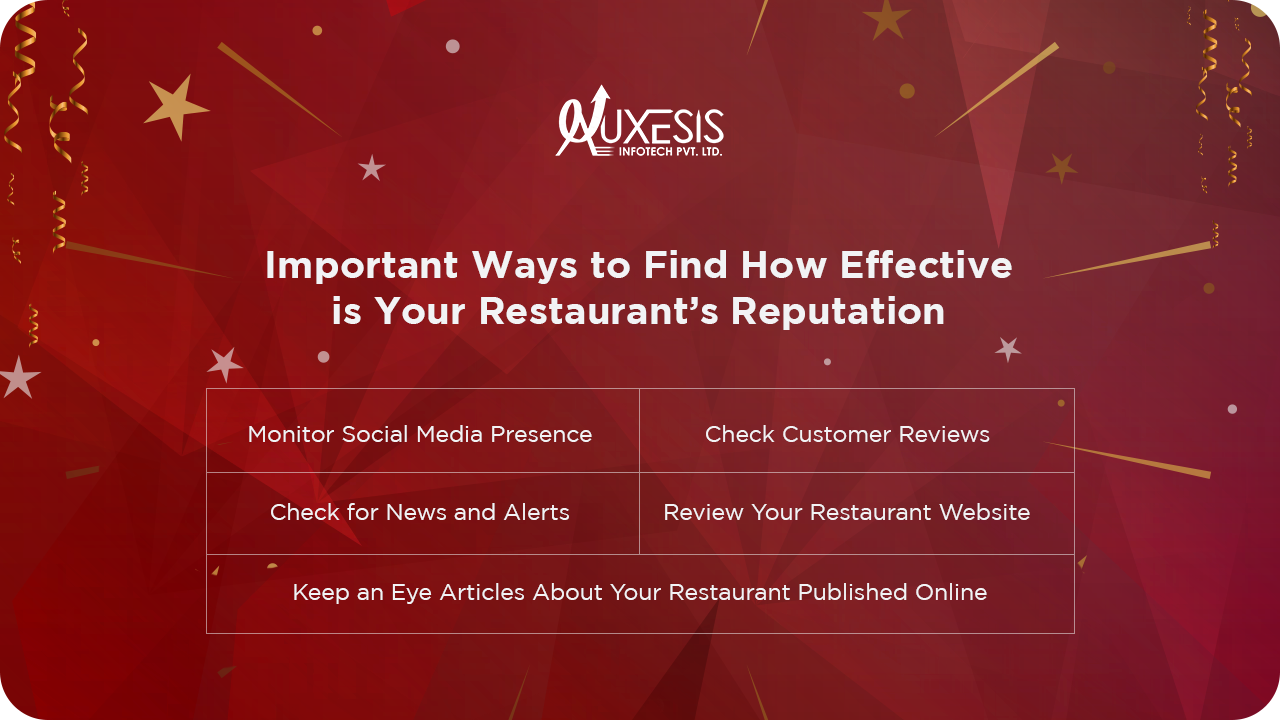 One of the most interesting restaurant industry stats says that over 90% of visitors said they have researched a restaurant website before visiting. Since customers rely heavily on online reviews to decide where to eat and what to eat, managing a restaurant's online reputation is an essential element of your restaurant's digital marketing strategy. Remember, reputation management should be a priority in your business, but you may not know what to do about it. Well, there are some important practical steps you can follow to improve your restaurant's online reputation.
Monitor Social Media Presence
Before heading into this point, it is crucial to understand that social media presence is different from your social media marketing strategy. Your social media presence plays a crucial role in the online reputation of your restaurant. Having an active social media presence is like a trend for businesses of all types in the present time. Thus, keeping social media pages up to date is essential to stay connected with your audience. When it comes to reviews and ratings, customers also use Facebook and Instagram to share their experiences or to read others' experiences. However, this is not enough to market your business, you need a proper digital marketing strategy to have a benefit from it. 
In addition, monitor the engagement on all your restaurant's social media platforms. There are several active food groups on Facebook where foodies often share their impressions of restaurants. You should keep an eye on the conversations that occur in these groups. Having information about your restaurant on social media, whether positive or negative, is an important part of your online restaurant's reputation management and digital marketing strategy for your restaurant website.
Customer reviews are very critical when it comes to the efficacy of your restaurant's online reputation. Check your customer reviews published online on all platforms, be it Google, social media, or any restaurant rating app. As a part of an effective online reputation management strategy, it is crucial to have reviews about your restaurant on these platforms, especially the positive ones. Reviews say a lot about the strength of your restaurant. 
While a good overview should be appreciated, you should also acknowledge the bad reviews. Special attention is important when dealing with negative feedback. You should remember that when you respond to a specific negative review, you are posting a message that any customer, present or future, can see.
Check for News and Alerts
Another important tip to ensure the effectiveness of your restaurant's reputation is checking any news or discussion happening online about your restaurant. It is also advisable to do a random Google search; just enter the name of your restaurant or visit the restaurant website and see & analyze the results. Review the links and check for negative reports. Also, make sure that the information provided by your restaurant website to Google is complete, including the correct address, opening hours, menu, etc. 
Keep an Eye Articles About Your Restaurant Published Online
Today, there are many platforms that cover-talk about food and restaurants. If you are a high-end restaurant offering exceptional food and services, then there are chances you can feature in one of those blogs talking about lavish dining. Similarly, a budget restaurant or cafe can feature in that category.   Also, look for the media coverage of your restaurant in any reliable online newspaper or magazine. It can have a significant impact on your customer base and improve your restaurant's reputation. However, it is also important to understand that public relations can be costly and not feasible for some restaurant businesses. 
In addition, you can also invest in influencer marketing. Reach out to food bloggers that have a huge social media follower base to improve the online reputation of your restaurant business. Check your blog's ranking, insights, and the number of daily visits to your blog to know the current standing of your restaurant's reputation.
Review Your Restaurant Website
Before keeping an eye on the above-mentioned factors, the first thing that you should review is your website. Your restaurant website also plays an important role in managing its online reputation. For customers, your official restaurant website is the most reliable source of information. It's completely up to you how you want to keep the design of your website. But the important thing is your website should include all the information requested in one place, such as location, opening hours, menus, price range, Wi-Fi, parking, more. 
A restaurant website is a platform for your customers where they can know more about your business, its vision, services, and more. Any independent restaurant or a chain restaurant can greatly benefit from actively managing its reputation. Besides, every restaurant should prioritize responding to online reputation management issues to avoid escalating to bigger issues. It is a realistic reflection of the care and hard work that you put into your business.
Online Marketing Strategies to Build The Good Reputation of Your Restaurant
Now that you know how you can find the efficiency of your restaurant's online reputation, it is also crucial to talk about how you can create a healthy online reputation for your restaurant through different online marketing strategies. 
Encourage Positive Reviews
It is common practice that customers often check restaurant reviews on the restaurant's website before dining or ordering. Customer reviews serve as proof of the restaurant's public acceptance which also helps improve your customer base. Thus, it is necessary to acknowledge happy and satisfied customers who have left a positive rating and review for your services. 
Engagement on your restaurant's website is very important, and hence, those positive reviews are critical for a good restaurant's online reputation management. Taking the time to manage reviews can help you maintain a great online reputation for your restaurant business.
Build a Responsive Website
Online presence is a market trend for businesses and a website ensures that you're rightly following the trend. As we discussed above, your restaurant's official website plays an integral part in establishing its effective online reputation. In fact, not everyone knows that a website also serves as a great online marketing means. Therefore, the most important step in online marketing is to create a restaurant website that automatically adapts to any device. Responsive websites make it easy for people to find information through any device, be it desktop, mobile phones, or tablets. 
Besides, your restaurant website should be easy to navigate for customers as a responsive website is also necessary for SEO optimization as an effective digital marketing strategy. 
What if we say your menu is the second most valuable internet marketing resource after the website? Well, that's true! Many restaurants have spent thousands of dollars listing their menus on a catalog in the fanciest way possible over the past few decades. But, with every piece of information being digital available, anyone can easily access your menu even while sitting at home through phone or desktop. Therefore, placing your menu online is an important step in any restaurant's digital marketing plan.
Making your restaurant's presence on Facebook, Twitter, Instagram, and Google is an essential step in any successful digital marketing strategy. You can inform your customers about upcoming promotions, involve them in the exchange of information in both directions. You also can learn about their preferences and offer special offers and promotions for members only. Sharing on social media is one of the best ways to spread the word about your brand, attract referrals and increase your online presence.
Develop a Customer Database
The internet and digital marketing strategy involve all about data and intelligence. You're wasting a huge resource if you don't build a database of information about your customers, website visitors, and audience. You can use this information to sell your services to people on their phones, send promotional emails and newsletters, and customize your advertising campaigns based on target users. Email marketing and text messaging campaigns are low cost, they allow you to customize your marketing messages and generate high conversion rates.
Brand Your Restaurant Digitally
When you are thinking of building a reputation for your restaurant business, you cannot do it without a strong brand image. Use the internet to brand your restaurant by posting your ideas, telling people about your business, its visions, deals & discounts, and more. Creating a recognizable logo using the company's color palette, talking about your restaurant's theme & cuisine can also be an effective way to branding your business. A unique brand identity sets your restaurant apart from the competition.
Optimize for Search Engines and Local Traffic
A website works on the basic concept; people search for your industry-related services and your website appears on the search result. But in order to get appeared on A basic internet search brings people to your website, so you need to optimize your website with local and external methods to make your website more visible and appealing to audiences through search engines. Search engines return suggestions based on a formula, and search engine optimization or SEO is the process of making your website search engine friendly by matching the criteria that those formulas match. And to help you out, there are many SEO tools available in the market. 
When you plan a digital marketing strategy for your restaurant business, engaging customers is the primary goal. This is because your customers are valuable and they can also help you market your restaurant business through word of mouth. When they recommend your restaurant to their friends and colleagues, you get more customers to your restaurant. One of the effective digital marketing tactics would be to reach customers through your social media pages. Not just this, you can use your restaurant website, blog posts, and articles you publish online to reach your customers.
You may also like:
Reasons why you should invest in SEO Marketing
Most Common Online Marketing Mistakes and How to Avoid Them
Strategies How New Publishers Can Boost Revenue With Organic Traffic
Conclusion:
You can follow these tips for restaurant reputation management and can maintain a good reputation online. But along with that, you also need to work on certain other things, Google My Business listing is one of them. Not just this, you also need to keep an eye on your competitors to plan your digital marketing strategy to stay ahead. And for that, you can look to hire professional digital marketing services. Auxesis Infotech is a top-rated digital marketing firm having immense experience and the right expertise to help you market your restaurant and improve its online reputation.