75% of users say that they prefer companies that offer rewards.
65% of a company's business comes from its existing customers. 
82% of companies believe that customer retention is cheaper than acquisition. 
More than 70% of consumers recommend a brand to others if it has a good customer loyalty program. 
All the above-mentioned customer loyalty stats talk about why it is important for a business to invest in customer loyalty programs. Even though there is an unprecedented need for customer loyalty programs for all businesses, online retail businesses are the ones that need it the most. 
Talking about the eCommerce industry, the competition is getting tougher and tougher in the eCommerce market with more and more retail businesses shifting online. As a result, businesses need one way or another to survive and retain their customers. And the best way to do this is through a customer loyalty program. 
Now, with the importance of a customer loyalty program for your online retail business comes the question of how to set up a customer loyalty program on your eCommerce website. Therefore, in this post, we are going to talk about how to start a customer loyalty program on your eCommerce website. 
But before that, let's know about what customer loyalty is and why it is important for your eCommerce website. 
What is Customer Loyalty?
Doesn't matter if you are a startup or an established organization, the fact is, the importance of customer loyalty is the same for all.  A company invests time, money, and effort in different strategies for new customers. In the process, they often make the mistake to avoid the existing customers who have already shopped from their website. Since it is quite hard to convince customers for the first time to make a purchase from your online store, businesses must know the importance of customer retention. 
In case you don't know, customers spend more money and time with brands they are loyal to. As a result, customers vouch about the brands to their friends and dear ones.  It creates loyalty amongst customers that also supports a strong sense of trust between customers and your brand. 
Types of Customer Loyalty?
Well, there are different businesses and brands that follow different types of customer loyalty models. And if we talk about the types of customer loyalty programs, there are six main types. 
Paid Loyalty: Under this loyalty program, customers are supposed to pay a monthly or annual fee to join a VIP club to avail of special and extra benefits. 
Point-Based Loyalty Program: This customer loyalty program works on the principle, spend more to get more. Users work towards collecting points to redeem the reward.
Tiered Loyalty Program: It works on the concept of rewarding the initial loyalty of customers and encouraging them to purchase more. 
Value-Based Loyalty Program: Under this type of customer loyalty program, businesses connect with customers on a more personal and deeper level by creating an ethical and strong relationship with them. 
Game-Based Loyalty Program: Under this, the loyalty program is turned into a game application to encourage customers to repeat purchases. 
Coalition Loyalty Program: Also known as a partnered program, it offers more opportunities to customers, and hence, is one of the most effective customer loyalty programs
Why is Customer Loyalty Essential For Your Online Store Website?
It's no hidden secret that digital marketing helps in the growth of a business. And a good customer loyalty program as a part of your digital marketing strategy always benefits an eCommerce website. And there are a number of reasons why an online retail business should invest in customer loyalty. 
Loyal customers are known to provide better and higher conversion rates.
Do not be amused to know that an effective customer loyalty program can help you boost your business profit. 
As the aforementioned stat says, retaining an existing customer is easier and more convenient than acquiring a new customer. 
Existing customers spend more time on an eCommerce website than first-time customers. 
With an exceptional customer loyalty program, you can establish a strong foothold in the market that will help your eCommerce business to stay ahead of the competition. 
With an effective customer loyalty program, you can predict your business's growth more effectively and that can also help you in financial planning. 
Effective eCommerce Customer Loyalty Tips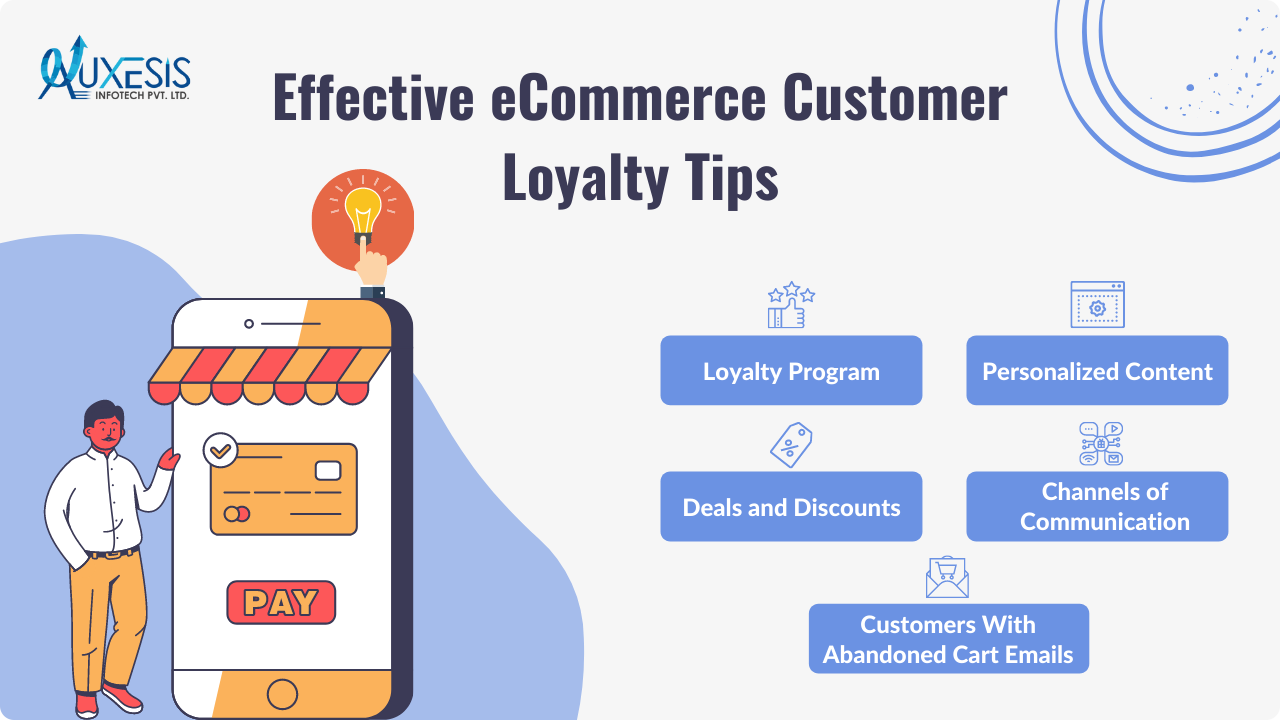 Setting up a customer loyalty program on your eCommerce website isn't as difficult as it sounds if you know what all things should be kept into consideration. 
In the process, firstly, it is very crucial to understand a customer loyalty program can work differently for different eCommerce businesses. Besides, it is also important to have professional help from an experienced digital marketing agency. An experienced digital marketing agency knows more about the market trends and has the expertise to provide you with the best solution keeping your business needs and expectations in mind. 
Besides, in order to effectively set up the right customer loyalty program, it is highly recommended to have these few important things in mind. 
Find the Loyalty Program That Fits Your Business
This is probably one of the most important things to take into consideration when setting up a customer loyalty program. Since there are different types of customer loyalty programs, surely, you don't have an ineffective loyalty program on your online store; neither it will help you retain customers nor give you any returns.
If you have no idea about customer loyalty and retention, this is the part where you are suggested to take professional help. In case you don't know digital marketing and customer loyalty go hand-in-hand. Thus, professional digital marketing services can also help you set up your customer loyalty program which is best suited for your online store. For that, there are different loyalty marketing strategies to keep your customers engaged and happy on your eCommerce website. 
Provide Personalized Content
Not many eCommerce websites pay attention to this particular point. But in reality, personalized experiences actually tell users that your brand or online store is relevant to their life. There is a study that says that customers are willing to pay more or a premium if they are provided personalized services. 
Follow Customers With Abandoned Cart Emails 
As we said above, digital marketing and customer loyalty go hand-in-hand. The average cart abandonment rate is around 79% for online stores. And surely, you don't want your customers to abandon your cart for any reason. Talking about the reasons why a customer leaves a cart, well, it could be anything from high prices to losing interest to forgetting to check out. Whatever, the reason is, it won't hurt anyone to remind customers what they had been about to purchase. You can also provide your customers free trial premium membership or exclusive discounts to convince them to purchase. Just like email marketing, following customers with abandoned cart emails is one of the most effective ways to bring more and more customers to your eCommerce website. 
Offer Exclusive Deals and Discounts
It's not just an irresistible loyalty program that grabs customers' attention, exclusive deals and discounts are also important. As an important loyalty marketing strategy, you should reward customers with amazing and exclusive perks like free shipping and discounts. These strategies also encourage customers to visit you again and make a purchase. However, it is also crucial to understand that giving such perks on a regular basis to customers might kill customers' excitement. 
Provide Multiple Channels of Communication
Believe it or not, customer loyalty is also somewhere directly related to how you address your customers' queries or concerns. It works on a simple principle; the easier you make it for users to get in touch with your brand, the better shopping experience they have which also results in better customer loyalty. And talking about that, one of the best ways to ensure that your customers can interact with your brand is by offering them different channels of communication. This will make it easier for customers to reach out to you through comments, queries, or feedback. You can provide them the options to connect via phone, social media, and email. Besides, live chat and chatbot are popular channels of communication on an online store. 
You may also like:
How to Generate Leads With Content Marketing
What All You Need to Know About Email Newsletter
Most Common Online Marketing Mistakes and How to Avoid Them
Having said that, it is always recommended to hire professional help for building and improving customer loyalty on your online store for better and quicker results. Along with being an acclaimed digital marketing firm, Auxesis Infotech is also amongst India's top 15 web development companies. Our expertise not only covers eCommerce website development, but we also provide best-in-class digital marketing services that also include building or improving customer loyalty on your eCommerce website.