The health and wellness industry is growing at a significant pace. It wouldn't be wrong to say that the industry has reached its pinnacle, especially because of the entire pandemic scene. Before COVID hit the world, no one ever thought of witnessing a time where even getting a wellness treatment will also be an online affair. Since COVID was an unforeseen event that put the world economy to a halt, businesses weren't ready to cope up with its consequences, especially the wellness ones. As a result, now businesses have understood the importance of having a digital presence to keep going in the market.  
Now, more and more wellness businesses are investing in web development to have their own digital presence through a website. And when it comes to developing a wellness website, there are a number of CMS platforms to consider. But of all the options, WordPress tops the list! As one of the most popular CMS platforms, WordPress needs no introduction. The platform accounts for 65% of the CMS market share. Not just this, WordPress also accounts for 42.4% of all websites on the internet. With that being said, let's take a deeper look into why WordPress is the best platform for your health and wellness business. 
Why Do Your Health and Wellness Business Need a Website?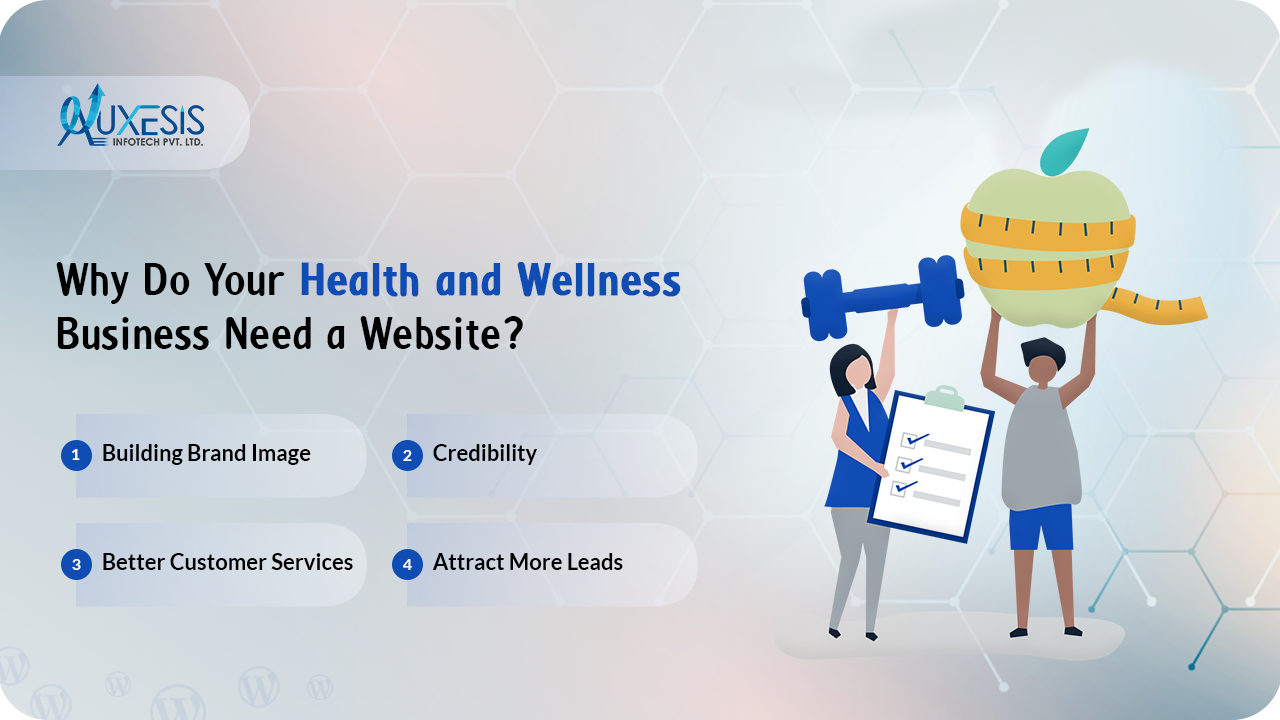 For every business, a website works in a different way. For wellness businesses, there are many reasons to invest in website development or WordPress development. Let's have a look at them:
This is probably one of the most common benefits of having a website. With a well-designed and developed website, you can showcase your brand to prospective customers. Not just this, you can also let people know about your business vision and mission. Building a brand image is very crucial in terms of setting you apart from your contemporaries in the market. 
Credibility is one such convincing reason for which almost every business invests in web development. When you operate offline, it is difficult to improve your business credibility. Since you're not the only business operating in the health and wellness industry, thus it becomes crucial to make yourself stand out as a business in the market. A website can help you communicate quality information to your customers and create a sense of credibility in the minds of customers. 
There are a number of tasks you cannot do when operating your health and wellness business offline. Whereas, a website can make it a lot easier to perform all those tasks. As a result, this can help you improve your customer service. Not just this, you can also make your customer support better with a well-built website. 
A website gives you the option to target a wider audience. As a result, you get the option of increasing your chances of getting more and more leads. With the right digital marketing strategy, you can make your website rank on the search engines. This will boost the traffic on your website and eventually increase the lead.  
Features That Your Wellness Website Must Have
Before talking about the potential of WordPress CMS to build a wellness website, let's have a look at the features that an exceptional wellness website must include. 
Health risk assessment
Health literacy
Biometric screening
Wellness event calendar
Corporate wellness challenges
Wellness rewards
Wearable technology integration
Incentive management
Health coaching
Analytics and reporting
WordPress is a Flexible Platform Fulfilling the Needs of Wellness Businesses
With different industries having different natures, there are different criteria to find the right CMS platform for your business. Obviously, we cannot talk about each and every platform for the wellness industry in a single post. So, let's know more about WordPress for your health and wellness business. 
Undoubtedly, WordPress is one of the most popular CMS platforms available in the market. And its popularity can be ascertained by the fact that it supports all types of websites, be it corporate, travel, healthcare, eCommerce, or blogging sites. Of all the types of websites that can be built with WordPress, wellness is one popular category. The crucial components of an offline wellness business work differently. However, when it comes to online presence, a wellness business needs an individual website. 
WordPress is a highly flexible platform that comes with a ton of resources to fulfill specific requirements of the wellness industry. With that being said, let's have a look at what WordPress has to offer to your wellness business. 
Popular Wellness WordPress Themes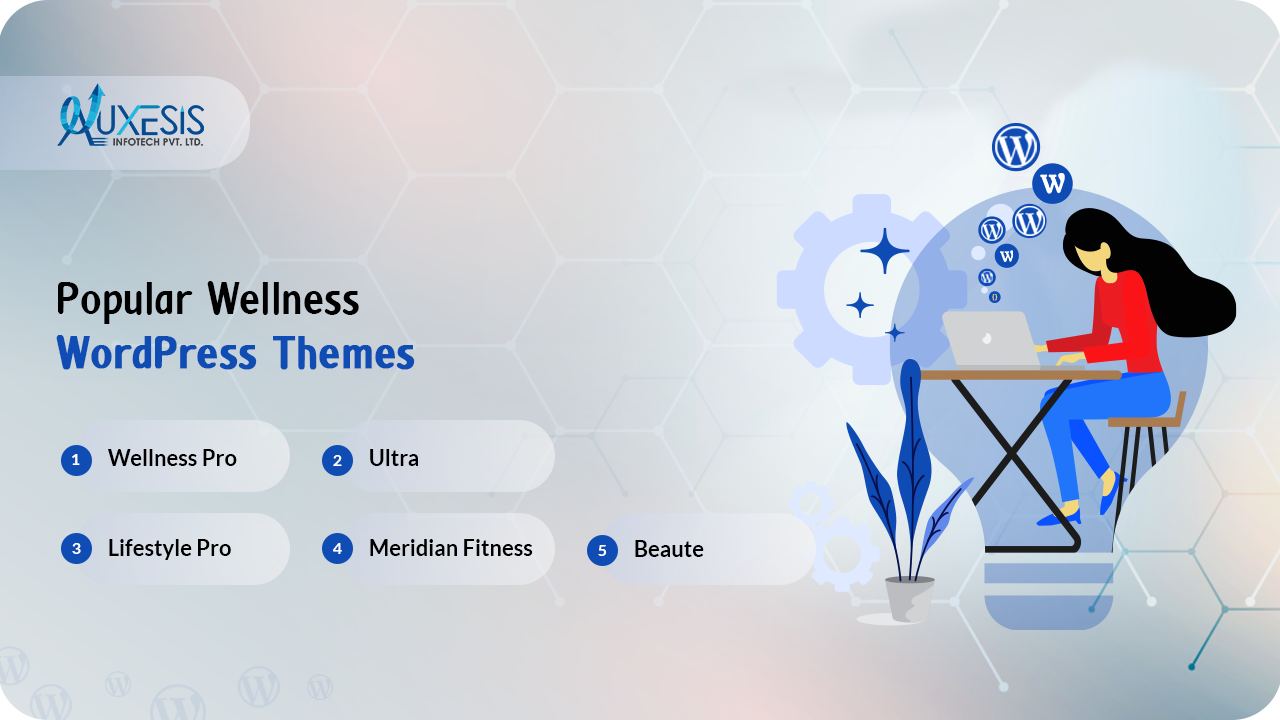 Though there are many WordPress wellness themes available in the market, here we are going to talk about the popular wellness themes that are perfect for a WordPress website. 
Wellness Pro is one of the most popular WordPress themes that are designed for hospitals, nurses, medical staff, and doctors. It is one of the most flexible and robust themes that you will find to build a website in the wellness industry.  The theme comes with a fully widgetized homepage to allow health and wellness businesses to showcase their services professionally through WordPress development. 
Ultra is another popular WordPress theme that can be used for any type of website. The theme comes with a number of ready-made website layouts for healthcare and medical professionals. Not just this, the theme also includes an in-built themify page builder plugin that helps businesses customize the health and wellness website easily. Besides, there are also premium add-ons through which you can add more functionality and functions to your site through WordPress development. 
Be it a fitness website, a healthcare one, or a medical site, Lifestyle Pro is amongst those WordPress themes that come with great features and functionality. The theme has layout options, a custom background, multiple widget areas, and more. 
Another exceptional WordPress theme used for health and fitness websites. The theme supports custom content types that allow health and wellness businesses to add classes and trainers with schedules on the homepage of your site. It also includes a one-click demo content importer to import and replace the content with your own health and wellness website. 
For your spa, healthcare, and fitness website, Beaute is another popular WordPress website that can help you create an exceptional health and wellness website for your business. The theme comes with custom content types that allow you to add services, photo galleries, and staff profiles to the website. Not just this, the theme is also available in different scheme colors. 
WordPress Plugins, Extensions, and API Integration
A website cannot be built just with a theme, you also need plugins and extensions to make it seamless for your end-users. And when you have chosen WordPress development to build your health and wellness website, you get plenty of options in plugins and extensions. 
One of the most important perks of choosing WordPress is that you get a good number of third-party extensions and components to enhance the functionality of a website in the health and wellness industry. There are even many extensions that facilitate customization to create an exceptional website for users. From advanced WordPress SEO to back up to contact form to social media integration to page builder, you can find WordPress extensions for almost every task. 
Talking about API integration, well, the WordPress platform has plenty to offer in this department as well. WordPress API integration can take care of payment integration, location-based services, and cloud services to make your website seamless. However, to make the most out of all these, you need to hire the best WordPress development firm for your project. 
WordPress is an Ideal Marketing Platform
Nowadays, one of the most important things to make a website successful is marketing and promotion. And WordPress is one such ideal marketing platform for your health and wellness business. When it comes to internet marketing, the CMS platform comes with a range of extensions for basic to advanced WordPress SEO. Not just this, it also has built-in architecture and features that promote an organic SEO campaign to make a website rank on SERPs. Along with that, you can also find SMO extensions to support your internet marketing campaign to boost traffic and conversion rates of your WordPress website in the wellness industry.  
When it comes to marketing, one of the best things about WordPress is the blogging support. It comes with advanced blogging tools, extensions, and themes specifically for websites in the health and wellness industry.
You may also like: 
Best WordPress Forum Plugins to Build a Thriving Online Community
An Insight Into Auxesis Infotech's WordPress Website Development Specializations
Important Features to Consider Before Choosing a CMS For Your Web Development Project
With that being said, you now know all the reasons why WordPress is the best platform for your health and wellness business website. However, it is crucial to understand that to make the most out of WordPress' capabilities, you need the best professional help for your project. Talking about that, Auxesis Infotech is a leading WordPress development company having rich experience serving businesses from the health and wellness industry. We have expert professionals who follow an effective and agile approach to deliver the best quality WordPress development services to businesses across diverse needs.