Do you have an eCommerce site? Is it running seamlessly? If so, that's great! But if not, there are certain aspects that need to be acknowledged and eCommerce SEO and User experience are two of them. Believe it or not, SEO and user experience are the two most important factors that influence the success of any eCommerce website. It means if your online store isn't performing well, there are higher chances that your store is lacking in SEO and UX aspects. And considering the importance of an eCommerce website for your retail business, we assume you know how crucial it is to resolve these issues. So, if the problem lies in the user experience and the ranking of your eCommerce site, then comes the question of how to improve eCommerce SEO and User Experience.
In this post, we will be mentioning important tips to improve your eCommerce SEO as well as the user experience. So, in this post, we will be talking about both the factors separately for all the eCommerce platforms.  
Important Ecommerce SEO Tips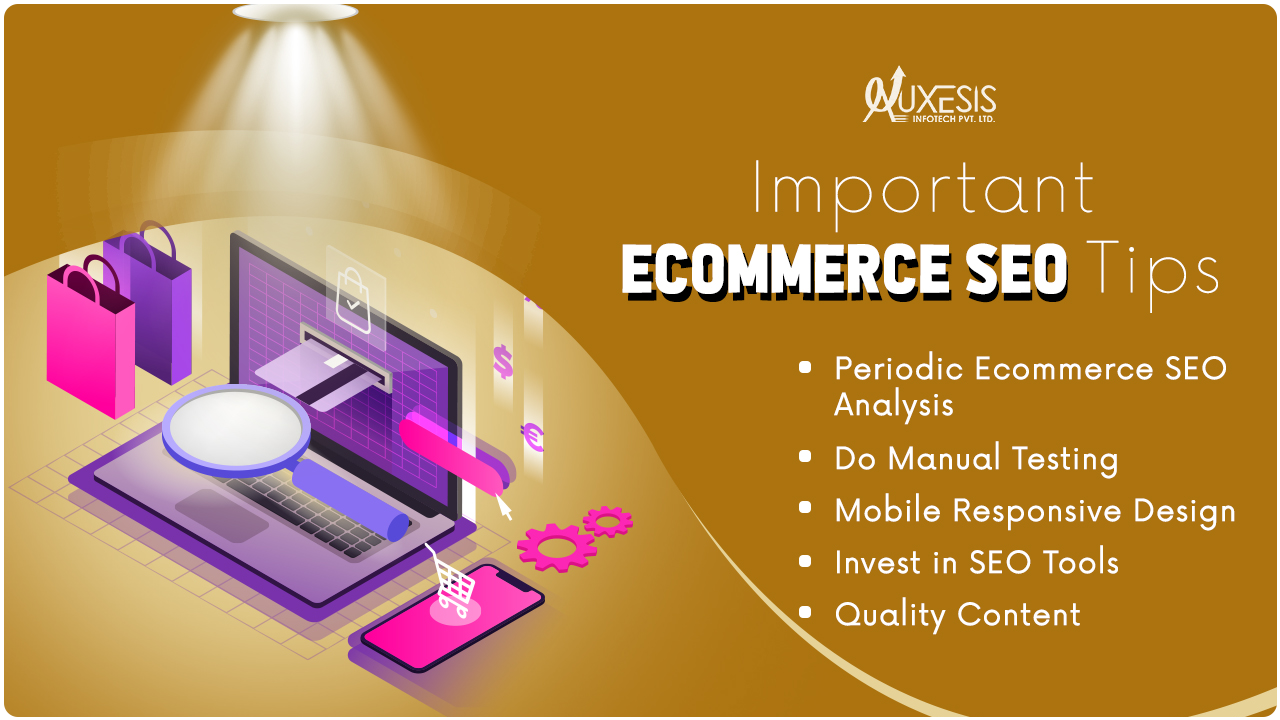 Doesn't matter if you're a startup or an established eCommerce company, SEO is the inevitable need for your business. Even if you have created an exceptionally designed eCommerce website with a great user experience, it wouldn't be able to fulfill its objectives if it is not optimized for search engines. Here are some useful tips to help you improve the SEO for an eCommerce website. 
Periodic Ecommerce SEO Analysis 
It is crucial to know that neither your eCommerce website is static nor its SEO. It often happens that while solving one problem, developers unintentionally create another. And this happens in all the best eCommerce platforms, irrespective of a platform's flexibility. Hence, it becomes important to run periodic eCommerce SEO analysis. For that, you can use a strategic SEO framework to make sure that everything on your website is in sync.  
Manual testing is also important to identify problems with sections and pages in order to publish or build a successful eCommerce website. For that, you can use Screaming Frog SEO Spider. The tool allows you to run a manual test on a specific section within its categories and subcategories. It can help you run an audit on online stores of all sizes irrespective of their eCommerce platforms. 
This is the time of the mobile revolution, and hence, you have to take it seriously. As a business owner, you must understand the importance of responsive design for an eCommerce website. With the increasing number of mobile users, the demand for mobile responsive websites is also increasing. And to the rescue, there are many eCommerce platforms that allow businesses to create a successful eCommerce website. But, nowadays, a majority of users prefer to search and use an eCommerce store through their mobile devices. And this stat is enough for any eCommerce business to make its website mobile-friendly. 
There are a number of SEO tools available in the market that can help you improve eCommerce SEO. DeepCrawl, Searchmetrics, Moz, and others are some popular eCommerce SEO tools. All eCommerce platforms have SEO modules to help eCommerce businesses. Just to let you know, each of those eCommerce SEO tools has its own set of advantages. Hence, it is always a good idea to use a combination of tools to improve your eCommerce SEO. 
Along with auditing, testing, and other things, creating quality content is another factor that influences the ranking of an eCommerce website. In fact, quality content has been one of the important eCommerce development trends. From clear and precise product descriptions to meta descriptions to business listing to blogs, content is a crucial part of any eCommerce website's success. So, make sure to do all the justice with the content part of your eCommerce site. Besides, you must also know that good content also influence the great user experience. 
Important User Experience Tips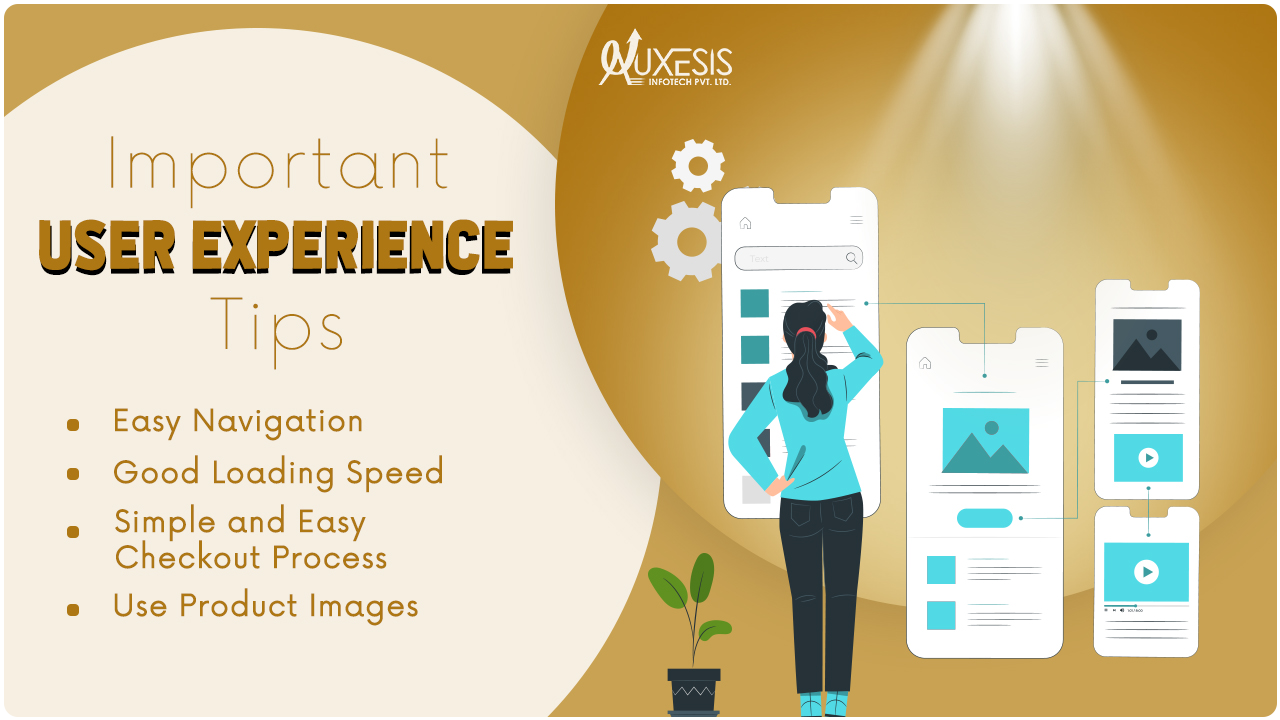 Coming on to the user experience, well, it is another essential part of any website and not just an eCommerce website. Believe it or not, it is not an easy task to attract potential customers in today's competitive marketplace. And if there is any way to make it a little easier, well, it is the user experience that has to be great in all aspects. As experts, we believe that no user experience is a hole in your pocket. Therefore, providing the best shopping experience to users has to be your priority when we talk about user experience. And to help you make that happen, here are some important tips. 
In case you don't know, of all the factors responsible to create a pleasant shopping experience, easy navigation is the most important one. It is quite obvious that with thousands of products available under the same category on an online store, it is quite a difficult task for users to find the perfect or the ideal product. Hence, create your eCommerce website design in a way that allows users to find the relevant product or page. It is crucial to make the user journey seamless in your store.  Besides, keep the menu and the navigation easy so that all users can find what they are looking for on your website. 
It's no hidden secret that no users like to wait minutes to use a website. And it is one of those eCommerce website mistakes that most businesses do. Therefore, if you own an online store, the loading speed of your eCommerce website has to be one of the top priorities when it comes to creating the best user experience. Ideally, your eCommerce website should load within 3 seconds. If it is taking more than that, there are higher chances that your users will abandon your site. And with the advent of 5G internet technology, the expectation has increased and is expected to continue growing in the future. Just to let you know, many businesses do 
Simple and Easy Checkout Process
Another factor that plays a crucial role in creating a great user experience on your eCommerce website is the easy and simple checkout process. If the transaction process is difficult, then there are higher chances that the customers complete the transaction. And even if they do, it is unlikely that they will return to your online store. 
Images are very important when it comes to convincing potential customers to buy a product. Obviously, it is not possible for users to physically check the product. But when you provide quality images, it creates a sense of trust in the minds of customers to buy a particular product. However, in terms of user experience, it is very crucial to use high-quality images. Images are also important from the view of eCommerce SEO. For that, make sure to add alt tags as they not only contribute to the website's SEO but also help visually impaired users to understand what the image is all about. 
You may also like:
Tips to Ensure Successful Ecommerce Website Development
Key Elements of a Successful E-commerce Website
Looking to Build an E-commerce Website? Here Are Some Best Development Platforms!
With that, we come to the end of the guide to improve eCommerce SEO and user experience. It is always a great decision to bring in professionals to ensure the ranking and user experience of your website. Talking about that, Auxesis Infotech is a leading eCommerce development agency carrying rich experience in creating successful eCommerce websites.