The eCommerce industry has witnessed remarkable growth in recent years. If we take about 2020 solely, the global retail eCommerce sales growth was different in different regions. Where Latin America witnessed the maximum growth of 36.7%, it was 31.8% in North America, 26.4% in the Asia-Pacific region, and 26.3% in Western Europe. Overall, the global growth rate of retail eCommerce sales was 27.6% in 2020. almost 15% per year. 
The growing demand for online shopping is one reason behind the exponential growth of the eCommerce industry. Consumers are more attracted to shop online nowadays. Now with that, also comes the need to stay relevant in the market for eCommerce businesses. And not all eCommerce sites can withstand tough competition in the eCommerce sector. Some struggle to keep up with advances in technology and aren't able to make it to the list of booming eCommerce companies.
There are many tools out there in the market that promise to deliver you the growth for your online store, but the truth is, not all tools can be effective for your online store. As a retail business owner, you have to know what works best for your business as a digital marketing strategy. Therefore, when you talk about digital marketing for an eCommerce website, social media marketing is one of the best strategies for all types of online stores.  
In 2016, Facebook launched bots to its messaging platform, Facebook Messenger, and since then, it has been a popular messenger tool in different industries and also an adopted marketing means to promote businesses. 
Talking about Facebook Messenger as a part of social media marketing strategy in the eCommerce industry, there are currently only a handful of visionary online stores using this means to increase their sales. According to stats, Facebook Messenger has around 1.3 billion active users. 
How Effective is Facebook Messenger Marketing For an Online Store Website?
Ecommerce websites with an effective Facebook Messenger marketing strategy can witness outstanding results as the experience is more personalized than other means. And customers can have personalized back and forth conversations using their Facebook Messenger bot that is speaking to a real person. 
Messaging marketing is a great way to reach your customers because users are more active on social media in today's time. With a social media marketing strategy, you have a higher chance that your message is read by every subscriber. But as a business owner, it is crucial to understand that there are a lot of technical aspects that go into a social media market.  Therefore, if you are someone with no experience in eCommerce marketing, tieing up with professional digital marketing services is the best option for an effective strategy and results. 
Coming back to the Facebook Messenger marketing, here are some stats that highlight the power of Facebook Messenger as a marketing tool:
Do not be amused to know that on Facebook Messenger, over 20 million messages are exchanged between customers and businesses monthly. 
The reason why Facebook Messenger is considered to be an effective marketing tool is that it has over 300000 active bots. 
One of the social media marketing tools, Buffer has found that 61% of consumers like personalized messages.
Messenger marketing is known to deliver a 70% better open rate as compared to email marketing. 
Key Things to Consider For Your Online Store Website's Messenger Marketing Strategy
There are a few things to consider when deciding on the best messenger as a part of your social media marketing strategy for your eCommerce marketing. If you already have Facebook and Instagram for your business, this is great! Firstly, invest in messenger marketing software that offers a complete set of tools. And secondly, you will need support to do that, where digital marketing services come into the picture. An experienced team can guide you better to drive more results. Let's discover some key things that you need to consider for your Facebook Messenger marketing strategy:
Welcome to every new subscriber 
Brands that use a messenger chatbot have an average open rate of 80%. That number increases when you have full conversations with your subscribers that go beyond simply promoting a product. An introductory series begins when a customer first interacts with your Messenger bot on Facebook or through a Facebook Messenger widget on your website. This way you can welcome every new user.
 
When a customer starts, your eCommerce website has the option to introduce itself, share some information about your company's activities, add links to interesting content, or share a coupon for new subscribers. This would be an effective step in your eCommerce marketing strategy. This helps build a personal relationship with each subscriber and drive purchases when you offer links and discounts on your products from the first interaction.
Check abandonment flow to boost conversion rates
Certain flows have the option of redirecting customers or visitors and leading them on the shopping journey. When the average abandoned cart rate is around 69%, these art flows and browsing are the perfect opportunities not to miss those abandoned sales. Messages are triggered when visitors browse your products on the eCommerce website or add products to their cart and then exit without completing their purchase. Knowing that Messenger has a higher open and click rate compared to email, sending abandoned cart reminders on Facebook Messenger with a discount code has helped brands significantly increase their sales. As an important tip for your social media marketing strategy, you should also provide a buy-now option in Messenger itself that helps to take quick action.  
Personalized conversations that help to add value
Messenger chatbots achieve click rates between 15 and 60%. As subscribers click through conversations and convert with CTAs, eCommerce businesses often need to use Messenger to share discounts, offer early access to sales, announce product launches, and set up sponsored messages. A type of Facebook advertisement can help you engage your subscribers and send them a message straight to their inbox. With a chatbot tool, you can easily compose the sponsored message with personalized CTAs and replies, pictures, videos, and more.
Optimize the customer service experience
If you give your customers the option to choose Messenger automation for order and shipping confirmation, you not only can expand your subscriber list but also retarget previous customers, and bring them back for a repeat purchase. Delivery communication is responsible for 74.4% of all one-star reviews. Don't let poor delivery communication be the cause of a negative review for your eCommerce website.
Tips On How to Market Your Online Store Website via Facebook Messenger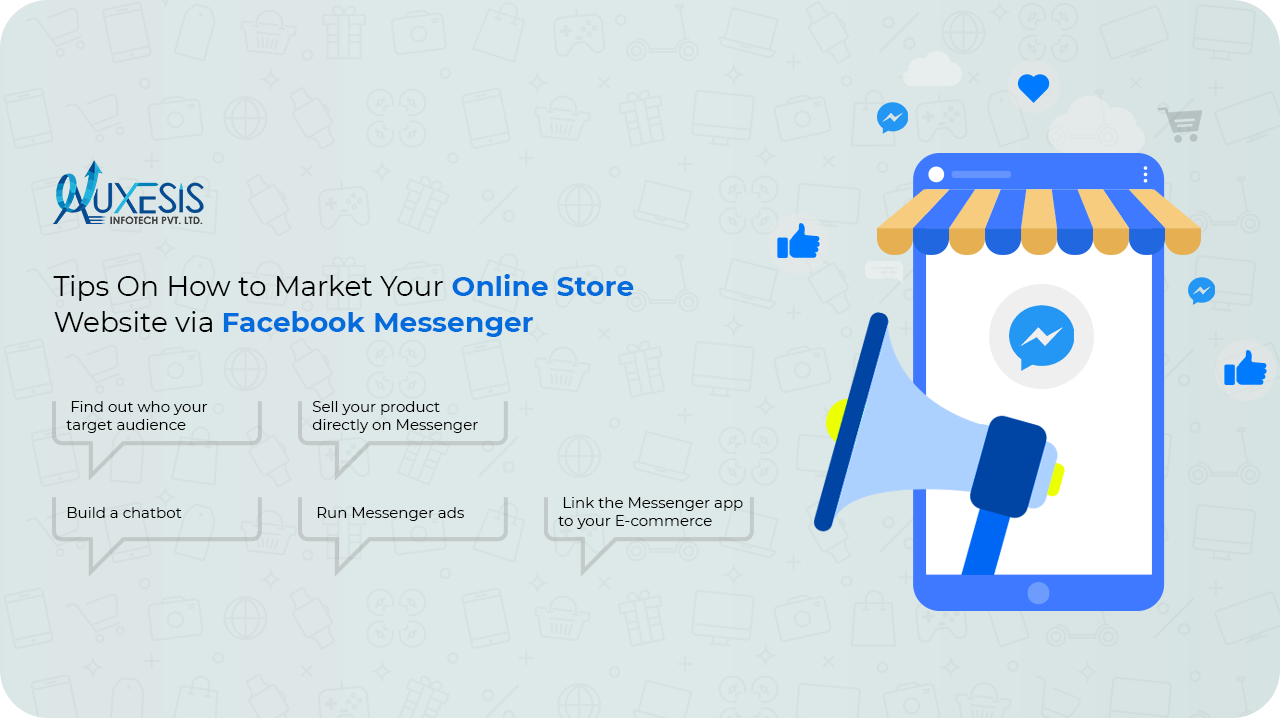 1. Find out who your target audience 
Deciding on the specific target audience is the most crucial step in eCommerce marketing. You need to know both demographic and psychographic information about your target audience. As an eCommerce company, you need to know why your customer wants to buy the product. You need to dive into your market research and discover their likes and dislikes. Apart from likes and dislikes, know about their goals, desires, and problems that they want to solve. 
If you want to dig deeper, there is a Facebook business manager to manage your business and the Facebook audience insights tool will help you find information on gender, location, language, and even previous purchases. This is a great way to get to know the language they use so that you can put it on your sales page, eCommerce website, and listing to attract the customers of your dreams.
2. Sell your product directly on Messenger
If you are running an eCommerce website, you definitely need a Facebook page with a custom page name. Simply expand this page by adding a shop option to allow consumers to shop directly from you. 
You need to click on the "Buy" option, which will take you straight to the "Sell on Facebook" page. This allows you to set shipping and return settings, link business accounts, and generate payments.
You can use the marketplace option to sell your products to your customers through your Facebook page.
3. Build a chatbot
People long for contact and interpersonal interactions. In the present time, customers expect instant support for their queries. And a live chat through Facebook Messenger is the best way to fulfill the expectations of your customers. Successful companies realize that it is a cost-conscious support channel and a great source for their business to grow. Chatbots help build customer loyalty. You can set up a Facebook Messenger chatbot for your business. However, in the process, make sure of certain things:
Use simple and direct language. Avoid using jargon or complicated words as they can be difficult for customers to understand. 
Use guided responses. You should preset some quick answers so customers feel like you care about them. 
It should not be annoying. Make sure your bot is not texting all day. Customers can block the bot if they feel upset. You should carefully monitor customer reactions to make sure you don't bother them. 
Declining a direct contact option. Your customer may feel like their problem is left unsolved if they don't respond in a timely manner. You can fix this problem by adding support contact. Thus your customers can directly connect with you.
Update your bot. No matter how bug-free your bot is, there is still room for improvement. You should keep testing and see what problems your audience is struggling with. Update to reply to some new ideas.
4. Run Messenger ads
These ads can provide some of the best perks for your brand. You can run Messenger ads that appear on your customers' Facebook profiles. These ads can provide some of the best perks for your brand. You can run Facebook Messenger ads that appear in your customers' stories or inboxes.
5. Link the Facebook Messenger app to your E-commerce
After setting up the bot, you have to sync it to your e-commerce website. Otherwise, your price changes or other updated information will not be available, if the Facebook Messenger app is not connected to the site. Here are three ways through which you can integrate Messenger into your e-commerce:
It enables your target group to see your product catalogs in Messenger. When they find something to buy, they will be directed to the checkout page. It can also help you answer customer inquiries and receive automatic notifications when they place an order. Customers can contact you by clicking 'Send Message' or 'Message' through your store's page on Facebook.
Whatever eCommerce development platform your online store is built on, you should always look to go the extra mile to boost your e-commerce business. And one of the solutions is Facebook Live Chat. You can integrate the Facebook Live Chat option into your eCommerce store easily by following some links in the application.
It's not like the sales channel where customers have to leave Messenger to check out. The "Buy Now" option helps you purchase products without leaving the application. All you have to do is tap the buy button and you will be taken to an effortless checkout process within the Messenger app. 
All shipping, contact, and payment information is taken from the customer's message profile. Finally, you can use the "Pay" option to complete your purchase. With regard to the order confirmation, this will be sent together with the option of confirmation of receipt. Payment can be made through PayPal or other digital payment platforms.
You may also like: 
Growth Marketing For Startups: Scale Your Way to the Top
Most Common Online Marketing Mistakes and How to Avoid Them
How to Navigate Your Business Digitally During The Global Pandemic?
Takeaway:
To sum up the eCommerce marketing strategy with Facebook Messenger, it wouldn't be wrong to say that the better you connect with your customer, the higher your business will perform. Being that said, Facebook Messenger is one of the best effective methods to connect with your customers. All you need is professional assistance from an experienced team offering digital marketing services. 
An experienced team can better plan a social media marketing strategy for an eCommerce business; right from enabling effective features to higher engagement of the customers. And that's where Auxesis Infotech comes into the picture. Being one of the highly-rated digital marketing agencies, we have a team of expert professionals who have immense experience and knowledge to deliver top results to businesses across diverse needs.