Alright, it's eCommerce - something that has become a part of our day-to-day lives! It's no hidden secret that the eCommerce industry, over the years, has seen tremendous growth and is still flourishing at a great pace.
Well, you can find innumerable posts vouching about the eCommerce industry or the best eCommerce platform to build an online store website. And why not? Stats say it all! Therefore, we're going to first talk about the stats that say all about why eCommerce is such a big thing in today's time. 
There are over 24 million eCommerce websites available worldwide on the internet. 
It is expected that, by 2022, global eCommerce sales will increase to $6.54 trillion.
By 2040, it is expected that 90% of all retail sales will be made online. 
Due to COVID, as compared to 2019, the global eCommerce traffic surged by 35% in the year 2020. 
Now, these statistics clearly show the importance of eCommerce development for retail businesses in the present time. But despite that, there is still a lot that many business owners don't know about eCommerce and how to make an eCommerce development project successful. If you're amongst those business owners that don't have a clear idea about the eCommerce industry's present scenario and its importance, we have created this guide just for you. 
What is eCommerce?
Since 1994, the eCommerce industry has been around to serve users. In case you don't know, eCommerce is electronic commerce that involves buying and selling goods through the internet by a retail business. 
However, it is important to know that eCommerce isn't an e-business, and hence, one should not be confused between the two. With the advent of smartphones, eCommerce is no longer restricted to just desktops. In fact, a majority of eCommerce traffic comes from mobile devices. And that makes mobile commerce also a part of eCommerce. Just to let you know, as mCommerce sales are expected to rise to $3.56 trillion by 2021, 22.3% more than in 2020.
Ecommerce or Online Commerce in 2021
In the past few years, the eCommerce industry has seen a lot of growth. And as a result, more and more retail businesses have invested in eCommerce development. As we have mentioned, the eCommerce industry has come a long way. There have been a lot of advancements in the industry over the years.  If we talk about the eCommerce development trends, well, they have defined the industry. And hence, they never remain constant. If we talk about the eCommerce development trends in 2021, well, there are a few like omnichannel, AI and AR, virtual payment, chatbots, personalization, and voice commerce that transform an eCommerce business.  
The COVID pandemic has been a big curse to many industries except eCommerce. When everyone was forced to stay indoors, retail businesses with running eCommerce sites were continuously on the go to serve the general public with their daily necessities. Consequently, the eCommerce industry witnessed a hike in its sales and growth. During the pandemic time, the global eCommerce traffic increased by 35% than what it was in 2019. 
Different eCommerce Businesses
Although eCommerce is one big industry and when it comes to who all are a part of it, well, there are different types of retail businesses. If you are someone who is looking to invest in eCommerce development to get an online store website for your retail business, then you must know about all the options that are available as eCommerce businesses. 
Why eCommerce Development is Important For Your Retail Business?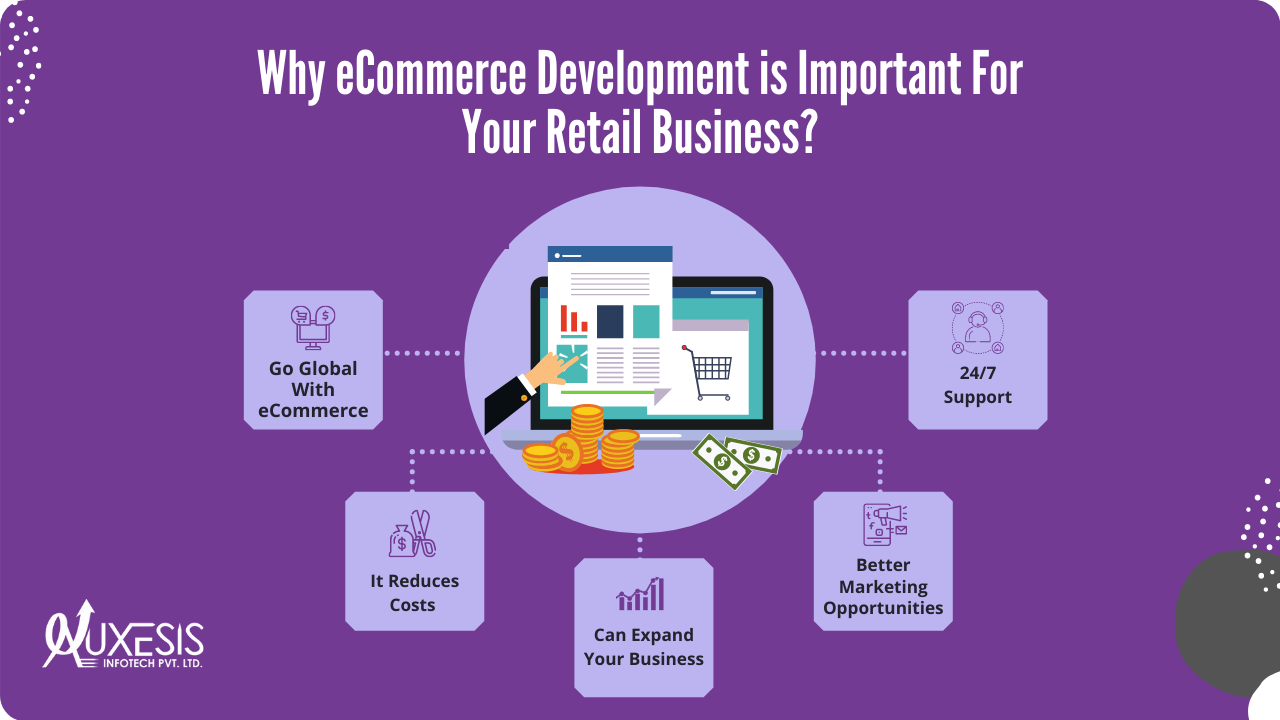 Knowing the tremendous growth of the eCommerce industry, it must be clear that what sort of perks a retail business can get by investing in eCommerce development or bringing a professional eCommerce development company on board to build an online store website. But if you want to know in detail, here are the benefits of eCommerce development for your retail business. 
When you operate offline, there are some restrictions in terms of your business reach or we can say you have some geographical barriers. But an online store website removes all those barriers. You can create an online store website through eCommerce development services offered by a professional eCommerce development company and sell your products worldwide. 
You must be wondering how that is possible, right? Now, you have to understand how it works. When you have an online store website, you don't need a physical space. In that way, you can save a lot of the cost of managing your retail business. This not only includes rental cost, but electricity, resources, internet, and more. When you choose to go online, the only investment associated with your business will be the eCommerce website development cost.  
It Can Expand Your Business or Broaden Your Brand
One of the main reasons why retail businesses are investing in eCommerce development is because of the amazing growth opportunities that the industry offers. With an online store website built by a professional eCommerce development company, you can increase the range of products for sale. Now, this also means expanding your business. And over time, it can help you broaden your brand. 
Better Marketing Opportunities
It's no hidden secret that this is a digital time and you get better business opportunities when you have a website. The same goes for retail businesses as well. The internet has also made marketing as easy as ever before. There are different digital marketing channels available to market your eCommerce business. It ranges from social media marketing to search engine marketing to PPC to email marketing and more. All you need is to choose an apt eCommerce web development company that can also take care of the marketing aspect of your online store website to make your eCommerce development project successful. 
Just imagine, your retail business is making sales and giving profits while you are asleep. Well, that can happen! Certainly, this isn't possible when you have a brick-and-mortar store. With a feature-rich online store website built by a professional eCommerce development company, you can operate 24/7 without any manual support. This is not beneficial for your business, but customers too as they get the chance to shop from you as per their own preference and time. 
You may also like: 
An Ultimate Guide to the Success of a Mobile Commerce Application
Ecommerce UX: When a Great Experience Brings Business Value
Important E-commerce Website UI/UX Design Mistakes to Avoid
Now that you know everything about eCommerce in 2021, let's talk about some business. Auxesis Infotech is a leading eCommerce development company having years of experience working in the industry and serving retail businesses with eCommerce development for both websites and mobile applications. Connect with us now to know more about our expertise and specialization under eCommerce development.