"Travel makes one modest. You see what a tiny place you occupy in the world." - Gustave Flaubert
Where once traveling was a luxury to people, it has become a passion and profession for many in the present time. In the olden days, people were quite skeptical about traveling and exploring new places. And it wasn't actually their fault! It was all about going to a new place without having much information about it and exploring it on your own. There were travel agencies to help people with their ticket bookings and itinerary creation, but that wasn't enough to assure more and more people safe and secure traveling. 
However, the current scene in the travel sector is way different than what it used to be in the olden days - thanks to the digitization of the travel industry. Today, there are countless travel agencies that facilitate easy and safe travel through their travel portal, and hence, know the importance of a travel website and travel app from customers' point of view. It wouldn't be wrong to say that because of the digitization of the tour and travel businesses, the industry has seen tremendous growth. But with that, also comes the huge competition that has prevailed in the travel industry. 
So, if you are planning to enter the travel industry or already have a travel business, it is crucial to know that your business will need an online presence to grow through a travel portal. 
Now when it comes to developing a travel app or travel portal, there are a few things that must be added to it. And of all those features and functionalities, API is one such significant feature that has to be in your travel app in order to make it user-friendly and successful. Therefore, in this post, we will talk about the significance of API integration in your online travel app. 
So, let's get started!
But before that, let's first know more about API. 
What is an API?
An API, also known as Application Programming Interface, acts as a software intermediary between two applications and allows them to talk to each other. In simple terms, APIs are basically the set of procedures and functions that support app development that accesses features and data of other apps. 
Let's understand the concept of API through a real-life example. We buy tickets online, be it for a movie, flight, train, or anything else. Now to buy one, we go to a ticket booking website and enter details about the movie, destination, or train. Thereafter, following a few more steps we complete the entire process. 
Have you ever thought about how a third-party website or platform manages to help you book a ticket for a particular airline, train, or movie? Well, this is because of the API integration. Such integration is referred to as "seamless" as users never get to know about the interaction between the two applications. 
Now when we are talking about API integration for travel businesses, you must also know that there are also several separate tools to ensure effective API integration through API management. And when you are going to integrate APIs into your travel app or website, API management can be a successful web development tool for the integrated APIs.
Role of API Integration in Travel Industry
There is no difference in the definition of a travel API integration as compared to normal API integration. Just like for any other industry, an API does the same work for the travel industry as well. 
Though API is probably one of the most important features that have to be included in your travel portal, there are some other equally important features as well that also should be incorporated into your travel app in order to be user-friendly and successful. Let's know about those features.
It facilitates communication between two systems, software, and devices and allows access to data possible over the cloud, which is very crucial for the online travel sector. As a result, both third parties and the customers can get access to the data and information from a traditional service provider in the travel industry such as hotels, airlines, and tour and travel agencies. 
Characteristics of a Travel API
There are many industries that are using API technology with Big Data. However, for the travel industry, using APIs isn't that complex. If you are thinking of choosing a travel API, well, there are few characteristics that you must consider in order to make the most out of it. These are:
Easy integration
High efficiency 
Assessment of real-time pricing information
Customized solutions
Use of latest technology
Reduce time to market
Scalable and secure
Multilingual capabilities
Supports user-friendly interface
Different Types Travel Booking APIs to Use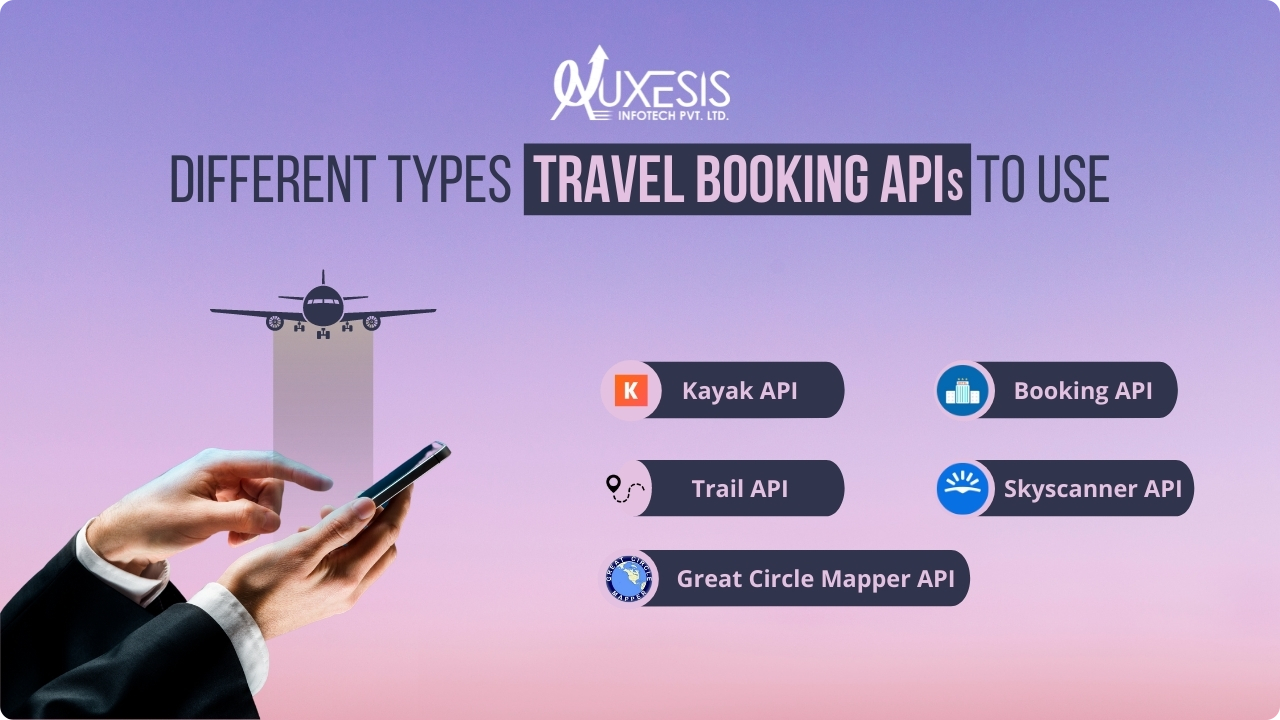 In order to ensure the effective API integration and development of your travel app, it is crucial to know the importance of outsourcing professional services for your project. Talking about APIs in the travel industry, well, there are a number of renowned application programming interfaces that you can use in your travel app. 
If you want to add the travel metasearch engine feature to your online travel portal, then Kayak API is the solution. The API allows querying the location information, live hotel books, flight prices and routes, and live car booking. One of the best things about this online travel API is that it comes with a free subscription plan for 500 requests per month. 
As the name itself suggests, Booking API comes under the famous travel agency, Booking.com The API takes users to the official website to know about the details regarding accommodation prices, availability, location, policies, facilities, currency exchange rates, reviews, and more. 
This is one of the most interesting online travel APIs in the present time. You must be wondering why isn't it? Well, it is because the Great Circle Mapper API allows a user to enter the codes of departure and destination airports to map out the flight path. Not just this, the API also allows users to know about the timings of any flight. 
Owned by a popular metasearch engine and a travel agency, Skyscanner, it is one of the most used APIs in the travel industry. The API takes users to the huge database of Skyscanner and lets them get details about the flight prices, schedules, and more. However, one of the useful features of Skyscanner API is that it allows travelers to compare the ticket prices from a list of different airlines and help them choose the cheapest one. 
Trail API is one such API that allows you to retrieve photos and information of various outdoor recreational destinations and integrate it into your travel app or travel portal. 
Benefits of Using Online Travel APIs in Your Travel Portal
With such a strong influence in the travel business, it wouldn't be fair to cover a post on the significance of travel APIs and not talk about their benefits for travel businesses. So, here are some important benefits of travel APIs. 
One of the biggest benefits of API integration is the quick and easy development of your travel portal. Not just the development, API integration also facilitates easy maintenance of your travel app as the end data is managed by the API owner. 
When it comes to API integration, it doesn't mean you can only integrate one API. Rather, you can integrate multiple APIs into a single web-based system, which is also seen as a great advantage. 
It supports a collection of customer data to provide a more personalized experience to your users. 
Another important advantage that you can enjoy with API integration into your travel portal is improved customer loyalty. Since APIs support personalized experiences for users, it helps travel agencies create a sense of trust and loyalty in the minds of customers. 
With APIs integration into your travel platform, you can also decrease the overhead cost for your travel business on a long-term basis. 
Since APIs can help you take care of the majority of important features in your travel app, you can focus on other core tasks of your business such as creating packages and marketing. 
You may also like:
Top Cross-Platform App Development Frameworks
Design Errors that Can Destroy Your Mobile Application
An Ultimate Guide to the Best Web Development Framework
Being into the travel industry, it becomes an imperative need for businesses to make the best use of API integration in their travel app or portal. And for that, you need the best professional help from an experienced app development firm that reads your business needs very well and gives you the best API solution. And Auxesis Infotech is one such firm you can consider for its exceptional mobile app development services along with the great experience that it possesses in the travel industry. Our experts have the best knowledge, and hence, can help you with choosing the right APIs for your travel app and can also ensure seamless API integration into your travel portal.